Efe Duyan, Nihat Ozdal and Cagla Meknuze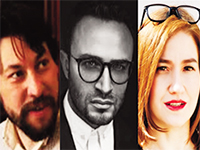 Efe Duyan was born in Istanbul in 1981. Having participated in several international poetry festivals, he published works that have been translated into numerous languages, including Bosnian, Czech, Chinese, Croatian, Danish, Dutch, English, Estonian, French, Greek, German, Hebrew, Swedish, Ukrainian, Welsh, and many more. He has three poetry collections, namely Sıkça Sorulan Sorular (2016), Tek Şiirlik Aşklar (2012), and Takas (2006). He teaches history of architecture at Mimar University in Istanbul.
Nihat Özdal was born in Şanlıurfa in 1984. His work appeared in many languages including Russian, Arabic, Serbian, Croatian, Macedonian, Bulgarian, Ukranian, Kurdish, and Syriac. He published several poetry compilations, some of which are Google'den Önce (2010), Kanat İzleri (2011), Berî Google (2011), Şopên Başkan (2013), and Düğmeler (2015).
Çağla Meknuze graduated from Galatasaray University Faculty of Communication in 2007 and worked as a reporter, editor and producer in the following years. Her poems have been translated into several languages including English, Dutch, Croatian, and Kurdish. She lives in Istanbul.