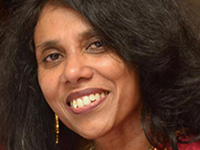 Mehreen Ahmed is an internationally published and critically acclaimed author. Her books have been nominated for the prestigious Aurealis Award for Fantasy Short Story/Novella (2015), Ditmar Awards for Best Novels (2016), New South Wales Premier's Literary Award for Christina Stead Prize for Fiction, (2018).

She has published flash fiction, short stories, novels, historical travelogue, academic reviews/article, journalistic write-ups, and nonfiction essays. She has published with Routledge: Journal of Computer Assisted Language Learning, Cambridge University Press: Cambridge Journals Language Teaching, (see Cambridge Core), Language Learning and Technology, Call-EJ, Straylight Literary Magazine: University of Wisconsin-Parkland, English Department (the magazine currently offline), Storyland Literary Review, Spillwords Press: Where words matter, Wordcurd, CafeLit Magazine, Story Institute, USA, Cosmic Teapot Publishing, Canada, The Sheaf: Campus newspaper for the University of Saskachewan and The Punch Magazine, 2018 and Clarendon House Publishing, 2018.
The Midwest Book Review has reviewed one of her books, The Pacifist. Two of her short stories, The Anomalous Duo, has been translated into German (translation: Frank Joussen), Familie (er)zählt: Selection of stories completed; Sammlung abgeschlossen, (In press) and The Black Coat, in Greek:ΤΟ ΜΑΥΡΟ ΠΑΛΤΟ (translation:Meleva Anastasiadou), published in Nyctophilia.gr.
She has an MA in English Literature, Dhaka University and an MA in Applied Linguistics from the University of Queensland, Brisbane Australia. She has been profiled on AustLit.
She was born in Dhaka, Bangladesh, but lives in Australia.