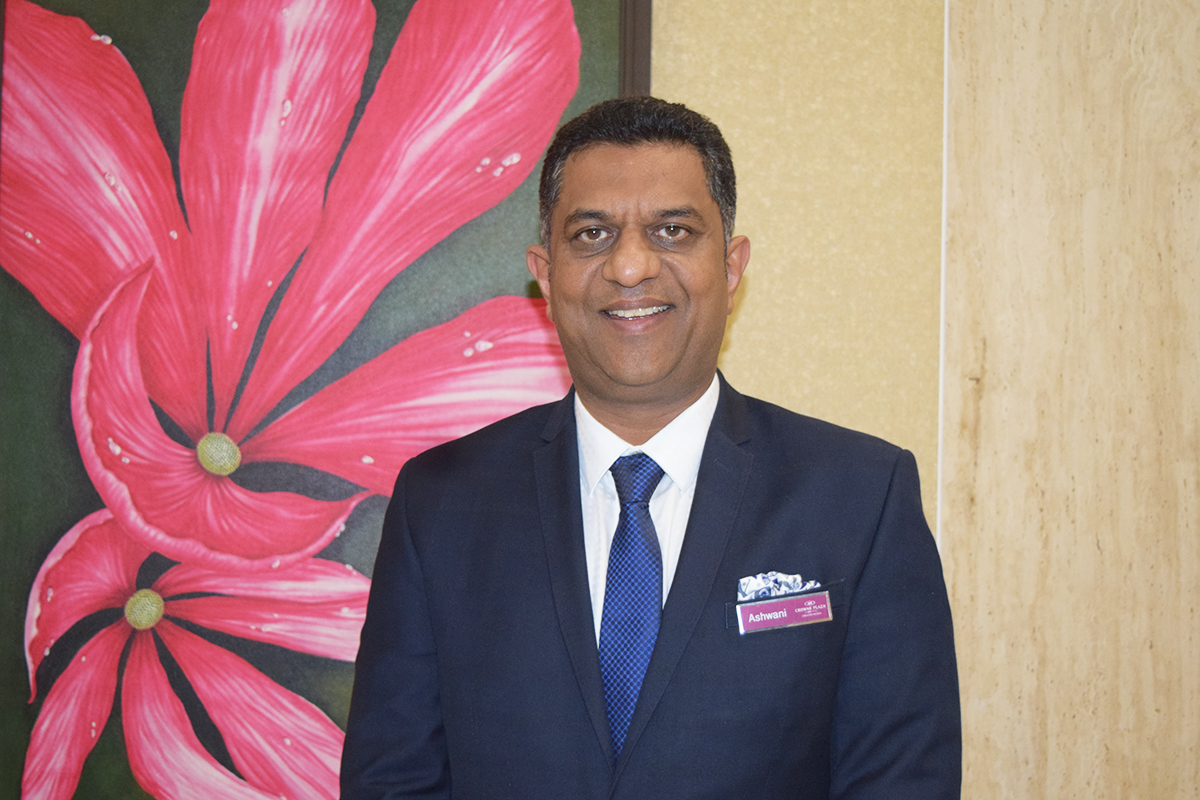 Ashwani Nayar, General Manager, Crowne Plaza Greater Noida. Photos courtesy of the hotel
Crowne Plaza Greater Noida is poised to emerge as a hospitality hub. The hotel's GM talks about its operations and growth opportunities
Crowne Plaza Greater Noida (CPGN), which is part of the Intercontinental Hotels Group (IHG), is uniquely positioned to emerge as a hospitality hub in the region by virtue of its location. Several multi-national companies have recently started their manufacturing units, ensuring a steady stream of corporates checking in at the CPGN. There are scores of universities in the vicinity, where the faculty constitutes several foreign teachers. Expos abound here, largely because of the sheer space it offers. Arcades are coming up. Malls are set to mushroom. The proposed Jewar International Airport, in Gautam Budh Nagar district of Uttar Pradesh, is set to be operational in 2023, which will, in all likelihood, enhance the hotel's occupancy.
Ashwani Nayar, General Manager, CPGN, a passionate hospitality veteran with close to three decades of work experience in the industry, is someone who's closely attuned to the region's potential and has been working towards harnessing all that he could to take the hotel to new heights. Having worked with some of the finest global hospitality brands across South Asia and South East Asia, he has a consummate understanding of how things work in the sector and constantly endeavours to achieve excellence across several verticals. When we meet him on the sidelines of the installation of a 14-ft Christmas tree, made entirely of recycled materials like beer bottles, at the hotel, he demonstrates a rare, infectious zeal when talking about the nitty-gritties of business, of being at the forefront of the growth of a luxury property.
Nayar is committed to green and sustainable initiatives and the installation was his idea. For this, more than 2,000 beer bottles, 350 kg of scrap metal and approximately 480 sq ft of old floor boards — all from the hotel — were used to erect the installation at the hotel lobby. The ceremony to celebrate the installation had guests ring in some fun — singing carols over mulled wine and canapés.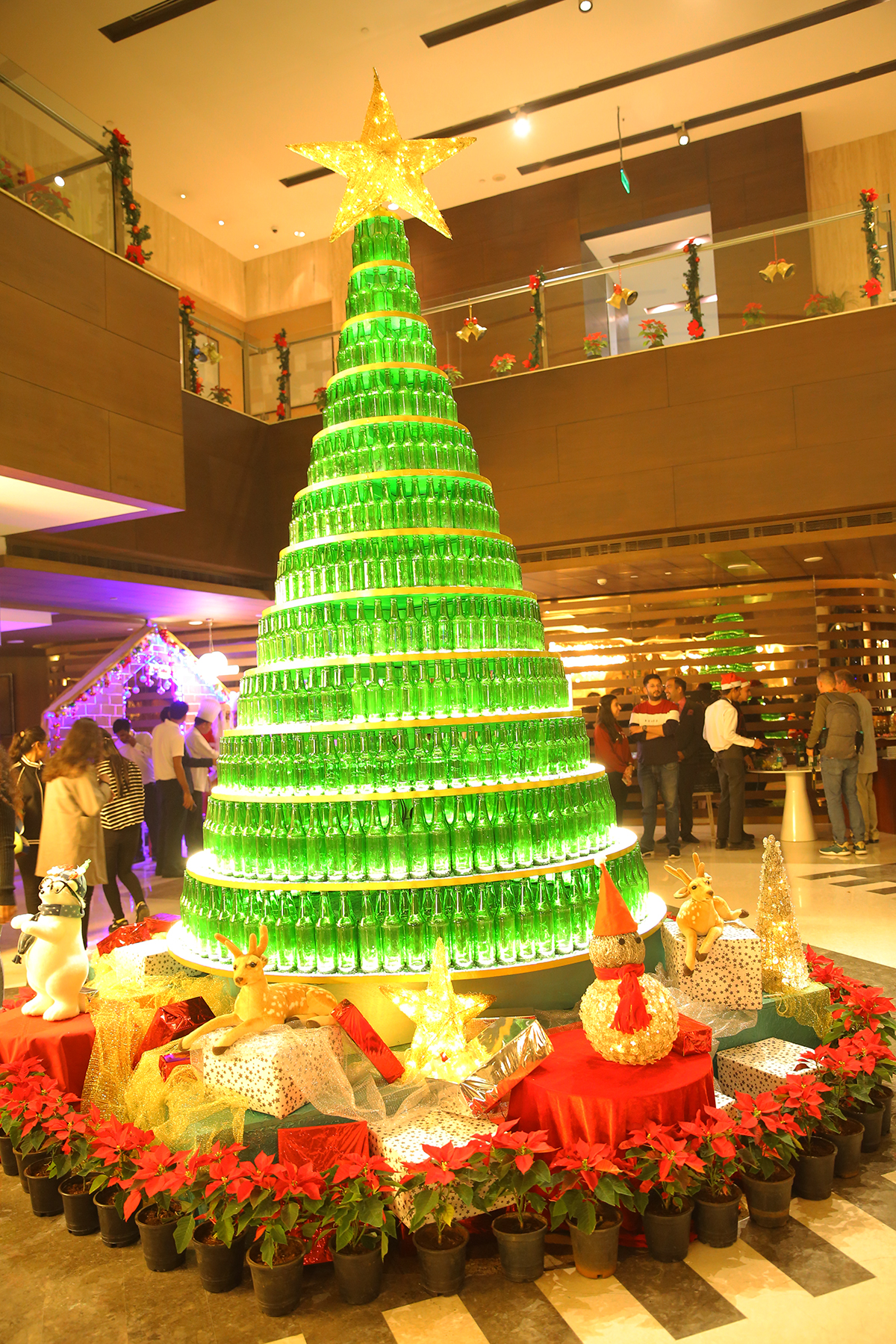 A 14-ft Christmas tree, made entirely of recycled materials like beer bottles, at Crowne Plaza Greater Noida
Recently, the hotel also started its Sunday Brunch at its multi-cuisine restaurant, Mosaic. It is currently on between 12.30 pm and 3.30 pm and will continue till January 2020. The menu includes selection from Indian, Oriental and Western cuisine. There is an immersive live music to get the guests grooving. There are also live stations set up at restaurant's alfresco area, dotted with water bodies, that showcases hand-picked items from the hotel's three dining outlets — Mosaic, ChaoBella and Belgian Beer Cafe. The spread also includes tempting desserts — bakes, chocolate dips and more. Guests can also pair up food with interesting concoctions from the liquor buffet.
Talking about the property, Nayar says, "It's the flagship property of Crowne Plaza in south-east Asia and is the largest in Asia. It is an eight-and-a-half-acre property, with 400 rooms and a banqueting area spread over 47,000 sq ft. We have three ballrooms and very large conference and convention facilities. So, the hotel is pretty well positioned. Greater Noida is a market that is expanding very well."
Excerpts from an interview:
Shireen Quadri: It's been six months since you took over as the GM of Crowne Plaza Greater Noida. How has been the going so far?
Ashwani Nayar: It's been an absolutely wonderful journey so far. It's the flagship property of Crowne Plaza in south-east Asia and is the largest in Asia. It is an eight-and-a-half-acre property, with 400 rooms and a convention centre. We have three ballrooms and very large conference and convention facilities. So, the hotel is pretty well positioned. The infrastructure is rich. Greater Noida is a market that is expanding very well. A lot of manufacturing hubs, businesses are coming up in and around this area. Samsung recently shut down a very large facility in China and that display unit has currently been relocated to Greater Noida. A lot of manufacturing companies from China are investing billions of dollars into this area. Companies like Vivo are already here. Japanese and Korean companies, like Honda, Yamaha and Hyundai, also have their manufacturing units here. It's a very well-maintained hub. The biggest advantage for us is the Indian Expo Mart which currently is the largest and the most favoured International venues in the country. Some of the largest events that take place in India happen here. Business also comes from social sector since weddings are held throughout the year. The size of our banquet, and our outdoor and indoor venues, give us a big advantage.
Shireen Quadri: How is the tariff compared to the hotels in the same segment in Delhi? Who are your potential competitors in Greater Noida?
Ashwani Nayar: We offer a much larger value-for-money proposition than some of our other cousins in Delhi-NCR. We offer space for events. At the same time, we have a huge critical mass inventory of rooms. It complements the kind of space we have and that definitely works to our advantage. As for our competitors, we do not really compete with anyone else, except ourselves. So, for us, as long as we can set the benchmark, improve our performance every day, and do a little better than what we did yesterday, we are happy.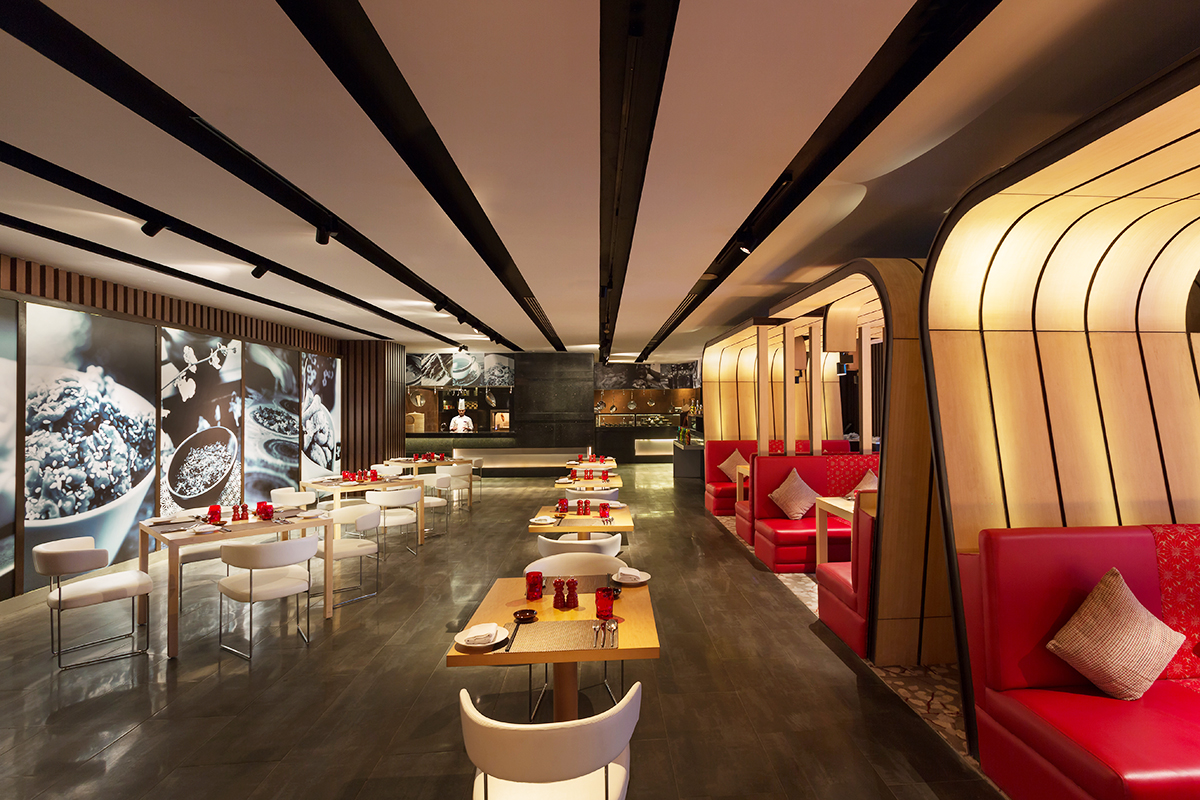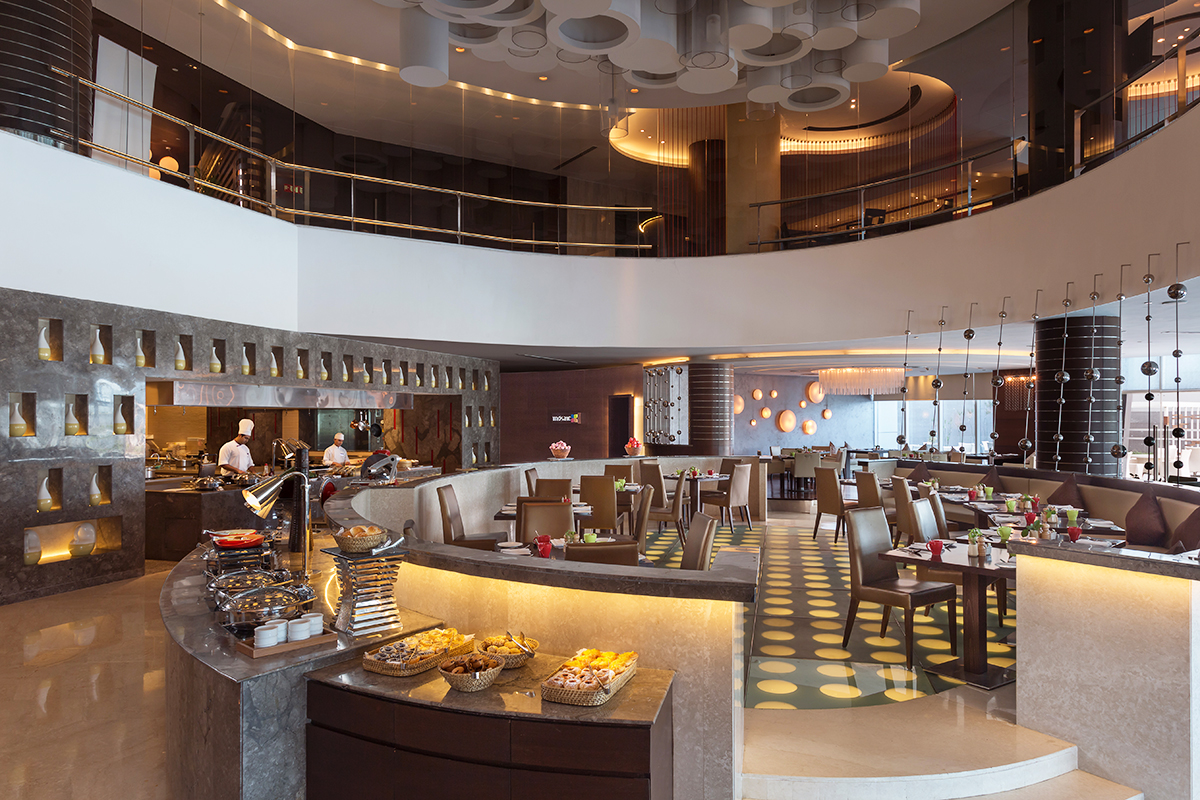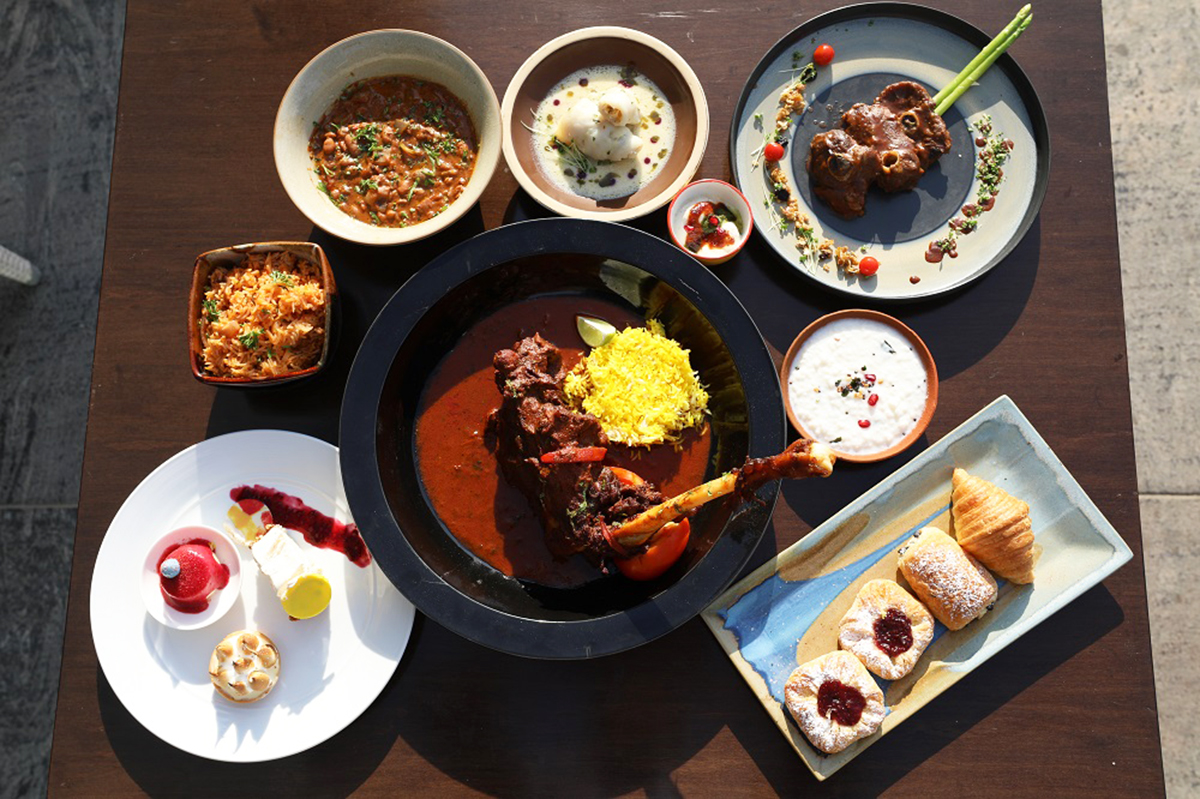 (From top) ChaoBella, Mosaic and fares at Sunday Brunch
Shireen Quadri: Food and Beverages (F&B) constitutes the core of hotels. It does play an important role when people settle on a particular hotel for stay. What do you do to keep maintain the standard of your F&B?
Ashwani Nayar: We read into customer feedback very carefully. ChowBella is a casual Chinese-Italian restaurant, which is quite unique. It has a Korean Master Chef as a lot of Korean and Asian customers come in. We also have a bakery and some great pastry chefs working with us. Also, in terms of Indian cuisine, we are planning to open a new Indian restaurant in the coming month. So, this would be focusing primarily on cuisines from Delhi and the various regions of Uttar Pradesh. So, obviously, one of our mainstays is going to be the Indian restaurants where chefs will rustle up authentic cuisines. There's a team of chefs that'll be coming from Jama Masjid area and they'll be running a part of the restaurant. So, that it is as authentic cuisine as one could expect.
This area is not really known for entertainment and its cuisine. It's the horse-before-the-cart or the cart-before-the-horse story. No one has really experimented or gone into opening fine dining or offering a large variety of restaurants and dining options and we want to do that. I personally believe that the market is ready and requires these facilities. The fact that there isn't any such destination here makes people travel 20-30 odd km if they want to go out for dining. We want to change that. We want people from other parts of Delhi-NCR to come here and that's the difference we are trying to make.
Shireen Quadri: How do you plan to bring in the Delhi customers to Greater Noida?
Ashwani Nayar: In Greater Noida, you don't have traffic jams. I hope it will remain so for a long period of time. We have free flow of traffic. We can reach Delhi in 45 minutes. The Expressway is phenomenal. Large parts of the eastern and the western peripheral roads that surround Delhi-NCR are very close to us. So, these are the kind of advantages we have. It is just perceptional that people feel that Greater Noida is at the back of beyond. It is not long when people will start coming in hordes here. To facilitate this, someone has to take the first step and we are willing to take that first step. We are willing to experiment, bring in more cuisines and more dining and entertainment options into this part of city. We expect that once people start coming in here, they will start seeing that there are equally good options available here.
Very soon, the Jewar airport will be operational. The government is looking at catering to 44 million passengers in the first year of operation. Since we are sitting in the hub of where activity is going to be, we see a lot happening in the next three-five years after that kind of infrastructure takes shape.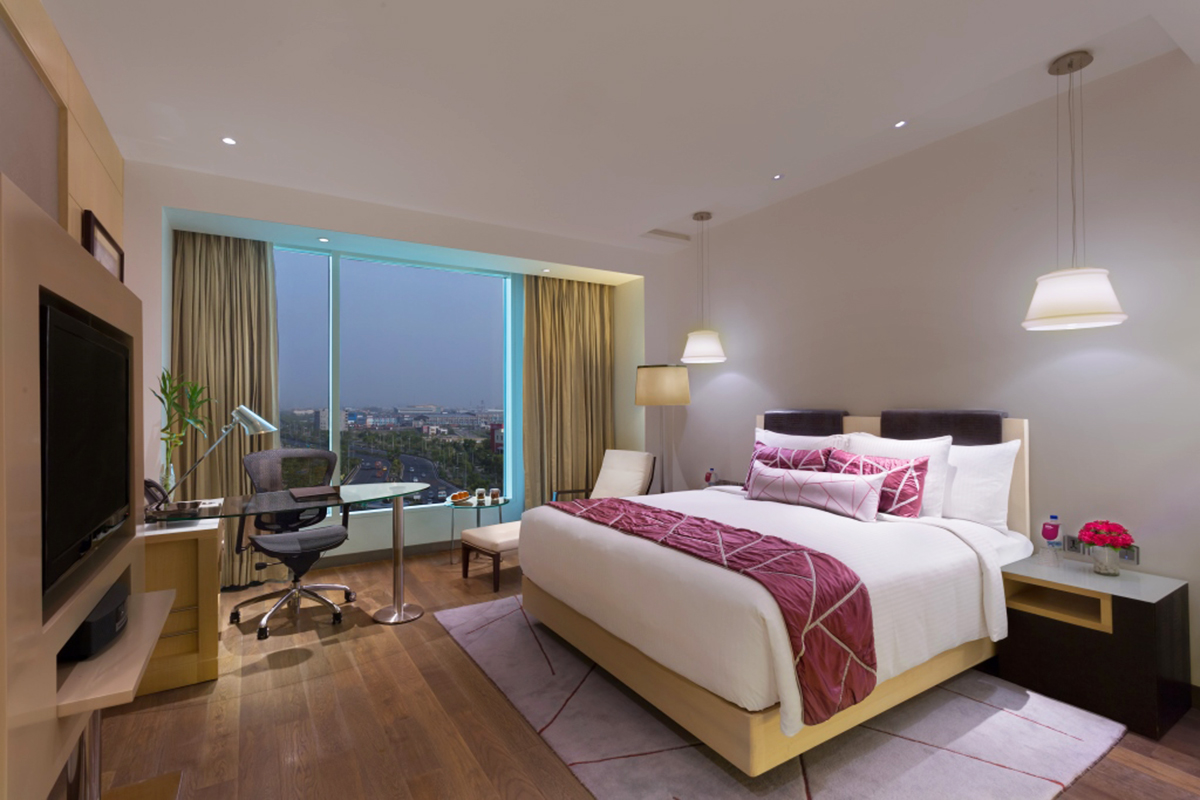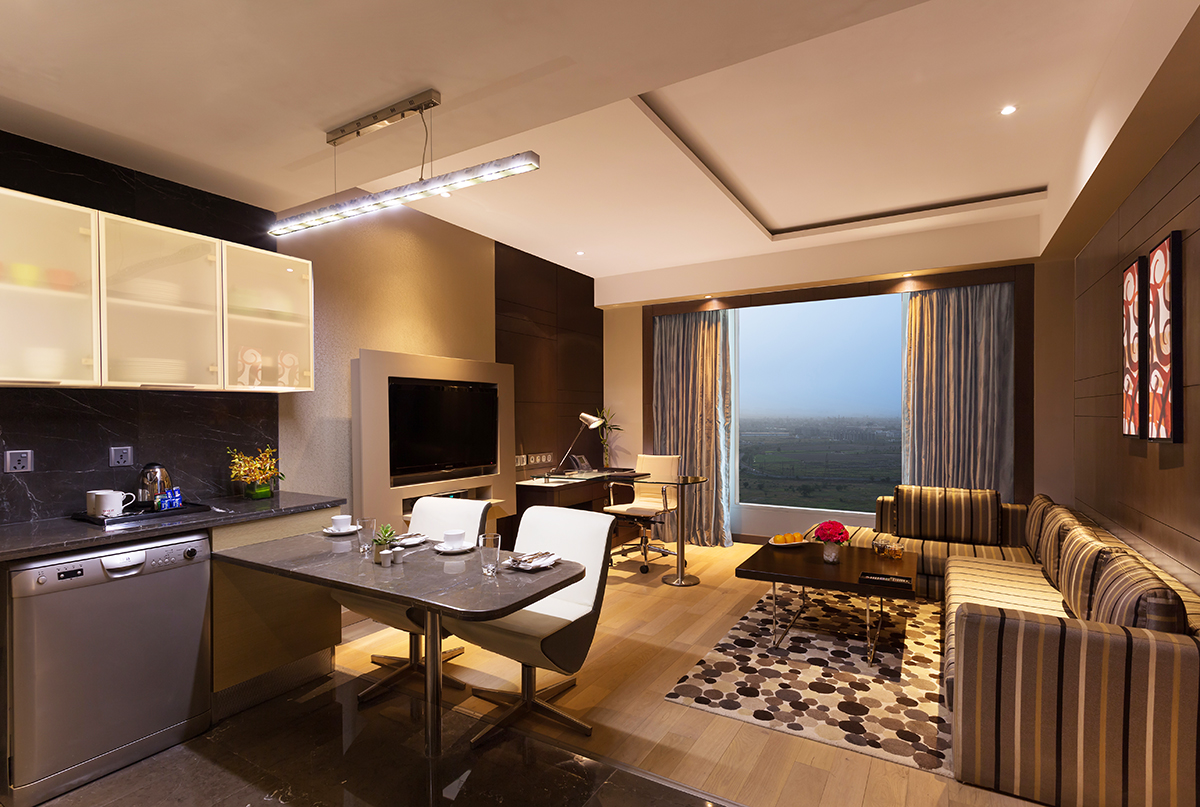 (From top) Standard Room and Deluxe Room
Shireen Quadri: Entertainment and leisure are another key areas. How is the hotel prepared to take care of that?

Ashwani Nayar: We have a variety of cuisines. We also have a couple of bars for a happening nightlife. We are bringing in entertainment. We have already started Sunday Brunch which has become very popular, not just with our in-house customers but also for people living in and around Greater Noida and the Expressway. We have live entertainment. Very soon, in one of our bars, we are going to have a solo artiste performing from Wednesday to Saturday. In the Indian restaurant, we'll have some live entertainment. Once we bring all of this in, I think the whole perception will change. Over the past three months, we have done three stand-up comic acts. About 350-400 odd people turned up for them and I was quite surprised. It was a ticketed event. People came in from all parts of the city and most had a good time. We are also promoting staycations because it is a little away from the rest of the city and makes for a quiet weekend vacation for families. We recently opened a sports arena, introducing basketball, volleyball, badminton inside the hotel. We also have a golf simulator (in the bar), which not too many hotels have. These are the things that not too many convention or business hotels can afford to. Besides gym, pool, yoga classes, we also provide sporting and fun activities so that those who come here have a wholesome holiday.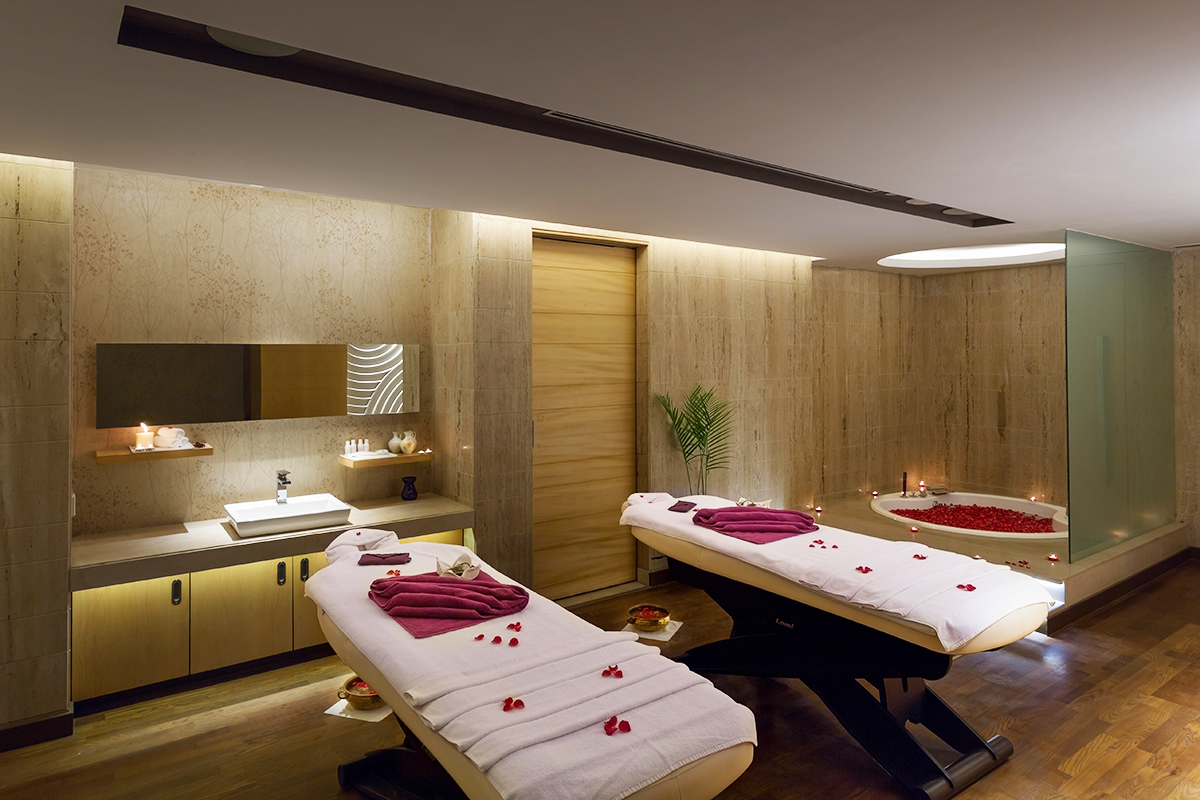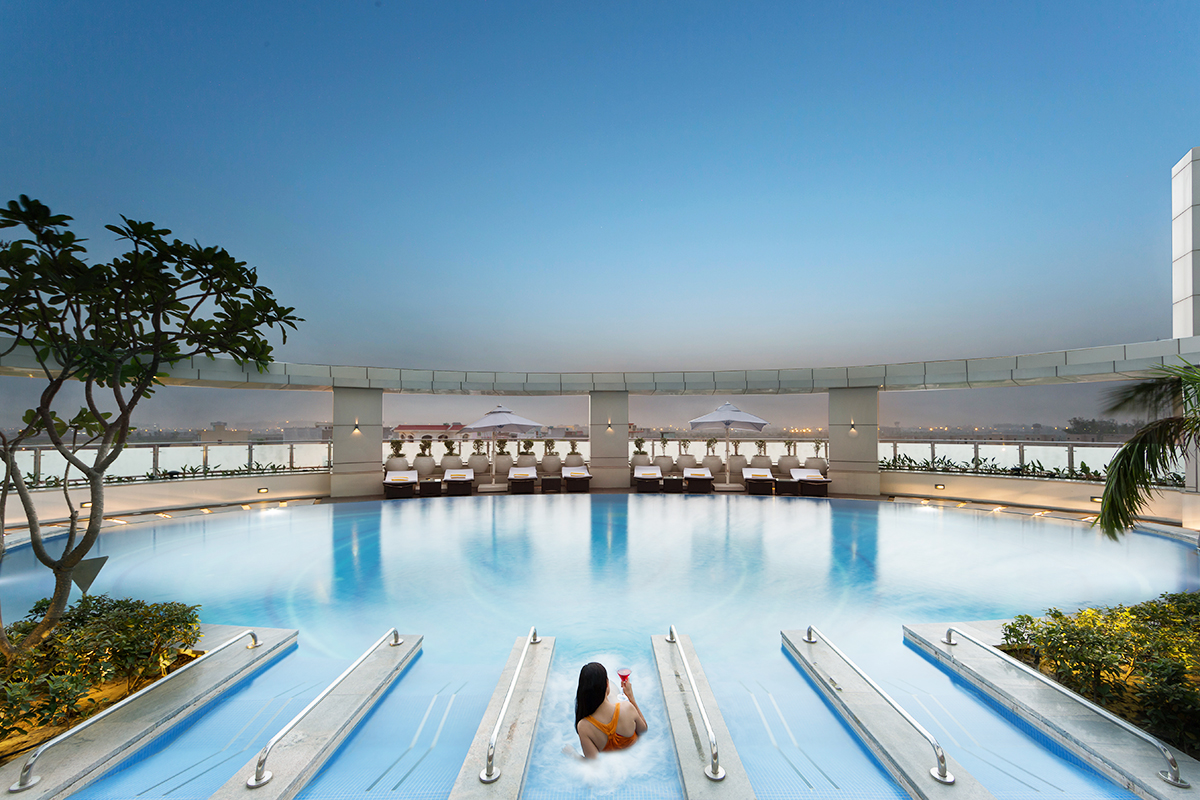 (From top) Spa and Swimming Pool
Shireen Quadri: Has the economic slowdown impacted the hospitality industry as well?
Ashwani Nayar: At the moment, I wouldn't say it has because both October and November have been stellar months. We are expecting December to be equally solid and strong. It's not only for us but I speak for a lot of other hotels within the IHG community, at least hotels that I'm privy to. I'm looking at it in terms of business and sectors performing. There have been signals of slowdown in some sectors, especially the auto sector, but they had their own reasons. Our business is the barometer of the performance of the industrial sector as a whole. So if the industry is not performing, our levels come down, too, because travel, leisure and dining are the first cuts that companies and people make in their personal budgets. India is a robust market, but if people stop spending or going out, there will be some ripple effects but it's still very early to say how the year is going to pan out.
Shireen Quadri: In Delhi, some hotels in the same segment have been trying to reinvent in a lot of ways, for instance tying up with aggregators. By and large, there is a tendency on the part of big hoteliers to redefine themselves, and things have been in a flux for a while. Do you think that churning is still happening?
Ashwani Nayar: It never stopped. Since I joined this industry till this day, I have seen that the change has been the only constant that defines us. When we see new ways and avenues of doing business, there are only two ways to react to them: ignore them or become a part of them and start leading it from the front. I think smarter companies have chosen the second option. Hoteliers per se are very adaptive breed of people. We have opened our arms to online travel agents (OTAs). We did that when they became a force to reckon with. In the early days, there were companies like Priceline, lastminute.com, that have now either been replaced, bought over or become the parent company. While we have embraced them and now they are a partner in our business, I think they are headed for some sort of saturation. The way Google is getting into distribution and aggregation, it will completely change the business as we know it.
Food aggregators do big business since food deliveries have become frequent. We have partnered with all of them. There are some ups and downs in the partnership when you feel that the balance is not being maintained. However, it's a normal part of business. Everybody wants to do the best for themselves, but the real story is that it has to be a win-win for everyone. Partners have to survive in order for you to survive in business as well. You can't just be trading with yourself alone. We need the ecosystem and so we have been very adaptive and adoptive to the ecosystem. A new system shall emerge with Oyo rooms and Airbnb that have become the big buzzwords. Today, a lot of hotels are being sold on Airbnb. We are embracing the new technology and are becoming a part of it. Our company, IHG, is working very closely with Google. We realised the potential and the complete paradigm shift that they'll bring into the aggregators' market and the way distribution is going to be handled in the future. We want to be a part of it this shift.
Shireen Quadri: Tell us about the organisational structure of the Crowne Plaza?
Ashwani Nayar: Our parent company, IHG, has its footprints in Southeast Asia. The prominent brands that we run in this part of the world are Intercontinental hotels, Crowne Plaza, Holiday Inn and Holiday Express. There are the four brands that we run very successfully here. Other brands are also expected to come in. We are one of the world's largest and oldest hotel managing companies. Currently, we run close to 6,000 hotels across the globe. So, that's how we do: we manage hotels and we manage them quite successfully.
Shireen Quadri: How do you see this hotel catering to the corporate needs?
Ashwani Nayar: Three days from now, we'll have a large Gurgaon-based company moving in. They have booked the inventory of over 300 rooms. They have taken all of our banqueting and conferencing activities, including the outdoors and 16 break-out rooms. What's more, we had to create a bit more for them. We offer great off-site venue for trainings, company getaways or meetings. Forums and companies recognise that. There are many companies from the other parts of the country. We also do a lot of events with international companies that reach out to us directly as we are part of a lot of MICE forums. That is a way for corporates to reach out to us and plan events with us. India Exposition Mart close to the hotel holds very large events, like South Asia Travel and Tourism Exhibition (SAATE), ELECRAMA, the flagship event of the Indian Electrical & Electronics Manufacturers' Association, and auto expo. The list is endless.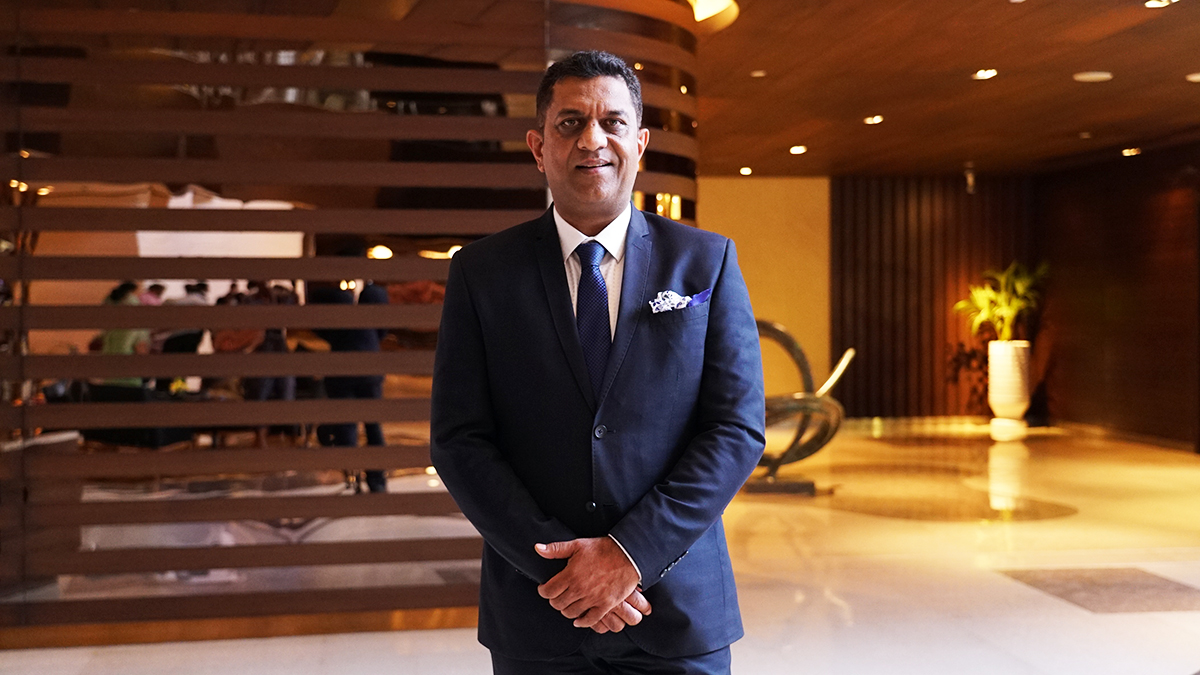 Shireen Quadri: Tell us something about your own journey?
Ashwani Nayar: I had a very fascinating journey during the last 30 years. I'm very passionate about hoteliering. It is a very interesting profession. I started out with IHG, but in those days it was known as Bass hotels and was headquartered in the UK. In those days, the first holiday Inn was opening in Delhi, the largest Holiday Inn, which was incidentally converted into a Crowne Plaza, and, later, into InterContinental. And that's where I started my journey. This is actually my third stint with this company. In between, I had the opportunity to work with another hotel. It was then called The Park Royal, which was bought over by the InterContinental hotels. I was part of the team that converted Park Royal into InterContinental and now I'm here at the Flagship Crowne Plaza in the region.
Shireen Quadri: How would you compare the hospitality scene in India to that of other countries?
Ashwani Nayar: I would not say that we are still in the nascent phase, but we are still developing, still growing. There is a lot more opportunity in terms of hotels across all levels, from budget to luxury. I think in all the mid-scale development — from 2-3 star to 5-star, deluxe, and, to a certain extent, luxury — we are up there, but what I see missing is the uber luxury. I worked for a luxury hotel in Thailand and can see that there is really a need for high-end luxury to come in. There is a lot of growth opportunity in that area at this moment. We have InterContinental; some of our other competitors have similar brands as well. There are few indigenous Indian companies or hotels that are running successfully in that space. And the other area that is completely missing is the single-star and select-service hotels, which are growing very fast, especially in tier-2 and tier-3 cities. We are among the front-runners in that space with our Holiday Express brand. It's very specific to the requirements of select-service customers, businesses or short stays. That's an area that still has a lot of growth opportunity within the country.
Donate Now
Comments
*Comments will be moderated