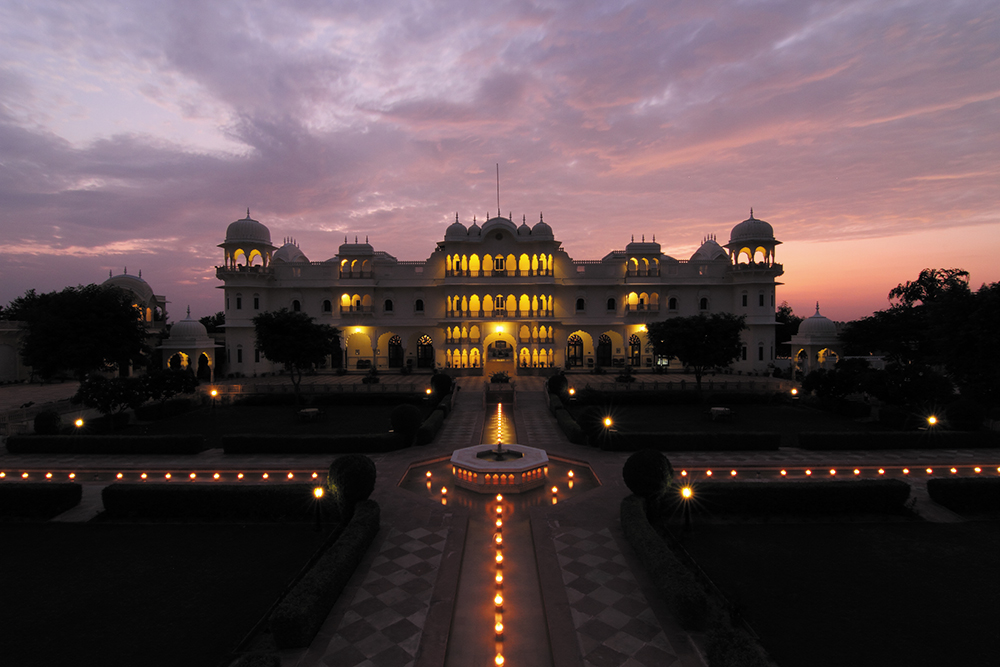 Photos courtesy: Ranthambore Festival
The curtain rises on the three-day Ranthambore Festival, being held at the regal Nahargarh Palace in Rajasthan from January 27-29. Adding to the richness and diversity of India's cultural calendar, it is a festival that seeks to showcase the richness of Rajasthani folk music and wildlife landscape. A not-for-profit festival, entry here is free for all. While access to the festival is free, certain performances and workshops are ticketed and all-access passes are available for sale
here
.
The festival seeks to provide a platform to artists, conservationists, writers and thinkers to initiate a discourse on India's musical and environmental past, present and future. While most festivals that seek to celebrate Rajasthan's rich tapestry of folk music exist in vast numbers, the Ranthambore Festival is the first festival in India to position itself as a festival of preservation and awareness, giving the public an insight into the efforts of music and nature conservation stakeholders.
Ranthambore Festival: The philosophy
Ranthambore Festival is organised by the NGO Puqaar Foundation, in association with BookASmile, the charity initiative of BookMyShow and First Stone. Envisioned by Puqaar Foundation under the patronage of Rajasthan Chief Minister Vasundhara Raje, the festival seeks to be a platform to honour Rajasthan's little-known, world-class musicians and celebrate the singular music traditions that have made Rajasthan synonymous with Indian folk music around the world.

Nahargarh Palace (above and below)
The festival will also draw attention to Rajasthan's other legacy — wildlife. It can't be far from anyone's mind since Nahargarh Palace is merely 500 metres away from the Ranthambore National Park. Commenting on the festival's vision and cause, CM Vasundhara Raje was quoted as saying in a press release, "The Ranthambore Festival champions the causes of indigenous music and nature preservation. With time, I see the festival becoming an exciting platform and a key forum for nature and music lovers to engage with each other."
Farzana Cama Balpande, head of BookASmile, was quoted as saying, "Ranthambore Festival is a unique platform bringing together a community of enthusiasts who believe that art, music, culture, wildlife and heritage are of critical importance. This is where BookASmile identified with them and is delighted to extend its support to this initiative. We believe that this festival can initiate and drive relevant as well as interesting conversations that will positively impact our future."
"Being an ardent lover of music and nature, it gives me an immense pleasure to be a part of Ranthambore Festival. This non-profit initiative would surely help us accomplish our motive of music and nature conservation and would definitely influence the audience to work for the cause. A must visit for all," Charan Khangarot, director, First Stone, was quoted as saying in the release.
What to expect at the festival
Packed with activities that are likely to cater to all tastes, the Ranthambore Festival is a culture vulture's dream come true. Some of the highlights of the weekend include moonlit performances by music and dance luminaries such as Mallika Sarabhai and Ustad Ma Zila Khan — who have closely worked with the festival to curate the programming, never-seen before performances by 35 hand-picked Rajasthani folk music legends, an open-air wildlife film festival, interactive talks on conservation, workshops on wildlife photography and music, heritage walks and hot-air balloon rides, food festival featuring traditional Rajasthani delicacies for the gourmand, pop-up souk that showcases some of India's best homegrown design brands, and more — all set against the backdrop of the breathtaking Nahargarh Palace.

Mallika Sarabhai with her troupe
The festival will open with the screening of The Unforgotten Music of Rajasthan, a documentary that chronicles the journey undertaken by the festival to remote corners of Rajasthan over 12 days to discover and showcase a spectrum of folk music styles and honour their performers.
One of the highlights of the festival for wildlife lovers will be "Into the Wild", the wildlife film festival curated by India's leading environmental and wildlife forum, CMS Vatavaran. There will also be an opportunity to interact with filmmakers and conservationists like Saravana Kumar, Kartick Satyanarayan, Dharmendra Khandal, Shekar Dattatri, Giuseppe Bucciarelli, Sandesh Kadur, Krupakar and Senani, and more through panel discussions and workshops.
Page
Donate Now
Comments
*Comments will be moderated