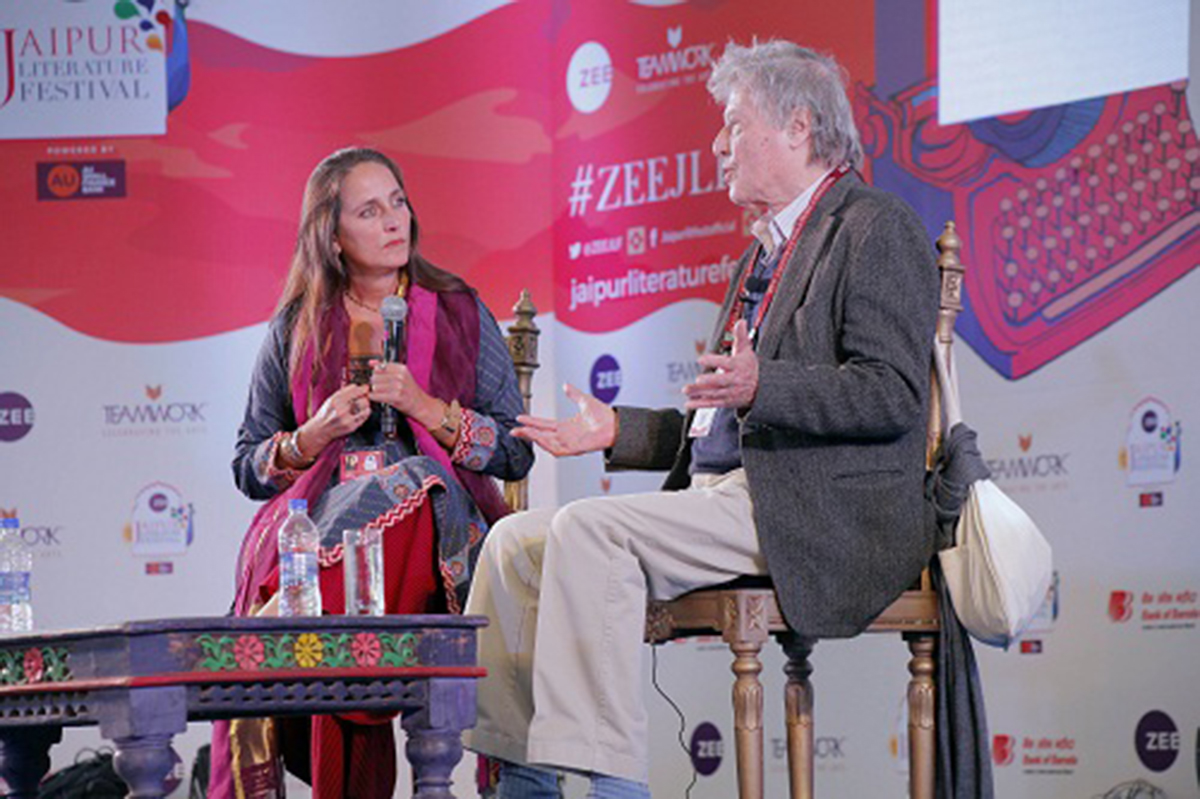 Tom Stoppard in conversation with Sanjana Kapoor. Photos: jaipurliteraturefestival.org
Jaipur Literature Festival (JLF), held in January every year, creates an excitement and buzz that is difficult to match. In the historical setting of the Diggi Palace in Jaipur, a dynamic synergy emerges, where the romance of the past encounters the exuberance of today. Every year, it offers an opportunity to meet Noble Laureates, Booker Prize winners, Pulitzer Prize winners and more. In the past, Salman Rushdie, Amartya Sen, Stephen Fry and Margaret Atwood were some of the speakers. This year, British playwright Tom Stoppard, Canadian poet and novelist Michael Ondaatje and Pico Iyer were the big attractions. The Festival began in 2006, with a handful of 18 writers, and over the years, the attendees have grown by leaps and bounds. This year, the festival heard 380 speakers representing 15 Indian and 20 international languages, and some of the topics it covered included cinema, theatre, poetry, cricket and football, Nordic Light, PG Wodehouse and Cleopatra. JLF festival directors include William Dalrymple and Namita Gokhale and it is produced by Sanjoy K Roy's Teamwork Arts.
It was impossible to find any room in the massive crowds that gathered to hear and cheer Nawazuddin Siddiqui at a discussion of his forthcoming film, Manto, directed by Nandita Das. Siddiqui plays the lead role of the famous author, poet and playwright, Saadat Hasan Manto, who blatantly exposed society's atrocious truths that no one dared to talk about. His memorable verses and prose, written against the violence of Partition, and his pursuit for liberty made him a legendary icon. "He was tried six times on charges of sedition and obscenity. He was a champion of free speech who looked beyond religion and nationhood," said Das. Sidiqqui accelerated the excitement level of the crowds when he confessed that he would love to play the role of Prince Salim in Mughal-e-Azam and was not averse to doing light roles. "Commercial films pay more and for that I have to dance," he quipped.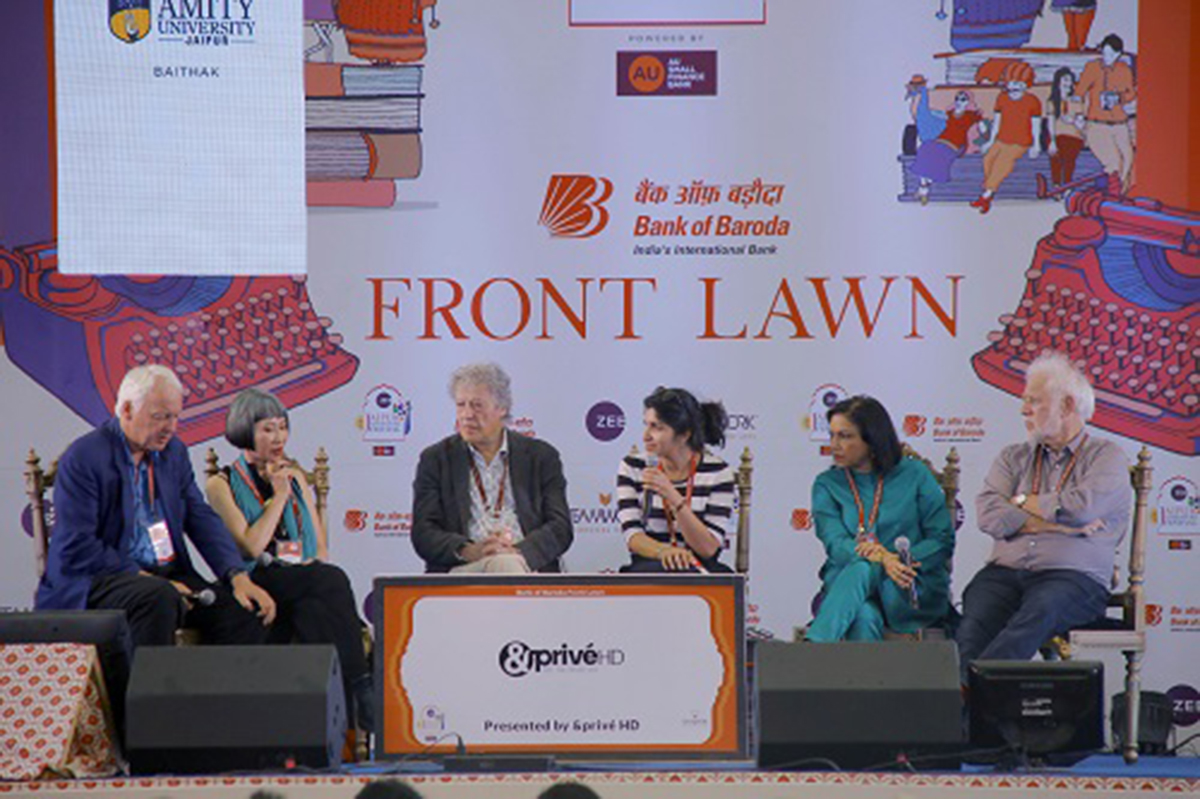 A panel discussion, Adaptations, featured Amy Tan, Michael Ondaatje, Mira Nair, Nicholas Shakespeare and Tom Stoppard, in conversation with Chiki Sarkar.
Helen Fielding, creator of the famous iconic Bridget Jones series (a mirror of how women perceive themselves in their self-anxiety), interacted with her fans with humour- filled narratives. The author enthralled the audience when she discussed "the No. 1 dating rule" and spoke about the #MeToo campaign. Fielding said that though the 'problems' in her novels and the problems people face today were similar, "technology has made them ever more complex".

In Blitzed: Drugs in Nazi Germany, author Norman Ohler digs into the notes of Hitler's personal physician Dr. Theo Morrell and finds that der Führer was on a lot of drugs. He gives an insight of what was happening medically to the formidable Hitler, who along with vitamin injections, was taking drugs like Eukodol, the chemical cousin of heroin opiate. The drug stimulated a euphoric state that probably caused his erratic and paranoid behaviour towards the end of his life. He undoubtedly needed drugs to keep him going after the cruelty he had inflicted on mankind.

Sagarika Ghose and Sheela Reddy discussed with former Indian diplomat TCA Raghavan about their books Indira: India's Most Powerful Prime Minister and Mr and Mrs Jinnah, which was informative and entertaining. The commonality was the rebellious nature of Mrs Gandhi and Mrs Jinnah as both married against their father's wishes. Besides citing Mrs Gandhi's human weaknesses, Ghose also exposed her calculating political side. Several little vignettes transported the audience to the Indira Gandhi and Jinnah era that were shrouded in intrigues and conspiracy.
To adapt a book on celluloid "you must find a strong story within it," said Michael Ondaatje, author of The English Patient. Mira Nair, who adapted Namesake, The Reluctant Fundamentalist and Vanity Fair, agreed, but also added that it was necessary to do that "while retaining the spark" of the novel. However, Amy Tan who wrote The Joy Luck Club, became part of the creative of the film, and felt they had not bolted away from the original. This panel discussion, titled Adaptations, featured Amy Tan, Michael Ondaatje, Mira Nair, Nicholas Shakespeare and Tom Stoppard in conversation with Chiki Sarkar.
"Hindutva is a distortion of Hinduism. Hinduism was meant to be private," said Shashi Tharoor, when discussing his latest book Why I Am A Hindu. "We are born Hindus. The idea of Hinduism appealed to me intellectually," he said. He talks about the great souls of Hinduism — Adi Shankara, Patanjali, Ramanuja, Swami Vivekananda, Ramakrishna Paramahamsa and many others — who made major contributions to the essence of Hinduism. He feels that today Hinduism has been hijacked and has been given "a narrow and petty interpretation that is doing damage" as it is being used for the wrong reasons.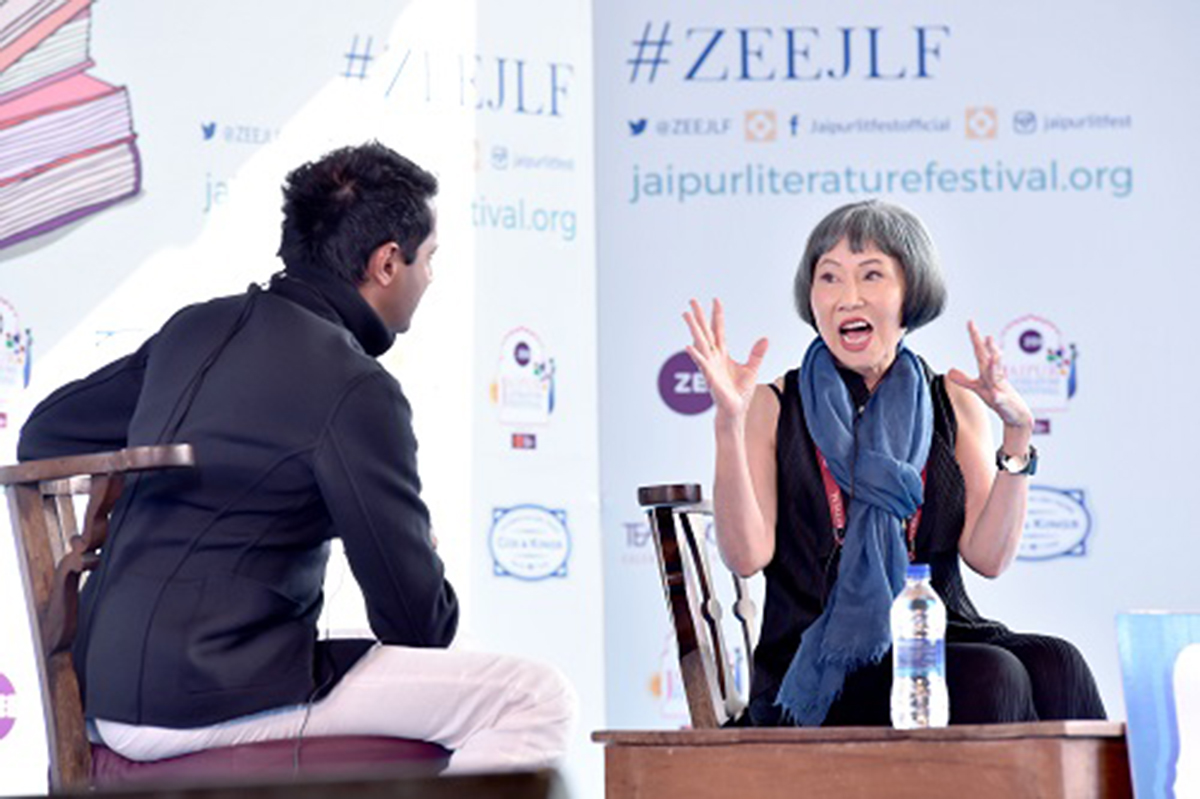 Amy Tan in conversation with Siddharth Dhanvant Shanghvi
In his book, he said, he quotes the famous speech of Swami Vivekananda made in the Parliament of the World's Religions in Chicago in which he says, "Hinduism doesn't mean tolerance but acceptance." Tharoor recalls his growing years where his father went to the temple everyday but did not impose the ritual on the rest of the family. Only after reading the translations of the Hindu scriptures did Tharoor realise the pluralism that existed in Hinduism.
It was a delight to hear 80-year-old Tom Stoppard, in conversation with Sanjana Kapoor, theatre personality and daughter of Shashi Kapoor. The memories of the time spent in India (Stoppard said he lived in Darjeeling for four years till he turned 8) and his association with Felicity Kendal (Sanjana's aunt) inspired him to write Indian Ink that was staged at Prithvi Theatre, run by Kapoor.
He said he was "text-driven" in his approach to plays. "When you write a play, it is an illusion that the play is a private enterprise… but when you hand it over (for production), the play is reliant on synonymous technological achievements that make it a play," he says.
A man of great achievements, he wrote the famous Rosencrantz and Guildenstern Are Dead. While his screenplay of Shakespeare in Love won him an Academy Award, his directorial debut, based on his own screenplay of Rosencrantz and Guildenstern Are Dead, won the Golden Lion at the Venice Film Festival. He wowed the audience especially with his advice to aspiring playwrights "It doesn't actually happen unless you have a pen in your hand," he said.
We got a glimpse of what drove the very talented filmmaker Mira Nair to create wonderful movies like Salaam Bombay, Namesake, Monsoon Wedding, The Reluctant Fundamentalist and Mississippi Masala. "I was a month away from shooting The Namesake when they offered me Harry Potter. I asked my son what should I do? He said to me: 'Mamma, many good directors can make Harry Potter, but only you can make The Namesake. It was such a clear statement," she said.

Exhibiting impeccable charm and wit, Nair articulated her journey from Salaam Bombay to Queen of Katwe. "I work with my actors with love. That is how I get the best out of them." Nair has managed to extract sterling performances from Denzel Washington, Tabu and Irfan Khan as well as from actors with no acting experience. She needed the dark element in Monsoon Wedding. Mira felt it was important, as "Without darkness, there is no light. Without silence, there is no music." She also maintained that her movies were about the world we lived in, the joys, struggles and achievements of today's world. Nair also expressed her excitement about getting the stage production of Monsoon Wedding ready for the Broadway.
Soha Ali Khan was accompanied by her mother, the famous actress Sharmila Tagore, to discuss her recently published autobiography, The Perils of Being Moderately Famous. Soha and Sharmila shared their memories, spoke about the relationship they shared and their experiences together.

Soha's wit twinkled and sliced in equal measure as she spoke of what it was like to be living in a house full of celebrities. The most disarming revelation was the time when she was going to receive her degree at Oxford University. She realised that college tradition and protocol required her to wear socks which had slipped her mind. Her late father, the celebrated cricket celebrity, Nawab Mansur Ali Khan Pataudi, came to her rescue, took off his socks and lent them her. This gesture affirmed his affection for his alma mater, Oxford. Soha's ability to laugh at herself had the audience in splits.
Crowds were swarming to hear their favourite tabla player, Zakir Hussain, in conversation with TV producer-writer Nasreen Munni Kabir (who had recently penned his biography) and Sanjoy K. Roy. Hussain revealed that when he was a small infant it was the custom to whisper a prayer into the years of the new born. However his father whispered classical music notes into his ears making sure he became a musician.The crowds dissolved into mirth when Hussain spoke about his fling with cinema and insisted it was an accident. He felt music had the ability to transport the listener to another world for a few hours.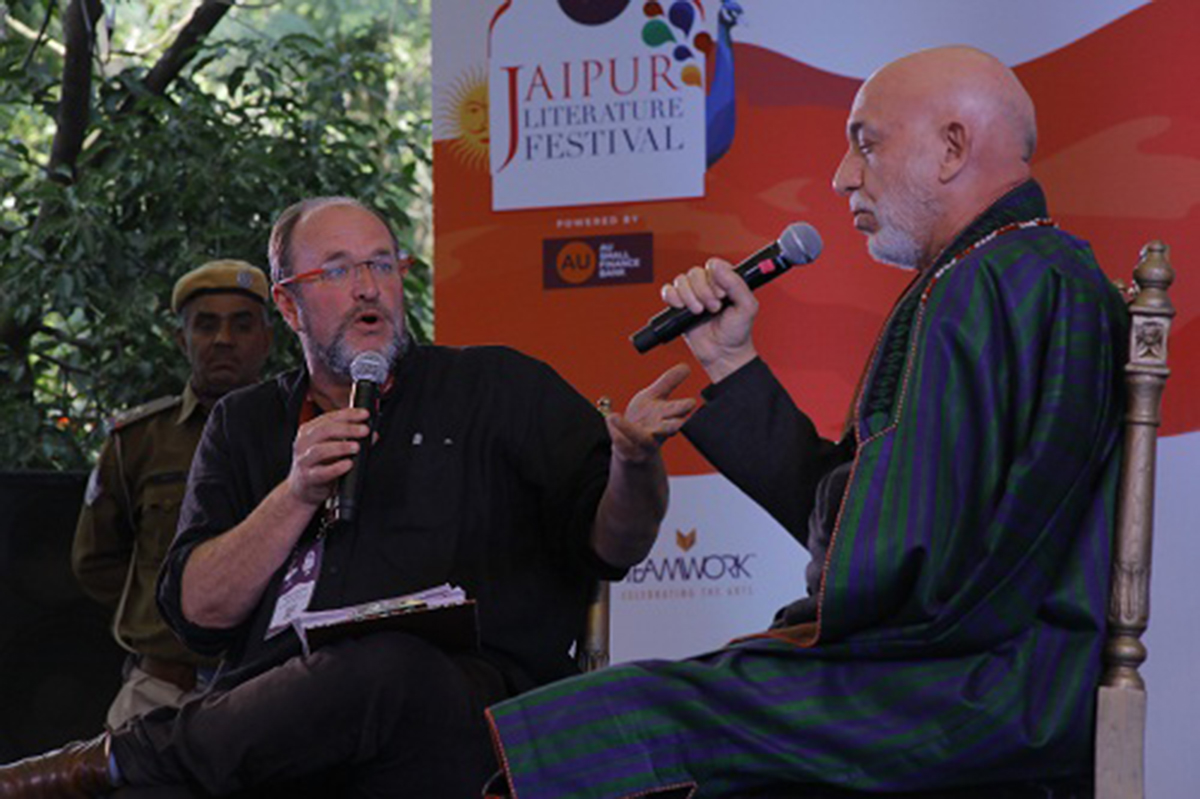 Hamid Karzai in conversation with William Dalrymple
Former President of Afghanistan Hamid Karzai's trajectory captivated the audience. He said his early student years were spent in Shimla where he became familiar with all things Indian: Hindi, Indian music, culture and Bollywood. But when Afghanistan was invaded, life took another turn. He returned to his country, joined the mujahedeen and fought against the Soviet troops. He first became a deputy minister in the government. Initially, he supported the Taliban who were on the rise. "Later, we realised they were abusing our culture," he recalls. His father was assassinated and Karzai spoke of secret trips to Afghanistan to reunite the country. He survived Taliban attempts to track him, escaped US bombing and became the President of Afghanistan.
In the past, Salman Rushdie scandal and Ashis Nandy's remark were the two big controversies that were associated with the festival. This year, the Central Board of Film Certification (CBFC) Chairperson Prasoon Joshi did not attend the festival where he was scheduled to address a session. The development came in the wake of repeated threats to Mr Joshi by the Rajput Karni Sena, which, in gross defiance of the law, has gone on a rampage after the censor board cleared Sanjay Leela Bhansali's Padmaavat for release.
When filmmaker Vishal Bhardwaj was asked to respond to the furore of Padmaavat, he said, "It's sad for the Indian film industry. I hope the state stops the protesters after the Supreme Court's verdict. That's scary... We are very small people. We can't take the law on our hands. We are from Gandhi's country and we should protest with non- violence."
Bhardwaj said Shakespeare fascinated him ever since he was a young boy. The stories visited him again as a grown-up inspiring him to use Shakespeare plots to make films like Haider, Maqbool and Omkara, which he invariably set in different regions of India. He has managed to obtain remarkable performances from actors like Pankaj Kapur, Tabu, Saif Ali Khan in his films.
British-born writer Pico Iyer said that a new kind of writer was emerging. Talking about the effect of migration, he said that movements across the world meant people were merging their adoptive culture into their cultures of birth, creating "communal histories". "Many of us couldn't have imagined English literature was going to be constituted by people the English couldn't pronounce," he said, citing the example of Japanese-origin writer Kazuo Ishiguro, who was awarded the Nobel Literature Prize last year.
This was the 11th year of the festival and its huge attendance endorsed its popularity. The audience was truly enthralled by writers, filmmakers, theatrepersons and poets who recounted anecdotes and discussed a variety of issues.
Donate Now
Comments
*Comments will be moderated