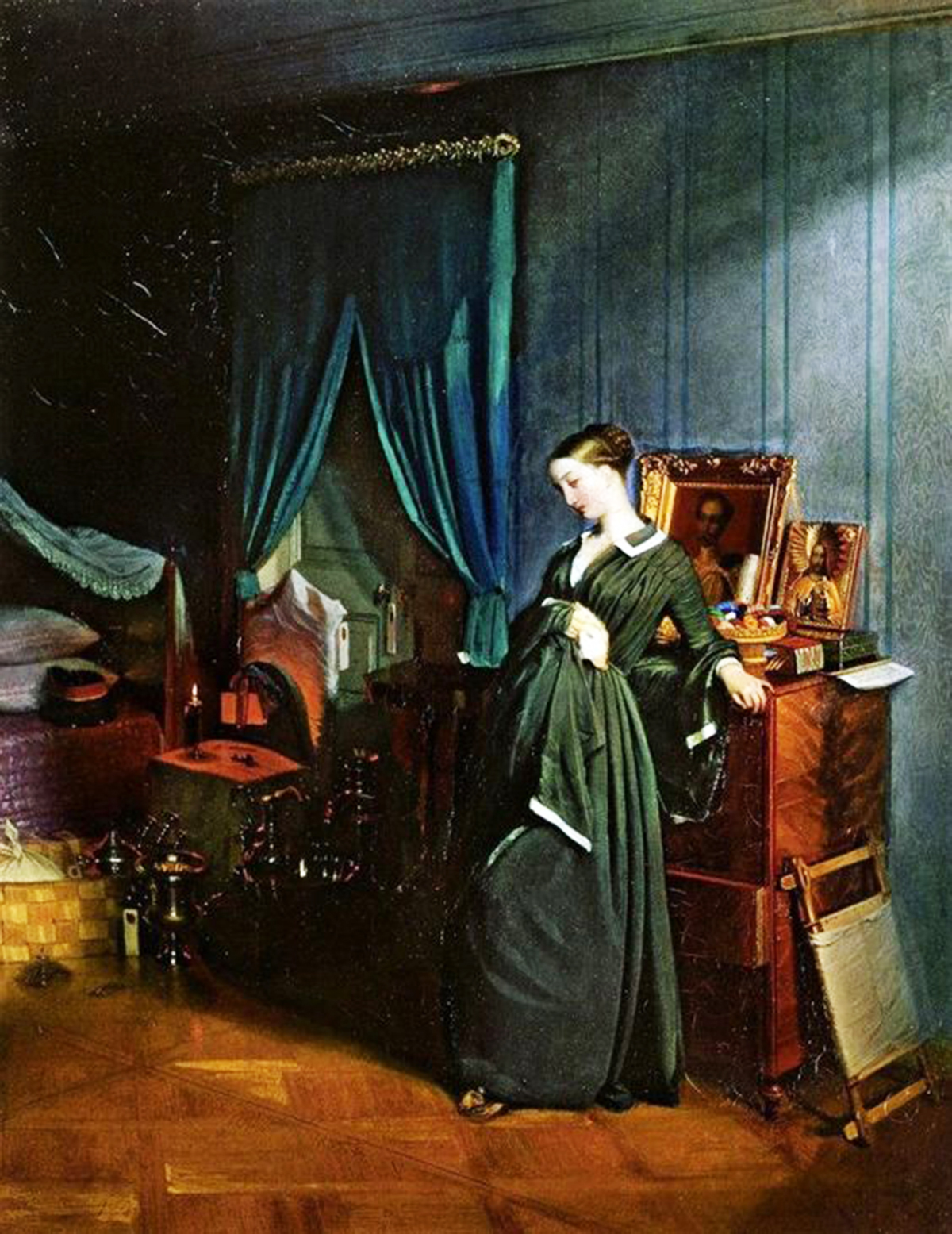 The Widow by Pavel Fedotov
That morning, the daughters didn't want to wake up. They had lain stretched out beneath the spotless white quilt, without moving, their arms crossed over their chests, their feet warmly pressed together, enjoying the delicious slumber.Tired from the strain of a day's work, they didn't want to rise.

On the veranda outside, waiting to serve them the morning tea, their mother Zoon started screaming: "My dear daughters! Wake up! Wake up; you have got to clean up the entire house."
Then she shot a gaze towards the main gate of her house and contemplated on the past and the future course of events. Though her wildflower-like eyes seemed incapable of focusing on anything for long, the village looked different from what she remembered. It seemed like an abstract painting, a flat, gray surface from which rise the buildings with closed windows and doors, capped by sunrays. Then her gaze flitted to the rose bushes planted near the entrance, flaunting massed bunches of red roses, gleaming in the sunlight. A mumbling softness crept into her barren heart; she breathed deeply in, filling her lungs with the spring. She floated for a while in her own world; wanted to live the same life as all the flowers, to grow and blossom in the sunlight as they did, to feel intoxicated with the spring air.
But, suddenly, she felt as if an uncanny surge of helplessness was about to swallow her up, without her being able to protect herself from it. Her eyes moistened, for her heart ached and her mind turned cloudy.
Yet, the gentle, loving and cool breeze was delectably playing with her green scarf, tossing against her face and nipping her veined neck. All this, momentarily, spruced up her dark thoughts. She surrendered herself completely to the current and was eventually immersed in a rapt but nameless reverie.
An instant later, when the daughters didn't turn up, she stormed in their room like a stern teacher entering an unruly classroom and woke them up.
After they quaffed the morning tea, the daughters resolutely wound their headscarves around their faces; wielding two long brooms, they began sweeping the floors of their three-roomed house. The elder daughter was taller enough to demolish the cobwebs under the disfigured wooden ceilings; the younger one dusted the corners and the crevices.
Washing the cups in the kitchen, Zoon heard them hum as they swept.
***
Zoon and her daughters lived a poor and pitiable life at Meharpora, a distant but serene village sprawled along the stony bank of the Rami Ara — the snow-fed river that flowed through Shopian district. After her marriage, Zoon had not got any son. And her daughters were expected, like other girls of the village of their age, to have a scanty schooling and then to stay at home — knitting, spinning, cooking, washing and managing other household chores.
The life of the mother-daughter trio followed a humdrum routine. The daughters stayed at home while Zoon worked in the fields that she had inherited from her husband.
Like every woman does, Zoon had liked being loved and fortunately her caring and handsome husband had showered her with abundant attentions and profound affection. However, her married life ended traumatically; for, once, a grenade attack was carried by the Kashmiri insurgents in the market of Shopian town, near the bicycle shop where her husband was working as a salesman, which resulted in the killing of three Indian troops. A day after the attack, her husband didn't return home from the town in the evening. Nobody knew where he went, who took him away and why. This sudden disappearance of her husband struck Zoon, her daughters and the villagers with gloom and terror.
Zoon left no stone unturned to search her husband but all in vain. Police stations, torture centres, jails, army camps, mortuaries and shrines were the places she went to but had returned dejected and disappointed. Along with her relatives and some well-wishers from the village, she had approached MLAs, bureaucrats, ministers, journalists, healers and lawyers — hoping that they could help her trace her husband. However, none of such efforts bore fruit.
The search took her about twelve years. During those long years, she received many marriage offers but rejected them flatly, hoping against the hope that her husband might return one day or the other. Sixteen years passed but there was no trace of him; still Zoon waited becoming more miserable with time.
The hardships she bore and the long waiting she went through in the life-sucking hunt of her husband leeched all the resources from her life. She lost the prime of her youth, her energy and money in the pursuit. She came to live a wretched life but she kept on going places and meeting people and seeking help. However, she stopped searching for him only on the day when one of the MLAs of the vicinity, in return of help, sought from her a night to sleep with him. She lost all hope. Eventually, she despaired. Everyone told her that her husband might have been killed but none was sure of that.
In the hope of her husband's sudden and unexpected return, Zoon had never before considered marrying herself off to anyone. In addition to it, the local maulvis, too, keeping in view the uncertainty of the case, couldn't decide whether she should enter a second marriage or not.
Nonetheless, as five years rolled by and the hopes of her husband's return almost died, the maulvis decreed that she could marry again if she wished to. However, she vacillated between the two choices she had. Everyone comforted her and advised her to marry again but she didn't listen to anyone.Yet, in the end, she succumbed to the logical insistence of her old uncle. But since she was not beautiful anymore, and since she already had two daughters, her chances for the second marriage diminished with every passing day.
One day, a rumour of village barber Wast Gul's intention to marry reached all around; it spread like a wild fire in the village. A thousand questions popped into the villagers' mind as to who would be the poor unfortunate women from the village to marry a barber. The barber had no major flaw, however. Indeed, his only flaw was that he was a barber, for his profession was not held in high esteem by the villagers. He had come from some other district and had settled in the village all by himself. Other artisans with skills like his, such as khaar, the blacksmith and pujj, the butcher, watul the shoemaker, etcetera were almost non-existent in the village because in the eyes of the villagers these professions were regarded as degrading and not fit for any proud and worthy person. Only those who themselves would not hesitate to commit theft or assault others, without any feeling of guilt, liked these professions.
The villagers believed that Wast Gul would be thinking of marrying either someone from the spinsters, divorcees or the widows — that included, of course, Zoon, even though she was not a widow in the general sense because nobody knew whether her husband was dead or alive. The journalists just referred to her as "Zoon, the half-widow".
As the majority of villagers would never have consented to marrying off their daughters or sisters to a barber, no one would be better suited to this than Zoon. Nonetheless, had she not futilely waited for her husband's return, she would have found a great man to accept her as a wife a long ago.
When the rumours of Wast Gul's marriage intention reached Zoon's ears, she began yearning for one concrete sign that he was actually considering her. For, in spite of all other considerations, she still longed for the warmth and contentment that married life offered, as well as for a husband to protect her once her daughters got married and as she grew older. A husband who would protect her and her daughters from the treachery of the time. She was no longer young — this was something she had never denied —but neither was she all that old, for she was hoping that her life's journey would be a long one. She was not yet forty and Wast Gul couldn't be less than forty three. Age, in this case, was not an issue; they were close in this respect and many women her age had got married and found happiness. Besides, the barber, whom she knew from his frequent visits to her home to shave her husband, had many fine qualities that other village men, who claimed to be above him, lacked.
Days rolled by. Zoon wished with all her heart that Wast Gul would seek her hand for marriage. Out of curiosity, Zoon asked one of her friends over a cup of tea together:
"Have you heard what everyone is saying about Wast Gul? He is thinking of getting married." Zoon asked in a tepid tone.
"Of course, I have heard! Hasn't everyone?" replied her friend casually.
"What else have you heard?" Zoon probed further.
"I have heard that he intends to ask you to marry him."
Zoon feigned anger but she made no answer and she kept herself busy washing the tea cups.
"Be honest Zoon…" inquired her friend. "Are you willing to have him for a husband?"
Zoon felt like a mouse caught in a trap. She kept quiet even as her heart raced and her hands trembled.
"All I want is a good ending to my life." she replied, sighing.
And then Zoon managed to change the subject quickly, worried that her friend might find her true feelings. After her friend was gone, while putting the cups back on the wooden shelf, in her kitchen, Zoon noticed a shining meat knife. She picked it up, gazed at it and burst out crying; then grimaced and checked her tears. "How good it would be to die!" she reflected, still looking at the knife. "Wouldn't it be better to kill myself than live this kind of life?" She was lost in the dismal thoughts of despair.
A week later, Zoon had lighted the fire in the mud-hearth and was cooking the rice in her kitchen. While attending to this, she would peer out through the window from time to time and think about her husband. Whenever the memory of him passed through her mind, she blocked it, staring at the glittering, smouldering embers in the hearth and spending long minutes without moving. A moment later, her uncle came rushing in, his face beaming.
"Perhaps God has answered my prayers." Good news, my niece! Good news!" he exclaimed.
"May it be the best news!" Zoon said, anxiously.
"Wast Gul wants to pay us a visit tomorrow, after dinner!" the uncle announced, scratching his snowy white beard.
So, the rumour had been correct after all. Zoon felt lucky he was thinking of her. A joyful elation swept through her. It was since long that she experienced such a moment of exhilaration; her paleness gone in the flush of her excitement. Nonetheless, her mind was suddenly flooded with all kinds of thoughts: of the married life, of her daughters, of the misery and hardships in her life … of her husband… people would certainly condemn her for having a barber for a husband and so on.
Her uncle, who was leaning on the stick, didn't allow her thoughts to go too far. He asked her what she had to say about the barber's visit.
"Of course, he is welcome." Zoon answered instantly with a tinge of nervousness.
"You know well, my last wish, prior to my death, is to see that you…you... have a hand of a man on your head."
The uncle said wiping a tear from his eyes.
"Really uncle, you did a lot for me and my daughters."
"Tomorrow or day after, which day you think would be better?"
"Make it tomorrow," she broke in impatiently. "It is Friday —an auspicious day."
"Ok. Tomorrow would be better."
The uncle patted her on the head. He left light-hearted, leaving the main gate ajar. Zoon took a deep breath, flung her arms over her head, stretched and let them fall. She wanted to tell everyone about the barber's intentions. She considered telling her daughters — or at least her eldest daughter, who was already seventeen — but she decided to wait until things were finalised. Then, she would break the news to both her daughters, for she was sure they would be happy.
On Friday morning, she told her daughters, in anticipation of the barber's visit, to thoroughly do the cleaning and sweeping of the house.
***
Late in the evening, after he had offered his isha prayers, Zoon's uncle arrived and called in a few neighbours. Half an hour later, Wast Gul came. As for her daughters, they were unaware of what was happening, for they were used to having uncle come and spend the evening with the neighbours after the final prayers of the day.
As was the custom, Zoon waited in a separate room. She was fresh from a bath and smelt of Lux soap. A pair of shiny traditional earrings dangled from her earlobes like upturned tulips. Holding a mirror in her callused hands, she assessed keenly her withered countenance. Her mind slipped back to the bitter experiences of the past but she soon arrested the flow of her sorrowful thoughts.
She had kohled her eyes, applied cosmetics on her face and put on an oily smile before she sat cushily on the window sill, waiting for a knock on the door.
When some time passed, she grew impatient. It seemed as if an oasis of promise was to be found in her desert of desperation. At one point of time, she was tempted to sneak through the corridor to eavesdrop on some of the men's conversation, yet she mustered up patience and preferred to wait in her room.
A moment later, her uncle came into her room. Zoon stood up at once. Her face lightened expecting such news that could blow up her heart with joy. The uncle came nearer and whispered in a coarse and tremulous voice:
"Wast Gul is asking for your eldest daughter's hand in marriage."
"What!" Zoon peeped desolately.
Then a long, mournful silence pervaded the room.
Zoon froze where she stood; the fervidity of her eyes slowly slacking off to her usual stale look.
All at once, a painful flashback of her caring and most handsome husband flicked over her mind and a rivulet of tears from the sunken eyes ran down her face, streaking the make-up.
Donate Now
Comments
*Comments will be moderated