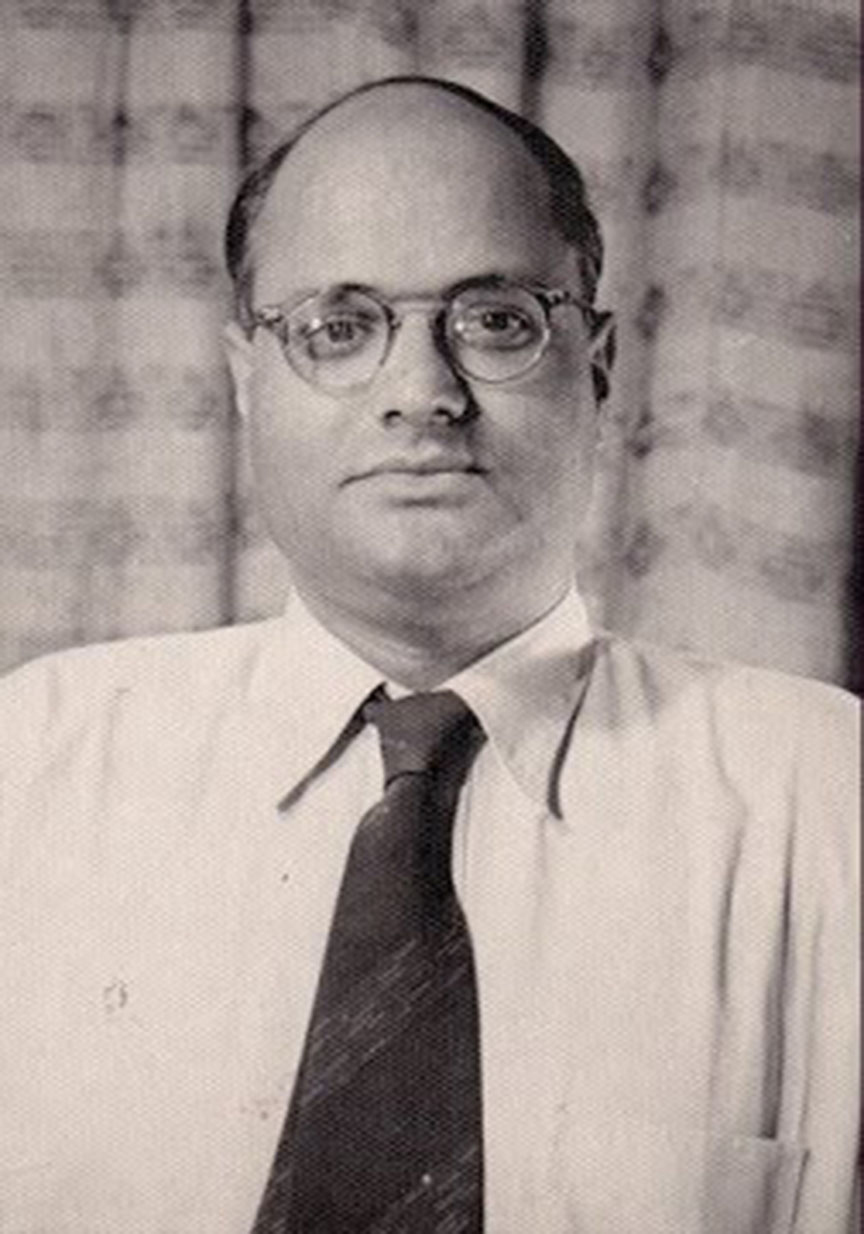 Nazar Muhammad Rashid, commonly known as Nun Meem Rashid or N.M. Rashid, was an influential Pakistani poet (August 1, 1910-October 9, 1975) of modern Urdu poetry. Photo courtesy of Rashid Ashraf
He began his poetic career with a youngster's contempt for established mores and ended it with an expression of ambiguity, managing to imbue it with ineffable optimism
A poem should not mean
But be.
Archibald MacLeish, "Ars Poetica"
The period between 1908 and 1914 saw the birth of a septet of Urdu poetry's modernist hall-of-famers. Makhdoom Mohiuddin was born in 1908, and thereafter at annual intervals arrived Asrar-ul-Haq Majaz, Nun Meem Rashid, Faiz Ahmed Faiz, Sanaullah Dar Miraji, Ali Sardar Jafri and Jan Nisar Akhtar. All seven were joined at the hip by a modern sensibility, but while five of them subscribed to a Marxist ideology and became an integral part of the Progressive Writers Association, Rashid, along with Miraji, chose to follow a more aesthetic-for-its-own-sake route, ending up with the rival Halqa-e-Arbaab-e-Zauq (The Circle of Aesthetes), an organization that disdained overt political expression in poetry. The progressive aesthetic was destined to bestride the horizon of Urdu's consciousness like a colossus in the mid-20th century, a phenomenon that rankled Rashid. He often expressed it in relatively petty terms, complaining once to a friend that while reporters referred to Faiz as "Faiz Saheb," they always referred to him simply as "Nun Meem Rashid," sans honorific. But history has been kinder. Now, Nun Meem Rashid receives his due in the pantheon of Urdu poetry, as a master craftsman, as one of the pioneers of the free verse (azaad nazm) tradition, as an originalist. The man who disdained the rhythmic poetry of his time as "only fit for greeting cards and tablecloths" is now viewed as among the stalwarts of modernist poetry (jiddat pasand shairi).
Rashid's biography offers a few tantalizing cues about his poetic sensibilities. Born Nazar Mohammed Janjua (the last name implies a Rajput heritage, marking high social status), he learned poetry from his father Raja Fazal Ilahi Chishti, who was fond of Ghalib, and an Islamic scholar to boot. Clearly, while seeped in Islamic heritage at a young age, the young Nazar Mohammed began to move away. Perhaps his metamorphosis began when he moved to Lahore's famous Government College, where he studied English and Economics, while editing its journal Raavi (Historian). At the Government College, he developed a close association with the great writer Patras Bokhari, who was a lecturer there. He published his first poem Jurrat-e-Parwaz (The Courage to Fly) in 1932, and is reputed to have bought a typewriter from Saadat Hasan Manto. The revolutionary ethos of his time appears to have left Rashid cold. He did briefly join the proto-anarchist Khaaksaar Tehreek (The Humility Movement) of Allama Mashriqi that fought for decolonization and sought a Islamo-secularist future for the subcontinent, but that association was short-lived. In an atmosphere characterized by a febrile anti-colonialism, he chose to join the Royal Indian Army. He served during the Second World War, and attained the rank of captain. Subsequent work included a stint in radio, including for the Voice of America, which took him to the USA. A move to the United Nations in New York followed, and he also lived for a while in Iran. Rashid was married twice. His first wife Safiya, with whom he had five children, died in 1961, and he remarried in 1964. His second wife, Sheila Angelini, was an Italian, with whom he had one child. Rashid died in 1975 in Banstead, a London suburb. Faiz referred to him in an obituary as Malik-us-Shoara (the king of poets). A brief kerfuffle involved his human remains, as he was cremated, shocking his Muslim fans. According to his wife and son, they were honoring his last wishes while doing so, but some have tended to dispute that. Global travel, multi-ethnic family, unconventional funeral, all are markers of a modernist iconoclasm that would pervade Rashid's poetry.
Rashid's commitment to innovation in poetic form is beyond question, as is the fact that his reputation as a trailblazer is well-deserved. A vast corpus of work is witness to that. In his life, he published four collections of poetry, each with a wonderfully expressive title. His first book Maavra (Beyond) was published in 1940. It was followed by Iran Mein Ajnabi (A Stranger in Iran), reflecting his stay in Iran as well as the influence of Persian poetry in Urdu. His depictions of sensuality transformed into bouts of philosophical contemplation, and his third book La Musavi Insan (Nothingness=Human) reflected that attitude. His final work was titled Guman ka Mumkin (The Possibility of Doubt), a possibility that he contemplates in a delightful final poem that ends with the ringing line Guman ka mumkin, jo tu hai, main hoon (The possibility of doubt, that is you, and me). Fittingly, the man who began his poetic career with a youngster's contempt for established mores ended it with an expression of ambiguity, and managed to imbue it with an ineffable optimism.
Rashid began with a bang. I can only imagine the furor that the publication of Maavra must have created in 1940, for it abounded in sexual imagery that was relatively new to the world of Urdu poetry. It is not that Urdu literature was a stranger to controversy created by young people challenging its straitlaced conventions. For example, there had been the Angaare (Embers) episode of 1932, where the publication of a set of Urdu short stories written by Sajjad Zaheer, Rashid Jahan, Mahmuduzzafar and Ahmed Ali had attacked an entire range of shibboleths, including religious solemnity and sexual prudery with a shocking directness. The resultant scandal had led to a court case as well as the boycott of these Marxist authors, a move that left them wholly unrepentant and possibly more popular. Likewise, the stories of Saadat Hasan Manto were being steadily lampooned by his interlocutors, though the legal trials he would be subjected to would occur a few years later. Likewise, Rashid's contemporary Faiz was riling colonialists, and would eventually be ensnared by right-wing nationalists in a bogus sedition trial that left him incarcerated for years and facing a death sentence. Rashid's book, while eliciting disapproval, did not lead to such legal persecution, perhaps because it merely spurned social mores, rather than seeking to upend the socio-political order itself.
Affecting a highly sexualized imagery, the poems in Maavra decried the sublimatory metaphors of Hafiz and Saadi, opting instead (as articulated in the poem Khwab-e-Aawaara, Wanton Dream) for direct depictions of sexual desire, of human bodies engaged in sex and such. In a particularly disturbing poem titled Inteqaam (Revenge), Rashid describes a post-coital state with a white woman. I do not, he says, remember her face, or her persona. All I remember is the bed, the bed on which my lips avenged all night the humiliation of my people by possessing her naked body. Shock value apart, it is impossible for me to get past the casual misogyny that this poem represents, and its nod to the reprehensible practice of writing cultural antagonisms on female bodies. Lest I be accused of imposing a 21st century sensibility on a work that is nearly eight decades old, I could point toward Kaifi Azmi's Aurat and Majaz's poems addressing women comrades as contemporaneous poems where protagonists sought to achieve solidarity with their female counterparts. Likewise, Rashid once refers to a sexual partner's breasts through an imagery of negritude, which I found needlessly racist ("On your bed, my love, desire inhabits the hillocks of your breasts, colorful like suffering negroes," in Bekaraan Raat ke Sannate Mein, In the Stillness of the Troubled Night)*. Overall, while Maavra provides a substantive counterpoint to the sublimated eroticism of the ghazal tradition, one cannot help notice that it implicitly reifies other conventions of power and gender.
With the passage of time, it appears that Rashid's thoughts began to get more philosophical, not necessarily as a break, but as a slow evolution. In a poem titled Kaun si uljhan ko suljhate hain hum (What problem do we seek to solve?) from his second collection, he writes of lips like deserts, and lifeless kisses (lab biyaban, bosey bejaan), indicating perhaps that passion alone is not the antidote to anomie. Keeping with its title, Iran mein Ajnabi explores themes of loneliness, loss and a wayward countenance.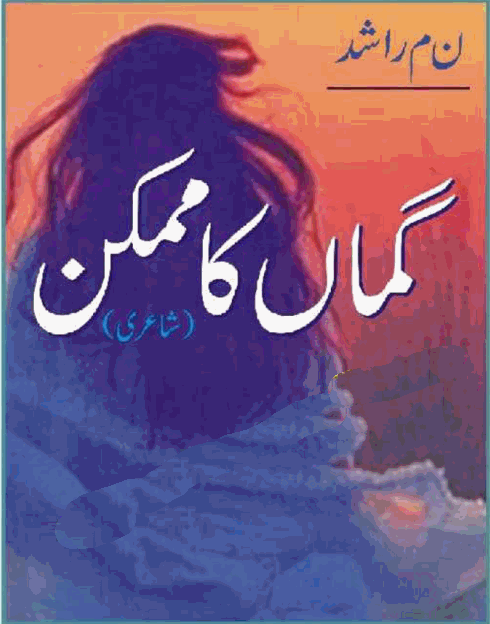 Rashid's third book La Musavi Insan (represented in print as La=Insan) begins like other books, with a reflective preface by Rashid. "Perhaps you may find this (title) a tad algebraic. But my point is that in the equation of life, a human often appears lost, his price impossible to discern, except as a lack ("la"). But the search for this price may well be life's reward itself." The book begins with what is perhaps Rashid's most popular poem, Hasan Koozagar (Hasan the Potter). This gorgeous epic poem was revealed by Rashid in four parts, with the first part achieving standalone glory**. The first quartet presents a soliloquy by an Iraqi potter named Hasan, who had fallen madly in love with much younger woman, Johana. Hasan's passion caused him to undergo a nine-year period of insanity, leading to him abandoning his profession, and leaving his family without sustenance. The poem begins as Hasan encounters Jahanzad again, and recounts his unrequited affections in a tone bereft of artifice or self-pity. Despite his tribulations, Hasan remains an undeterred lover, offering that should Jahanzad will it, he could still revert to being the potter of old again. Hasan Koozagar is a strange story of desire and creativity, of sanity and madness, and also represents the best traditions of the Urdu azaad nazm. As Hasan says:
Zamaana, Jahanzad, wo chaak hai jis pe meena-o-jam-o-subu
Aur faanoos-o-guldaan
Ke maanind bante bigadte hain insaan
The world, Jahanzad, is a wheel where
Like goblets and glasses and vases, humans are built and broken
And later,
Tamanna ki wus'at ki kisko khabar hai, Jahanzad, lekin
Tu chaahe to ban jaoon main phir
Wahi koozagar jis ke kooze
Thhe har kaakh-o-ku aur har shehr-o-qariya ki naazish
Thhe jin se ameer-o-gada ke masaakin darakhshaan
Tamanna ki wus'at ki kis ko khabar hai, Jahanzad, lekin
Tu chahe to main phir palat jaoon un apne mehjoor koozon ki jaanib
Gil-o-la ke sookhe taghaaron ki jaanib
Ma'eeshat ke, izhaar-e fan ke sahaaron ki jaanib
Ke main us gil-o-la se, us rang-o-raughan
Se phir wo sharaare nikaaloon
Ke jin se dilon ke kharaabe hon roshan!
(Who is aware of the limits of passion, Jahanzad, but
If you wish, I can again become that potter
Whose creations were the pride of palace and hovel
Of city and village
Which adorned the houses of rich and poor alike?
Who is aware of the limits of passion, Jahanzad, but
If you wish, I will return to my deserted pots
Those jars made of clay and nothingness
Toward the joy of creation and its display
That from that clay and nothingness, that dye and lacquer,
I will produce such flames again
That would light up the ruins of many a heart!)
The collection also abounds with poems with wickedly inventive titles such as Abu Lahab ki Shaadi (The Marriage of Abu Lahab, one of the most hated characters of Islamic mythology), Israfeel ki Mazut (The Death of the Esrafel, the archangel of the trumpet) and such. His poem Zindagi se Darte Ho (You fear life) became one of the few of his pieces that was performed to music, most recently by the rock group Indian Ocean, for the 2010 movie Peepli Live***.
Rashid's final book Gumaan ka Mumkin takes surreal imagery into moments of astonishing lyricality. In Samandar ke Teh Mein (Under the Sea), he speaks of buried treasures. Under the sea lies a chest. And in that, a package in a package in a package. How did it get there? The mystery remains. So does the chest. It is guarded by the nights of words (Lafzon ki raaton ka pehra). Will those angels of meaning ever be found by a magical diver? The poem celebrates the intangibility of ineffable words and feelings, as they engage in a playful game with those that seek to pin it by intent relation (represented by diving sorcerers, the ghavvas jadugar). While defying any attempts to enmesh it in meaning, the poem leaves the reader entranced by its idiosyncrasies. Likewise, Tasavvur ke sehra mein (In the desert of imagination) speaks of desolate landscapes of the heart, lit occasionally by a lonesome sign of love (mohabbat ka tanha nishaan). The internal cadence of these poems is stunning, and continually reminds us that free verse is not really free, that relaxing the strictures of rhyme and metre do not absolve the poet of the imperatives of rhythm.
Rashid's prose offerings include a thoughtful foreword to Qurratulain Hyder's opus Aag ka Darya (Sea of Fire), the prefaces to his collections, and his correspondences, most notably with his fellow poet Akhtar Sheerani. But in the end, it is his poetry that holds court. If there is one poetic trope that animates his work most of all, it is that of the khwab, the dream. The dream of course is a generic trope, and works differently under different poets. For the romantics, the dream was an interlude where moments of separation could be borne by recalling dreams of union. To the progressives, a dream was often a metaphor of positivity, of a future that would be markedly better than the present. It is exemplified best in the words of Majaz:
Kuchh nahin to kam se kam khwab-e-sahar dekha to hai
Jis taraf dekha na tha ab tak, udhar dekha to hai
If nothing else, we have at least dared to dream of dawn
And gazed at that spot, where we had not yet looked upon.
Rashid's dreams are not only more fevered, but less valued by those masses to whom he offers them. In another of his celebrated poems from his final book titled Andha Kabadi (The Blind Collector), his protagonist, blind in sight but wise in the other senses (blindness has often been deployed in Urdu poetry as a stand-in for wisdom), tries hard but unsuccessfully, first to sell, then to give away dreams to an uncurious populace. Perhaps Rashid was being autobiographical here, casting himself as survivor of Plato's cave, desperately appealing to his contemporaries, khwab, le lo khwab (Dreams, I offer dreams).
Shahr ke goshon mein hain bikhre hue
Pa-shikastasar-bureeda khwab
Jin se shahr waley bekhabar
Ghoomta hoon shahr ke goshon mein roz-o shab
Ke in ko jama kar loon
Dil ki bhatti mein tapaoon
Un ke dast-o paa phir se ubhar aayen
Chamak uthen rukhsaar-o gardan
Jaise nau-aaraasta dulhon ki hasratein
Phir se in khwabon ko samt-e nau mile
(In the corners of the city lie scattered
Desolate dreams, barefoot and bareheaded
The denizens of the city are unaware of them
And I roam the corners of the city, day and night
That I may collect these dreams
And burnish them in the kiln of my heart
Such that their limbs appear in sharp relief
Their faces and necks glisten and glow
Like the desires of newly-adorned bridegrooms
And those dreams may find new direction again)
The boy from the priestly family of Alipur Chatha near Gujranwala did end up a nihilist dream merchant, and is destined to remain in public consciousness as long as long as people read and enjoy.
* Perhaps it is time in this article for a personal statement in the interests of full disclosure. I grew up a passionate partisan of the progressive poets and their aesthetic, and remain very taken in by their realist aesthetic. Diehard fans of Rashid may use this to contextualize, and perhaps ignore, some of my critique.
** Find Zia Mohyeddin's rendition on YouTube or elsewhere, it will transfix you!
*** Another musical performance of Rashid's work is Ai meri zaat, phir mujhe vida kar (My being, bid me adieu again), performed by the peerless Nayyara Noor.
Donate Now
Comments
*Comments will be moderated