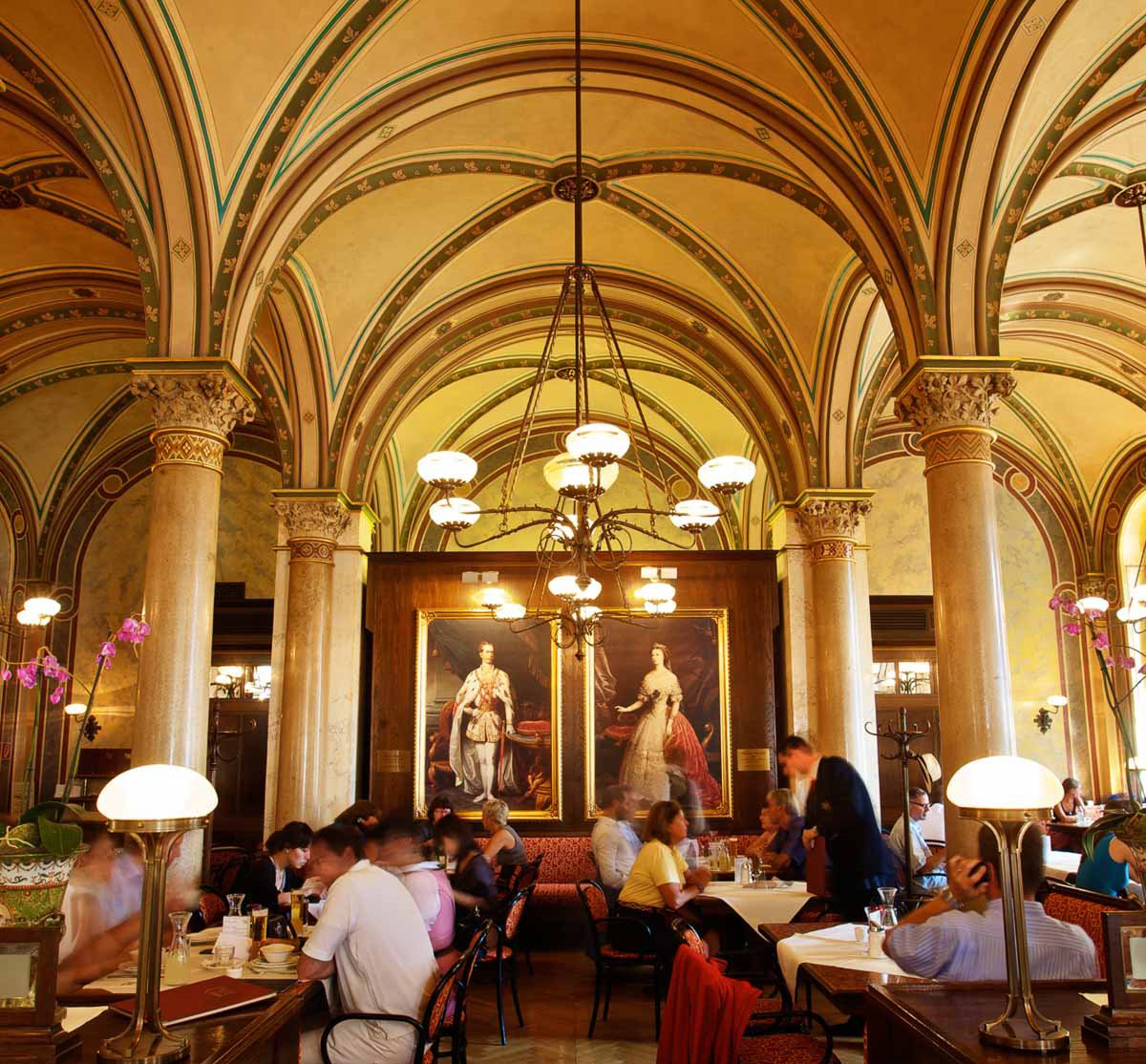 Cafe Central, Vienna. Photos: Sarita Jenamani
Literary cafés act as a useful heuristic device to find out how writers make sense of the unique social and cultural phenomenon of the café. Viennese cafés, for instance, have been an indispensable part of the literary and cultural history of Austria
Vienna, one of Europe's well-preserved historic capitals — my second home for two decades — is arguably the most livable city of the world and a visitor's delight in any season of the year. Till today this opulent, old-world metropolis manages to maintain simultaneously its timeless and boldly contemporary character. You can experience time travel through its medieval narrow streets or take a sip at a cup of mélange under the vaulted roof of Café Central — much in the same way Freud and his contemporaries had used to do. While passing Herrengasse, where this legendary Café Central is situated, I often find a long queue of tourists waiting eagerly to enter it to sip 'Wiener Melange' (Viennese Coffee with frothing milk). The experience of my visits to these cafés during my early days in Vienna metamorphoses into a poem.
Viennese Coffee-houses
No sooner does dusk fall
than the city's cafés come to life
with the tinkling clang of indifference
Gradually the crowd of solitude gathers
around the tables
These cafés are an integral part of the Viennese lifestyle, and they enjoy the status of the intangible cultural heritage of Vienna by the UNESCO but beyond their tasteful decoré, velvet seats, magnificent chandeliers and mouth-watering pastries, these places have been an indispensable part of the literary and cultural history of Austria. Many artists and writers sat for hours in cafés, they ate and drank in cafés, they talked and argued in cafés, they thought and wrote in cafés; in short, the café was the backdrop for their lives. For some of these writers, the café also served as the setting for some of their greatest works. Austrian authors such as Peter Altenberg, Egon Friedell and Anton Kuh worked in Café Griensteidl, Café Central and Café Herrenhof. Café Korb, for example, was one of the first weekly meeting points for Freud's "Vienna Psychoanalytic Society." Café Landtmann is also known to be Freud's favorite café in the city; in fact, it was a spot where he found many of his patients that played an important role in his research. The most-hyped Café Central was once home to some of the greatest writers and philosophers like Stefan Zweig, Arthur Schnitzler, and Hugo von Hofmannsthal.
These cultural institutions of Austria were silent witnesses to expulsion and persecution of the Jewish bourgeoisie. In his novel, The World of Yesterday (1941), exiled Jews writer Stefan Zweig, while describing his teenage-years in Viennese cafés, writes: "The Viennese coffee house is a special kind of institution that cannot be compared to any other in the world. It's actually a kind of democratic club, accessible to anyone for a cheap cup of coffee."
Nothing contributes so much to the intellectual agility of the Austrian like Viennese cafés. However, this phenomenon of the literary café is not exclusively something Austrian. There are three different literary "coffee house models." The Viennese model is characterized by a diverse range of newspapers and a quiet atmosphere, whereas background music accentuated the Parisian model, which was predominantly frequented by visual artists, and finally, the model of Buenos Aires, which resembled in his lively character with an "editorial office of an 'oral journal'". Even today in cities like Budapest, Prague, Florence, Milan, Venice, Naples, Lisbon and Madrid and Berlin one can find cafés, which are assigned to the type of the "Viennese model".
Whether in Vienna, Paris or in London, these cafés serve to create, what Jürgen Habermas might term, a 'public sphere' for intellectual projects and ambitious utopian ideals. In the impetuous days of early twentieth-century art experiments, great 'civilization-shaping' projects were being forged in the cafés of Europe.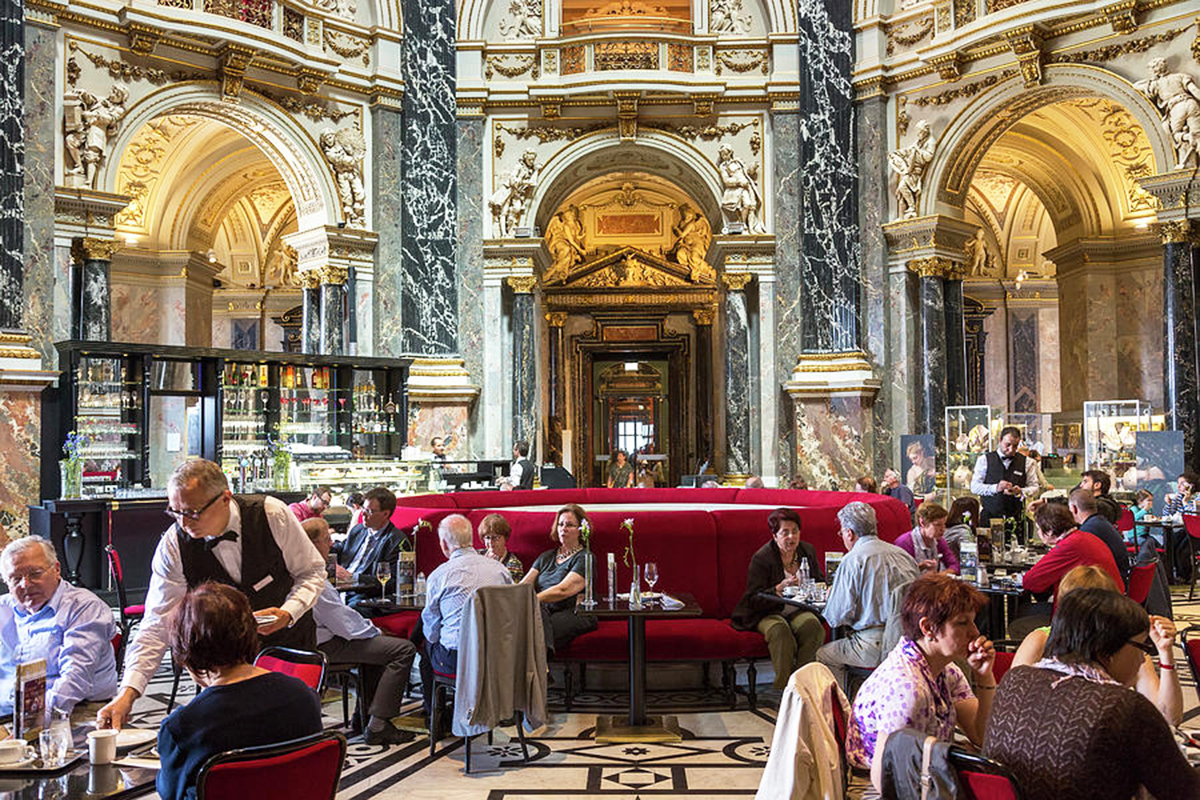 Café & Restaurant in the Kunsthistorisches Museum, Vienna
While living in Paris in order to boost up his literary output, Henry Miller set himself a 'daily program' that included visiting cafés in the evening to meet friends or to read, as well as ensuring that he put aside plenty of time during daylight hours to 'sketch in cafés.'
Jean Paul Sartre insisted on the public role of the writer and used the Café de Flore for the exchange of ideas. He, along with his life partner, Simone de Beauvoir, spent most of his time there and this experience has certainly influenced some of his philosophical thought. His famous chapter on 'Bad Faith' in his magisterial work Being and Nothingness (1943), for example, one discerns the behavior and self-identification of a café waiter.
The French Revolution, Symbolism, Impressionism, Dadaism, Existentialism, and Surrealism have all been rooted in the café life of their times. Inspired by European café culture, writers and artists in India founded literary addas. In 1930-1940, Allahbad became the hub of the progressive movement. Writers like Amrit Rai, Agyeya, Aijaz Husain, Upendranath Ashk, Shamsher Bahadur Singh were regulars at cafés in the evening, where they met, exchanged ideas, and sowed the seeds of some epoch-making moments in our literary and cultural history. Many evenings of discussion took place in the coffee houses of Delhi at Connaught Place or Janpath, among artists like MF Hussain, Habib Tanvir or literati like Mohan Rakesh, Kamleshwar or Mani Kaul. This tradition continues till today. Right from its inception, the café of College Street in Kolkata has been hosting artists and writers like Satyajit Roy, Ritwik Ghatak, Narayan Gangopadhyay, Sunil Gangopadhyay, among others.
Literary cafés act as a useful heuristic device to find out how writers made sense of the unique social and cultural phenomenon of the café. It can also be a way to access underlying structures of the epoch's specific thought: not only as how the space figured in the day to day lives of writers and the society with which they associated, but also about more theoretical and technical concerns that include the imaginative engagement with space and its representation in literature.
Though café culture and literary circles of the fin de siècle no longer exists as such, keeping the tradition alive many important contemporary Austrian writers still today prefer to write in their favorite cafés. Regular literary readings and philosophy discussions take place here such as in the café Korb where you can, not only sip your Mokka with the Apple strudel but have also the opportunity to listen to discussion of Viennese philosophers in the program "Philosophy café - Return of Communication" or you can watch an aloof Nobel laureate Elfriede Jelinek jotting something in her notebook.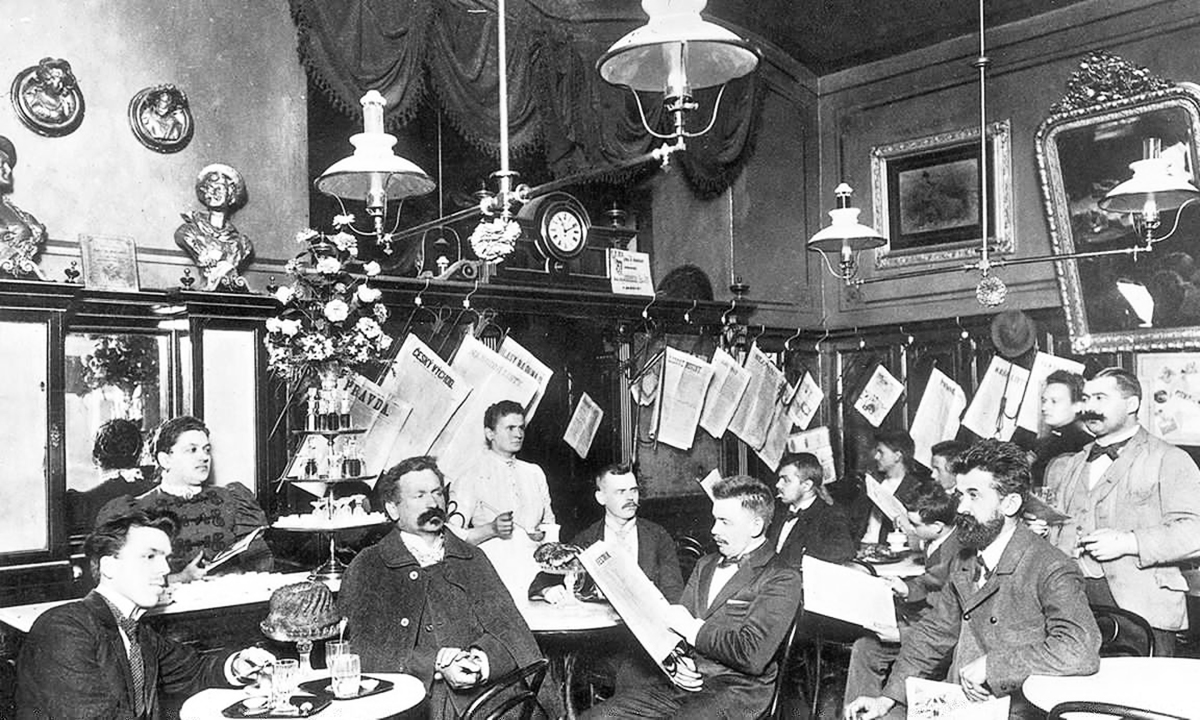 Viennese Coffee House
In recent times, one observes the re-emergence of so-called book cafés in India like Atta Galatta in Bengaluru, Café Turtle in Delhi, Kitab Khana in Mumbai or Literati in Goa. Here, the question arises: How important is it to protect the cultural spaces like cafés and addas in a time when virtual spaces of social media have already started making inroads not only into the ways and means of our social interaction and are also influencing our collective consciousness?

In the early decades of the twentieth century, the crossroads of the great cities were not boulevards but crowded cafés. During the high artistic activity of the modernist period, the café functioned as an informal cultural institution where like-minded artists and intellectuals could meet, drink, and discuss the latest developments in art. However, Walter Benjamin has already pointed out somewhat pessimistically that modernity did not frequent the café. Modern is Espresso, a form of coffee that began in the 1950s. The essence of speed lies in the espresso. This change reflects the accelerating tempo of our times. In today's world where the quality of art and literature is almost vanishing in the cacophony of self-marketing and the social media buzz, the role of places like cafés in the society of art and letters cannot be overemphasized.
Donate Now
Comments
*Comments will be moderated