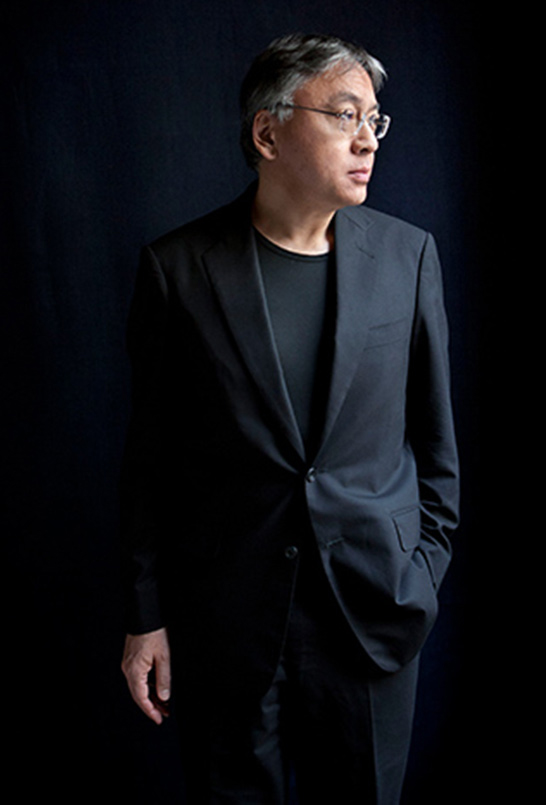 Kazuo Ishiguro. Photo courtesy of Faber & Faber
With each new novel, Kazuo Ishiguro spends years fashioning an entirely different world in order to probe more deeply into the fundamental human dramas of affection, loss and misunderstanding. He sits, impassively, like a kind of Buddha on a mountaintop, taking in, with meticulous clarity and sympathy, the sorrows of wrong choices (in Remains of the Day), of dislocation (in When We Were Orphans and The Unconsoled), of impermanence (in Never Let Me Go) and of lifelong devotion (in The Buried Giant). In every case, the form itself is simply a way of giving us emotions as direct and often overpowering as with Lear on the heath.
Talking about Ishiguro as Japanese or English or as a person of many traditions is ultimately beside the point, though part of his rare genius is to tell a deeply personal and a richly political story all at once, to give us allegory and realistic drama in the same breath. The Buried Giant could be seen as a story of post-war Germany and Japan, or as merely an unbearably affecting tale of an aged couple entering the mist of Alzheimer's.
Beyond all that, Ish has the special gift of being an open, constantly enquiring and deeply nice soul, relaxed for all the seriousness of his craft, and still able to talk with ease and penetration about the works of early Dylan or Gillian Welch. He has a whole room full of guitars in his house. If ever someone wants to see what truly exacting, disciplined and open-minded writing is about — why we need writing — she could turn to any of Ish's generous and unguarded interviews on YouTube. For two years now, I've been boring everyone within earshot about how the sages of Stockholm should come to their senses and give him the Nobel, as with his counterparts Beckett and Pinter. But I never thought it would really happen!
Donate Now
Comments
*Comments will be moderated