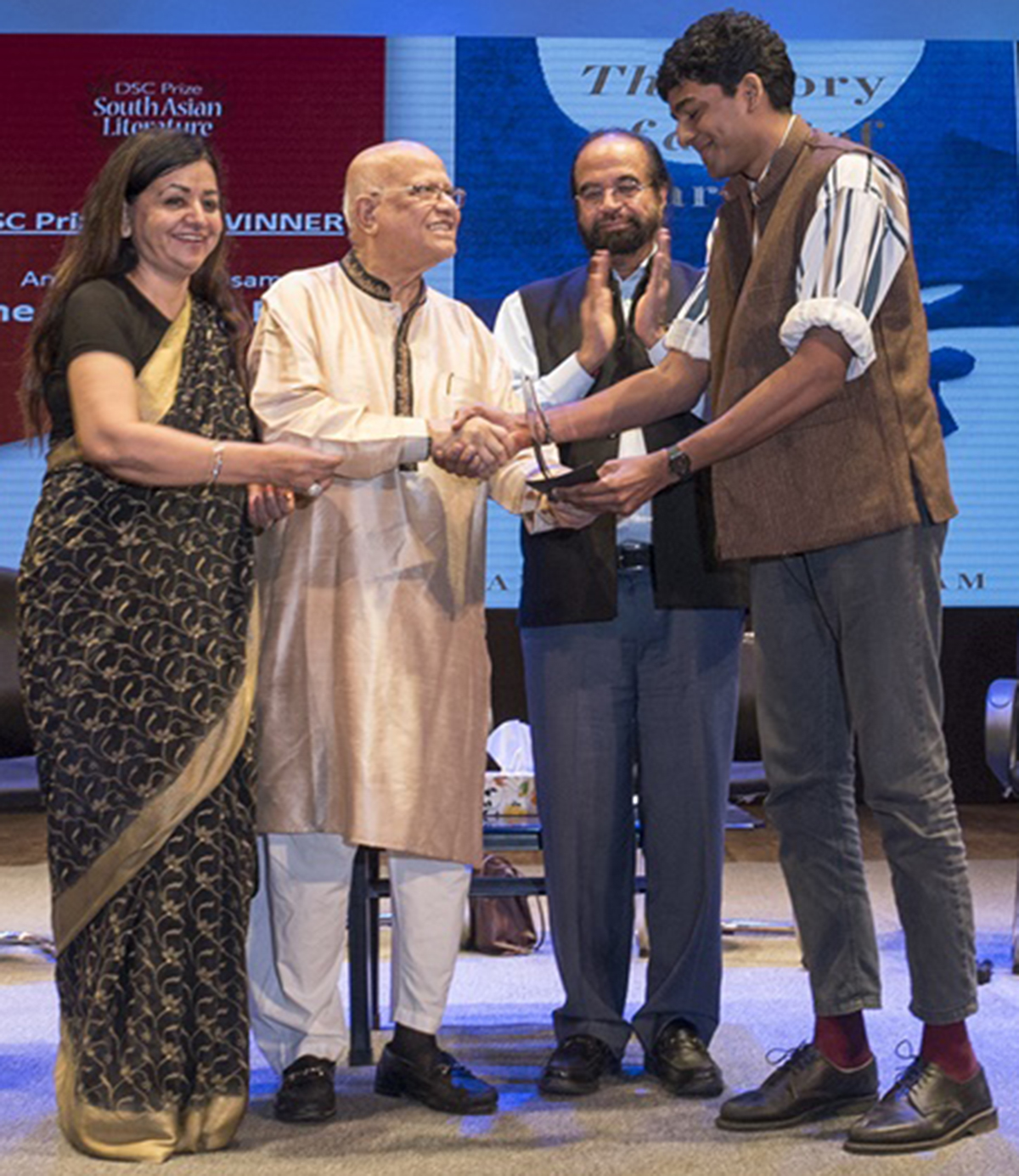 Anuk Arudpragasam, the winner of the DSC prize for South Asian literature 2017, with Surina Narula, founder of the DSC Prize for South Asian Literature, at the Dhaka Lit Fest in Bangladesh. Photo: DSC Prize for South Asian Literature
The idea of South Asian literature is not new. Our literature and the literature of our neighbouring countries, is perhaps, older than the Western civilisation. The Vedas, the Puranas and our mythologies have been studied for centuries by western scholars. The western world has sent numerous ethnographers to study Asian culture and its manifestations in war and daily life. So what is new about South Asian literature?

More than a hundred years of British rule in most of the South Asian countries has made the generation of civil servants and their children who were the only educated class, unaware of the importance of, or even existence of our own literature, and the importance of studying and analysing the good and bad from the contrasting cultures of the East and the West. We have ended up aping the West completely, sometimes fooling ourselves into believing that everything in the West is better than this poverty-ridden, backward developing world.
India got its Independence from the British in 1947. Our generation still went through English education with papers coming from Cambridge. We had this romantic image of England as seen through the eyes of Thomas Hardy, William Shakespeare, Jane Austen, Charlotte Bronte and many others from English literature. Many of our friends moved to England and, of course, we sent our children to Oxford and Cambridge. These children suffered racism in their schools. They grew up resenting their culture and the food that made them, and their house's smell. The only culture they were exposed to, while visiting their own countries, was of long waits at train stations, visiting relatives who were often jealous, and seeing poor children on the streets they couldn't bear to see. How could these kids, brought up abroad, even want to know their culture? Their culture was seen by them through the eyes of the western children they interacted with. Arranged marriage, vegetarianism, spicy food and all kinds of eastern nuances were treated with deep suspicion and negative connotations. This continued till the end of the eighties till a confident second generation took root in the West and started celebrating their culture, food and music which was then accepted and celebrated by the West.
With the success of Vikram Seth, Arundhati Roy and Salman Rushdie, we started reading literature in English from authors from our world. Their descriptions somehow matched our experiences and we started relating to South Asian literature which now came to us through the medium of people who saw the world through our eyes. This was the new educated Asian who inhabited the world, and not just a narrow region which was full of poverty and religious strife and bogged down by traditions and struck by war. Writers moved away from tradition enduring, self-sacrificing women towards conflicted female characters searching for identity. Their interface with the west changed the perceptions of how they viewed their own societies.
I was recently interviewed on Sky News for the DSC Prize for South Asian Literature. The interviewer asked me that why he should read South Asian literature. He said, 'Educate me. I don't know anything about it.' I said, 'Look around and see the people who live in England. You must be coming across people from India, Pakistan, Bangladesh, Sri Lanka and other South Asian countries. Have you ever wondered why they behave in the manner they do? Have you sometimes misinterpreted their motives since you have no idea of their cultural nuances? Have you wondered why a woman who is so educated wears a hijab? What motivates her?' I told him that when this island of Britain ruled half the world, there was a tradition of sending social anthropologists to do an ethnography of the country they wanted to conquer. The person had to learn the language and live there to see how people lived and what they believed in just to be able to conquer them.
A century later, those barriers of language and travel etc don't exist. When you read South Asian literature, it is like reading an ethnography done in the English language and it is better than the social anthropologist because most of these writers are the second generation of immigrants from these countries and are questioning their cultural practices. Often rebelling against them to begin with and then approaching them with a better understanding. I suggested that the interviewer should read some of these books to understand arranged marriages and many such intriguing cultural norms practised in the poverty-ridden developing world. 'You will be more sympathetic and empathise with their issues rather than be confrontational and irrational which is often the case," I said. Racism is a form of ignorance.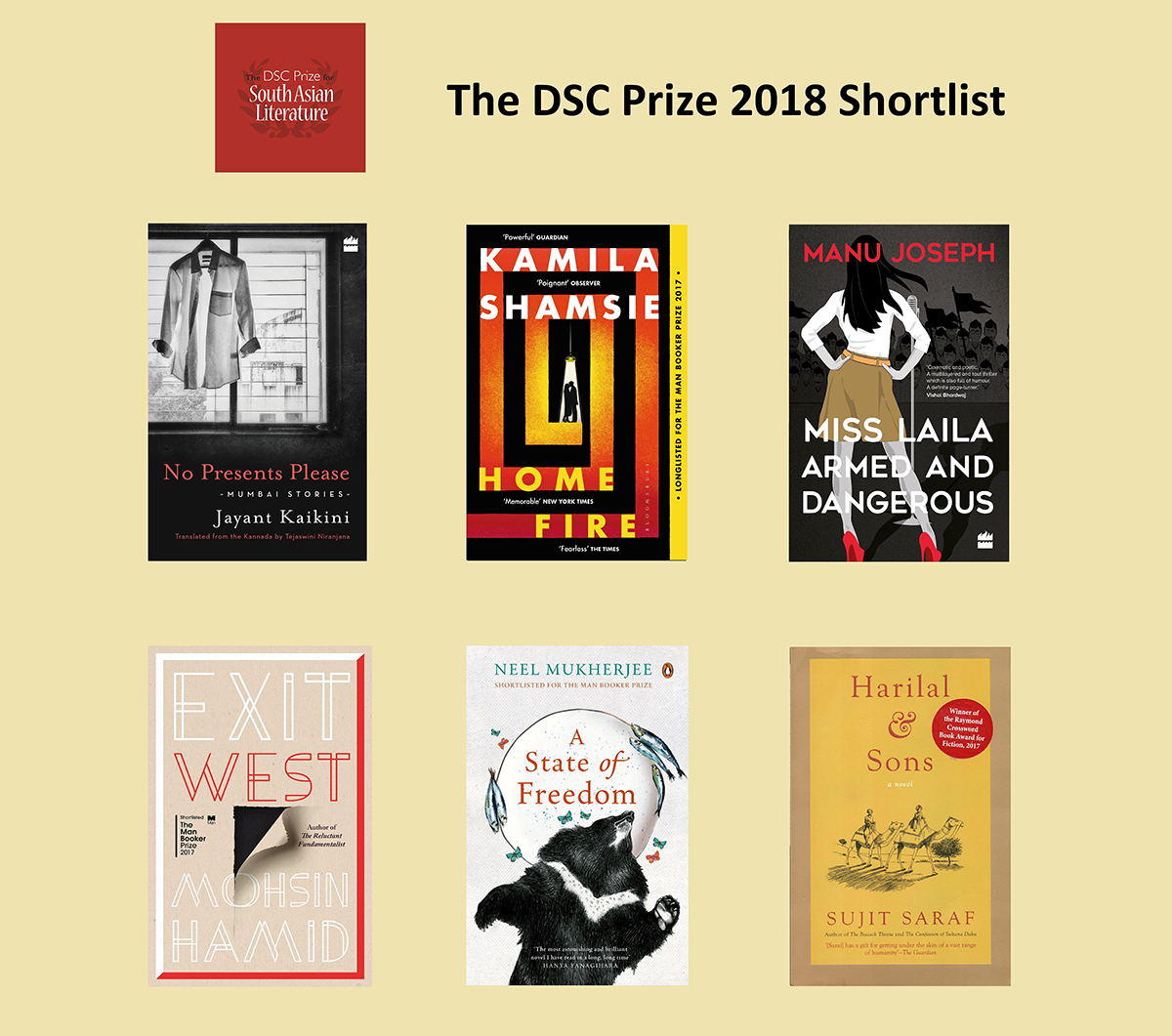 Thus, reading South Asian literature today is a different experience than reading the classical literature of Valmiki, Vyas, and the earlier Vedas, Puranas and the Sanskrit texts, etc. The language is easier, considering the fact that modern young people from across South Asia are comfortable reading English. South Asian literature in English has become this new form of expression of the diaspora, be it within South Asia or outside of it. Experiences of migration, gender bias, racism and war are quite prevalent in this writing.
The books shortlisted for the DSC Prize this year remind us that the extreme conditions of living in poverty and migration are big themes. No Presents Please, a collection of short stories by Jayant Kaikini translated from Kannada by Tejaswini Niranjana, begins with the story of a very poor man who lives alone in a very stark one room apartment and neither has the means nor the time to think about getting married. He is approached by a poor man who also cannot think of anybody who will marry his daughter who has had a brief marriage. This story explains the idea of arranged marriage in a poverty-ridden society and the culture that drives these decisions. It has many other stories that are set in similar circumstances of the developing world. Why the publishers sent a collection of short stories for the DSC Prize intrigued me. I was told that this was a decision taken by the jury because these stories were bound by its setting and almost constituted a novel.
Neel Mukherjee's A State of Freedom is also a set of stories about migration and social justice. Similarly, I enjoyed reading Exit West by Mohsin Hamid as this novel brings alive the pain of societies battling the uncertainties of temporary peace and impending war.
I particularly enjoyed reading Kamila Shamsie's Home Fire which points out a fact I wasn't fully aware of – I was aware of it to some extent but I did not notice its injustice until I read this story. This is the fact that citizenship can be taken away from you if you commit any crime against the nation you have been naturalised in. I began by thinking that let the pedophiles and the jihadis go back to wherever they came from until Kamila put some sense and talked about the whole idea of citizenship. She writes about a fictional story set in London which takes its inspiration from Iliad, a Greek mythology, and makes us realise our folly in being irrational in thinking citizenship is revocable. Citizenship is both the responsibility of the nation that gives it and the individual that receives it. If the nation has a choice of taking it back it obviously does not hold itself responsible for educating the minds of these children born in the West because it can banish them if they fail. This well-written novel has started many debates and discussions on the idea of citizenship.
Manu Joseph (Miss Laila Armed and Dangerous) is always a pleasure to read. His novels are easy and humorous yet give you a deep sense of the cultural nuances he is talking about. Harilal & Sons by Sujit Saraf is also a great contender by its sheer magnitude of describing the family saga.
South Asian literature in English is, therefore, important and must be encouraged so that our cultures find understanding and recognition in the global context.
Donate Now
Comments
*Comments will be moderated