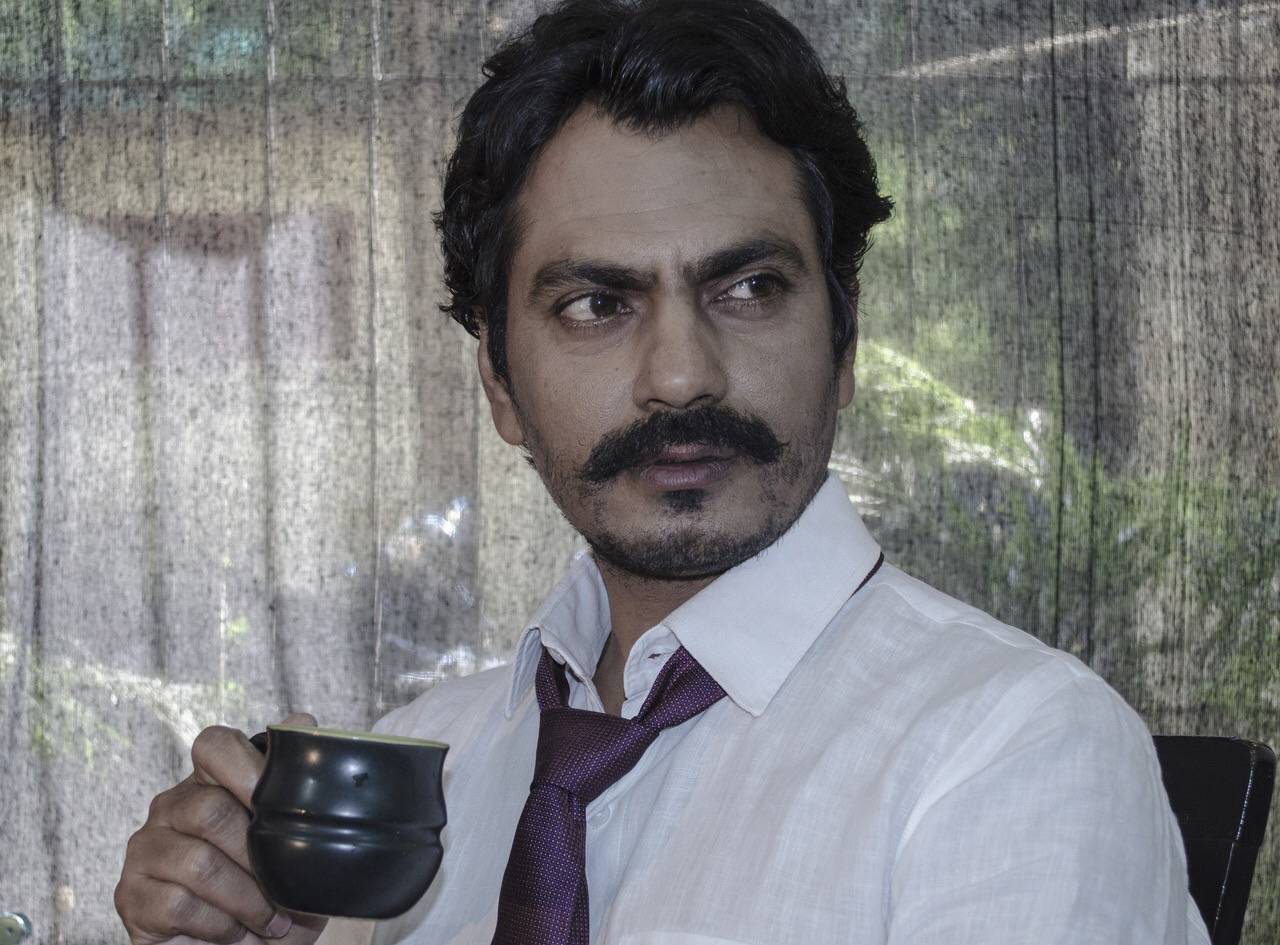 Nawazuddin Siddiqui. Photo courtesy: Magic If Films
To Nawazuddin Siddiqui, every role brings a set of new challenges. The actor on his craft and career:
He is an actor who is thrilled by the possibility of doing something different each time he signs a film. For Nawazuddin Siddiqui, every role brings a set of fresh challenges. He says a role must take him in an uncomfortable zone where he is made to struggle. Actors, he says, have to learn to adapt to the rhythm of a filmmaker, fit into a director's vision since a director is someone who is looking at the entire film.
It has been such a long journey for Nawazuddin as an actor. Born and brought up in Budhana, a small town of Muzaffarnagar in Uttar Pradesh, he graduated in chemistry from Gurukul Kangri Vishwavidyalaya, Haridwar. Following this, he worked as a chemist in Vadodara for a year. He says it was in Vadodara (at MSU's drama department) that he first got inititated into the exciting world of theatre. Soon, he managed to secure admission at the
National School of Drama
(NSD) in New Delhi which, in various ways, shaped him. He says, "NSD completely changed my acting style and my way of thinking. What was being taught at NSD changed my benchmark to think, reflect and understand."
During his NSD days, he also worked as a security guard in Noida to earn a living. It was in Delhi that Nawazuddin discovered world cinema, which, he says, taught him the "economy of acting". After NSD, he moved to Mumbai to pursue his dream to be an actor. However, Nawazuddin had his share of struggle before he was recognised. After doing one-scene and two-scene roles in serials and films, when he did a three-scene role in Anurag Kashyap's
Black Friday
(2007), he had begun to accept that perhaps this was his peak. He says, "I had come to accept that perhaps this was what I was capable of and had reconciled with it."
However, Nawazuddin was destined to arrive. With Sujoy Ghosh's
Kahaani
and Anurag Kashyap's
Gangs of Wasseypur
in 2012, he finally burst upon the scene. Directors and producers, who thought little of him because of his looks and diminutive figure, vied with each other to sign him after he made people sit up and take note as Faizal Khan in the two-part epic crime saga, Gangs of Wasseypur. "It opened a new door. Within one-and-a-half month of its release, I got about 275 scripts, with many producers sending blank cheques to me, urging me to fill a desired amount and give a suitable date, with some of them even ready to wait for one or two years for dates," says Nawazuddin.
Excerpts from an interview:
Jaideep Ahlawat: Let's begin at the beginning. When you were growing up, what kinds of films did you watch? What was your association with Hindi cinema like? Could you share some abiding memories of those days?
Nawazuddin Siddiqui: Since I was brought up in a village (Budhana in Uttar Pradesh), there were makeshift cinema halls that moved from one place to another. These cinema halls would mostly screen C-grade films. We would go to watch those films. Their titles would be like: Andheri Raat Mein, Tangewali. For us, an A-grade film at that time was Purana Mandir (Ramsay Brothers). It was among the few big-ticket films I saw then. When I saw these films, I used to fancy that I should be in them too. But then every child has his own fantasy. As a child, the lure attached with actors was that they were getting to kiss for free. We were into farming and culturally not so strong. At that point of time, I was not that seriously into pursuing acting as a profession. When I was adolescent, Dharmendra was very famous in the western belt. We would watch his films.
Jaideep Ahlawat: Tell us about your equations with your family members etc. What bonding did you share with your siblings?
Nawazuddin Siddiqui: We had a large house and ours was a joint family comprising uncles and aunts. Perhaps one advantage of such a family was that when everybody returned from the farms in the evening and would sit at home and have a chat, some of us children would often imitate someone in the family — the way they talked or walked.
Since I'm the eldest of eight siblings, I have been a bit strict. Even if I did something wrong, I'd ensure my brothers and sisters would not do the same. (Laughs) Even today, it has stayed the same: I am still strict to them.
Jaideep Ahlawat: Did you subconsciously decide to be an actor while imitating others in the family?
Nawazuddin Siddiqui: I don't think the thought to be an actor struck then. This trait — mimicking other — is very common among kids. There is an incident of the time when TV had come to our mohalla for the first time. In our neighbouring mohalla, there used to be a girl whose house I'd pass by when I'd go to college. That girl would come to our mohalla to watch TV at a rich man's house. We had a thing going for about a year. This was how things were then: we would merely keep seeing each other, literally, for months. I thought I should seize the opportunity and take the matters ahead with her. One day, when she stepped out to watch TV, I proposed to meet, she said she would rather watch TV. I asked her, 'What is so special about TV? In any case, you go to watch Krishi Darshan only. Why must you be interested in crops? That (farming) we do in any case. It would be fun if we sit together and chat about something else.' However, she went away. When she was turning away to go, I happened to tell her, 'One day, I will show you by coming on TV.'
When I came to Mumbai after my stint at the National School of Drama (NSD), I got a small role in a serial. When the serial was scheduled to be aired, I called up my friend in the village and urged him to tell that girl that I would be on TV. In the meantime, about a decade had passed and so much water had flown under the bridge. My friend told me she had got married to a maulana who would not allow her to watch TV. So, that episode ended there.
Jaideep Ahlawat: So, when did the thought to become an actor strike you first?
Nawazuddin Siddiqui: It was around the time when I had completed my graduation and looking for a job. I went to MSU in Vadodara to study microbiology. Someone there told me about Sursagar where MSU's drama department was located. I took admission and experienced theatre for the first time. It was only then that I started doing theatre with Gujarati plays. Then, I went to Bhartendu Natya Academy (BNA) in Lucknow and was there for two years. Later, I went to NSD. About three to four years after I graduated from NSD, I came to Bombay. In the meantime, I also did a couple of street plays. When I came to Bombay, my journey as an actor started in earnest.
Jaideep Ahlawat: You are a science graduate. When you were studying and simultaneously doing theatre, were you able to concentrate on your studies? Or were you more focused on what you were doing besides studies? In this period, how inclined were you towards literature?
Nawazuddin Siddiqui: I was not too invested in my subject of studies. I also worked as a chief chemist at a petrochemical factory in Baroda. I used to do titration of crude oil that came from the gulf. I'd get fed up doing this, often wondering if that was the only thing left to do in my life.
I decided to do something else and took up theatre. So, even though I had studied science, I was not particularly inclined towards it. I got invested in literature when I came to NSD. Even though I was a science student, I started enjoying what was being taught at NSD immensely. It was at NSD that I also started reading a lot. I read everything. In three-four years, I had read a lot of stuff from Indian literature to world literature.
Jaideep Ahlawat: When you were doing these odd jobs to sustain yourself — a chemist in Baroda and a security guard in Noida — what films would you watch then?
Nawazuddin Siddiqui: I would not watch too many films then. Though, when I was doing theatre in Delhi, I had fortunately got exposed to world cinema. At Pragati Maidan, Manzar Theatre would screen most jewels of world cinema and I started frequenting it. I was getting introduced to the best of world cinema. These films had a tremendous impact on me. Because of these films, everything changed in me as an actor which became conspicuous even in the theatre that I was doing then. In the real sense, I got introduced to the art and craft of films not through Bollywood, but through world cinema. When I graduated from NSD, I started watching some Hindi films.
Jaideep Ahlawat: Did NSD shape your acting prowess? What role will you attribute to NSD in your evolution as an actor?
Nawazuddin Siddiqui: NSD completely changed my acting style and my way of thinking. I think creative institutions are where your life gets a turning point. There is a great deal of difference in the thought that you come to a creative institution with and the thought you take away from it. My perspective towards life was different when I came to NSD. But what was being taught at NSD changed my benchmark to think, reflect and understand.
Jaideep Ahlawat: A great deal of learning happens when we interact with each other. But these days, because of technology, people have started withdrawing into their own separate zones even when they are together at some place. Do you think that is dangerous for an actor?
Nawazuddin Siddiqui: It is really harmful for an actor. When I was doing theatre at NSD, we sat together and discussed. During these discussions, some got angry, some jealous, some felt proud: there were a range of emotions on display. After every such discussion, we'd learn from each other and perform better the next day. This kept us in constant practice and honed our skills. At that time, everyday near the Mandi House roundabout, you would find about 50-60 actors and directors rehearsing all the time because there was no internet, mobile etc. I was also among them. This went on for about 4-5 years. But if you go there now, it's mostly deserted. Where are the students? They are busy on the internet. Very few are out there practising. This gadget-driven age has thrown enough challenges for an actor.
Jaideep Ahlawat: In those days, what were the kinds of plays you were doing? Who were the actors you looked up to? What were the films you were watching?
Nawazuddin Siddiqui: There were actors like Naseer saab, Om Puri, Pankaj Kapur. Earlier, in older films, there was Dileep saab. When I watched their films, I got really inspired. For instance, it was around then that I must have watched Pankaj Kapur's Ek Doctor Ki Maut. The film was inspirational because of its dialogues. One of the lines in the film said that we had come in the world to discover new things. This got deeply ingrained in my head somewhere. My life had a new purpose. Since my medium was acting, I decided to do something innovative every time through characters, be it in theatre or films. It proved to be beneficial. Gradually, I embraced this process of inhabiting the character and started enjoying it to a great extent. Sometimes, some little and inconsequential thing can also inspire you and can change the course of your life.
Jaideep Ahlawat: Did you get an opportunity to learn acting first hand from some of these actors you looked up to since some of them also did workshops at NSD?
Nawazuddin Siddiqui: Naseer saab used to do workshops every year. But when I was in the second year at NSD, he could not come for these workshops. His classes were very popular and I regretted not having learnt from his workshop. When some actors, who attended his classes and came back to Bombay to perform, you could notice a change in their acting. Though I couldn't learn directly from Naseer saab, I have learnt a lot through his films.
Jaideep Ahlawat: So, after NSD, you came to Bombay. Initially, you kept getting smaller roles and did a bit of TV too. When you were doing all these things, were they enough to give vent to your creative streaks?
Nawazuddin Siddiqui: Hard work had become a habit by then. I worked hard when I was at NSD and even when I left it. I had done about 5,000 shows of street plays. I would lap up even a single-scene role. I just looked forward to more work. I had to constantly keep doing something — street plays or whatever else came my way. However, when I would not get any work, it was a bit frustrating. I never felt let down because I didn't intend to return from Bombay. I didn't go back to Delhi as people would mock at me. I could also not go back to my village as people there had already ruled out the possibility of my acting career because of my looks. This was the fear due to which I could not imagine going back.
Jaideep Ahlawat: This is a fear that a lot of struggling actors share when they come to Bombay to pursue a career in acting or filmmaking. However, this fear is often self-inflicted. It's a creation of our thoughts. As artistes, should we nurture this fear? Can't this prove to be detrimental too?
Nawazuddin Siddiqui: This fear can go both ways. Sometimes, it can prove to be disastrous. At other times, it can do wonders too. If this fear motivates you, making you commit to yourself that you will eventually end up doing something really substantial no matter how many years it takes, then this fear is good. However, in other cases, it can be bad too. Some people, if they fail to fulfill their acting dreams, don't go back, but start doing something else. As for me, in hindsight, this fear made me.
Jaideep Ahlawat: What are the films that you consider as your milestones, films that changed the course of your career in your own view and in terms of people's perspective towards your acting skills?
Nawazuddin Siddiqui: I think all the films that you do as an actor adds some value to your repertoire. I did a 40-second scene in Sarfarosh, but even that ended up adding some value. It was because of this that I met Anurag Kashyap. When I was doing a small role in Shool, Anurag said I was too good an actor to do such a tiny role. However, I told him I had to do it since I wanted the money. That small role in Shool changed the opinion of a lot of people about me as an actor. For a long time, according to my plan, I would do just one-scene role if it was substantial and gave me an opportunity to do something different. After about five-six years, the realisation struck that now I should graduate to two scenes. Then, I started rejecting one-scene roles. And then I got Black Friday, which had three scenes.
Jaideep Ahlawat: How crucial was Black Friday? How did it mark the beginning of a fruitful association with Anurag Kashyap?
Nawazuddin Siddiqui: When I worked in Black Friday, people were looking forward to it, but it was banned and got a release only after a gap of two-three years. Till then, a lot of people had watched it on DVDs, etc. But, yes, it did bring me closer to Anurag. He promised me that he would consider me for a bigger role whenever he did some major project. Before Black Friday released, those who had seen it on DVDs appreciated those three scenes in the film. So, at that time, I had grown a bit confident. I had become hopeful that from now onward, things will improve for me as an actor. Even though I didn't have any expectation that things will change for sure. I had made my separate universe: I had come to accept that I'd only get one-scene, two-scene roles. I was quite satisfied doing those roles. It never bothered me that much. I had come to accept three-scene roles as my peak. I had come to accept that perhaps this was what I was capable of and had reconciled with it.
When Black Friday got banned, I felt a bit let down. I felt sad that the film could not reach the audience in time. But, in 2009, there were too many young filmmakers who wanted to make specific films of their choice. There was little money in those films, but they gave vent to creative streaks. These movies would also go to film festivals around the world. It was around this time that I did films like Patang (directed by Prashant Bhargava) and Miss Lovely (directed by Ashim Ahluwalia).
Jaideep Ahlawat: Let's talk about Gangs of Wasseypur. How big a milestone was it? How did it change people's perceptions and your own perception about you as an actor? It must have opened a new window?
Nawazuddin Siddiqui: Not just a window, Gangs of Wasseypur opened an entire new door. Within one-and-a-half month of its release, I got about 275 scripts. With so many years of experience, it was only then that I decided to treat it as the biggest trap. It had to go either this way or the other. So, I decided to refuse the scripts that came my way as a result of the impact in the wake of Gangs of Wasseypur. I decided to spare some time for myself and sit idle for a while, preparing myself for whatever had to happen. I had heard similar tales of people before me who were flooded with films in a similar situation. I had heard stories about actors who, when they had tasted success, were approached by people with all sorts of scripts, willing to offer whatever you asked for in terms of money. After the release of Gangs of Wasseypur, many producers sent me blank cheques, urging me to fill whatever amount I wanted and gave whatever dates I chose. I decided not to take them up. I thought I was not alien to hunger and would have no qualms even if things got so worse, but I would not do those films.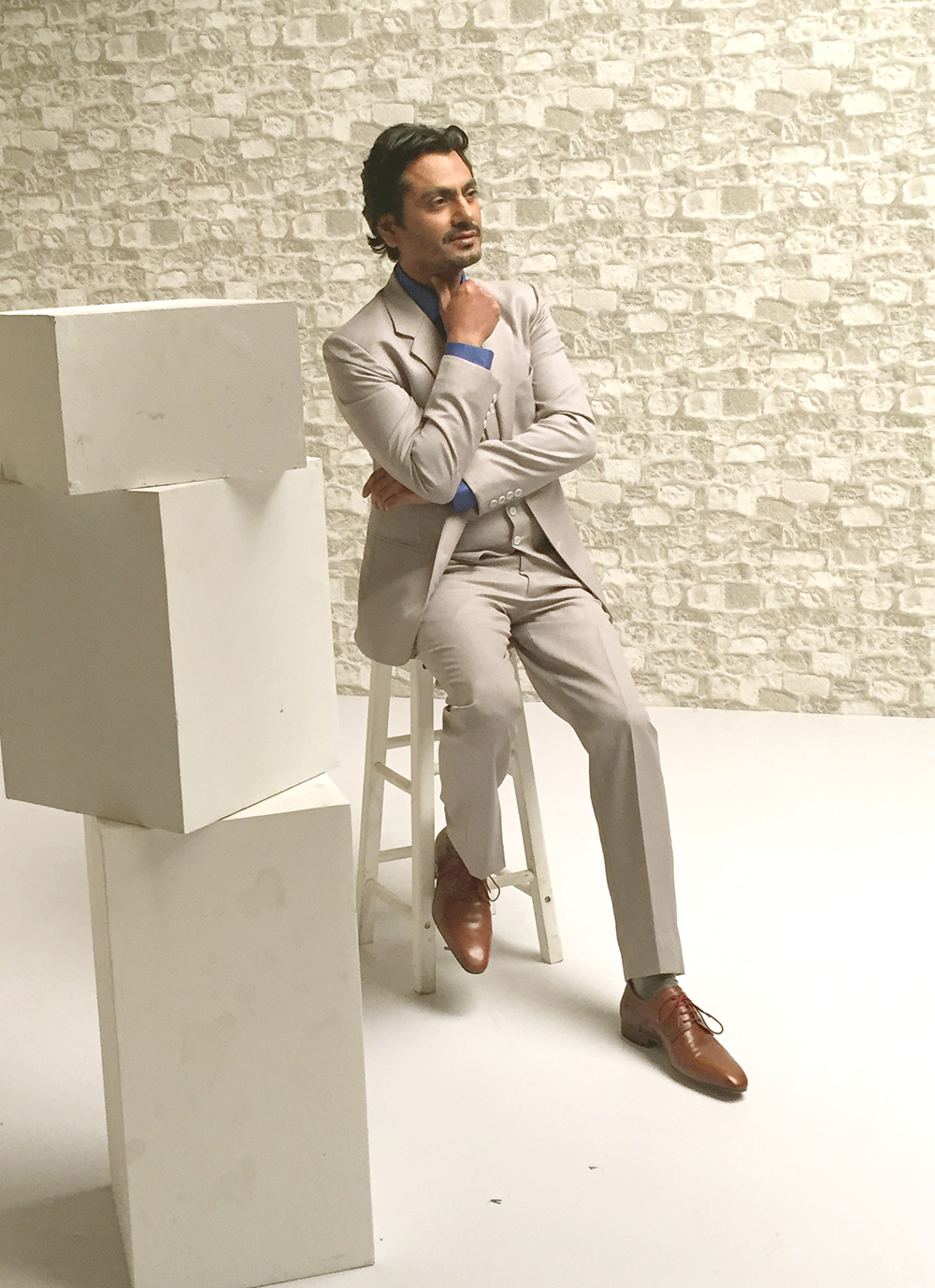 'I learned economy of acting from world cinema'. Photo courtesy: Magic If Films
Jaideep Ahlawat: Tell us about the experience of doing Gangs of Wasseypur.
Nawazuddin Siddiqui: When I got to know that I was doing the lead role in Gangs of Wasseypur II, I was a bit nervous. But since it was Anurag, who safeguards his actors and keeps them close, I was comforted. I was confident that he will take care of everything. On the sets, I guess for two days, I did a bit of overacting since I was playing a powerful character. But one day, Anurag took me to task for this, making me understand that as Faizal Khan I didn't need to show my power. Power vests in him. And I had to keep it within me.
Jaideep Ahlawat: I can imagine the long and arduous years it took for you to prove yourself as an actor. But, then, it must have been hard for you to say no to those blank cheques, having seen days when you had to borrow every fifteen day or so. Do you think it is crucial for actors not to do things that they should not be doing?

Nawazuddin Siddiqui: Absolutely. They must resist all such temptations and not fall prey to hunger for more. Luckily, I had learnt from previous actors and from their rise and fall. I had told myself that I will not be repeating their mistakes.
Jaideep Ahlawat: After Gangs of Wasseypur, you did many films. But do you feel Faizal Khan was such a powerful portrayal that some elements of his character have stayed with you? Or some other characters that left some impact?
Nawazuddin Siddiqui: When you portray a character, you try to tap some part of yourself. Some elements of the characters you play reside within you and you just need to discover them. If you take away something from certain characters, they also tend to take away a great deal from you. Every character takes away something from the actor, leaving him depleted in the end. He lands in a neutral space since he has exhausted all his emotions on his characters and is left with nothing.
When I did Raman Raghav, I knew that I was a far cry from that character. His philosophy is that he can kill people with little thought, with characteristic ease. You can play such a character only if you are able to believe in this thought, have faith in him. It was really scary for me to play a character that kills people just for some fun. So, if you look within and try to tap from whatever is inside, you discover that you are a repository of every shade of positivity and negativity.
Jaideep Ahlawat: Yes, indeed. And, if you are able to do that, you are filled with a sense of achievement. Tell us about some characters that have been challenging.
Nawazuddin Siddiqui: Every new role fills one with a bit of anxiety. Come to think of it, anybody can play any role, but when you respect a character that you are playing, there are a lot of possibilities that open up to do justice to that role. It's only the actor who creates these possibilities. There were many roles that were challenging. For instance, my role in Talaash. It was tough, but I had a reference in the form of my younger brother. He walks and talks in the same fashion as my character in Talaash, as if he is raring to become the Prime Minister.
In hindsight, it was good that there were a lot of days when I had nothing to do in the past. In those days for many years when there was little to do, all I did was observe things, reflecting on people around me and life in general. That period is proving to be useful now when I am getting a multitude of roles to play.
Page
Donate Now
Comments
*Comments will be moderated