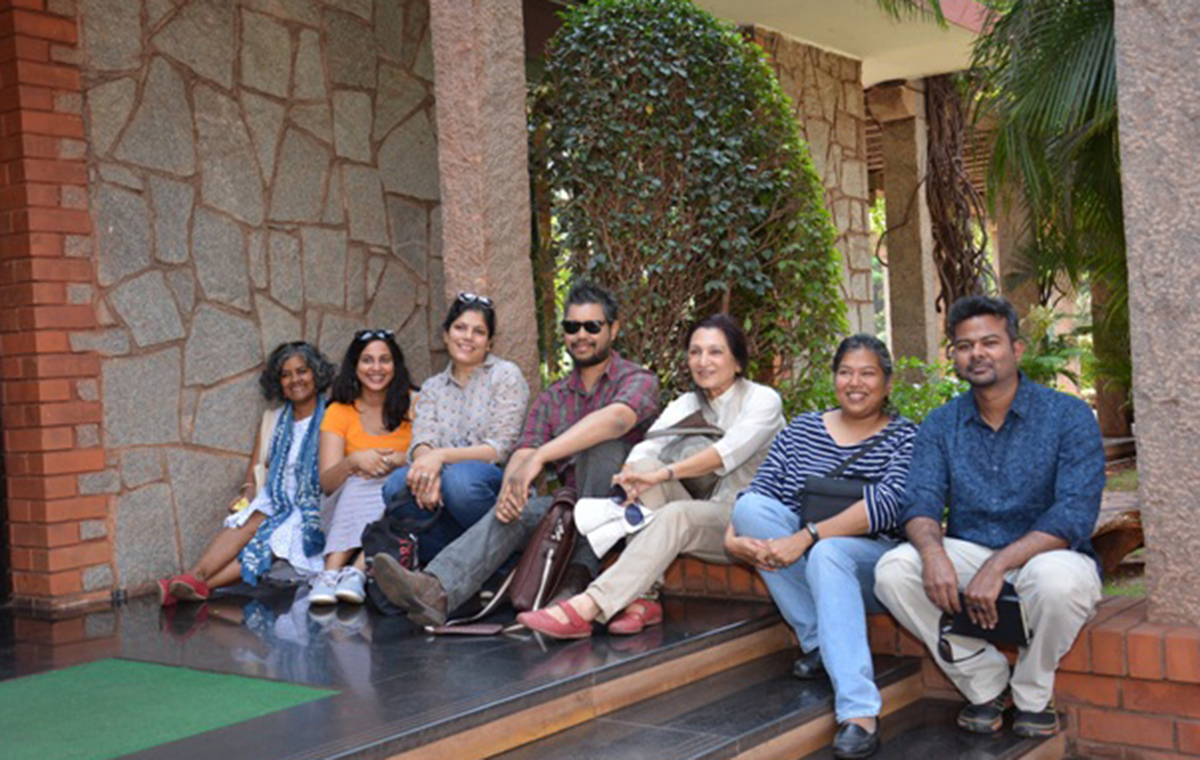 Lalita Iyer (from left), Rochelle D'Silva, Amrita Tripathi, Siddharth Dasgupta, Sathya Saran, Madhulika Liddle and Ram Ganesh Kamatham. Pic courtesy: JSW
Getting away to write is perhaps one of the most underachieved goals of a writer's life, what with everydayness always getting in the way, and there always being other, more important, more urgent things to do than writing — planning meals, working for a regular income, child's open house, field trip, vet visit for the cat, annual day costume (child), electricity bill to be paid, KYC for mutual fund, Aadhaar card to be linked to PAN, mobile number, bank account number, passport, horoscope, and other things. (Rinse,repeat for other members of the family).

So where does writing (even for someone who largely writes for a living) fit into all this? Somewhere at the bottom of the pile, right? Something that gets done if you have the time to squeeze it into the largesse of your day's demands. And whenever something has to go out the window, writing always goes first.
It's no wonder then that by the time one wades through all this and gets to the act of writing, which largely involves showing up in front of a computer — one is mostly fatigued. But I am an optimistic person, so I pretend that tomorrow is going to be perfect and I will attack it with full gusto.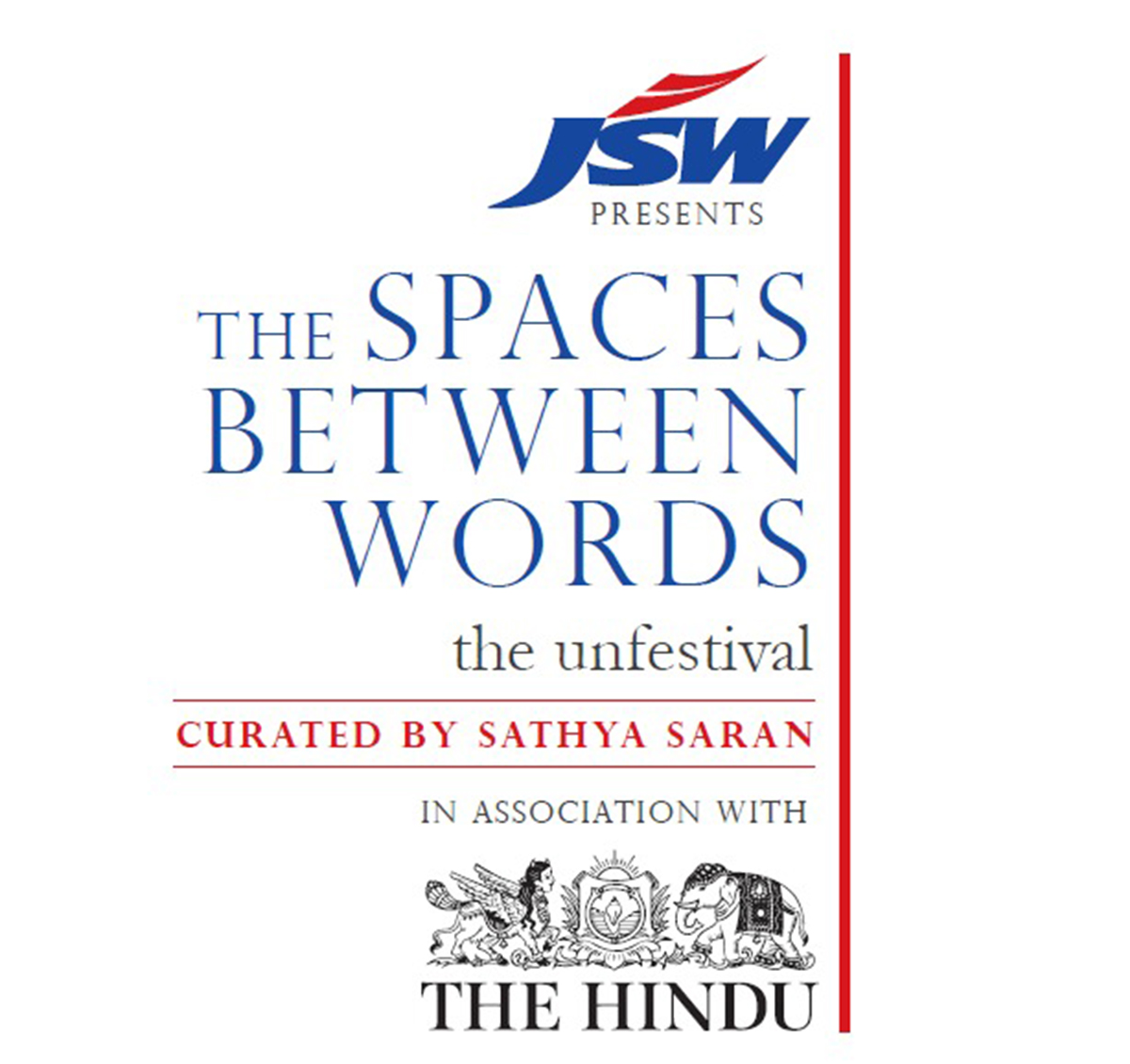 Spaces Between Words, the writer's conclave at Vidyanagar (an unfestival of sorts) mentored by Sathya Saran was one such tomorrow. I was one of nine writers chosen for the programme this February. Sathya had me at: "You don't have to worry about anything; just come and write, talk about your work, listen to others, share
ideas. We don't have spaces for these things, no?"
That's when it struck me how much of a vacuum we were all working in. yes there is a larger community, but when does one get to meet them? Litfests are more like giant circuses these days and authors are hardly even lounging in authors' lounges, waiting to talk to you. There's always somewhere important to go or show up.
But we the lucky nine showed up at Bellary airport instead.
The airport had us at flying fish! Colourful giant models of fish hang from the ceiling; adding to the trees dotting the perimeter, interspersed with grey stone pillars covered over with yellow-flowering creepers. Bellary (Vijayanagar) Airport is served by one airline — actually, one plane that comes once a day from Hyderabad and goes back — Trujet. And guess what? It has propellers! And it is the most adorable little airport ever. After our welcome tender coconut drinks, our luggage was transported in a little wagon pulled along by a cheery green tractor.
Charming doesn't even begin to describe the treat that is Vidyanagar. And who would have thought that a township built around a steel plant would serve as such a fertile space for writers? They churn out 12 million tonnes of steel annually, a good bit of it being automotive grade steel. And that is big!
The JSW Group, in partnership with The Hindu, played host to nine writers, at this unique, first-of-its kind writer's residency in India. For the next 10 days, Hampi House A was home to all of us. This is the Jindal guest house in Vidyanagar, which is by far the most aesthetically designed township I've ever seen in India. It's so greenthat the temperature here is two degrees lower than that of surrounding areas, we were told. Kaladham, JSW's arts and cultural centre, our workspace, was an extension of this aesthetic and we couldn't have asked for more — a stunningly put-together place that has a conference room, working spaces, a handicrafts shop, and beautiful gardens all around. And more installations."Write," it seemed to gently nudge us. And we didn't need any more than that.
And with the real Hampi (of UNESCO heritage fame) less than an hour away, we were never lacking for a muse. All we had to do was jump into a car and soon we would be gazing at details of an ancient temple or monolith, taking in the sunrise at Mahanavami Dibba or basking in stories of a different era at the Royal Enclosure or the Stepwells or watching the light at play in the Queen's Bath or just indulging Lakshmi the resident elephant at the Virupaksha temple. Or sometimes just taking a coracle ride through the river.These shallow, bowl-shaped boats were once used as transport along the river, but now are mere tourist attractions, usually bedecked with flowers (ours had yellow marigolds). As we glided, we observed that scoops of stone sliced out by the Tungabhadra river had formed little alcoves that the boat could slide into and we could pretend we were playing hide and seek.
If this wasn't inspiration enough, we visited the Inspired Institute of Sport, arguably India's premier sports institute, that focuses on combat sports (wrestling, boxing and judo), and will soon be also launching into swimming and athletics. We did have a run in with the Phogat sisters by the way, and that was a high!
Gerard da Cunha, architect of the Vidyanagar township, has left his mark in every little detail. Brilliant brick and stone chemistry all over, Gorgeous steel and wrought iron installations — a gleaming bull here, two cyclists there, a giant kalash right in the middle, a charming museum right in the centre and another one at Kaladham — they all add up to the beauty that is Vidyanagar.
Sathya Saran, earlier editor at Femina and DNA's Me magazine (and now full time writer of fiction and biographies) led by example and I think she was the most prolific among all of us, and had a commitment to words we can only aspire to match. Her idea was to get the writers of various genres to stay in one place for about a week, to go round the area, imbibe the surroundings, interact with the people and write. The group was diverse and more than geographically. Ram Ganesh was a playwright, Madhulika Liddle wrote historical fiction largely, apart from her blog on pre-70s cinema, Amrita Tripathi was a journalist who also wrote fiction, Prajwal Parajuly, who lives between London and New York wrote fiction about his people back in Gangtok and Nepal, Rochelle D'Silva wrote poetry and was an eye-opener to spoken word poetry, a form I had heard of but never had the time to go watch a performance. Between us was an interesting cocktail of work— some of which we read out every day, threw it open to interaction. Each of us also wrote every day after getting a good night's sleep at Hampi House and being fortified with a sumptuous breakfast and then there was no everydayness to worry us, so we walked down to Kaladham, picked a corner to station our belongings and wrote. Every day. Of course, there were distractions like freshly baked banana bread, carrot cake, savory cookies, but I looked at them as an extended muse and didn't let the calorie intake bother me. In evenings, some of us walked about the large township, planning a different route every day to make the most of it. What was significant was that each of the writers had to read the writings of others and peer review it each day. Reading each other's writing, would help us, Sathya assured us. She was right; we came away transformed in more ways than one.
Listening to dialogue everyday in Ram's plays made me realise the importance of conversation in fiction. Listening to Madhulika's detailed descriptions of places pointed to the importance of texture of stories and how backdrops/backstories are so important. Rochelle had me wanting to write poetry and I even attempted some. Sathya's gift of gentle storytelling and her propensity for the dark still hasn't left me. I think we are all richer than the people who took that flight to Bellary on February 18, 2018.
Donate Now
Comments
*Comments will be moderated