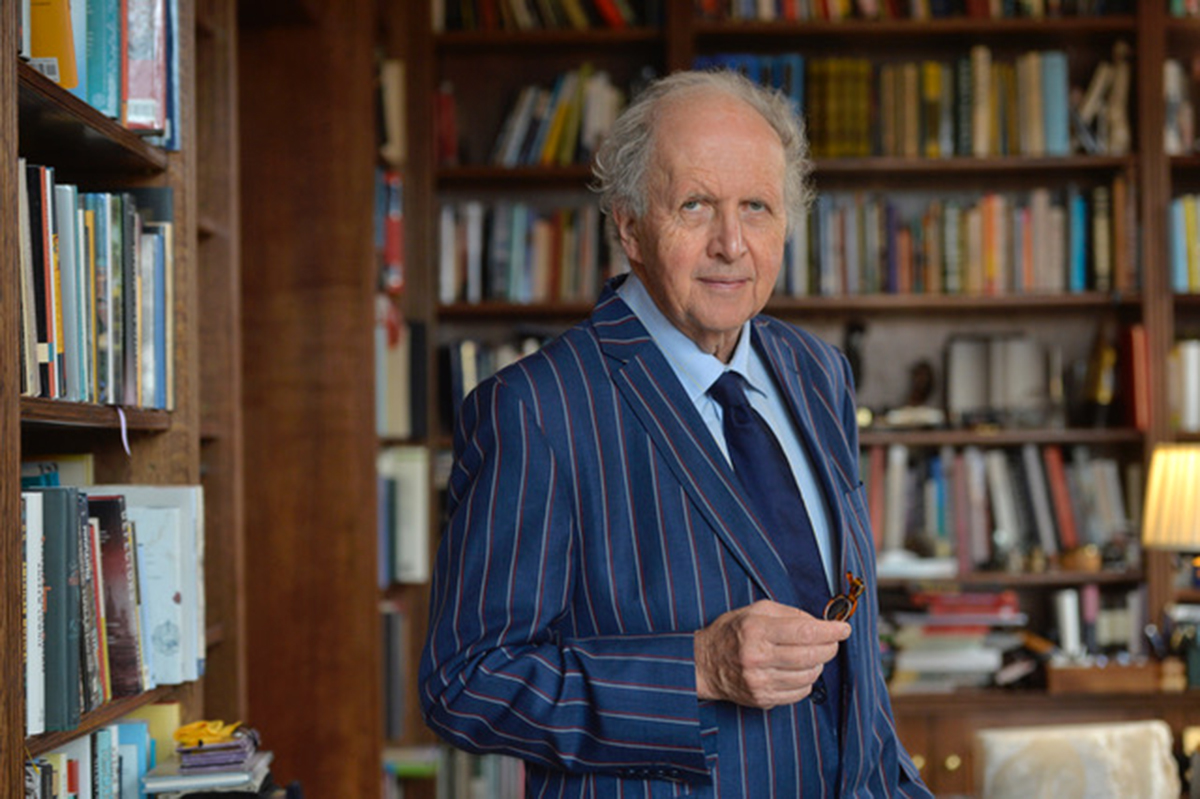 Alexander McCall Smith. Photo: Kirsty Anderson
The best-selling author of the No.1 Ladies Detective Agency series talks about how he veered off to writing, how his famous series was inspired by RK Narayan, how he was exposed to the language early on in his life, how poetry teaches movement and the possibilities of a language, the perils and pleasures of writing about other cultures, and his knack for writing about kindness
British author Alexander McCall Smith has charmed millions of readers worldwide with his books, including the best-selling No.1 Ladies Detective Agency series. Born in Southern Rhodesia (now Zimbabwe) in 1948, McCall Smith was a professor of Medical Law at the University of Edinburgh in Scotland before becoming a full-time fiction writer. A prolific writer, he has written and contributed to more than 100 books, including academic titles, short stories, novels and several popular children's books. His first book, The White Hippo, a children's book, was published in 1980.

Uncomplicated and humorous, McCall Smith's prose is enchantingly lucid. He started writing his best-known fiction series, The No.1 Ladies Detective Agency, in 1998, featuring Precious Ramotswe, a "traditionally-built" Botswana woman who sets up her own private detective agency and becomes the first female private detective in the country. The characters in the novels, according to McCall smith, "are inspired by life in Botswana, particularly a woman whom I once observed chasing a chicken." For starters, The No. 1 Ladies Detective Agency series is not your run-of-the-mill crime fiction series. "There are no bodies and autopsies." Mma Ramotswe is a high spirited, strong and kind woman, whose cases include straying husbands, missing people and con men. The series, which has 20 books till now, has so far sold over 20 million copies in the English language and has been translated into 46 languages.
In 2004, McCall Smith's second series, about amateur sleuth Isabel Dalhousie who lives in Scotland, was published. He also wrote other series of books, including 44 Scotland Street novels, the longest-running serial novel in the world, The Detective Varg series, Young Precious series for children and Akimbo Children's series, in addition to several stand-alone novels such as Trains and Lovers (2012), The Good Pilot Peter Woodhouse (2017), My Italian Bulldozer (2016), Fatty O'Leary's Dinner Party (2014), Chance Developments (2015) and Pianos and Flowers (2019).
Mccall Smith has received numerous awards, including honorary doctorates from 12 universities. He also received a Commander of the Order of the British Empire in 2007 for services to literature, and, in 2011, was honoured by the President of Botswana for his services to the country through literature. In 2015, he received the Bollinger Everyman Wodehouse Prize for Comic Fiction, and, in 2017, The National Arts Club (of America) Medal of Honor for Achievement in Literature. We meet him at the Mathrubhumi International Festival of Letters in Kerala's Thiruvananthapuram (India). In this interview, he talks about how he veered off to writing, how his famous No.1 Ladies Detective Agency series was inspired by RK Narayan, how he was exposed to the language early on in his life, how poetry teaches movement and the possibilities of a language, and much more. "What we are seeing today with the English language is its decline. It is becoming simpler. It's becoming infected by internet language," he says.
Excerpts from the interview:
You were a law professor. How did you start writing?

I was always writing in the background when I was in my 20s. I had a separate career then. I was a professor of law, which, of course, would strike many people as very different from what I do now. But, in a way, it isn't. The law is all about human interests, desires, actions, and involves telling stories. So, it wasn't completely different. But, in my spare time, I was writing.

It is quite useful for a writer to do something other than writing. You actually have to experience human life. And you get to write about it. You can also get that experience sitting in a study or a library. Human imagination is capable of creating all sorts of stories. So, the various ways in which you can do that, one is by having a profession.
How did you fall in love with Botswana and choose this country for the No.1 Ladies Detective Agency series?
Having spent my childhood in the southern division of Zimbabwe, I had an interest and feeling for that part of the world. When I was working at the University of Edinburgh we had a lot of dealings with three Universities in southern Africa. I looked after students from three small African countries when they were in Scotland. And the following year, I was asked to work with the University of Botswana. That's when I first connected with that country.
Botswana is an extraordinary country in so many respects. It's a very interesting and peaceful country. Although all the adult life I had lived in Scotland, this was a reconnection with an early influence. As a writer, if you are lucky enough to have experience in another country, it will be terribly useful.
Now, people can acquire (that experience). People can go live in a place and fall in love with the country and write it. But there is always in the back of one's mind a fondness for certain places. In my case, I didn't write about elsewhere in Africa, but Botswana. Some of my short stories are in Australia. I am very taken with Australia. I have never tried to write about India because you have got to be very careful. You can make very bad mistakes if you write about things you don't know. In my books, you will find little bits of India coming in — characters with Indian experience or Indian parents.
What do you have to keep in mind when you write about a different culture or country?
You have to be careful when you are writing about somebody else's country. You have to be careful because you can get it quite wrong. You have to be so careful that you write in a proper, respectful spirit. You can be critical of other people, and people don't like to be criticised generally.
It also depends on the series in which you do. As writers, we should be free to write about anything. To say to a writer, certain topics or certain issues you cannot write about, is very condescending. Because often, it is people who don't belong to a particular country who can write the most perceptive way.
You have two popular lady detectives: Precious Mma Ramotswe of No.1 Ladies Detective Agency and Isabel Dalhousie of The Sunday Philosophy Club series. How do you compare them?
I wanted to write about a particular sort of African lady, who has a good intuitive understanding of the world, and who is kind. I wanted to write about kindness because I think kindness is a very important thing. I must say Mma Ramotswe was a good vehicle for that kind of writing.
Isabel and Mma Ramotswe are quite different. Mma Ramotswe hasn't had formal training in philosophy. Isabel is a professional philosopher. So, she looks at problems of philosophical nature in a different way. But, of course, Isabel often gets it wrong. Whereas Mma Ramotswe gets it right. She works more on the basis of intuition as to what she thinks to be right or what she suspects is the case.
The No.1 Ladies was a short story at first. What changes did you make to develop it into a series?
It was a short story about six-pages-long about a woman in Botswana. Her father is in deathbed and he says when I die, you sell the cattle and start a business. She says she will start a detective agency. He is rather surprised. He didn't think she would do that.
I had no idea what it was going to be. It went into 20 volumes and I am writing volume 21 at the moment. It has been a long process. I liked the characters very much indeed and enjoyed writing more about them. And then once you do the series, you get drawn into the lives of characters and it becomes very attractive.
Usually, in a series of books, the characters evolve as we go through, but Mma Ramotswe actually has remained pretty much the same. She is very tolerant, kind and understanding.
Other characters, for instance, Mma Makutsi, the assistant detective, has evolved. Mma Makutsi is a bit sensitive, prickly, less forgiving and more critical than Mma Ramotswe. Later in the series, Mma Makutsi is evolving and becoming a little more tolerant. One of the young apprentices, Charlie, is becoming more responsible later.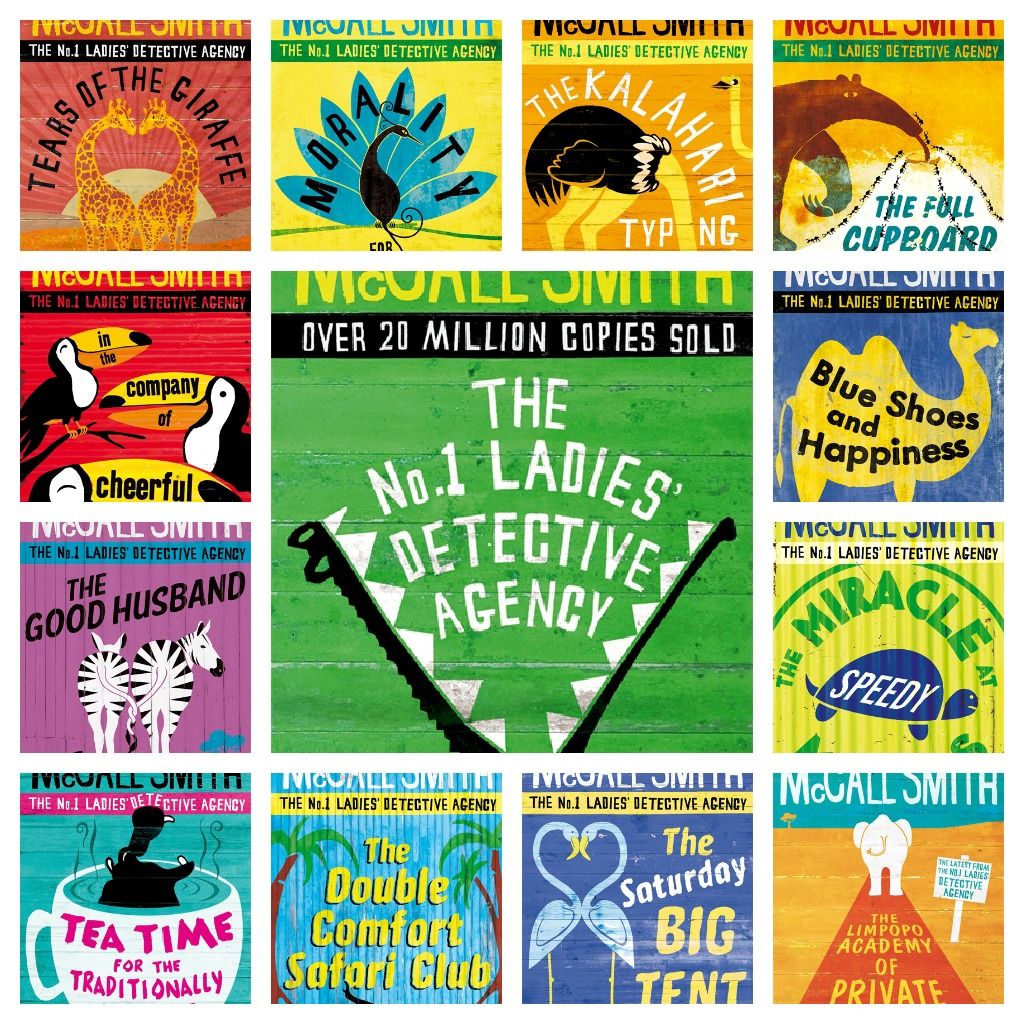 You go into minute details while describing a plot or a character. How did you develop your writing style and language?

The language you are exposed to as a child is very important. I had a set of 20 volumes of children's encyclopedias. As a little boy, I used to read this. It was a very odd encyclopedia. It didn't follow a particularly strict structure. So, you read an article about steam engines, and then you go on to a poem by Henry Longfellow. Poetry is very important in the formation of language. It teaches movement and the possibilities of a language.
I read quite a lot. As a boy, one of my favourites was Rudyard Kipling's Rikki-Tikki-Tavi stories. It is a story about some cobras living in a garden. I knew some of them by heart because I read them, reread them.
Literary influences are very important. I am a great fan of RK Narayan. He was a major influence in writing the No.1 Ladies Detective Agency. If I didn't read his Malgudi novels, I would not have written the No.1 Ladies Detective Agency series in the same way. Narayan was a master of writing small details about individuals. WH Auden is another great enthusiasm of mine. All these things you read, gradually, sort of have an effect on your own use of language. The King James Bible has a gorgeous language. Leaving aside any religious aspect of it, it is wonderful work. Similarly, the book of Common Prayer of the Anglican Church. It is marvellous prose.
If you are lucky enough to be exposed to beautiful prose and poetry as a child, then you'll develop a sense and possibilities of language. What we are seeing today with the English language is its decline. It is becoming simpler. It's becoming infected by internet language. People are using all sorts of abbreviations. Another major problem with American, British and Australian English is the word "like". Every second word is like. It is a form of verbal Tourette syndrome.
You are writing and publishing so much. Do you have a particular timing for each book or series?
I do. The No. 1 Ladies Detective Agency I write at the beginning of the year. The volume 21 of ladies detectives I'm just starting while I'm here in India, I'm going to stay in Tamil Nadu and I'll be writing the first page of volume 21. It will take me three months to finish one book and I will start the next series. I just finished one in Isabel Dalhousie and sent it off to the publisher.
Do you have a different set of rules for writing children's literature?
With children's literature, it's more sort of imagination. You aren't constrained. You don't have to be so realistic. So, you can fly off.
Donate Now
Comments
*Comments will be moderated