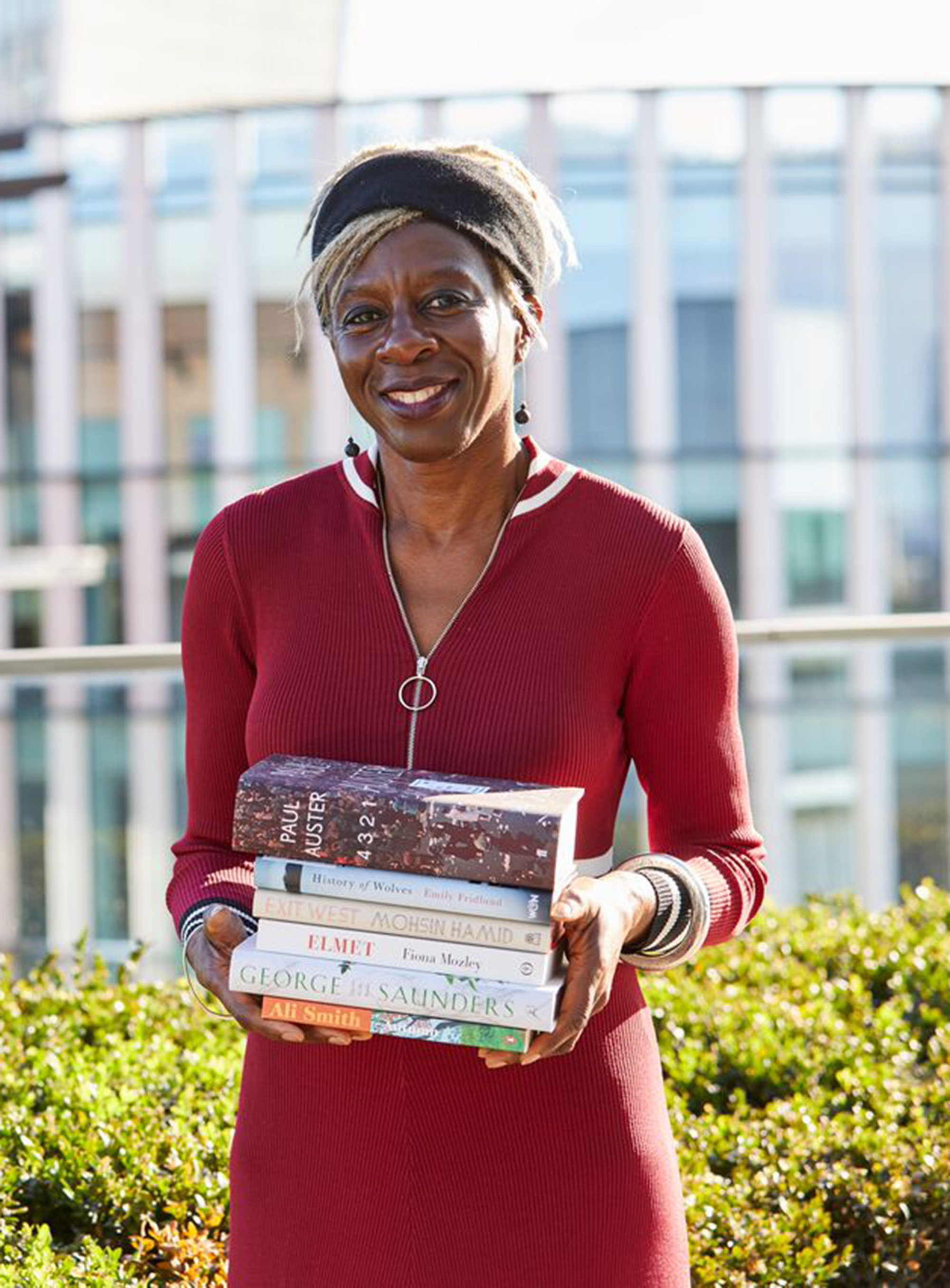 Chair of the judges Baroness Lola Young. Photo courtesy Man Booker
Baroness Lola Young, chair of the judges for 2017 Man Booker Prize, on the six shortlisted novels
The six shortlisted novels for the 2017 Man Booker Prize, according to the chair of the judges, Baroness Lola Young, a former professor at Middlesex University and a member of the House of Lords, "collectively push against the borders of convention." The shortlist, she said in a statement, "both acknowledges established authors and introduces new voices to the literary stage." The six shortlisted novels include 4321 by Paul Auster (Henry Holt/Penguin Random House), History of Wolves by Emily Fridlund (Atlantic Monthly), Exit West by Mohsin Hamid (Penguin Random House), Elmet by Fiona Mozley (JM Originals), Lincoln in the Bardo by George Saunders (Bloomsbury) and Autumn by Ali Smith (Penguin Random House). The winner will be named on October 17 at a ceremony at London's Guildhall. The other judges include Sarah Hall, Tom Phillips, Colin Thubron and Lila Azam Zanganeh.
"If there is an element in common across all the six shortlisted books, it is the questioning of our preconceptions – about love, death, time, identity, hope and expectations," says Baroness Lola Young. Excerpts from an interview:
The Punch: Tell us about the process of selecting the longlist for the Man Booker Prize 2017 from among the 145 books submitted this year.
Baroness Lola Young: The panel of judges met once a month to consider about 30 books each time. We would discuss these in some detail and come up with five or six to take forward. However, those left out at this stage were not definitively discarded until we had made a final decision on the long list. Then on a sunny day in June, we spent hours discussing what was in and what was, sadly, out...
The Punch: What were the novels that you would have liked to be on the longlist, but they could not make it to the final 13?
Baroness Lola Young: I can't tell you that simply because we know what our task is: therefore there's no point in wishing!
The Punch: With such a great longlist, the process to whittle down this number (13) to six for the shortlist is a tough task. Could you please tell us about the big misses from the longlist who could not make the final cut for the shortlist, but have the potential to resonate with readers across the globe?
Baroness Lola Young: You're right to say that it was tough to whittle down the list from 13 to six. The great thing about our longlist though is that we all had confidence that we could recommend any one of them to potential readers.
The Punch: The six novels on the shortlist bring to us several worlds as seen through the eyes of both established as well as new writers. Earlier, you have said that these six novels "collectively push against the borders of convention" in that they are "playful, sincere, unsettling, fierce... grown from tradition but also radical and contemporary". Could you give us a sense of each of their landscape and their distinct texture, style and treatment that it made it difficult for the judges to ignore them for the shortlist.
Baroness Lola Young: If there is an element in common across all the six shortlisted books, it the questioning of our preconceptions – about love, death, time, identity, hope and expectations.
All of these elements mark Paul Auster's magisterial work, 4321, working through four of the infinite number of possible alternative worlds for Archie Ferguson. Each version of all the main characters and their interaction with other characters subtly change the way in which Ferguson moves through the four narratives, impacting on each of his eventual fates. Four Fergusons, four different outcomes. Auster's ambitious, complex, epic narrative about the coming of age of a young man during one of the most turbulent times in recent North American history, is essentially humane.
Another very different kind of coming of age is explored in Emily Fridlund's History of Wolves. Set in the austere wilds of Minnesota, this is the eerily and beautifully told story of an ex-commune girl, Linda, who struggles to connect with her parents and peers, but is charged with the care of a young boy in a nearby lakeside cabin. The strange, tentative relationships that form between Linda, Paul, and his mother, Patra, are thrown into confusion when the boy's father arrives, and with him a sense of subtly malign authority. It is a novel of disquieting power that asks very difficult questions about human responsibility, knowledge and agency.
Questions of what it means to connect to another human under testing circumstances pervade Exit West by Mohsin Hamid. Hamid's emotionally intelligent, clear, crisp narrative tells the story of Saeed and Nadia, two of the many millions of people caught up literally and metaphorically in the crossfire of factions and ideas beyond their making or control. Hamid goes for the human element, a depiction of an emotional landscape. Essentially, it's a subtle, compact piece of writing about a relationship, its blossoming and its digressions, its highlights and its descent into something not quite love but not hatred or bitterness either.
Elmet by Fiona Mozley is a forceful first novel that witnesses with the eyes of a child the struggle of a family to retain its self-sufficiency as the old ways succumb to the bland greed of the new normality. The unforgettable central figure is a heavyweight in all respects, a moodily philosophical bare-knuckle fighter, referred to as Daddy, who brings up his children in defiance of all social norms as he holds on to a tiny fragment of rural England. Timeless in its epic mixture of violence and love, it is also timely in its shadowy metaphor of doomed resistance to the encroachment of an ever more faceless world. The tale is told in vivid language whose poetry survives even its last dark catastrophe, with no punches pulled.
George Saunders' extraordinary work, Lincoln in the Bardo, focuses on a single night in the life of Abraham Lincoln: an actual moment in 1862 when the body of his 11-year-old son was laid to rest in a Washington cemetery. Strangely and brilliantly, Saunders activates this graveyard with the spirits of its dead. At the book's centre remains the heartbreaking figure of Lincoln himself, visiting the graveyard in solitude, unaware of the spirits that populate it – a father stricken by a single death while the Civil War is claiming hundreds of thousands. Greatly daring and accomplished, this is a novel with a rare capaciousness of mind and heart.
Ali Smith's novel, Autumn, reads in part like a song. It opens in 2016, when Daniel is 101 years old and dying. His closest and only friend, Elisabeth, is 32, and she watches over him in a hospice outside of London. Daniel, who was once a songwriter, is now thin as a skeleton, and his mind wanders through dream-states and memories. All about them, the world as they knew it is coming to an end as the UK votes in favour of Brexit. Autumn is an elegy for lost time, squandered beauty, but also for the loss of connections. It deftly questions what it means to be displaced in one's own country, and surveys the extant possibility for wonder, storytelling and transformation and explores the mysterious and melancholy nature of time.
It's a brilliant collection of novels!
The Punch: Were there differences among the judges for the shortlist? How did you negotiate these differences? Was it easy to reach a consensus?
Baroness Lola Young: It was easy to reach a consensus about the shortlist in as much as, although we all feel very passionate about the perspectives and professional expertise we bring to the award, all of us is aware that this isn't simply about each of us choosing our favourite author. Therefore, we listened to the very sophisticated, nuanced thinking behind our choices. Several colleagues have said how much they enjoyed the discussion and that they hadn't necessarily expected to change their mind about a particular text but due to the persuasive arguments put forward, had done so.
The Punch: Could you please tell us about your appreciation of the form of novel? Who are some of the greatest novelists, both past and present, you have admired?
Baroness Lola Young: I have always loved reading, and can't remember a time when I couldn't read. I admire the works of Toni Morrison, Albert Camus, Alice Walker, Andrea Levy, Jean Paul Sartre, John le Carre, Ruth Rendell, Patricia Highsmith, Emily Bronte, Oscar Wilde, Robert Louis Stevenson...I could go on!
The Punch: Which are some of the most striking novels that you have read recently that will continue to resonate with you for a long time?
Baroness Lola Young: The Man Booker shortlist, of course! Seriously, the process has taken up all of the time I had allocated to it, and then some more as it's a huge —though very pleasurable — task.
(This is the first part of The Punch's interviews with the judges of the Man Booker Prize 2017. Watch out for our interviews with two other jury members, Sarah Hall and Lila Azam Zanganeh, in our next issue)
Donate Now
Comments
*Comments will be moderated