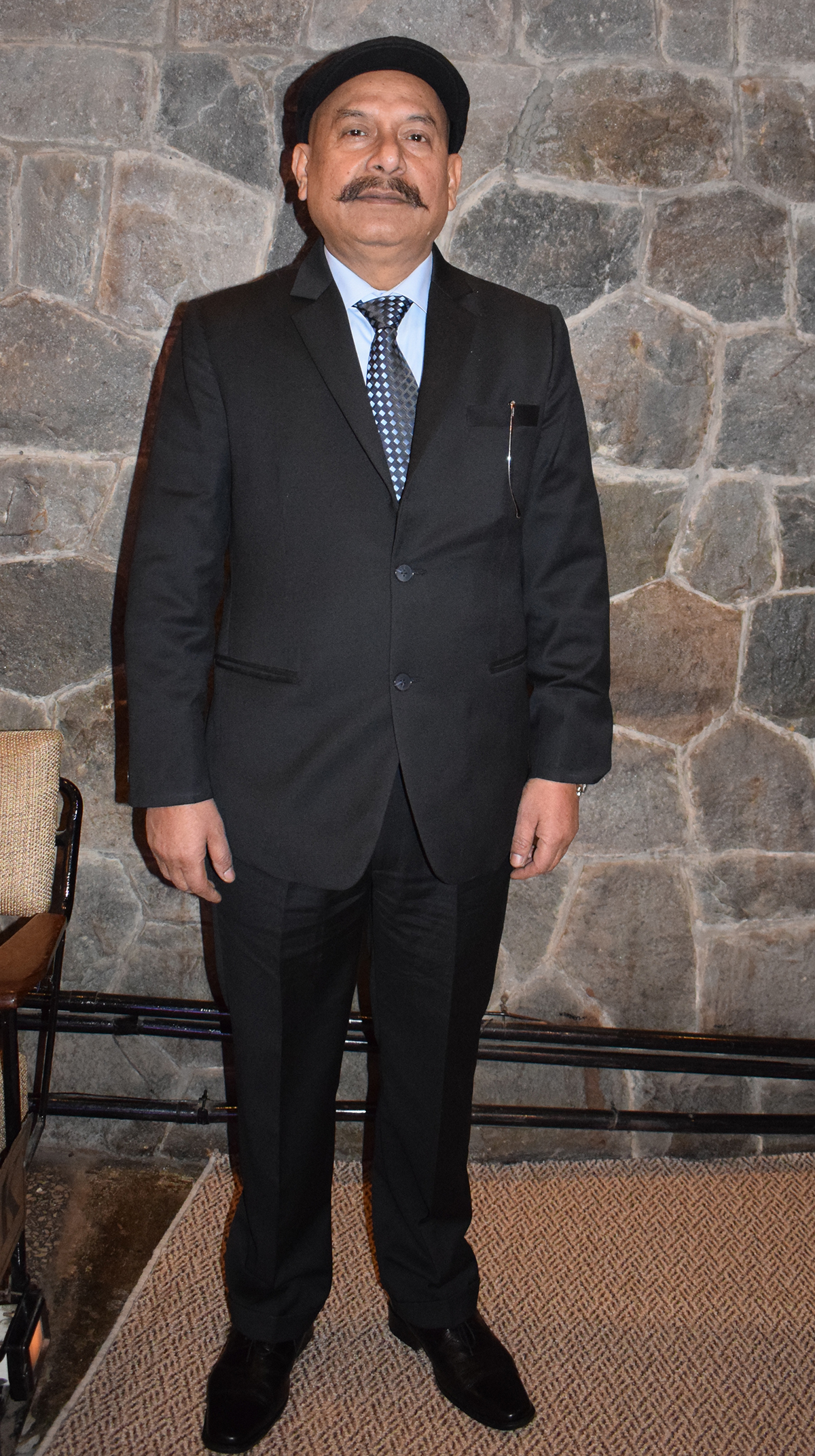 Bikash De Niyogi. Photo: Shireen Quadri
As Niyogi Books turns 13, Bikash De Niyogi, managing director and publisher of Niyogi Books, talks about his journey so far and the future prospects
Niyogi Books has turned 13. The publishing house marked the milestone, a journey that has seen it print 400 books, with the launch of three new imprints: Olive Turtle for English fiction with Keki N Daruwalla as its first author, Thornbird for translation with H S Shivaprakash as its first author and Paper Missile for non-fiction with Udaya Narayana Singh as the first author of the series. The event also saw the launch of PC Sorcar: The Maharaja of Magic by P C Sorcar, Jr, who has penned his father's biography. The book was released by critic and academic Harish Trivedi. Two authors of Niyogi Books, Rajiv Chandran and Geeta Chandran, spoke about the beginning of their journey with Niyogi Books at the event.
Over the years, Niyogi Books has established itself as a publisher of fine illustrated books. Started by Bikash D Niyogi and his wife, Tultul De Niyogi, in 2004, it has 350 books on its active list and is recognised for its high-quality books on a range of subjects — from art and photography to heritage and culture. These have won several awards and prizes, including those from the Federation of Indian Publishers. B.N. Goswamy, Geeta Chandran, Hugh and Colleen Gantzer, Mushirul Hasan, Jaya Jaitly, Nasreen Munni Kabir, Raghu Rai and Suneet Varma are some of the names on their list. Niyogi Books aims to provide "high quality books at affordable prices".
In this interview, Bikash De Niyogi, managing director and publisher of Niyogi Books, talks about his journey so far and the future prospects. Excerpts from the interview:
Shireen Quadri: Tell us about your journey. What drew to publishing?
Bikash De Niyogi: Book is always a matter of love. Only then you can sustain in this world. In terms of publishing, it's a very long story. We are celebrating 13 years, but it has been more than 13 years in the making. The concept was born 50 years back when I was in school and ran a small public library. We started that library and ran it for six years. The journey has continued since then with the book. Professionally, I was earlier engaged with advertising and printing, but book was always on my mind. One day, I decided to join the publishing sector. My wife also joined me. That was 13 years back when I was running an advertising and publishing business in Delhi.
I had a fair idea about the books, but not the nitty-gritties of publishing. But I knew that I had to do good books at very affordable prices so that everyone could afford to buy. My friends, Rajeev and Geeta Chandran, encouraged me and said why not start with Geeta's book and that, I felt, was a fantastic idea. Geeta is not only our friend, but I also respect her as a teacher, as a guru and as an artist. So, that's how our publishing journey started, with us not knowing what was going to happen. We just took the plunge – I, my wife, Geeta and Rajeev. They all helped me. We did our best. It took us about an year to finish that book and Karan Singh, who released the book, was extremely happy with the quality and content of the production. He urged us to maintain the same quality forever and that further accentuated my drive to do quality books. Then, soon, I started doing pictorial books. It all came from my curiosity for heritage and arts. I also realised that there were not enough books on these subjects available. For example, on Jama Masjid, there was hardly anything that I could read. So, I started researching on Jama Masjid and then our author N. L. Batra, who was in-charge of preservation-conservation, told me that he could give us all the details. I asked him to pen down all the information.
When you dig history, there is lots to deal with. For instance, while researching on Red Fort, I came across the story of Kohinoor, which was stolen away and I wanted to have a photograph of the Kohinoor at that time; it was not there. I went to London to see the Kohinoor and then wanted a picture. I made six trips to the UK to get the picture. Initially, they were reluctant. They thought we were trying to claim it back. So, I had to complete the book and left a space for the photograph of Kohinoor and then submitted the book to the royal collection. Then, they went through it and after six months, gave me one photograph to be published.
In India, there are so many things to discover and record. History is so vast and we don't have enough information available. In this scenario, illustrated books play a great role. As they can carry a treasure trove of informations and anecdotes with photos. Then, we started working hard and started publishing good books on good subjects. So far, we have published about 500 books. There are approximately 300 illustrated and 200 non-illustrated titles, including fiction, translation etc.
Shireen Quadri: What was the idea behind getting into pictorial books?
Bikash De Niyogi: I have a couple of reasons for doing pictorial books. Firstly, every reader cannot afford to travel or have the time to travel to all the sightseeing places in India. So, whatever details are there in the books are beyond what one will discover by merely visiting the places, details that may get overlooked or not be visible, but by going through these picture books, with a very limited text, the reader will take lesser time to understand a place and transport himself to a particular sight, place or era. The reader can feel the essence of a particular place through such depiction. So, I felt that alongside illustrations, visuals were also important. Then, if we narrated the story, it compliments each other and that way we could do justice to the subject. Also, people have limited time to read so they may not want to read lengthy books, but if the same length can be condensed in less words, they'll read it.
Shireen Quadri: Tell us about your experiences — and struggles — with the distributors as a new publishing house on the block.
Bikash De Niyogi: That is the only struggle that we have faced or we are still facing. Initially, I travelled all over India, going to each and every city and appointing dealers and distributors for our books. Initially, we had about 1,100 dealers and distributors, but slowly we cut it down to 500 because of non-payment. Not everybody is dealing with every subject. So, we place at least 500-600 hardback pictorial books in the first go in the stores.
When we started publishing substantial books, readers started noticing us for our good content. We keep in mind that our books should be read and respected. There are some materials that are not known to everybody. But our editors do a very good job. We place books in the market and through marketing and publicity, we make sure that people get to know about our books. We also promote our titles through our newsletter.
Shireen Quadri: Tell us something about the three imprints.
Bikash De Niyogi: Initially, we didn't have any particular genre in mind for publication. But, over the years, we have published 500 titles. We could see that there is demand from the market. Also, people ask that we must have sufficient titles in fiction, translation or non-fiction categories. So, it's better that we have imprints for all these genres. It'll be easier for us to locate titles over the years and readers will be happy to recognise the imprints.
Shireen Quadri: What do you plan for translation?
Bikash De Niyogi: For the last three years, we have been publishing translations. Like any other publisher, we feel that there is a lot of regional stories. We have 28-30 languages in the country and there are so many stories in each language, but English is a common language and being English-language publisher, we thought it would be great if we translated good books the people could read in English. We decided to pick good regional literature and translate it for English readers. Internationally, we are publishing with a lot of museums and libraries, like British Library, British Museums etc.
Shireen Quadri: What kind of non-fiction books are you planning to publish?
Bikash De Niyogi: Publishing current affairs is very challenging but we plan to publish it.
Shireen Quadri: What have been the learnings from your publishing experience?
Bikash De Niyogi: When I first went to Frankfurt Bookfair, I wanted to sell the rights. People suggested that we could do it after we were slightly big and have at least 500 titles. I was rejected again and again.
But once a well-known British publisher spent an hour at my store, browsing through books. He praised us for our good content and assured us that we will have a good market over the years. There were good publishing houses that either disappeared or started producing shabby books. Is it possible that they could not improve the quality of production? That was a lesson for me and I said to myself that if I do books, I'll only publish good books. I'll never compromise. That's exactly what I have been doing for the last 13 years.
Shireen Quadri: What will be your message to aspiring publishers?
Bikash De Niyogi: Today, survival in the books industry has to be simply out of passion and love for the book. One has to give oneself wholeheartedly without thinking and you'll be happy if you can have two-time meals. All publishers have big warehouses, but small houses to live in. One must be content with it. If one does it only in terms of business, then you will be disappointed. Only those who are passionate about books can sustain. It needs enough patience. I'm here to create good books. I may not make huge money, but I can pull it off. That's why I don't complain to my dealers too.
Shireen Quadri: What is the future of print publishing going to be?
Bikash De Niyogi: Like everybody, publishing will continue and as a publisher, it doesn't matter to us whether people are reading in soft or hard copies as long they are reading. People prefer print publishing. Readership has increased not dwindled.
Donate Now
Comments
*Comments will be moderated