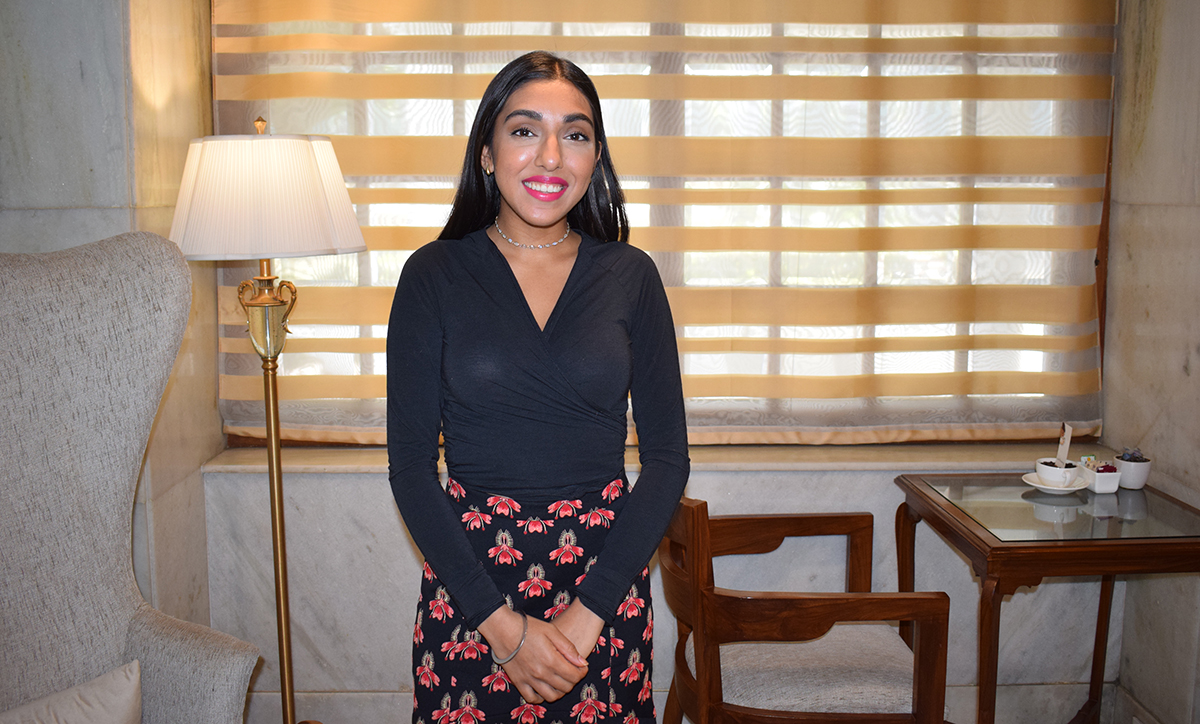 Rupi Kaur in New Delhi. Photo: The Punch
Rupi Kaur, Toronto-based Indian-Canadian poet, writer, illustrator and performer, has emerged as an important voice in the arena of Spoken Word Poetry. She has published a collection of poetry and prose, Milk and Honey, in 2014. Her second book, The Sun and Her Flowers, was published by Simon & Schuster India in 2017.
Kaur was born in Punjab (India) to a Sikh family and emigrated with her parents to Canada when she was four years old. As a child, she was inspired by her mother to draw and paint, especially at a time when she was unable to speak in English with the other children at school. She say she used to write poems to her friends on their birthdays or messages to her middle school crushes when she fell in love with Spoken Word Poetry.
Kaur studied rhetoric and professional writing at the University of Waterloo, Ontario. She and her family moved to Brampton later. Kaur's first performance took place in 2009, in the basement of the Punjabi Community Health Centre in Malton. Among her more notable works is her photo-essay on menstruation, described as a piece of visual poetry intended to challenge societal menstrual taboos.

In this interview, held in New Delhi during her multi-city India tour, Kaur talks about her romance with Spoken Word Poetry and the labours and joys of her two volumes of Spoken Word Poetry. "For years, it was like carrying a weight around but then I let it go and I stopped getting bothered by what people were saying about me, stopped caring about anything. When people appreciated my work, I didn't resist it. I welcomed it like a gift and then I experienced so much love and I felt a connection with people and it didn't feel like a weight anymore," she says. Excerpts from an interview.
The Punch: How has performance poetry helped you carve out an identity for yourself?

Rupi Kaur: Around 9-10 years ago, I saw a poster. Then, I used to write poetry as gifts to friends. Whenever I had a conversation, poetry gave me a voice and allowed me to have a conversation with my friends and family that otherwise I wouldn't have been able to say. But when I went from that very casual setting to a stage, I saw open mic and I thought I have nothing better to do. I was going through a difficult time in high school and wanted a change in my life. So, I wrote a poem. I had no idea what I was doing. I thought I was telling a story and called it storytelling for years. On that night, I was chuffed to do open mic because it was different from the paintings and the drawings that I was doing. When I was on stage, it was just me, my voice echoing through every corner of that room, all eyes looking at me. I never felt that powerful in my place before. A couple of years into it, I watched a video on YouTube by Sarah Kay in which she talked about her performance. I realised that she was doing what I was doing and called it Spoken Word Poetry. She went on to explain it and that was so powerful that it gave me a language to the thing I was doing. I fell in love with it.
It is thrilling to perform for 400-600 people and it's always a different poem. I would never perform the same poem twice but more people needed to hear what I was writing which became possible through Spoken Word Poetry. Earlier, I was writing about farmers' suicide, cancer, female infanticide and my friends said that there were other people around the world who would like to hear this. They suggested I could share my poems on Internet and they showed up at my house and we made YouTube videos for seven years. It took a long time to find the right platform. I went through multiple blogs, hand-made illustrations and videos. It was really trial and error until 2014 when I arrived finally at a style that I really liked and people responded to that style which they recognise even today.
The Punch: Tell us about your creative process. Sometimes you choose to write books. At other times, the books choose you. Tell us the process of producing the two volumes of poetry: Milk and Honey and The Sun and her Flowers.
Rupi Kaur: When the books choose you, it's amazing but also scary. When I wrote Milk and Honey, I had the zero intention of writing it. It was a byproduct of 20 years of my life. Before I had published a book, people would ask me where to get my book. I'd tell them I had not written any. They said they would very much like to see my book. It helped me see an opportunity and I decided to self-publish. I decide not to wait for anybody because I didn't have the network and resources to go out to publishers. I tried and that process was really organic and Milk and Honey became very successful, not that I didn't want it — I couldn't even think about wanting it or not wanting it because it wasn't the part of the reality that I understood. I was still in school. I was finishing my degree. I had to go to law school afterwards. I had my plans and then this thing happened.
I pushed my plan out of the window and then I signed my second book contract. That's when it got scary for me because then suddenly I had to bring up the book and I told my dad that I had to write my second book but this time I had to write it. Milk and Honey sole one million copies and it was all good but it was debilitating. I went through depression, feeling that perhaps I didn't deserve what had happened accidentally and it was so embarrassing. I thought that I was going to embarrass myself, my family and everybody else. But when I let the fear and the embarrassment go, I realised that my job was to arrive at the desk and let the universe do its magic, walk myself away. I had my book and my job was to write it. I think the universe comes to you and that's what's amazing. I take the responsibility of the hard work that I've done and because I've done that hard work, the universe uses me like a container in the vessel — the fact that I really enjoy writing and if we can just let it go and let it be free.
The Punch: The second book of poems seems like a natural progression of the first book. What did you want this volume to be about?
Rupi Kaur: The first book I wrote when I was a teenager. You are not writing from very specific lines. When I went to write now, that was also a struggle. I thought I could take my time but it's funny because that's what I wanted. When I was writing Sun and Her Flowers, suddenly it felt too different. I wondered how to write the way that I did. I told myself: You are 24 now and you are not going to write the same way and I had to let that feeling go.
One of my mentors said that the reason why Milk and Honey is what it is because I didn't mix business and art because I didn't have the intention to mix business so when you go to write your second book, you focus on the art and when the art is done, then you could think about the business bit. I'm so glad I did it though it was hard but when everything was done — and your body tells you when you are done — I started to think of a structure. Generally, a collection of poetry is a bunch of poems put together. I thought I wanted something more — structure is important and Milk and Honey and Sun and Her Flowers comprise 100 poems but each book is like a one long poem. So, for me, it's important how it's all put together. I'm so mindful that sometimes I spend hours deciding the chronology. I also make sure that I don't put too many sad poems together and try to balance it.
The Punch: As someone who is interested in the sound of things, in the sound of words, how preoccupied are you with the shape and sound of a particular letter or word? Do you strive to work on arrangements to achieve a certain look or sound for your poems?
Rupi Kaur: Visuality is very important. Before I started writing a book in 2014, its colours started to come to me. When the name came to me, I opened up a new document and started to design the cover. So, it's like creating the universe before the words come. I fret over the images to go with it. The visual images and visualities are important. Milk and Honey is black and white, but in Sun and Her Flowers, bees come along and there were colours. I started off as a performer. There is so much more to writing than what you see on the pages.
The Punch: Does performance dictate your poetry or poetry dictates your performance?
Rupi Kaur: When I'm writing a Spoken Word piece and I know that I'm writing a Spoken Word piece, so I write it. But after that, it's very free falling. But when it's more concise poetry, it's different. But all poetry comes from writing freely. I sit in the morning or at night and just write. The idea of taking them to stage is also free-flowing because that's how I write.
The Punch: Tell us about your first multi-city tour in India.
Rupi Kaur: I love it here. I have been waiting for it for so long. At Jaipur Literature Festival, I was so up for it that I was ready to climb the stage before the MC was done. As a performer, you are a mirror for your audience and your audience gives so freely and they give so much. It expands my heart with love. There were so many young people and even their mothers who wanted to see me. I can't wait to come back. I have been getting so much love everywhere. A 14-year-old girl even started crying in my arms in the hotel. And I told her this was why I wrote poetry. For years, it was like carrying this weight around but then I let it go and I stopped getting bothered by what people were saying about me, stopped caring about anything. When people appreciated my work, I didn't resist it. I welcomed it like a gift and then I experienced so much love and I felt a connection with people and it didn't feel like a weight anymore.
Donate Now
Comments
*Comments will be moderated