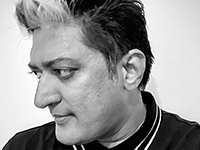 Subodh Deshpande likes to believe he is a Bombay poet in exile and has a poem on the subject to prove it.
He is based in Singapore. Subodh lives a schizophrenic life; a brand consultant by day and a writer by night
He writes a lot of poetry about the India that was, the India that is and his unfolding migrant identity. In his writing, Subodh wonders aloud about objects, experiences, people, movies... that accost him. Discovering that he can write his thoughts better than voice them out, he often writes under the pen name 'Avaak'.