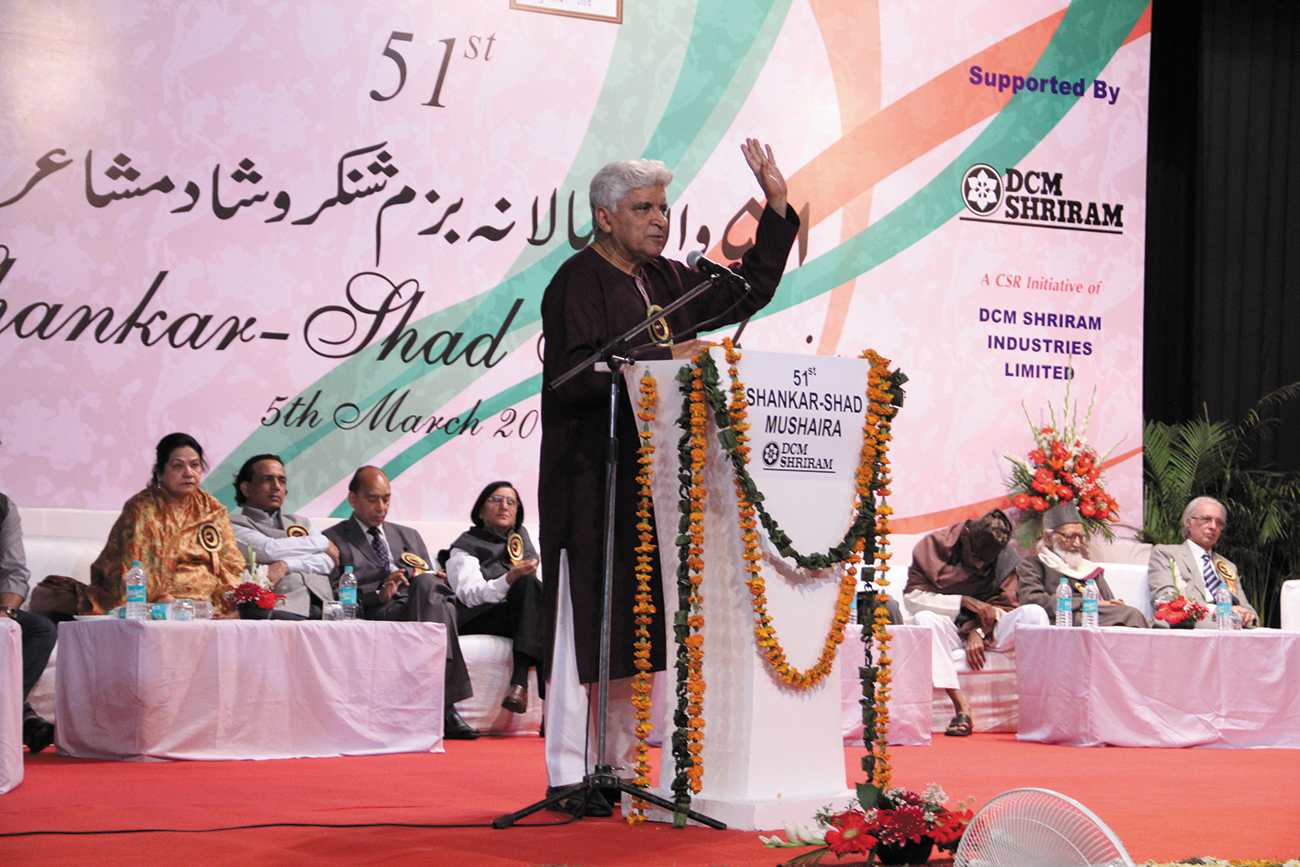 Javed Akhtar at the Shankar-Shad Mushaira. Photo courtesy of Shankar Lall Murli Dhar Memorial Society
Pakistani poets are notably absent at this year's poetic soiree, an important event on the city's cultural calendar

The curtain is all set to rise on the 52nd Shankar-Shad Mushaira in New Delhi today. An important event on the city's cultural calendar, the Shankar-Shad Mushaira, organised by Shankar Lall Murli Dhar Memorial Society with tremendous zeal and commitment to promote amity and literary fervour, has been crucial in cementing the ties between the poets of the subcontinent who have come together, year after year, to raise a toast to the celebration of Urdu and the various forms of poetry in the language — rubaiyat or qatats (quatrains), ghazals and nazms.
This year, the participating poets in the poetic soiree include Javed Akhtar (Mumbai), Anwar Jalalpuri (Lucknow), Munawwar Rana (Lucknow), Professor Waseem Barelvi (Bareilly), Dr Popular Meeruthi (Meerut), Manzar Bhopali (Bhopal), Iqbal Ashhar (Delhi), Dr Gauhar Raza (Delhi), Iffat Zarrin (Delhi), Nawaz Deobandi (Deoband), Dr Rahat Indori (Indore), Sheen Kaaf Nizam (Jodhpur), Dr Kaleem Kaisar (Gorakhpur), Sabika Abbas Naqvi (Lucknow), Azhar Iqbal (Meerut), Khushbir Singh Shaad (Jallandhar), Noumaan Shauq (Delhi) and Manish Shukla (Lucknow).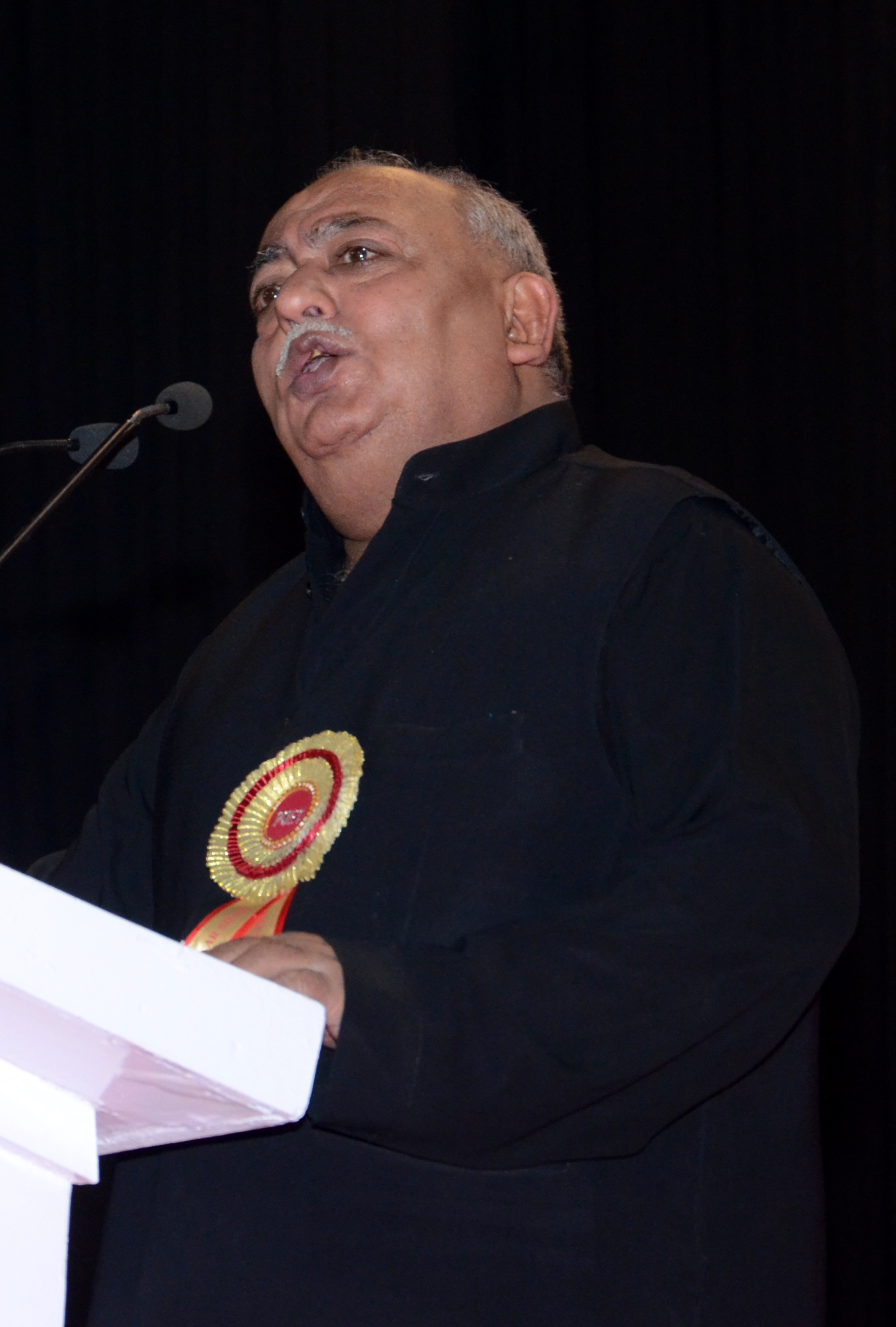 Munawwar Rana at the Shankar-Shad mushaira
Pakistan's poets, many of whom have participated in the mushiara, are notably missing this year.Perhaps this is a reflection on the shadow politics of hatred has cast on such events that Pakistani poets are missing from the list. Earlier, Pakistani stalwarts like Ahmad Faraz and Zehra Nigah have been the main draws at the soiree. In 2015, some of the Pakistani poets who participated in the mushaira included Fahmida Riaz, Anwar Maqbool Sahar Ansari and Amjad Islam Amjad. This year, not a single poet from Pakistan is on the list.
The omission of Pakistani poets from the list must raise hackles among the legions of admirers of poetry from the region. That it is part of a design is evident from the fact that organisers of such events in India have done their best to ride roughshod over Pakistani poets and artists. Recently, Kishwar Naheed, the feminist Urdu poet from Pakistan, was invited to another popular event in the city, but remained seated as part of the audience.
Pakistan's progressive poet Fahmida Riaz, who spent several years in Delhi after she was exiled in the 1980s by General Zia ul Haq, had told The Punch in 2015, "I have listened to the top poets of India and Pakistan here. This mushaira is part of our collective culture and heritage."

At a press conference held before the mushaira in 2015, Madhav B. Shriram, director DCM Shriram Industries and chairman, Shankar Lall Murli Dhar Memorial Society, which organises the event, had said, "Pakistan poet Ahmad Faraz had once told me that a city is not just about bricks and mortars. It is its culture, its people. As for Delhi, it is a city of migrants. It is the seventh Delhi we are living in. We got to keep its culture, history alive. They can't be forgotten. If Ghalib's haveli is in the city, his soul lives here too," added Shriram.
Today, as the mushaira is all set to regale the audience, perhaps it is the poets from Pakistan who will be missed most. Ghalib's soul must be sulking at the treatment meted out to fellow poets from across the border. We can just hope and pray that better sense prevails and politicians never succeed in creating walls between the people of the subcontinent and, notably, among its poets. Jigar Moradabadi had written: Unka jo kaam hai woh ahl-e-siyasat jane/Mera paigham mohabbat hai jahan tak pahunche (Let the politicians do their job/My message is one of love, may it spread far)." The governments on both sides of the border should cease to create divides and must be seen to promote peace through people-to-people contacts.
The annual Shankar Shad Mushaira is a legacy to commemorate the memory of Sir Shankar Lal & Sh. Murli Dhar of the DCM conglomerate, who are known for their contribution to the social, educational and cultural life of New Delhi, as the patron of Urdu Poetry. Shankar Shad Mushaira, an initiative of the DCM Shriram Group, has been promoting Urdu mushaira as a genre of literature and oral art since 1953. Shankar Lall Murli Dhar Memorial Society was formed in 1953 to further education and development of public, assist holding of theatrical, musical performances, exhibitors and other activities for development of music, dance, drawing, painting and other fine arts, publish books and works of literature, poetry, art & culture. The society has been holding annual mushairas and providing platform for poets (both veterans and budding) from India and abroad to present their poetry for Urdu connoisseurs.
To be held at Modern School, Barakhamba Road, in New Delhi, the mushaira will begin at 7 pm. For invites, please contact: info@dcmmushaira.com
Donate Now
Comments
*Comments will be moderated