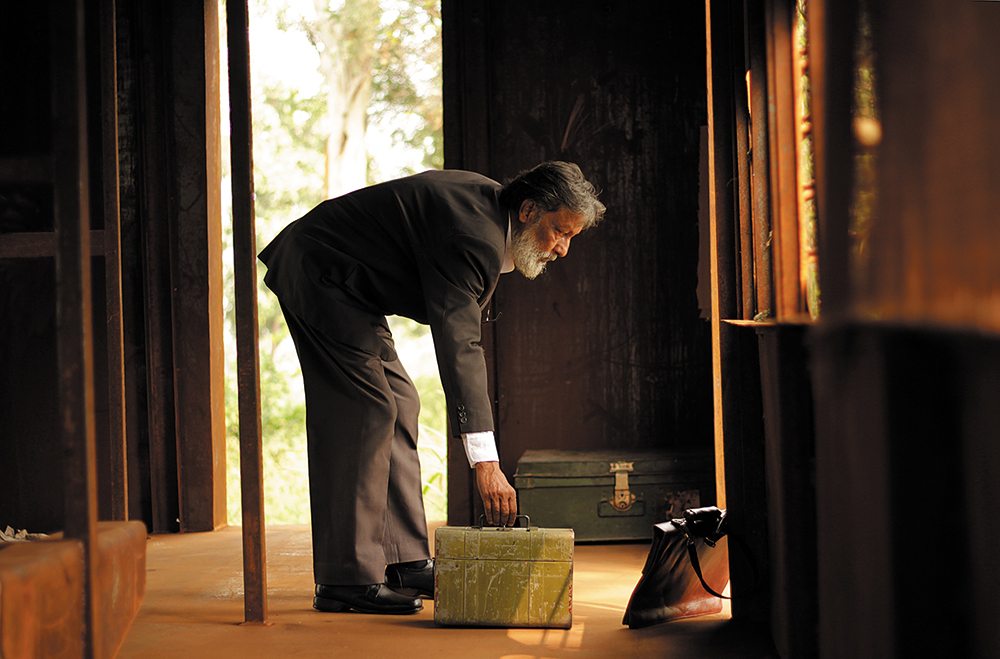 A still from Amar Kanwar's film, Such A Morning, a modern parable about two people's quiet engagement with truth. Photo courtesy of the artist
A look at the works of five Indian artists who will participate in Documenta 14, one of the world's foremost art events
The excitement has begun for Documenta 14, one of the world's foremost art events. After its grand opening in Athens on April 8 ( it will be on there till July 16), it will move to the historical city German town of Kassel, where it will be held from June 10-September 17. Curator Adam Szymczyk's concept to expand the exhibition between these two cities will allow them to function together under a working title "Learning from Athens."
Since 1955, the Documenta exhibition has taken place for 100 days every five years in Kassel. It was Arnold Bode's initiative to uplift the international contemporary art scene in post-war Germany. It has traditionally always taken place at the Fridericianum — the first museum in mainland Europe, established in 1779 — later adding other locations around the city of Kassel, which was heavily bombed in World War II.
Organised by artistic director Adam Szymczyk, together with an international team of curators, advisors and assistants, Documenta 14 will feature 160 artists. They will present the universal voices of people who are trying to come to grips with their problems as they face both cultural and political changes. The participating artists have been invited to create works with a holistic view within the context of the emerging dynamic relationship between these two cities. This would engage in a multitude of voices reaching outside the European context from the vantage point of the Mediterranean metropolis of Athens, Africa, the Middle East, to Asia.
Besides videos and installations, music and performing arts have found their way into the Documenta. On the building's terrace, Norwegian artist Joar Nango has built a tiny village resembling a tribal community, with elements taken from different indigenous peoples from around the world. The Sámi artist has created an installation like a mobile theatre, and performances, as well as communal cooking, took place there throughout the first days.
Another fascinating installation that came alive was Nevin Aladağ's Music Room 2017. The furniture-pieces-turned-musical-instruments, with several live performances in a day. Eighty-six-year-old experimental composer and influential scholar Alvin Lucier captivated the audience with a live performance of his seminal piece, I Am Sitting in a Room, which uses repetition and the frequencies of the space to resonate the room's spatiality.
Colombian artist Beatriz Gonzalez's smart and visually arresting piece Interior Decoration (1981), is a 140-metre-long curtain that shows Colombia's controversial President at the time, Julio Cesar Turbay Ayala, entertaining a coterie of guests. The artist collaborated with textile makers to create the decorative patterned fabric with the party scene in endless repeat, which could be ordered by the metre.
This year, five Indian artists will be showing their works at the Documenta 14. Amar Kanwar, Nilima Sheikh, K G Subramanyam, Gauri Gill, Nikhil Chopra and Ganesh Haloi will bring to the Documenta different genres of art.
Amar Kanwar
Amar Kanwar was previously invited to participate in Documenta 11 and 12 and 13, making Documenta 14 his fourth time. When questioned on how this Documenta was different from the others, Kanwar stated, "Each of the previous Documentas that I have participated in, that is — 11, 12, 13 and now 14 — are unique and create their own paradigms and propositions. Okwui Enwezor, Roger Buergel, Carolyn Christov-Bakergiev and now Adam Szymczyk all are artistic directors with very special capabilities and visions. It's been fascinatingly interesting to participate and work with them across 20 years. This time, Adam has made a significant shift, a plunge into a new political context and the act of relocation and response will create its own set of new questions and answers."
Kanwar's poetic visual language combines memory, literature, and history to expose social injustice and create spaces of transformative contemplation through his film and as multichannel projected installations. Based in New Delhi, 1964-born Kanwar employs a sophisticated cinematic vocabulary to narrate both individual and collective experiences.
Kanwar's contribution to Documenta 14 tells an interesting story. There is a deliberate stillness which infuses Kanwar's amazing new film, Such a Morning, which tells the story of a man of sciences, a mathematician losing his sight and retreating from the world. At the peak of his career, he leaves everything behind and goes to live in seclusion. There, in creeping darkness, he begins to see the light of a different world…far from the violence and depravation of today's world.
In a brief note on this work in Documenta 14, Kanwar states, "It's a modern parable about two people's quiet engagement with truth. The film, Such a Morning, navigates multiple transitions between mathematics and poetry, democracy and fascism, fear and freedom. In the cusp between the eye and the mind, shifting time brushes every moment into new potencies, with each character seeking the truth through phantom visions from within the depths of darkness."
In his other works, Kanwar projects different aspects of darkness in our lives. In his video, The Scene of Crime from The Sovereign Forest, the darkness spells the futility of converting rice fields into concrete jungles. Here, his video portrays a breathtaking green land in Orissa, just prior to erasure as territories marked for acquisition by industries from the poor farmers. His multi-channel installation serves as the voice of the underprivileged as it unfolds the magnitude of their loss in an ingenious way. This is achieved with 226 variety of rice seeds, three handmade paper books and a video. The seeds will become a distant memory once the land becomes an industrial city.
Kanwar exposes the sinister wound of Partition that has fractured the moral fibre of India and Pakistan in A Season Outside (1997). He shows the absurd rituals at the border that simply evoke the futility of this separation. Symbolically, darkness manifests itself in the plight of the Tibetan refugees and in the look on a boy's face in a Tibetan refugee camp as he shoves another child to the ground.
A Night of Prophecy (2002), featuring a series of poems and songs recorded in eleven languages across the states of Maharashtra, Andhra Pradesh, Nagaland, and Kashmir, portrays a people caught in a struggle around caste, poverty and disenfranchisement.
The Lightning Testimonies is a disturbing eight-channel video installation exploring the often repressed, always sensitive, and newly urgent subject of sexual violence against women on the Indian subcontinent. The work is a complex mixture of concurrent accounts, with stories ranging from wide-scale abduction and rape during the Partition of India in 1947 to the powerful anti-rape protests in Manipur in 2004.
Gauri Gill
Photographer and artist Gauri Gill (b. 1970) plays with issues of identity, race and social structure through her photographs. She projects the plight of the underprivileged that she has extensively photographed. Gauri Gill's photographic archive portrays rural communities — including peasants, nomads and migrants —living in the desert of western Rajasthan. Gill brings to life the problems these communities face. Four of her mesmerizing series of black-and-white photographs are installed in the incredible Epigraphic Museum, the oldest (and perhaps only) museum of writing in the world.
The Mark on the Wall (1999-ongoing) documents drawings composed by local artists, children and teachers in government schools under the now lapsed "Leher Kaksha" scheme, initiated by the state to help children learn visually from the walls in their classrooms, to explore glimpses of the collective mind of a rural community.
Proofs of Residence (1999-ongoing) are records of Jogi homes, including the only "pucca" (concrete) homes that the nomadic community have owned. They were granted as compensation by the Indian government after their "kutcha" (temporary mud) homes were lost to a flood in 2000. However, the houses often lay empty or barred, as without jobs, Jogi families must continue to wander afield to earn a living.
Traces (1999-ongoing) is a series memorialising both unmarked and marked graves. These handmade graves belong to individuals with relatively few economic resources. Created from materials found in nature, occasionally with handwritten gravestones, they are reabsorbed by the landscape as other creatures of the earth imbibe them, or erased by sand and time. Belonging to both Muslim and Hindu communities, they point to a more heterogeneous complexity underlying national thought and religious traditions.
Birth Series (2005) witnesses the birth conducted by a great midwife and feminist, Kasumbi Dai, of her granddaughter, in a remote village in Ghafan.
Page
Donate Now
Comments
*Comments will be moderated