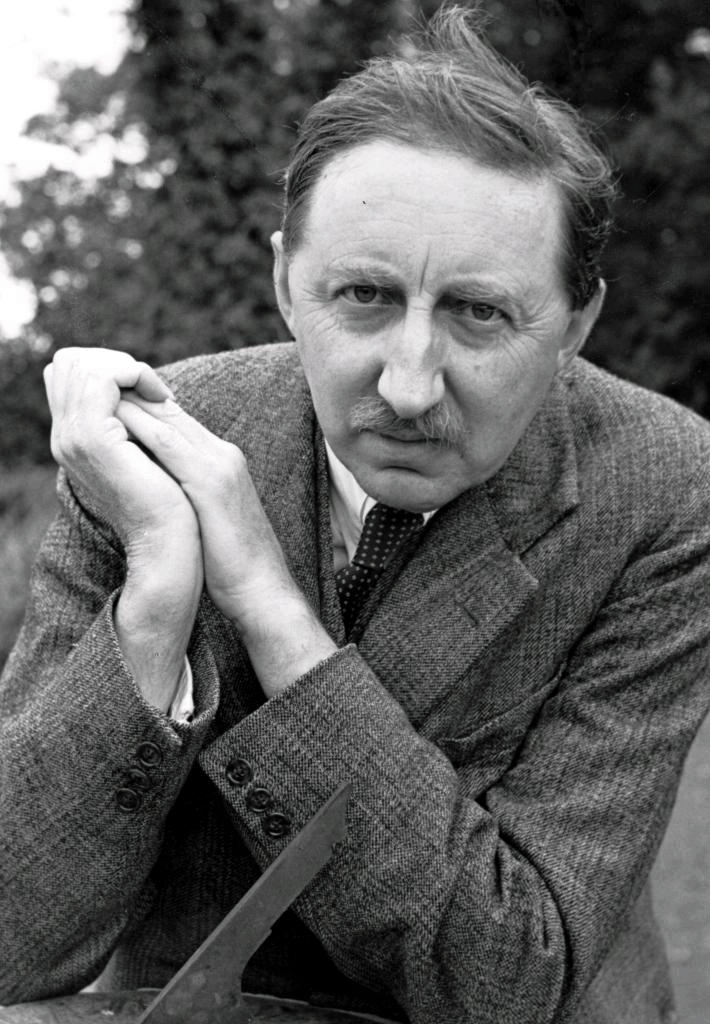 Introduction
Edward Morgan Forster was born on January 1, 1879, at Marylebone, London. He attended the famous public school Tonbridge School in Kent as a day scholar. Later, he became a member of the Discussion Club at King's College, Cambridge, which honoured him as its honorary fellow. He lived a major part of his life in his rooms at this college.
He first visited India in 1914 and was enamoured with Indian culture. When the First World War broke out, he protested openly against the war as a conscientious objector. He again visited in 1920 and worked for some time as private secretary to Tukojirao III, the Maharajah of Dewas. He also travelled widely all over the Indian continent and made several friends. He donated a sumptuous amount towards the building of the Urdu Hall in Hyderabad as his tribute to Islamic culture.
His fiction is known for his humanism, symbolism and homosexuality. He valued human relationships above everything else. In his essay on "Two Cheers for Democracy," he observed: "If I were to choose between betraying my country and betraying my friend, I'd have the guts to betray my country." This statement created a furore in England because most people misconstrued it as a literal statement, questioning his patriotism.
E. M. Forster never married but is known to have homosexual relationship with Bob Buckingham — a theme which also inspired his novel Maurice. His credo of life appears as an epigraph to Howard's End —Only Connect. For his literary achievements, he received several awards, including Order of Merit and Benson award. Several of his novels, particularly A Passage to India, were made into movies Forster died of a stroke in Coventry on June 7, 1970, at the age of 91, at the home of the Buckinghams, Warwickshire.
---
It was a chilly winter morning, with snow heavily layered on the streets and lanes of Cambridge. The wind howled all around. But in spite of this inhospitable weather, I decided to wade through the snow to get to the Saturday market behind St. Mary's church. I never missed my weekend shopping at the market where I purchased my provisions at bargain prices — milk, vegetables, bread and fruits. Being one of the poorest students at the university, I had to scrape up every penny to keep myself going.
After I'd done my shopping, I walked over to a book stall in a corner. I saw people buying second hand books at throwaway prices. Only the previous week I had got a rare book bargain — Stephen Spender's Collected Poems, with an inscription in the poet's own hand, "To Natasha, with love". As I was browsing through the books there, I noticed an old man bundled up in a woolen overcoat with a Russian fur cap on his head and hands in leather gloves. I instantly recognised the man whose photographs I'd seen in several books and magazines. Surely, it was E. M. Forster, the renowned author of A Passage to India. I felt a strange sensation down my spine as I drew close to him. "Am I speaking to Mr. Forster, please?" I asked softly.
"Yes, you are. What's your name, young man?" he asked.
"Shiv K. Kumar," I said.
He exclaimed, "Oh! Lord Shiva, the God of annihilation of evil. So you are from India."
"Yes, Sir. Though I may claim to be a Pakistani as well because I was born in Lahore. I crossed over to India as a refugee at the time of the Partition."
"You must have had a traumatic experience, harrowing and shattering."
After a brief pause, he spoke again. "I should like to meet you over a cup of tea in my rooms at King's, where I live as an Honorary Fellow. My rooms face the King's Chapel across the lawn. You may ask the security guard at the main gate. He'll bring you up to my rooms."
"So gracious of you, Sir, to invite me to tea. I'll be there tomorrow afternoon. For me, it's a dream come true. Thank you very much."
Since I'd been told by my friends that an Englishman is known for his punctuality, I decided to reach the main gate half-an-hour early. Instead of looking for his rooms on my own, I sought the help of the security guard on duty. Mr. Forster's rooms were on the first floor, so I climbed up the steps and stood outside his door, looking at my wrist watch all the time. As soon as it was 4.30 p.m., I gave a gentle knock on the door. My host appeared at the door dressed informally in shirt and trousers. "Come in, Mr. Kumar," he said. I was invited to take a seat near a logwood fire which exuded warmth and comfort. It was in stark contrast with the frigid atmosphere outside.
"Would you care to have some coffee or tea?"
"I'll take some tea, please," I said, accepting the invitation. I added facetiously, "To be honest, as I'm a milk baby, I don't usually take either tea or coffee. But please don't bother to get me milk." I paused for a brief moment. "Sir, I'm a vegetarian and a teetotaler. It has almost made me an outcast at Cambridge. But I'm getting along somehow."
E.M. Forster smiled. "Indeed, I'd several friends in India who were like you. No meat and no drinks."
"Let me share a secret with you, Sir. It may explain why I came to the Saturday market to buy my groceries. It is because I do my own cooking. Before I came to England, my mother gave me several lessons on how to cook lentils and bake chapatis." With a deep breath, I added, "You must try my food some day."
"Certainly, I'll come over to visit your lodgings."
I suddenly realised that I'd slipped up in inviting him to my lodging which was in a dilapidated old building on the verge of collapse. It was the cheapest place I could rent at Cambridge. My rooms didn't have central heating, and I'd have to use hot bags under my quilt to keep myself warm at night. Every morning, I would have a glass of milk, and a toast with butter or margarine. I would then take the long walk to the university library which offered me comfort and warmth from morning till evening. My days were spent in the Anderson's Room which was reserved exclusively for research scholars.
"Have you come here to study the Tripos or to pursue research?," asked Mr. Forster as we sat sipping tea.
"I am pursuing doctoral research on 'Bergson and the Stream of Consciousness Novel'. I don't know if I'd ever be able to get to the end of my project."
"A tough subject." He shook his head sympathetically. "I assume you'd be writing about James Joyce, Virginia Wolf… and who else?"
"Dorothy Richardson," I gave the name.
"It's going to take a while for you to complete your thesis. You seem to have put your fingers into a blazing oven. You know, I once tried to make sense of Joyce's Finnegans Wake. I couldn't advance beyond the opening paragraph. Also, his Ulysses is a bizarre narrative. But you seem to be a strong-willed young man. You should be able to handle this subject with skill and determination."
He paused to look at my face closely. And then he came up with a question. "But what about Bergson? I assume you've a background in philosophy."
"No, Sir, I don't. You'd be surprised to know that I never did philosophy throughout my school and college career. I did science at the intermediate level. History and political science were my auxiliary subjects at the graduate level. And, of course, English Literature for my Master's." "Amazing," he ejaculated. "But then you Indians are born philosophers. During my stay in India I noticed that even rickshaw-pullers talk about karma, retribution and detachment. I remember once engaging in a conversation with a taxi driver on karma and rebirth. I'm sure you'd turn Bergson around your finger with confidence."
"Thank you, Sir."
"Incidentally, who is your supervisor?"
"Dr. David Daiches who has just joined Cambridge."
E.M. Forster nodded his head. "I know him. Surprisingly, Cambridge did not recognise his doctorate from Oxford. Just because that university is 'the other place'. You may have read somewhere what I've said about Cambridge and Oxford. While Cambridge has preserved the virginity of its beautiful campus, 'the other place' has become its bloated sister, with several industrial units located on the outskirts. Cambridge is still beautiful like a sylvan village with its Cam, 'the smoothest of all rivers', to quote Milton."
I said, "I'm very fortunate to be here at this university where I can do research in modern literature. Oxford is limited only to the classics."
Forster gave me a less-known fact. "I haven't told you about what had happened to your supervisor. When he was listed as Mr. Daiches in the faculty list published by Cambridge, he felt anguished. He was so upset that he wrote an interesting article in The New Yorker titled 'A Matter of Degree'. To address his grievance, the University conferred upon him an honorary doctorate so that he could be designated as Dr. Daiches."
I exclaimed, "I'm surprised how I didn't know this. I respect Prof. Daiches, and I'm looking forward to completing my thesis under his supervision."
It struck me suddenly that we'd both drifted away from my main objective. It was to interview him for The Illustrated Weekly of India so that I could pick up a little extra money. When I told him about my desire to ask him about his experiences in India, his face glowed. "I guess you propose to write about our conversation."
"Yes, Mr. Forster. If you're gracious enough to help me write this interview article, I'd be able to pick up some twenty pounds from an Indian magazine."
"Then start firing away, Mr. Kumar."
"I've a question for you Mr. Forster. In A Passage to India, what happens in the Marabar caves when Dr. Aziz is alone with Adela Quested. That scene has always intrigued me. My Indian readers would like to have your response."
He beamed, and there was an impish sparkle in his eyes. "Why don't you tell me? I don't have a clear answer to your question."
"I guess, like every great artist, you deliberately chose to let this scene remain wrapped in mystery. Mr. Forster, let me ask you another question. During your stay in India, did you feel more comfortable interacting with Hindus or with Muslims? I believe your heart is with Dr. Aziz, and not with Godbole. You portray Dr. Aziz as a sensitive young man who enjoys reciting poetry, whereas Godbole is a caricature of Brahminism. You show him muttering such chants as 'Tukaram, when will you come?'"
Forster shook his head. "No, I've no prejudices for any community. But you seem to have an incisive mind. I admit I've a lurking sympathy for Dr Aziz whom I've based on someone I knew in Hyderabad. I've dedicated A Passage to India to Dr. Masood who was the Director of Education in the Nizam's State of Hyderabad. I donated some money towards the building of Urdu Hall which is located in the Himayatnagar area of Hyderabad. Though I never cared to learn Urdu or Persian, I love those languages for their musical resonance, but Hindi and Sanskrit are Greek and Latin to me."
"Mr. Forster, I've seen your photo from the time when you were secretary to the Maharaja of the Devas State. You do look princely in the court attire."
Forster smiled. "Yes, I wanted to be taken for an Indian Prince."
"And how did you take to Indian food?," I asked him.
"I love rice biryani, roasted chicken and the parathas, your Indian bread. But what has captivated my heart is the mango. Last month, an Indian scholar from Jaipur brought me 'Jahangiri' mangoes that kept me hooked for a whole month."
Page
Donate Now
Comments
*Comments will be moderated