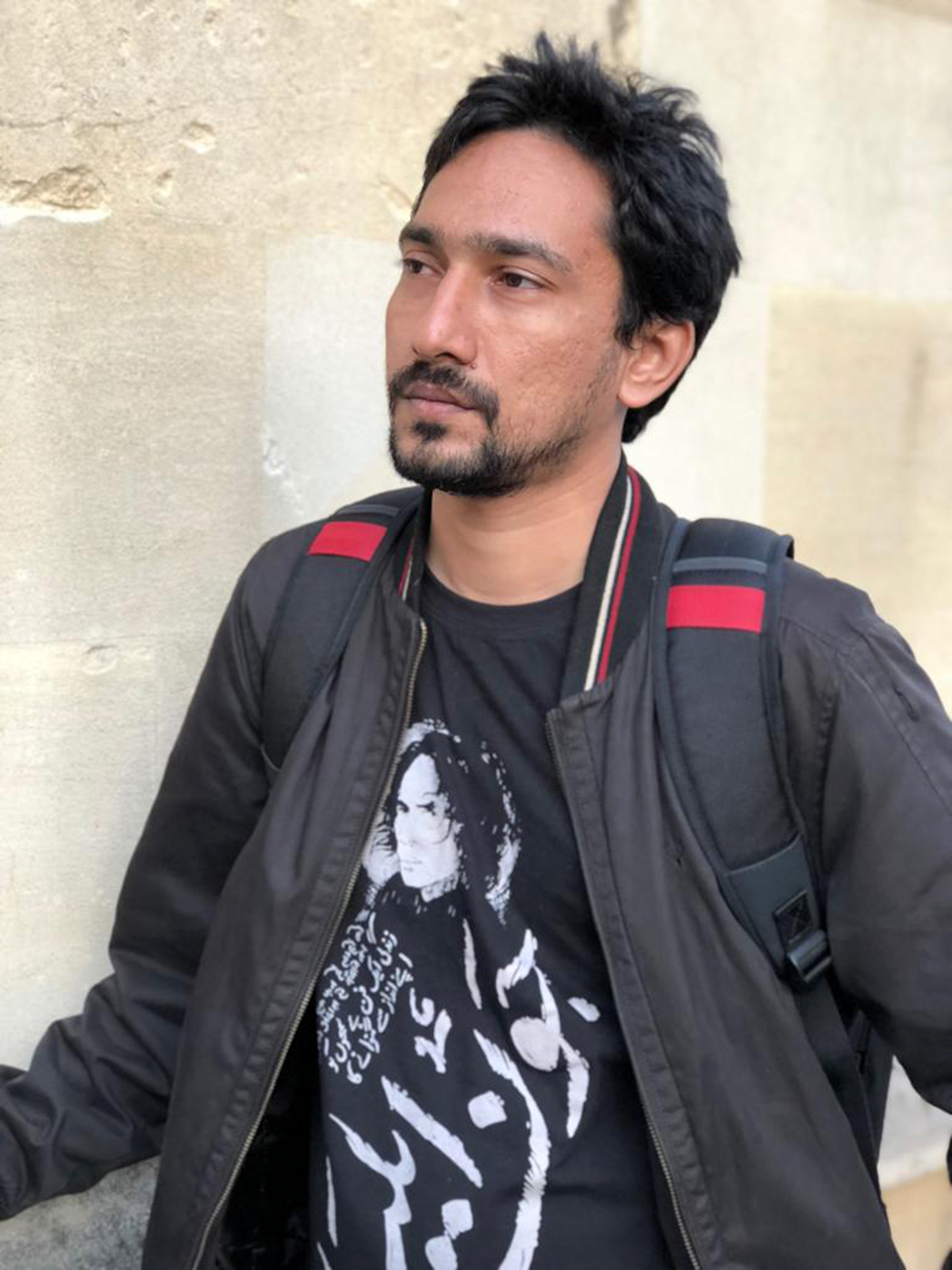 Hussain Haidry, spoken word poet, writer and lyricist. Photo courtesy of Hussain
To be a good lyricist, Hussain Haidry feels, it is not enough to be a good poet. "Songs are also unspoken dialogue in our films. To have a sense of story, character arcs and how dialogue is written or spoken, helps equally," he says
Hussain Haidry, spoken word poet, writer and lyricist, shot to fame when his poem Hindustani Musalmaan went viral on social media. Born in Indore, Hussain has worked as a Chartered Accountant. He has also worked as Head of Finance at a healthcare company in Kolkata. In December 2015, he left his job and moved to Mumbai to become a full-time lyricist and screenwriter. After leaving his job in Kolkata, Hussain started his career by performing at spoken word poetry forums in Mumbai such as Kommune, The Poetry Club, Prithvi Caferati and Words Tell Stories.
He has written lyrics for Shankar Raman's Gurgaon, Tanuja Chandra's Qarib Qarib Single and Anurag Kashyap's Mukkabaaz. For Qarib Qarib Single, he wrote two songs —Tu Chale Toh and Tanha Begum, composed by Rochak Kohli. For Gurgaon, he wrote two songs — Tamasha and Aiyyash Chore. He also wrote one song, Udi, in collaboration with Varun Grover for the film. For Mukkabaaz, he wrote seven out of ten songs, composed by Rachita Arora. He has also written the title song of the Amazon web series, Chacha Vidhaayak Hai Humaare, composed by Vishal Dadlani.
To be a good lyricist, Hussain feels, it is not enough to be a poet. "Songs are also unspoken dialogue in our films. To have a sense of story, character arcs and how dialogue is written or spoken, helps equally. What also helps is a sense of music — as in, how well one can remember tunes before the words in it exist, or the imagination of what the tune could be like if one writes a song first," he says. Excerpts from an interview:
Shireen Quadri: Your songs for Mukkabaz, Bahut Hua Sammaan and Chhipkali, were well received for their vehement political tone. Tell us about the experience of working with Anurag Kashyap, a director who is so rooted to the soil?
Hussain Haidry: It was a great learning experience, as well as empowering. One of the first things he'd said to me when I was at his office (and I was extremely nervous and scared at that time) was: "Darna mat, likh daalna." It was a simple thing to say, but coming from him, it meant a lot — and it has changed my approach towards writing since then. He accepts or rejects songs very promptly and also gives complete freedom to work as one wants to — almost all songs in Mukkabaaz are first drafts that got approved. Only my first attempt for the sad song (for which the second attempt was Bahut Dukha Mann) was rejected, but it only made me work harder and come up with something better, which he approved promptly. The first director I worked with, Tanuja Chandra, however had a large mentorship role to play in shaping my approach to lyrics — most of which I later applied in Mukkabaaz. She had told me once, "Never try to write a good song. Just write the best in what you need to write." Not only that, she pushed me to write simple while avoiding being simplistic and to make the simple lines sound more meaningful. I used that learning a lot when I was working with AK when I was by myself in writing songs with no guidance in between.
Shireen Quadri: Born in Indore, you worked as a CA in Kolkata. What drew you to lyric writing? Who were some of the lyricists who have inspired you?
Hussain Haidry: I used to listen to songs very intently as a teenager in the '90s and 2000s. By intently, I mean not casually — like, while driving in the car or while studying but with complete attention to the songs with earphones. The era of cassettes and CDs which moved to MP3s only furthered my listening. For some reason, I would mostly like songs with decent or interesting lyrics (even though I wasn't introduced to poetry back then) — and even end up remembering the arrangements between the songs! Javed Saab, Gulzar Saab, and Anand Bakshi Saab used to be my favourites at that time. However, I had no intentions of being a lyricist even though I used to write poems back in 2009-11, or while in IIM Indore (2011-2013) when I was doing my MBA. It was only in the third year of my job in Kolkata (mid-2015), that I thought, why not try something else in life. Maybe writing — and writing meant only poetry at that time. I used to think I'll take a year at least to brush up my poetry reading and start writing poems again (I used to hardly write while in college and while in Kolkata due to lack of time) before I would even try my hand at lyrics. I had also started admiring a lot of new age lyricists at that time — Irshad Kamil, Amitabh Bhattacharya, Varun Grover, Swanand Kirkire, Saeed Qadri, Kausar Munir, Shellee — who I respect as my seniors (and lyricists who've taught me through their work) even till date. I often refer to their songs while writing, too.
Shireen Quadri: For many years, you have been known as a spoken word poet. You started your career by performing at spoken word poetry forums in Mumbai such as Kommune, The Poetry Club, Prithvi Caferati and Words Tell Stories. Tell us how these experiences shaped your craft?
Hussain Haidry: I began writing poetry frequently only due to open mic poetry. I used to read a lot as a teenager, and in my early 20s, I began reading and remembering a lot of Urdu poetry only as a passionate interest. When I began working in Ernst & Young in mid-2009, I discovered open mics in Bombay. There used to only one event every month at that time, and I would rush from office after making an excuse to be there. I befriended some wonderful poets there, both in Hindi and English, and they introduced me to the poets they liked which opened up my reading further. Not just that, they were very kind with their appreciation and always encouraged me to write. I would listen to them and wonder how brilliantly fresh some of them would write and that made me want to do better too. Then I left for IIM Indore and Kolkata for the job, and this came to a halt until 2016, when I returned to the scene. A lot had changed — there were many more poetry open mics. So, I used to write and perform on a regular basis since I had no other job or work in Bombay. This was great practice — I didn't realise it back then but I was regaining my craft in bits and also becoming a slightly more confident performer by practice.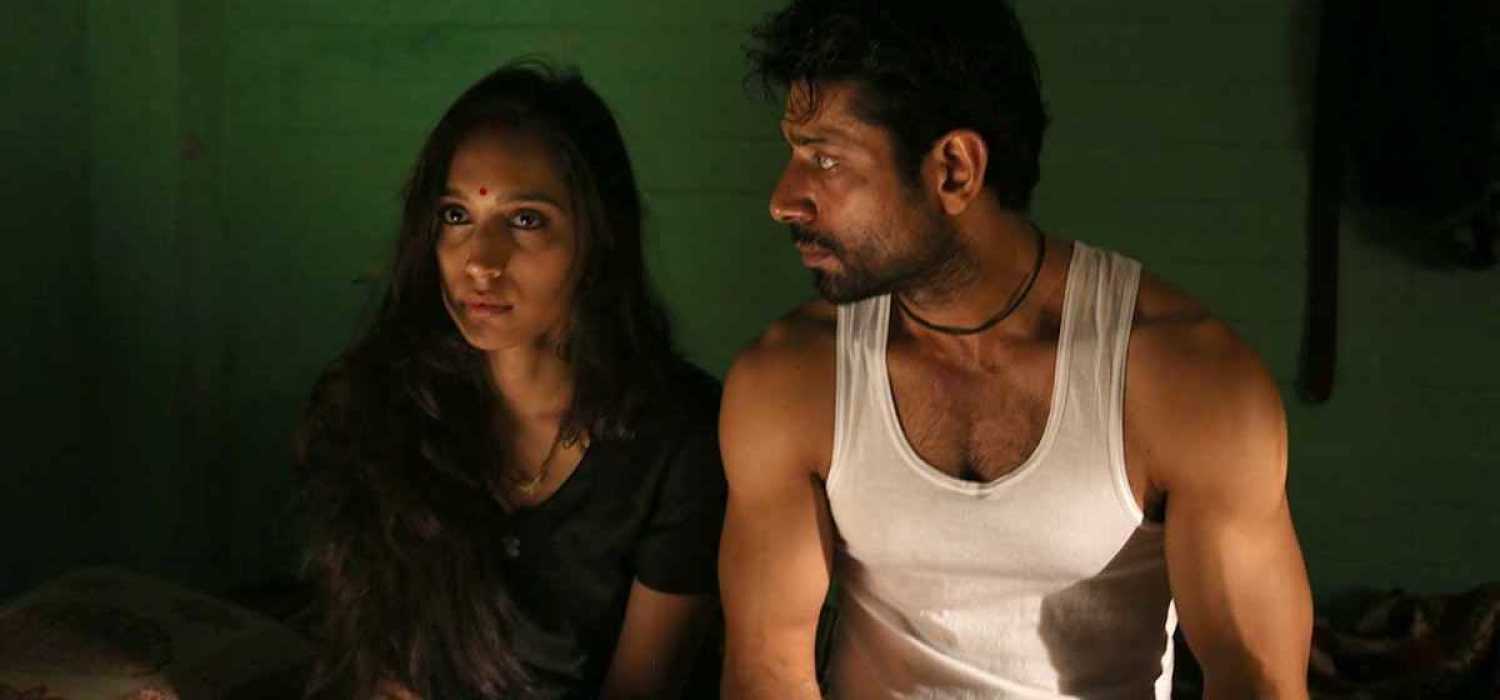 Zoya Hussain and Vineet Kumar Singh in a still from Mukkabaaz
Shireen Quadri: You shot to prominence when your poem Hindustani Musalmaan went viral on social media sometime back. Tell us how did the poem happen? How does your identity as a Muslim have a bearing on how you approach your work?
Hussain Haidry: The first video that came out with Kommune was "Lat". To be honest, I didn't want the video to be made public. I was afraid of being physically visible and talking about smoking — which was a sort of taboo and difficult for me to talk publicly about. I later conceded because I thought who's gonna see it anyway. It was, however, received quite well. It got featured in several internet aggregators like Being Indian and StoryPick — and that was a first for the Urdu-Hindi poetry scene in Bombay at that time in June 2016. This led to me performing regularly at Kommune events, and when I wrote Hindustani Musalmaan, I performed it at their office in February 2017. In this case, too, I wasn't enthusiastic about the poem since it talked about the identity of Muslims and I wasn't sure if my personal poem would be well-received or thrashed or even be politically adequate. But I let it go, because I thought Valentine's Day would be four days after this video comes out and social media would be flooded with content on that. That didn't happen, it just reached…much farther than I could ever imagine. Till date, I have no idea what happened there. I was only reciting a poem like I used to at all poetry events in front of 40-50 people. It was pure blind luck.
I don't think I approach my work as a "Muslim" per se. In fact, after this poem I could've easily made a couple of more videos in the succeeding months and harnessed this attention from identity. Instead, I stayed away from videos for six months so that everyone would forget I even wrote that, and I could start afresh. I have, on several occasions, also declined projects where I get a hint that my Muslim identity might get put to use.
Shireen Quadri: What will you attribute great lyric writing to? Must one come with a set of skills or a background in poetry writing to make it big as a lyricist?
Hussain Haidry: What I find great about the songs I love for their lyrics is that they're simple, easy to sing, and just enough poetic to cling to one's heart and evoke and emotional response in me. Almost all of them are deceptive in their construct — as in, they appear very simple on paper and seem like they're easy to write, but they're not. I think it does help if you're a poet, because the thought process and the imagery comes along as an ability, with a range of metaphors and a wide vocabulary. But just being a poet, or even a good one, doesn't help — songs are also unspoken dialogue in our films. To have a sense of story, character arcs and how dialogue is written or spoken, helps equally. What also helps is a sense of music — as in, how well one can remember tunes before the words in it exist, or the imagination of what the tune could be like if one writes a song first. I think the fact that I know how to play a bit of flute and keyboard helps a lot.
Shireen Quadri: You have written songs for films like Gurgaon, Qarib Qarib Single, Mukkabaaz, Tamasha and Aiyyash Chore. You have also written the title song of the Amazon web series, Chacha Vidhaayak Hain Humaare, composed by Vishal Dadlani. How do you work on different projects with directors with different vision and sensibility?
Hussain Haidry: All of them have different working styles, yes, but the common factor is they give a brief that forms the basis of all further discussions. I prefer writing songs after reading the script or watching how it's shot if it already is. This brings me on the same page as directors in terms of what's already there. After that, it becomes quite different with each director. Some prefer the music first, some lyrics, some prefer jamming with both together, some all of it according to the situation in the film. I think I manage well because I keep the director's vision as my priority, and shape up mine to add to theirs.
Shireen Quadri: How do you look back at your journey? What are some of your forthcoming projects?
Hussain Haidry: I try not to look back often. I do it alone sometimes late in the nights and wonder what madness had struck me to leave a high-paying job and come to Bombay with no idea what writing was (not that I have much right now, too) and what avenues to explore to earn a livelihood. It makes me cry, it is so overwhelming. Had it not been for Gazal Dhaliwal and Varun Grover, who trusted me to connect with wonderful directors like Tanuja Chandra and Anurag Kashyap, respectively, I'd have never had the confidence to think I could write lyrics for movies.
I don't have many forthcoming songs in films. The ones that I do I am not sure if they would be in the films or not, so it wouldn't be wise to say. With regard to dialogue and screenwriting, I am working on an Amazon Prime web series, a short film, and Karan Johar's Takht for now.
Shireen Quadri: Do you think the space and regard for lyricists have expanded over the years? Has the scene opened up? Is it easier now for new entrants in the industry?
Hussain Haidry: I think it has both expanded and become more constricted in different ways. It has expanded in the sense that the new-age cinema is wider in range in terms of the subjects it deals with — consequently, the situations in which the songs come are a tad more complex and newer, too. How it has become constricted is that these films don't need many songs in the first place. Regarding new entrants, I think this is the best time to write songs for films. But the entry is difficult. I have written lyrics for three films and two web series until now, and yet lyrics work is difficult to come by. I have to struggle as a newcomer to get every song, be at the mercy of a risk-taking/giving-opportunity-to-newcomer decision every time I'm writing songs for any project. It is the worst of times and the best of times, for me at least.
Shireen Quadri: How do you look at the contemporary lyric writing. Do you look back at the golden era of music for Hindi films with nostalgia?
Hussain Haidry: I love the work of almost all the lyricists who write at present — those who I consider my seniors and also my peers. Some now-known names, sometimes, keep coming up with patchy work or even irresponsible writing, I would say. But then I try to remember their good work and hope they would not repeat the kind of work I dislike. I think it is because most have a background in either poetry or theatre or screenwriting and have a great command over Hindi, Urdu, and English. They're also young at heart and constantly evolving — they could write a wonderful love song about e-mails, even though they come from an era of letter-writing. It takes craft, and then it takes some heart.
For me, the nostalgia era is '90s and 2000s. Yes, I do look back at it. Even today, I love the work by Javed Saab, Gulzar Saab, Anand Bakshi Saab and even Mehboob Saab (who's written such wonderful songs but isn't so well-known). There are so many metaphors or words they've used in passing in their songs that I feel were masterful. Even today, when you listen to recent songs by Javed Saab or Gulzar Saab, it is a notch above everyone else. I have no qualms in saying they are my first teachers in appreciating good poetic language, too, through their songs.
Shireen Quadri: What will be your message to those trying to make a mark as a lyricist?
Hussain Haidry: Please don't write irresponsible lyrics in the name of edginess for an instant hit song.
Donate Now
Comments
*Comments will be moderated