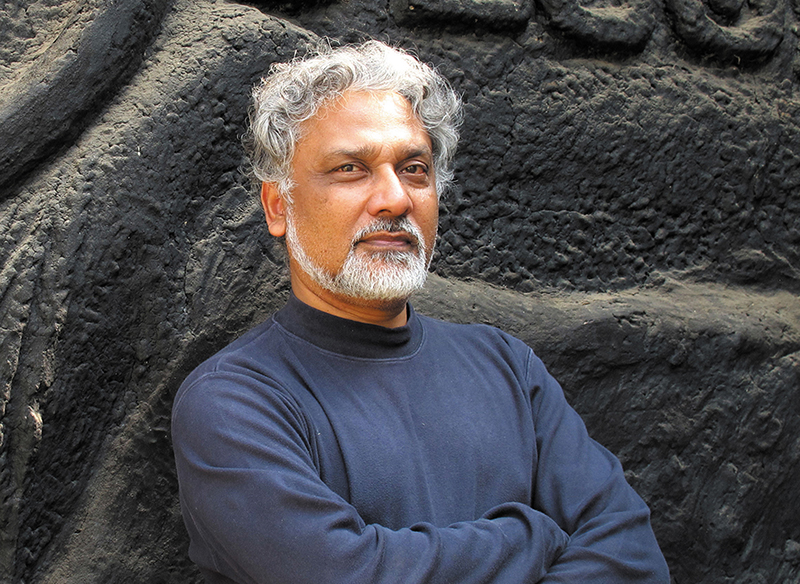 Kunal Basu. Photo courtesy of the author
Introduction
Would you like to be transported to other places and times? Romance the strange? Embark on perilous journeys of the self? Explore big questions and ideas? Be moved by poignant human stories of compassion and courage and unusual loves? Enter the fictional world of Kunal Basu, the foremost writer of historical fiction in post-millennial Indian-English literature.
When The Opium Clerk came out in 2001 and was followed soon after by the critically acclaimed The Miniaturist in 2003 — they announced the arrival of a new and rare talent in Indian-English fiction, who, unlike many others of his generation, was not taken up with contemporary India or parables of the nation. Instead, he explored unchartered territories — British opium trade and Mughal miniature painting in his first two novels; and then continued his adventure with Victorian racial science in Racists (2006), which was nominated for the Crossword Book Award); and the scourge of syphilis in The Yellow Emperor's Cure (2011).
Though the historical novel is his forte, Basu has also written in other genres. His first collection of short stories, The Japanese Wife (2008), was widely popular, its title story being adapted for the screen by celebrated filmmaker Aparna Sen. He also wrote the narrative for a book of photographs by Kushal Ray, Intimacies (2001).
His latest novel, Kalkatta, is his first contemporary one — an unsparing look at the underbelly of the city, seen through the eyes of a Bihari Muslim gigolo. And soon to be published is a Bangla novel, once again set in the present, but also harking back to the Naxal movement of the 1970s in Calcutta (now Kolkata).
It is a lovely winter morning in Kolkata, and I go to interview him at his South Calcutta residence at Lake Road. It is a beautiful apartment bursting with books and art objects, and I am ushered in by his gracious wife, Susmita, before Kunal joins me for the interview. Later, I am introduced to their daughter, Aparajita, a doctoral student at Berkeley, who is at home on a short visit. I have a feeling of déjà vu — as I had experienced an almost identical scenario in 2008, though in his natal home at Purna Das Road, when I had taken another extensive interview of him for The IIAS Newsletter, ahead of his attendance at the Amsterdam-India Festival later that year.
The man who sits in front of me has been many things — artist, actor, author, and academic. The four "A"s, however, never sat easily with each other. Basu is a Professor at Said Business School at the University of Oxford, where he has been teaching since 1999, after an illustrious 13 years at McGill University in Canada — but he had never wanted to be an academic. Brought up on socialist ideals by his publisher father and writer/stage actor mother, both Left intellectuals of their time, Basu developed an early inclination for the arts that was to last a lifetime: as a child artist, he seemed promising to his parents; however, he left painting and became a professional theatre actor in his student days in the 1970s in Calcutta, and later in Montreal; but it is the author who ultimately won over all the other identities, the "A" that finally sealed his fate.
I first met him in BCL-Kolkata in 2004, at the release of the first critical book on his work edited by Professor Subir Dhar et al, to which I had contributed (Romancing the Strange: The Fiction of Kunal Basu). I have had an abiding interest in his work ever since.
A decade later, I myself co-edited a volume of essays with Professor Krishna Sen (Writing India Anew: Indian English Fiction, 2000-2010, 2013), where I placed his work and contribution in the context of recent trends in post-millennial Indian-English fiction. As a scholar specialising in this field, what I find very interesting is the way Basu has steered clear of the general preoccupations of postcolonial fiction; and as an academic and an aspiring creative writer, I am amazed at how he has managed to balance the demands of his double career as academic-writer for nearly two decades, a rare feat that few can pull off with such élan.
This interview was prompted by the publication of Kalkatta, but it is not only about the novel. That constitutes only the first section of the interview: three more sections follow.
The second takes a broader look at Basu's work, the genres he has written in, and his writing life; in the third, we get his take on the literary ecosystem — on translations, literary festivals, the Internet, social media, book-trailers, and publishing in India; and the final section is about his own engagement with the sibling arts — with painting, theatre, and cinema.
RITUPARNA ROY: Congratulations on your fifth novel and sixth work of fiction — Kalkatta. It is, to use a very filmi word, hatke. Truly hatke. An unsparing look at the underbelly of the city — the city that is not Calcutta or Kolkata, but Kalkatta, inhabited by the marginalised. In this case, by a Bihari-Muslim refugee, Jamshed Alam or Jami, who has to turn to prostitution to rise up the social ladder and become a "Kalkatta-wallah", his mother's ultimate dream. What inspired you to write the novel? Was it any person you knew, a book, a film, a chance encounter... what was the moment of inspiration?
KUNAL BASU: As in most of my stories — with perhaps one exception, which is The Miniaturist — it never actually came to me in a flash. It was born out of aimlessly walking the streets of Kolkata. You see, in this city, I don't use a car. When I have to, I usually rent one for a day or a few hours or take the taxi. But I actually walk. And I walk at all times of the day and night. This is my personal conversation with the city, if you wish. For a number of years, when I wasn't even thinking of the story, I would walk around Sudder Street, Park Street, late at night, the alleys inside, and I would think: "Look at these exceptionally good-looking men sitting on motorcycles". And they would be sitting outside mostly guest houses and sometimes even five-star restaurants or discos, wearing expensive watches, smoking foreign cigarettes, and I would think, "Who are these people? What are they waiting for? What is their business? Where do they get their money?" Obviously, it was hard for me to strike up conversations, but I'm a very persistent person when it comes to story-making. So, I started talking to some of these lodge-managers, or guest-house managers — and gradually, it sort of leaked out that some of them, not all of them, were tour guides for western budget travellers, take them to Kalighat, Dakshineswar and stuff like that, and some of them were gigolos. Some of them were both. And as I sort of trapesed my way through these alleys, the story of Jamshed Alam started talking shape in my mind. So, it was not guided by a theoretical premise — that look, Kolkata is a city of 14 million people, so many people are actually considered to be marginalised or refugees, they are the underbelly, it's about time somebody told about the story of the underbelly. Because nobody has.
RITUPARNA ROY: Yes, which is why I said it is truly hatke.
KUNAL BASU: To be honest, one can post-talk rationalise it as such, but in my mind, the mind of a novelist, it usually doesn't start with a premise. It starts with the whiff of a story, a sense of mystery, and things like that. So, that's what it was with Kalkatta.
RITUPARNA ROY: The city of your birth came back into your work after 15 years. Reading Kalkatta, especially Jami's overriding aspiration to be a "Kalkatta-wallah", I was reminded of your first novel, The Opium Clerk — which is set in the 19th century colonial Calcutta, and is about a Bengali Brahmin boy, Hiranyagarbha or Hiran, a member of Young Bengal, who gets caught up in the opium trade of the British. Hiran and Jami (apart from the time that separates them), represent two opposite poles of the social spectrum — the most respectable class and the utterly marginalised. Was it a conscious effort on your part to make your protagonist a completely different character from what you did before?
KUNAL BASU: Again, it is not so. It was governed by something which is perhaps deeper in my personality. You may have traced that in my other pieces of writing as well. I'm a person who is drawn to the unfamiliar, to the strange. What I know, the life that I've led, the world that I've inhabited, is not inconsequential to me. But it doesn't get my blood pressure up, doesn't get me excited. So I am a Bangali, middle-class person, part of the cultural intelligentsia, who grew up in South Kolkata; and obviously I've stories about my childhood, my world, my para, my teashop, my school and my college, my loves and my losses, my wars, inside me. But telling those stories are not particularly exciting to me. Because in the ultimate analysis, I'm telling a story to myself, before I tell it to my readers. And in the process, telling it to my readers. So if I tell myself a story which I know — I know the beginning, I know how it transpired, I know the ending — it doesn't excite me all that much. So in a known context, I search for, I explore for the unknown. I seek out people I have no reason to know. Some of them manifest themselves in this novel, some don't. That search is endless, that search is just continuous. I'm looking to meet people today who smuggle rare birds. From time to time, you'll get newspaper stories... I'm going to ramble a bit, if you don't mind... you'll get a newspaper story saying, "The police have raided a small little flat in Beleghata and they have found exotic birds." And my mind would say, "Who are these people? Do they do it only for money? Do they love birds? Where do they go to find birds?" So, I'm now in the quest of people who steal birds and sell rare birds. Is there a specific story that I'm considering? Not at this point. But this quest may lead me to a story. So, to come to your question, I wasn't consciously thinking, "I've done Hiran, I've done the mainstream, and I'm now going to do the marginal."
RITUPARNA ROY: That was probably a stupid question to ask… I was just reminded of these two poles, you know.
KUNAL BASU: In a sense, there are similarities between Hiran and Jamshed; and you may even say there are similarities, to an extent, between Hiran and Jamshed and Bihzad — especially Bihzad after he is expelled from Fatehpur Sikri. Because these characters, in some sense, meander through life. Their lives or their destinies are determined, to a large extent, by their circumstances.
RITUPARNA ROY: But that is often the case with most people, isn't it?
KUNAL BASU: Yes, I would like to think so. Now, some types of fiction, particularly post-war American fiction, is very purposive in its characterisation. So this is a person who wants to become this. And then the novel or the story is about his trials and tribulations, about how he reaches there. Or doesn't. And that forms the basis of tragedy or comedy. If a person reads my novel from such perspective, then he might say: "What did Jami want to do? Did he always want to become a gigolo? Did he succeed? Did he dream to go to Dubai? Did he succeed?" When I started spending time with young boys like Jami in Zakaria Street and Sudder Street and Chitpur — which I have for three years — I realised that for the most part, these are a bunch of kids, who, because of the circumstances of their birth and life, are opportunity-driven. So, they are hanging by the side of the street. Somebody comes in and offers them a job as a courier in a mail-delivery company, the person might jump. Somebody else comes in and offers them a job in Hawala, they might jump. Or a satta, they might jump. So it's very much contextual, it's very momentary, it is opportunity-driven. And obviously, it's goal is survival. So, in a sense, Jami doesn't start out in life with a very clear goal in mind. As with Hiran. If you remember, Hiran fails his Sanskrit exams, he picks up some English, he has got an uncle who is an Anglophile, and by happenstance he ends up at the Auction House. And then his life journey begins. For a lot of people in the developing world and in our part of the world, this is a familiar journey. As you said immediately, "But isn't that the way with lots of people?" But it's not so for many parts of the developed world. They would say, well, "Who is this character? What does he want? Where is he heading?"
RITUPARNA ROY: A person should know what his life is like at 18…
KUNAL BASU: Exactly. So there are similarities, I think, in my protagonists. And I would like to say — perhaps somewhat in tongue-in-cheek — is that they perhaps reflect my journey through life.
RITUPARNA ROY: Whenever a book on Kolkata comes out — be it fiction or non-fiction — certain names are immediately invoked. Kipling, Clive, Gunter Grass, Naipaul, Lapierre. It's almost become a rule now. For example, I just read two reviews of Kalkatta — they had very different things to say about the novel, but both began with the inevitable quote from Kipling. I find this strange. Because I think if you are talking about Kolkata, especially a book of fiction, then the frame of reference should be different — it should be Bangla writers who have lived here and written about the city, or filmmakers who have worked on it. I would like to place your work in this broader frame…
KUNAL BASU: I concur with you. I was chatting a few days back with a person who is a Professor of literature who said, well… He liked Kalkatta quite a bit, but he said, "You know, Bengali writers, Kallol juger lekhok… of the '40s etc, they were perhaps more adventurous than contemporary writers in English." And I actually concur with that statement. Bangla authors in the '40s, '50s and '60s — some of them struck to the territory that they knew well, which is bangali modhyo-bitto jiban (Bengali middle-class life). But some of them — Samaresh Bose is an example, who is a great inspiration of mine…
RITUPARNA ROY: I was just coming to that — who are your favourite Bangla writers or books on Kolkata?
KUNAL BASU: Books on Kolkata would be slightly hard to tell. But Samaresh Bose… BT Road is definitely part of Kolkata, now it's no more a suburb of Kolkata. So, BT Roader Dhare would definitely qualify as one. Mahakaler Rather Ghoda, which was set in the world of the Naxal movement, has a very strong presence of Kolkata. And there are quite a few other works — Bibar and Prajapati, much reviled, much praised, as you know controversial novels of their time, and there were obscenity cases against both — were set in this world. So, Samaresh Bose — not only him, but he primarily, had gone outside of the comfort zone of the Bengali middle-class intellectual and explored that world. And it is that spirit that excites me a lot.
RITUPARNA ROY: Sunil Ganguly? Manik Bandyopadhyay?
KUNAL BASU: Manik Bandyopadhyay, yes. Not so much urban Kolkata, some of it. Sunil Ganguly had written about Kolkata, but Sunilda's was probably more the mainstream Bengali sensibility.
RITUPARNA ROY: But I was thinking of… Well, the Bihari Muslim refugee is an altogether different category. But you know, in a novel like Purba-Paschim, especially its first part, you get to see Bengali Hindu refugee life in great detail, through the destitution that the protagonist Pratap's family faces in Calcutta.
KUNAL BASU: Refugee literature, stories of Hindu refugees from Purba Bangla, Purba Pakistan to here, has been written about extensively — in short story, theatre, in novels, in cinema, Ritwik Kumar Ghatak, etc. Perhaps not as much in fiction, not as much as in full-length novels. But obviously, like all other mainstream people, the Bengalis are obsessed with Bengalis. But 56% of Kolkata's population is non-Bengali. But they too inhabit this space, it is their city as much as it is a city of Bengalis.
RITUPARNA ROY: Is there any novel in Bangla which deals with Bihari Muslim refugees?
KUNAL BASU: Look, I don't know. There might be, there must be. How can authors overlook people who are our co-citizens? But I have not gone looking for it.
RITUPARNA ROY: No I was not asking whether you had gone looking for it. I was asking since I don't know.
KUNAL BASU: No, I don't know. But, the reference to Kipling, which you started out with — to a large extent, Indian Writing in English has not yet trodden the same path. It could be coming. This is not a condemnation. As writers explore different worlds… published Indian Writing in English is fairly a recent phenomenon. So as more and more people explore this world, they will explore different facets of it. But as an author, I'm tempted, I'm provoked, I'm excited by what I don't know. And this was a world… once I thought of the story, I said, "Look, I'll come out a different person (which I think I have) after I've written this novel." Because it will take me to a place — not simply physically, not in terms of simply people, but also in terms of sensibilities that were not a part of my repertoire.
RITUPARNA ROY: So is it a kind of parallel experience of what you faced as a student? You'd said once that your life as an activist made you a more real person, and not just a "culture wallah". Was it a similar kind of experience?
KUNAL BASU: Yes, absolutely. It would have been very easy for me to become a part of the beautiful set. A lot of my friends did. It is not a condemnation of them. They chose what they wanted to be. In other words, sitting in cafes and talking about books, and going and doing some plays, and having a reasonable interest in this world — but only up until that point. But thrown into the world of the Emergency, and fighting against the Emergency, I was just telling somebody the other day… I was sent to Circular Garden Reach Road which was then named Karl Marx Sarani. Later, I was sent to the Hindustan Steel's dumping grounds called Shonai. Which Bengali film lovers would know as the place where Satyajit Ray shot Parash Pathar (The Philosopher's Stone). When Tulsi Banerjee is in the car and he looks out. He has Parash Pathar and he is looking for iron. And he sees this place where there are mountains of iron. That is Shonai dumping yard for Hindustan Steel. Right next to the port. I was sent to work there as a political activist. And I realised that Bangla was a foreign language there, because everybody there spoke only Hindi or Oriya. And being thrown into the water, actually, instead of creating a withdrawal symptom in me, fascinated me. I said, "Yes, this is a world I don't know." I stayed with a comrade who was a worker in the factory, and every day he would come back from work and diligently make roti and alur tarkari. But each roti was like five rotis at home. How can you eat that? And it was very rude of me to refuse. So the dinner was a more tortuous experience…!
With daughter Ajlai at Zakaria Street in Kolkata. All photos courtesy of the author

RITUPARNA ROY: Any metropolis, I think, has these different worlds — which attracts a lot of migrants.

KUNAL BASU: Any metropolis, to my mind — and Kolkata is no exception — is like the universe. And there are different planets in the universe. You live in Pluto. I live in Mars. You know your Pluto very well. I know my Mars very well. And we pass by each other silently in the universe. But we don't know each other's worlds at all. Maybe we are standing by the side of the street, both waiting to catch a taxi, but our destinations are very different. The purposes of our journeys are very different. In some ways, I wanted to explore inter-planetary space. What happens when the planets collide? What happens when Mandira and Jami, the Keyatola girl and the Zakaria Street boy meet? There is a small part in this book when Mandira has no money, and she says: "Maybe I should sell this house. Maybe I can rent a place, and maybe I can rent somewhere close to where you live." And Jami thinks, "Mandira in Zakaria Street…?"
RITUPARNA ROY: Yes, and then there is this scene, which is one of the most humorous parts of the book — where Mandira's friends all gather together. They are all poets, of different ages, and they immediately assume that Jami is a poet too, and they ask him: "What do you write about?" And there is one line which says… that filling up passport forms is far more difficult than writing poetry.
In an earlier interview with me, you had made a very interesting distinction between "surface autobiography" and "deep autobiography", saying that "surface autobiography" was is all about the facts of one's life, whereas "deep autobiography" is is about fundamentals — it's about beliefs and ideals and interests. For you, they have been social justice, history, romance — so those will always make their presence felt in your fiction. Kalkatta is, at one level, obviously about the need for belonging — about a refugee family moving from place to place, seeking shelter and stability in a new home, and how they are always denied that. But it's ultimately about social justice, isn't it? There is this line about Ammi, Jami''s mother, at the very beginning of the novel: She was tired of… spending her entire life begging for a tiny spot she could call her own in Allah's vast universe (page 8). That''s my favourite line in the novel… and I think it''it'll stay with me. This interest of yours in social justice — not just in this, but in other books as well — has it to do with the influence of your parents? The fact that you were brought up on socialist ideals?


KUNAL BASU: Yes, I think so. You know, the socialist ideology has worn thin. But I think... the key impact of my formative years…. All the books, all the talk round the dinner table, my father getting arrested for political work…
RITUPARNA ROY: He was one of the earliest members of the Communist Party…
KUNAL BASU: He was. And my mother too was a cultural activist from the Left, IPTA... I think the key impact of all of that culture and politics has been — empathy for the dispossessed. In a large five-star hotel party, which very infrequently I would go…. When I'm in a big cocktail lounge, where the good and the great of society are mingling about, my eyes would be drawn to the waiters who are serving. I would think: "What are they thinking? Are they thinking at all? Is it so routine? Are they thinking, 'When can I finish and go back to my child'". I don't want to make a huge virtue out of this. All I'm saying is that, our minds are formed at a very early age, and mine was formed in a way so that it empathises with those who haven't had as good as myself. I don't write books or novels to expressly manifest this particular empathy of mine, but invariably I show my hand. I think authors eventually show their hands, no matter how skilful they are in guarding it or concealing it, they would show their hands.
RITUPARNA ROY: A continuing thread in your work is the power of compassion in human lives — of how people are drawn beyond themselves by the suffering of others, and how they create unusual bonds and relationships. Well, everybody knows about The Japanese Wife , which was an unusual tale of love. And in fact that whole collection of shorts was about unusual loves — which is what I loved about the book. But I have in mind another relationship, which you have cast in a new light in several of your books — that of man, woman and child. Not the traditional family — but of strangers coming together, forming sort of a surrogate family; and more often than not, it's a child who brings it about.
For example here, Jami's renewed relationship with his ex-colleague Mandira, has to do with her child Pablo. In The Japanese Wife — obviously it's about the epistolary romance between Snehamoy and Miyagi, but it is also about his relationship with the widow Sandhya. You say beautifully that with one he had marriage without domesticity, and with the other he had domesticity without marriage. But for me, one of the most poignant relationships in that story is that of Snehamoy with Sandhya's son. In Racists, the relationship that the mute nurse has with the two children of the racial experiment in Arlinda, off the coast of Africa, and the attendant Nick.
Is this recurring theme a kind of indirect social critique? That you know these relationships exist — but it is the heteronormative family, and very often the legal family, that is celebrated, talked about, written about — but these relationships exist as much as the others; and society and people at large should acknowledge their presence and accept them more. Is that it?
KUNAL BASU: Our capacity to love other human beings is actually endless. Particular situations, circumstances and mind frames draw us to people who you would not necessarily consider to be targets of love. Who would've imagined that Jami, who by then has become quite street smart, who after all is a male prostitute and makes his money through providing services of a very intimate kind — why would a person like that be drawn to the suffering of a little boy who has no future? And as I was writing the novel, what was going through my mind was — this is the most natural thing for Jami to have. This boy has actually lost the kernel of his innocence. His mother, whom he very much loves, has now become a stranger, because she has to make a living as a zari worker. His father, about whom he definitely has an affection, is busy with his own life as a satta. Miri, his sister… "Miri was my best friend before Rakib", he had said that at the beginning." Miri has matured into her own personality and has her own world. Jami does not really have a strong emotional bond — a bond that he can rely on, a bond that he can nurture himself.
RITUPARNA ROY: An anchoring factor?
KUNAL BASU: An anchoring factor. So who can be his anchor? Now, yes, he could fall in love. If I thought of a story in which he does, then he might have. But to me Pablo is a natural attraction for Jami. Why? Because there is a line in this book where I say, "Neither Pablo nor I have a future". Jami has no future in this city, Pablo has no future in life. And both of them have this tremendous bond. Therefore he becomes really emotional when he is beaten up, and he comes back and lies down, and Pablo says, "Baba". And he says, "It's the most beautiful word a man could hope to hear in his entire life." Which is true!
RITUPARNA ROY: What struck me about Kalkatta, given that it deals with a gigolo king, is its lack of sex. I felt that you spared us the dirt filth grime of gigolo work. You give us a lot of details about the business, no doubt — how it starts, the kind of clients that usually seek such service, the insecurities of the job, etc. But except for that one scene with a high-class lady who burns Jami's chest with her cigarette, each burn adding Rs 2,000 rupees to his price, we don't get much. That scene is very well done, very subtle. There is a certain sensuous quality to your language, to your prose — and obviously you tune it differently in different novels for different purposes. The erotic scenes — for example, in The Miniaturist or The Yellow Emperor's Cure — are done subtly and elegantly. But subtlety and elegance are not a part of Jami's world or personality. He inhabits a filthy world and his lingo is that of the gutter. So I just felt that there was a mismatch here with the overall tone of the book.


On the other hand, you don't spare us the dirt and filth of Kalkatta. There's a kind of relentless exposure of its seamy side. Not for a moment are we allowed to forget that. So why this restraint in the depiction of sex? Has it to do with your ideas about the limits of representation?
KUNAL BASU: In my mind, The Miniaturist is a sensual novel. The Yellow Emperor's Cure is a sensual novel. But Kalkatta is not. And I didn't want it to be so. See, largely because when I started chatting with gigolos… I'll come back to this question… just want to say one thing…
Sometimes we novelists, when we write a book, we say, "OK, let's change the plot a bit like this. Let's give this affectation to this character; it's going to make it a better story to tell. OK. And that is fiction. You make things up. But when I was researching this book and I was living in the world of Jami as it were, something caught hold of me and I said to myself: "I cannot write anything that doesn't ring true to my ears." I cannot create a plot, a subplot, a diversion, a technique, for the sake of the novel — because the novel is less important. So Ajlai (Kunal's daughter), who read the manuscript, said: "This is your most selfless piece of writing." Which probably it is. I forgot myself as a writer. I wanted my language to be invisible. I wanted my story to be powerful and I wanted my language to be invisible — which is a difficult thing to do, because the language still has to play a central role. But I didn't want that to impede the story. I didn't want you to enter the story with my language. I wanted you to be there. So when I spent time talking to gigolos etc., one thing that you realise is that, how little they savour sex. By the way, this finding is also echoed in a lot of non-fiction work on female prostitution. A lot of it. Women who sleep eight times a day do not consider their work to be sensual work. How can I as a writer write it as a sensual scene?
RITUPARNA ROY: That is precisely what I'm saying — that scene with the high-society woman, there is only one such scene in the novel — it's very subtle and sensual. But I felt that the filthiness of the work should somehow transpire. The fact that Jami doesn't savour it, the fact that it is dirty work — that feeling I did not have.
KUNAL BASU: By the way, they don't think it is dirty work. They don't. They don't have any guilt about it. One of the questions that I repeatedly asked my informants is: "Baad mein kuch hota hain? Tum kuch sochte ho? Do you feel bad about this?" They said, "Nei".
RITUPARNA ROY: It's a means of earning income.
KUNAL BASU: Therefore, it's like one episode over, it erases from their minds and they move on to the next one. There is one such encounter which I think takes me close to the world of The Miniaturist: It is the first one that I describe when he becomes a gigolo. Mrs. S. "With azan in our throats." When he tells her the story of Afreen… he tries to get her hot by telling her a story about love, ok. She says, "Oh you are making me fall in love, Jami." And there is this line, "And then we had sex, like Jami and Afreen, not like Mrs. S and a gigolo. With azan in our throats." OK. So that's the only time that I allow myself to do that. Because then he's still Jami, his innocence hasn't broken as much. Once it's broken, there are actually very straightforward things. You know, he needs to take a bath after every client. Why? Because otherwise people will smell him. So, that is the coarseness. The coarseness is not in the depiction of sex. Depiction of sex is actually neither coarse nor refined. In my mind.
RITUPARNA ROY: I found it refined and that is my problem with it. That was my point. I didn't want it to be refined and I found it refined.
KUNAL BASU: The cigarette stubbing incident — you know, there's an element of fiction here. Apparently there used to be a lady who used to do this to multiple gigolos. And there was word of mouth amongst each other to avoid this woman. They would say. "Usse call aya? Nahin jana. Chhor do usko. And things like that. Kothai legechhe tomar? Tomai kothai burn korechhe?" But other than that, it's like going to a hotel room, been given a door key before…
RITUPARNA ROY: It's an honest day's work…
KUNAL BASU: Yes, honest day's work. Most of the times, the women would be readier than the men — which is also a common problem.
RITUPARNA ROY: You've had an intense relationship with Kolkata. You were born and brought up here, shaped by the city in many ways, left it to pursue higher studies and then a career abroad. You came back for a very short stint of teaching. And then, there was a phase when you had a love-hate relationship with it. And now you've fallen back in love with it.
I understand the first part, of you being shaped by the city. But why did you hate it at one point? And what has rekindled your love for the city?
KUNAL BASU: It's always people. We say it is a city, but you don't live with the city…
RITUPARNA ROY: It houses the people you love or hate.
KUNAL BASU: Yes, and people who are in your ambit. So, obviously when I fell out with my political comrades — in the aftermath of that, I saw the city through the eyes of somebody who has spurned and has been spurned. Who has rejected and has been rejected.
RITUPARNA ROY: Can you please elaborate a little bit on that — falling out with your comrades?
KUNAL BASU: Although I was an activist against the Emergency and a part of the Left movement, when the Left Front came to power, shortly after that, I left to go to the US. Because I didn't reconcile two things — the Left as a force of protest and activism and fighting for the oppressed and the Left as an established part of the state machinery. As an established part of the state machinery, very early on, it started displaying the same features that had brought me out into the streets in the first place. I saw the same disrespect for democracy, the same lording over, the same feudal mentality, the same penchant to maintain status quo, and a complete disregard for
art and culture.
RITUPARNA ROY: This was the late '70s, right?
KUNAL BASU: 1977 is when the Left came to power. I left in 1978. And I came back in 1979. And 1979-81 were not good years for me. For all of these reasons.
RITUPARNA ROY: You taught at Jadavpur University (JU)?
KUNAL BASU: I had a motley of jobs because I couldn't find my feet. I did freelance journalism, I worked for three brief months — fortunately very brief — in advertising, as a copywriter. Then I taught at Jadavpur University. It was not simply the vocations or the jobs, I couldn't find my feet in a world that didn't seem to belong to me anymore.
RITUPARNA ROY: That's a terrible thing…
KUNAL BASU: Yes. It completely turned my face away from Kolkata. I came back in 1982 to live back, after my Masters. I thought it was a paid trip for me to see the world — that's why I went. And I had come back to stay in Kolkata, but I felt completely out of step with it. The Kolkata that I knew in the '70s, despite the bombs, despite the killings, despite the Emergency, was a culturally vibrant city — with theatre, with little magazines, with surreptitious political protests, with young men and women bursting at the seams wanting to change the society. And I came back to Rabindranath's Achalayatan.
Somebody was just asking me about Kalkatta and there was this reference to the recent elections where the Left Front lost. And I was asked, is there any nostalgia for those years. I said, no — I have no nostalgia for the 34 years of Left rule. None whatsoever.
So, these two realities — the reality of the Emergency and the reality of the Left — majority West Bengal were jarring to me. It was not simply that, it was also the people who were once involved with me in the trenches and who now went to Writers' Building to work every day, was incongruous to me. This is not why I had come into politics. I had not come into politics, I had come into protest. And I felt like a soldier feels when the war is over. What do I do now? So I went back to the US.
RITUPARNA ROY: But was this entire disillusionment also not because you were an idealist? Is it not almost inevitable in the scheme of worldly things that dreams don't work out the way you want them to?
KUNAL BASU: Absolutely. And I'm not necessarily saying that I was right.
RITUPARNA ROY: But that's how you felt.
KUNAL BASU: It was idealism and romanticism that had brought me out of my comfort zone to Karl Marx Sarani. And when the reason for that idealism and romanticism no longer existed, where would I go? Like Jami at one point, when he gets rejected by Monica Goswami, or when he fears being rejected by her, he says, well "Which country do I turn now?"
RITUPARNA ROY: So you went back to the US.
KUNAL BASU: And then there were several other things that happened in my life which fortunately brought me back to my writing. The most significant thing that has happened in my life ever since Ajlai was born is that I came into writing.
RITUPARNA ROY: So the significant thing was not meeting and marrying Susmita?
KUNAL BASU: It was meeting Susmita, of course! And Ajlai. You know, there is a saying in America, "Feeling like a million bucks". There was one moment in my life when I felt like a million bucks — when I became a father. Nothing ever comes close to that!
RITUPARNA ROY: So, we were talking about your love-hate relationship with Kolkata.
KUNAL BASU: There was love too. The love was for a different reason. Kolkata stands for multiple things in my mind. So one is immediate past of myself. But this is a city where my parents lived, and I have intense love for my parents. When I go to College Street, I don't go to College Street. I go to where Baba spent most of his life. He was a publisher. I see him walking round. I see him going to bookshops and things like that. When I see GPO, I don't see GPO, I see the place where my mother was arrested, during 1949 by the police. So there are very important memory markers in the city.
RITUPARNA ROY: It is a city of memories…
KUNAL BASU: They don't necessarily have to do with me, but with the memory of my parents. So Kolkata continues to have lots of pull, but at the same time, those memories of disenchantment hadn't quite faded yet.
RITUPARNA ROY: I think when you stay in a different country and come to visit, it is probably… and I experience this myself that… for me too, Kolkata is many things. But first and foremost, it is the city where my parents live.
KUNAL BASU: Primary bonds. For me, they were memories of primary bonds, you see. But the other thing is, you know, nostalgia is not my strong suit. Again, it is not whether it is good or bad. Some of us have certain things in our personalities, some don't.
RITUPARNA ROY: But it is a very Bengali thing. Isn't it?
KUNAL BASU: Yes, Bangalis are intensely nostalgic.
RITUPARNA ROY: And I have a problem with that. This nostalgia for nostalgia's sake. It's a bit debilitating at times.
KUNAL BASU: But you know, some people… if they get off with nostalgia, let them get off with nostalgia. I don't. For me, it has to be something deeper inside me. And I can't quite articulate what it is. And Kolkata had some of those deeper… had grabbed me in my innards, so to speak. But at the same time, there were surface disenchantments — with the political system, with the people who I had known and had grown up with, who were now quite different. And so forth. So, there was this period when I wasn't quite comfortable in this city. I would come here to see my mother — on my way to China, or my way to Japan, and things like that. What changed it for me? Writing changed it for me. Completely changed it for me. Because A) I started inhabiting a different world — with readers, people in publishing, bookstores — and also, I started living with a different Kunal. Whose concurrent relationship in this city is of a person who writes — writes every day, wakes up in the morning to write, goes to sleep thinking about his writing. And that completely changed it. So many of those wounds actually healed much faster than what I had anticipated I know there might be new wounds along the way.
So I said in one of these interviews — there are two reasons why I've fallen back in love with Kolkata. One is Bangla bhasha. This is a city where, when I open my mouth, I can start speaking in Bangla everywhere. That's really very important to me. The second thing is — some of my best friends and worst enemies live in this city. Really, some of my worst enemies live in this city — people who would rather see me paralysed, you know.
RITUPARNA ROY: You still have those kinds of enemies, after all these years?
KUNAL BASU: What is a man without enemies? But I also have great friends in this city.
RITUPARNA ROY: You just lost one in Abhijit Gupta.
KUNAL BASU: Yes, I lost perhaps my greatest friend.
RITUPARNA ROY: And how is life after that?
KUNAL BASU: Very hard. I think about him every day.
Page
Donate Now
Comments
*Comments will be moderated
Nice article, plz keep posting good work
Sheikh Fahimuddin
Nov 24, 2016 at 12:27