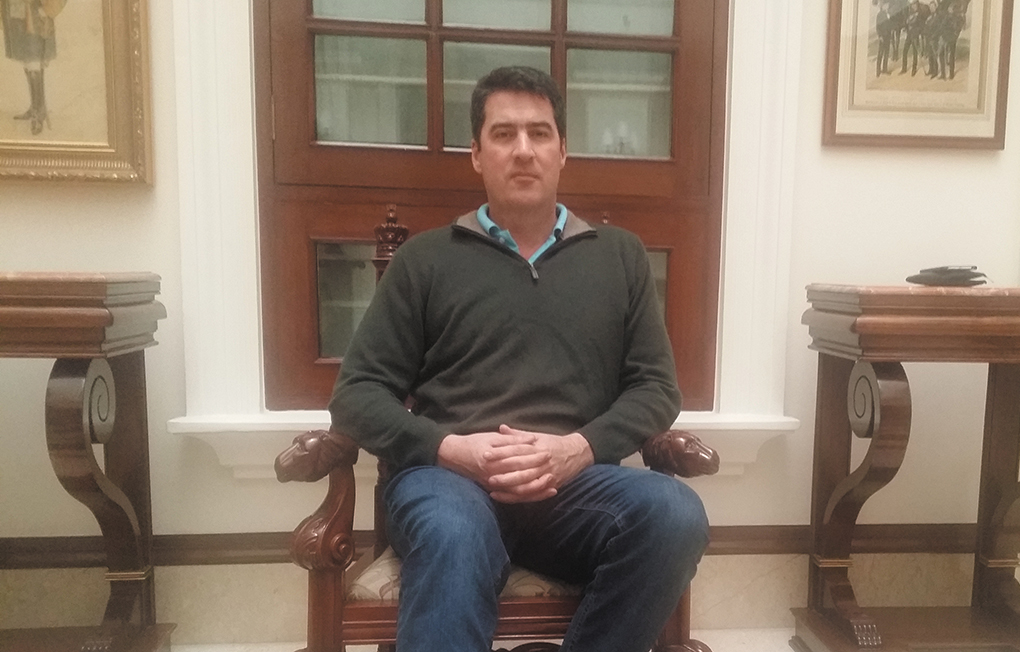 HarperCollins UK CEO Charlie Redmayne. Photos: The Punch
Charlie Redmayne, CEO of HarperCollins UK, is also responsible for its India business. He first joined HarperCollins as Group Digital Director in 2008. He was promoted to Chief Digital Officer, based in HarperCollins' head office in New York. He left HarperCollins in 2011 to set up Pottermore, J K Rowling's digital publishing business, before returning as CEO in 2013.
At the start of his career, Redmayne served for four years as a lieutenant in the Irish Guards. He founded and ran the media buying company RCL Communications and entertainment business Blink TV, before launching leading UK teen internet company Mykindaplace Ltd in 2000, which he sold to BSkyB.
Half-brother of Oscar-winning actor Eddie Redmayne, he took over as HarperCollins UK CEO in 2013 after Victoria Barnsley, who founded 4th Estate and ran HarperCollins for 13 years, stepped down.
Redmayne, who was in New Delhi recently, spoke to The Punch about a whole host of issues — from publishing strategies in the UK and India to consolidation, digital publishing, e-rights management, data analytics, acquisitions, challenges from Amazon, his predecessor Victoria Barnsley who founded Fourth Estate, his love for cricket (he says he is quite fascinated by Virat Kohli's style whom he finds an extraordinary player), his half-brother Eddy and lots more. Two key areas HarperCollins in India will focus more on in the future include commercial publishing and children's books, Redmayne said.
Excerpts from an interview:
THE PUNCH: How does HarperCollins look at the Indian market? What are your key focus areas?
CHARLIE REDMAYNE: The Indian market is an emerging market for books which is hugely exciting for a publishing company because the growth opportunity is significant. Historically, the focus of Indian publishing has very much been on great literary fiction, serious non-fiction, classical books, business books, historical books. There are about 60 odd books a year published with "India" in the title, looking at the political situations and the business world in India. Those books remain as important as ever and that market remains as important as ever. But opening up now is this huge commercial opportunity — commercial fiction, cheaper paperbacks, non-fiction, romance, crime and the like. The opportunity is to expand our publishing business. So, what we are doing is focusing just on the things that we have always done, but also opening up to things that we have not done so successfully before, such as commercial publishing and children's books.
THE PUNCH: Do you think of genres while getting authors on board?
CHARLIE REDMAYNE: Absolutely. We are always looking for areas of growth and opportunity. In previous years, in our trade publishing business, we didn't focus on commercial non-fiction. That doesn't mean that we are not going to focus on the great literary publishing and serious non-fiction publishing. We want to do more of that than ever. But we also want to do the commercial thing. The other thing I'd love to do in India is to grow our children's business because our biggest such authors are international authors. People like David Walliams are the ones who are selling here. I'd love to grow some home-grown Indian children's publishing. I think that's a very exciting opportunity.
THE PUNCH: How do you view consolidation? For instance, two publishing houses — Penguin and Random House — are one publishing unit now. Meanwhile, Amazon in India has tied up with Westland to announce their publishing programme. And Amazon has been re-writing the rules of the game globally.
CHARLIE REDMAYNE: Amazon is hugely important customer for our business. But they are also a great threat because they are not only retailers, but a publisher too. They have a self-publishing programme. Here, in India, for the first time, they actually bought a publishing business. So, they are competing directly with us. The consolidation that you see with Penguin and Random House, with HarperCollins and Harlequin, you will see more such consolidations in the future. It is for so many reasons. One of the reasons is that when you are dealing with a big organisation like Amazon or Google or Apple, then size matters. We are able to negotiate the best possible deals with those organisations so that we, in turn, can pay our authors the best possible return. It's increasingly important. So, scale and size matters in those negotiations.
Some of the challenges of the digital publishing age are about investing in new skills. The centre of the publishing business is still working together with greater authors. But now market is becoming more and more important and entails data analytics. In London, I employ at least 10 PhD-level mathematicians and physicists who analyse data which helps us price effectively, acquire effectively, and do print runs. All these things give us an advantage. For small publishers, buying those skill sets is going to be increasingly difficult.
THE PUNCH: Are publishers willing to look beyond ebooks and audio books and do more innovations globally?
CHARLIE REDMAYNE: I think there has been a lot of experimentation, but not with a great deal of success. The ebook business in India is a fledgling business. It's about 1 per cent of our sales, but in United Kingdom it's 20 per cent. In America, it's higher than that. If you look at certain genres, our fiction publishing for instance, it's about 30 per cent. So, they are very, very significant businesses. The ebook business has grown in the UK and it'd grow in India. The audio book business is growing very quickly in America and in the UK and again in India, it'd grow. Beyond that, there has been a lot of experimentation around websites, around apps. Hachette has recently bought a games company. The best way is to just concentrate as a publisher on the things we do well — telling stories and working with authors — and then work with partners to create experiences beyond that. When I was working with J K Rowling, with Pottermore, we worked with Sony to create the book of spells on PlayStation. When I came to HarperCollins, we worked with Samsung to create a product that's available on Samsung devices around George R R Martin. These things were successful. But now the publishers are becoming developers and game-makers. It's already very difficult first to make money with books — and we really know how to make books. We should be involved in telling stories on other platforms. But we need to do that in a way that we work with partners. So, at HarperCollins, we run our own ebook and audio businesses. But we are working with partners in the games space, we are working with producers in the television space, and if we have involvement in those areas, we will work with the experts.
THE PUNCH: What are the key differences between the two approaches — traditional publishing and digital publishing? How does e-rights management work?
CHARLIE REDMAYNE: One of the things publishers have been guilty of historically is buying rights and then sitting on it. We shouldn't do that. J K Rowling, for instance, was very clever. She retained digital rights because when they said they wanted to buy digital rights, she said, 'What are you going to do with them?' That was in 1997. I think that if you buy rights then you should exploit rights. We don't buy any books now unless we have e-rights and audio rights. But then, again, my commitment to authors in the UK is that we will make an e-book and an audio book available the same day that we publish a physical book. That's with every book we do. Then, beyond that, it tends to be more opportunistic. If we have an idea for a book, then we'll go to the author and say, look, here's an opportunity. We need to work with Samsung or Sony to execute it. But if it's a good idea, and the author is excited by, we'll find a way of doing it. For me, that's more the way to do it. We shouldn't just acquire rights, then expect authors to just rely on us to sit on them if we don't have good ideas about how to exploit them. We should think about the exploitation of rights, then we should go to the authors and we should be ahead of the curve on it.
Page
Donate Now
Comments
*Comments will be moderated