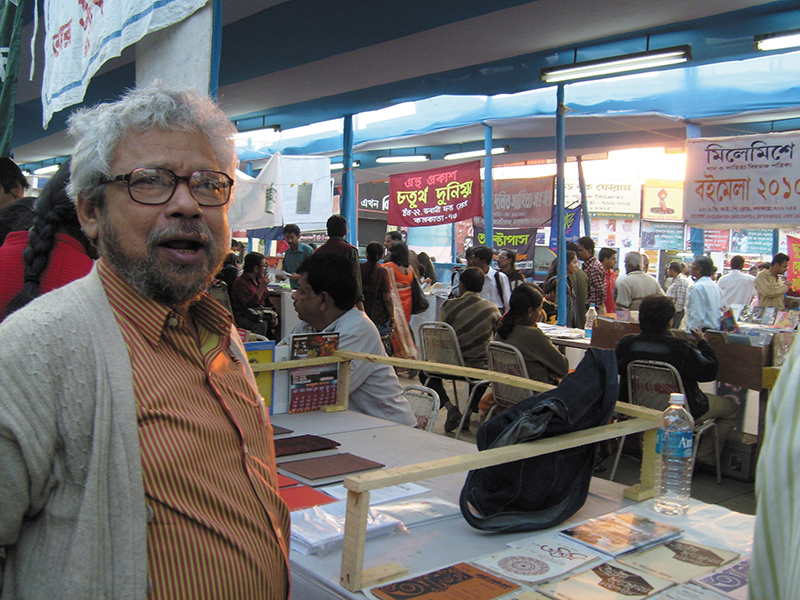 Through his vernacular roots as well as personal sensibility Subimal Misra (above) was connected to the long and rich tradition of the Bengali language, its folk literature, its dialects and sociology, and the everyday lives and language of the common folk as well as the Bengali middle-class of Calcutta (now Kolkata). Photo courtesy: V. Ramaswamy
I began translating the short fiction of the Bengali writer, Subimal Misra, just over ten years ago. That was almost accidental, but shortly after that I read an essay by Michael Hofmann, the translator of Joseph Roth, the Austrian writer, and thus the seed was planted in my mind of a long-term project of translating Misra. But I had never read anything in Bengali, although I had a smattering of familiarity through reading translations into English. It was through English that I had been reading literature from across the world from my childhood.
My relation to Subimal Misra is through the Bengali language. That is the sphere in which I had some capability, of knowing the language as it is used by different sections of people, and especially the common folk. In the course of translating Misra, for my own edification, I have been trying to educate myself about the larger context and wider currents within which Misra is situated.
Who is Subimal Misra?
I believe Debesh Ray, the respected Bengali writer, had once said something to the effect that the impact of the Hungryalist movement in Bengali literature in the 1960s was akin to that of the subsequent Naxalite movement in the political sphere. Through their statue-breaking campaign, Naxalite youths desecrated and decapitated statues of national and cultural icons in order to express their rejection of everything hitherto held as "sacred". The Hungryalists wanted to see the end of literature as commodity. They wanted writers to open their hearts, minds and senses so as to produce "raw" writing that was free of any garnishing for the commercial establishment, which breaks away from all the old values and tastes upheld by this establishment. They wished for an open expression of sexuality and eroticism in order to destroy the prevailing morality of the literary establishment. Subimal Misra began writing in the late '60s, and was thus roughly of the Hungryalist generation, although he was not part of the movement. That provides the immediate backdrop. Bengali literature had already been rocked, and a new force of writing had emerged. The space for a writer like him had been created.
Actually even from the early part of the last century there have been writers who wanted to break away from the monotony of the writing that had come to be dominated by Tagore and Sarat Chandra. Jagadish Gupta (1886-1957) is an almost forgotten writer, but in him one sees something like a parallel stream, one that departs from the mainstream of writing in terms of subject and treatment and explores the dark and hidden sides of life. Manik Bandopadhyay (1908-56) is a major figure in Bengali literature, but he too must rightly be seen as part of the parallel stream, not only for his social engagement but also, for instance, the Freudian element in his writing. Kamal Kumar Majumdar (1914-79) is another important forerunner, for his attention to the language itself and his efforts to carry out subversions in the language through his style of writing. Amiya Bhushan Majumdar (1918-2001) looked at unpopular subjects, writing from outside the margin, producing marginal and subversive texts.
So this is the broad context in which Misra enters the scene. In his early writing, Misra adopts a Naxalite-like stance, in the sense of wanting to destroy everything and invoking anarchy. But besides that, he walked on his own singular path. At the very outset, he was of the view that after the great masters like Dostoyevsky, Tolstoy and Thomas Mann, nothing remained to be done so far as the narrative form was concerned. Hence he sought to do something different. Throughout his writing life, Misra maintained that he did not want to be a great writer, but a different kind of writer. In fact, he wished to be considered a non-writer, since he did not do any of the things which people associate with "writers". He was deeply influenced by the cinema of Eisenstein and Jean-Luc Godard and ventured to introduce the language of cinema in Bengali writing, where the way of saying is itself the subject matter. James Joyce was a lifelong inspiration for Misra, and from him he learnt to break the boundaries of language. From Marcel Proust, he learnt to pay attention to the style of writing, and from William Burroughs, he learnt the "cut" method, which he sought to make his own, like a cinematic device, towards developing a distinctive style of writing, something that marks him out from any other writer. Jean Paul Sartre's rejection of the Nobel Prize just a few years before Misra began writing also had a formative impact, in the sense of making him commit to staying away from every kind of establishment.
Page
Donate Now
Comments
*Comments will be moderated