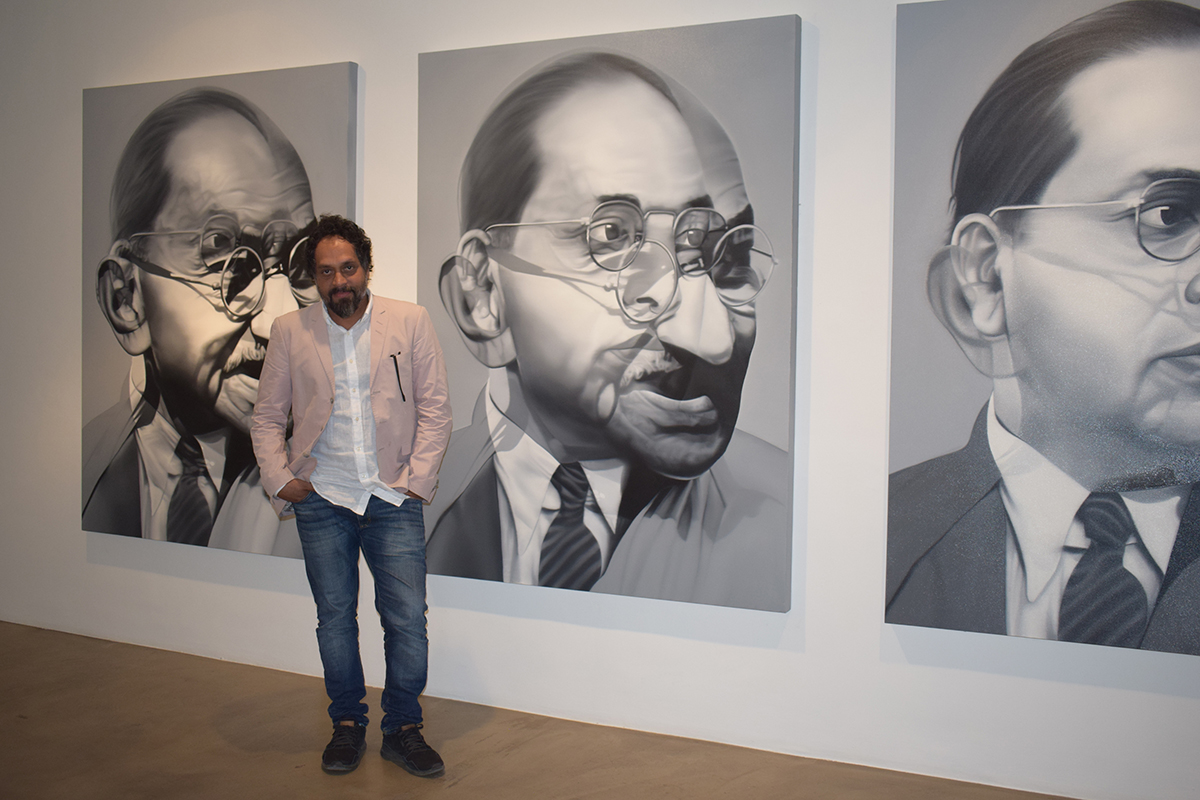 Riyas Komu in New Delhi recently. Photo: Shireen Quadri
Holy Shiver, Riyas Komu's latest solo show, which is on till March 3 at Vadhera Art Gallery in New Delhi, documents his response to the attitude of the state
Born in 1971, Riyas Komu is one of India's leading young artists who addresses burning socio-political issues through his art. His works always amaze the senses and provoke the mind. He hails from Kerala, the most literate state in India, where he was born, and has grown up in a very diverse and social environment. Komu was 21 when he took the train from Kerala to Bombay (now Mumbai), where he has lived all these years.

"I was in my last year of BA English, when my elder brother, suggested that I study art. I was fascinated with textiles and went to the National Institute of Design in Ahmedabad but failed my admission. A year later, I joined the JJ School of Art for a foundation course. I was looking at all mediums, pairing, metal and weaving," says Komu.
He was deeply affected by the Babri Masjid demolition in 1992. "I turned completely to painting when the Babri Masjid happened and I responded to it through my art," he says. He continued to comment on the political situation thereafter. After the 2008 Mumbai terror attack, Komu made Last Pass, a wooden sculpture with four strong feet holding a massive coffin. It gave the impression that death had seized the living. Tragedy of a Carpenter's Son III was Komu's response to 9/11. He created a huge wooden plane marked with the prayer Muslims say before a journey, questioning the thin line between faith and fundamentalism. The war in Baghdad and beyond found an expression in the grim and magnificent Watching the Other World Spirits from the Gardens of Babylon. Holy Shiver, his latest solo show, which is on till March 3 at Vadhera Art Gallery in New Delhi, documents his response to the attitude of the state.
He does not consider his art as merely political. "I see them as an archive of our times. I think it's also a reflection of the time and space where I grew up and live in now. I feel my art should speak about my times," he says.
Komu displays a compelling visual language in Holy Shiver. This is his answer to the changing ideologies of the state. Through his creative oil portraits, woodcuts, videos, installations and archival prints, he reacts to the existing guidelines of the present government. The title Holy Shiver is a reference to the conceptual strand discussed by Austrian zoologist and ethologist Konrad Lorenz in his book, On Aggression.
Calling the behavioral tendency of willing to kill or be killed in defence of one's own community, Lorenz talks about how this tendency physically manifests in the tingling sensation in the spine — a pre-human reflex for the raising of hair on the back of an animal as a preparatory step for a fight when confronted with an enemy.
Certain people kill or be killed in the defence of the communities they belong to. In this exhibition, there is a sculpture, titled Hanging, of a man hanging in metal and wood that shows how easy it is for someone to simply hang people for not subscribing to their beliefs or for being different.
Komu's brilliant piece, Dhamma Swaraj, oil on canvas, speaks volumes. Mahatma Gandhi is juxtaposed with and B R Ambedkar in one frame. Here are two different ideologies, yet in communication. Both had the same goal, which was the independence of India. Gandhi's fight for freedom and Ambedkar's contribution to the Constitution of India were both very significant. Komu has worked with the images of Gandhi and Ambedkar for a while. It reflects the debates prevalent in the Indian socio-political space and reflects our times.
He has also made a woodcut series of limited-edition prints titled Holy Shiver (2018) that explore some of the acts of violence in social spaces throughout the history of independent India. One image is the woodcut version of a photograph from Pablo Bartholomew on the 1984 anti-Sikh riots. It is a continuation of the Stoned Goddesses (2013) series that also explored violence and the displacement of different times. He was greatly influenced by German artist Käthe Kollwitz, who fearlessly reflected the times she lived in.
Komu feels public memory is short, which has made him create the painting of the Shehnai maestro Bismillah Khan (part of Holy Shivers). Bismillah Khan, who had mesmerised his audience over the years, will always be remembered for his contribution to Indian classical music. The memory of people of his stature cannot be erased is what the artist is voicing.
Komu has the ability to use diverse mediums and is aware that to break boundaries one has to use different genres like the sculpture titled I Think Therefore I Am II, in wood and bronze, resounding the image of the famous The Dancing Girl found at the Indus Valley civilization in 3,300 BC. Komu's image says I Think Therefore I Am II. She stands high on a pedestal, with great confidence.
Komu championed the cause of the underprivileged in Systematic Citizen in 2006. He celebrated the faceless migrant labourers of Mumbai on large canvases and in the bold colours of hoardings. They stare squarely at the viewer and articulate their grim situation. Even in Holy Shiver, he had shown a taut face of a young man who could be from Kerala, seeking a better life in Mumbai. These hard-hitting images instantly seize the viewer's attention. Their eyes are eloquent, they speak. But do we have the time to hear and understand their plight? His interpretation of freedom is of these migrants who don't enjoy freedom because of their poor financial situation. He has the ability to draw the viewer into his experience.
"I exhibited Designated March by A Petrol Angel (oil on canvas) at the Iranian Pavilion in the 56th Venice Biennale in 2015," says Komu. His portraits of a woman wearing a head scarf are poignant and enigmatic just as the title of the series. Komu's work is a tribute to the spirit of those who survive against all odds, and carry on with life despite countless hurdles and flourish despite biggest of disasters. Influenced by Iranian cinema, he felt he had an opportunity to show the plight of the women of Iran.
"Safe to Light was shown at Tehran's Azad Art Gallery in 2010. One of the works was an oil painting, a young woman protesting against the way the 2009 elections were held in Iran. I used her gesture to show the plight of the community," says Komu.
In 2007, he was one of two artists from India to be selected by curator Robert Storr for the 52nd Venice Biennale. He participated in Jogja Biennale, Indonesia, 2011.
Komu's preoccupation with Gandhi was evident in On International Workers' Day, Gandhi From Kochi that opened at Kashi Art Gallery some years back on May Day.
Komu has created two sets of images. The first is a set of graphic poster images on the wall and the other a series of lithography blocks placed under the glass atop tables. Komu had retrieved a 1931 photograph of Gandhi on the boat to London in which Gandhi is smiling, bony and gaunt with straight shoulders. His front teeth are missing — Komu created a series of five oil paintings of that photograph. This black-and-white image of Gandhi stands out against a background reminiscent of the Communist red flag.
He has added two words on the top of each graphic image. Satya/Perception, Ahimsa/Violence, Antyodaya/Victim, Sarvodaya/Fear and Swaraj/Control. He questions why we as a nation are so violent when the father of the nation taught us non-violence. Gandhi was to be portrayed as an ordinary man, easily accessible, the man who always felt for the underprivileged. Furthermore inside the glass case, there are nine lithography blocks as big as gravestones. These are milestones of nine violent events. Nine sins of independent India are inscribed on them — from "Partition Riots" and "Gandhi/Godse" to "Godhra/Modi". For Komu, Gandhi is a symbol of hope, of resistance, of fearlessness, someone who stands with the people who are struggling.
In his massive work in wood, My Father's Balcony (2005), Komu recreates his father's home. It's a modest home sans a balcony, but the view of the churches, mosques, temples and schools reflected his father's ideals. His father, M. M. Komu, wore two pieces of khadi and socialism on his sleeve. "My father has influenced me more than Van Gogh has," says the artist, who is one of the architects of the Kochi-Muziris Biennale, an international exhibition of contemporary art in Kochi, Kerala.
"Kochi Biennale was initiated by Bose Krishnamachari and me and the cultural minister of Kerala," he says. Komu, the co-founder, is now director of programmes for Kochi Biennale. He initiated the Children's Biennale, Students Biennale and Artists Cinema. Komu, along with Bose, was ranked 86 in the 2015 "Power 100" list of most influential people in the contemporary art world compiled by leading international art magazine, Art Review. Komu has won several awards. Prominent amongst them are the K K Hebbar Foundation Scholarship, Bombay Art Society Award 1996 and Maharashtra State Art prize 1995. Komu has been internationally acclaimed as an artist who is committed to his ideals.
Donate Now
Comments
*Comments will be moderated