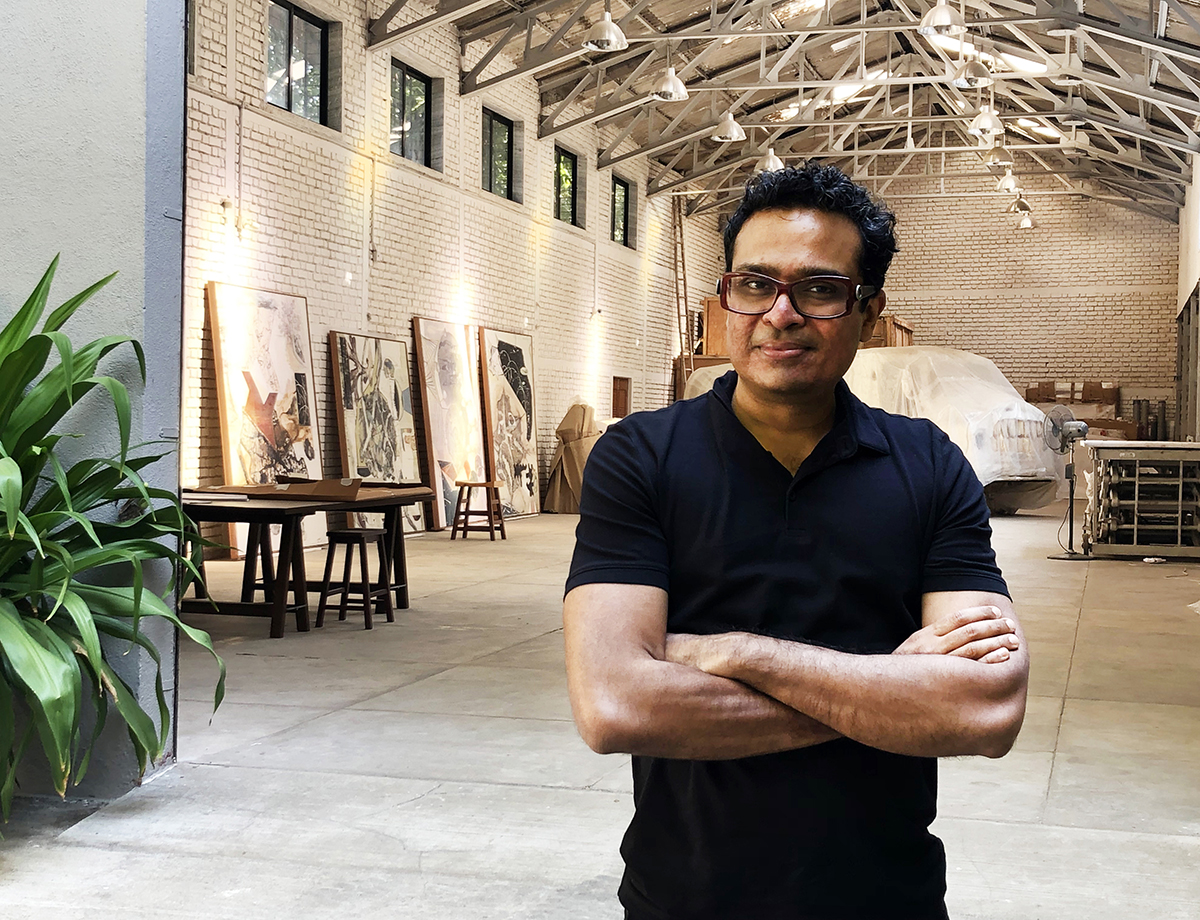 Jitish Kallat. Photos: Kiran Nadar Museum of Art
After eight long years, India returns to the 58th Venice Biennale, on view from May 11 till November 24. This time, the India pavilion celebrates 150 years of the birth of Mahatma Gandhi, with a Gandhi-themed exhibition, "Our Time For a Future Caring", that corresponds to the broader theme of the Biennale, "May You Live in Interesting Time". The exhibition commemorates the unforgettable memory of Mahatma Gandhi, his philosophy, ideas on peace and non-violence, his struggle for freedom, which are alive even today in the psyche of an Indian.
The exhibition avoids a literal translation of Gandhi by doing away with the typical images of Gandhi and replacing them with his charkha and spectacles. In fact, it traces abstract concepts of his ideas, allowing the viewers to rethink them in the angst of the tumultuous present. The installations, painting, and videos of artists like Atul Dodiya, GR Iranna, Jitish Kallat, Shakuntala Kulkarni, Ashim Purkayastha, Nandalal Bose (1882-1966), Rummana Hussain (1952-1999) and MF Husain (1915-2011) display influences of Gandhi's philosophy in today's world.
Commissioned by the National Gallery of Modern Art, the exhibition enjoys the support of the Ministry of Culture and the Confederation of Indian Industry (CII). It has been curated by Roobina Karode from the Kiran Nadar Museum of Art, the pavilion's principal partner.
The most inspired piece at the pavilion is Jitish Kallat's installation and video, titled Covering Letter. It is a letter written by Mahatma Gandhi to Adolf Hitler weeks before the start of the World War II, making a plea for peace. The artist projects the letter on a smokescreen cascading down in the horizon. Kallat skillfully uses light, sound and video to draw the viewer into his creation. It is a letter from a great believer of peace to possibly one of the most violent individuals that ever lived. Even today, this message from the past holds a great meaning. This piece gives the viewer room to pause and reflect.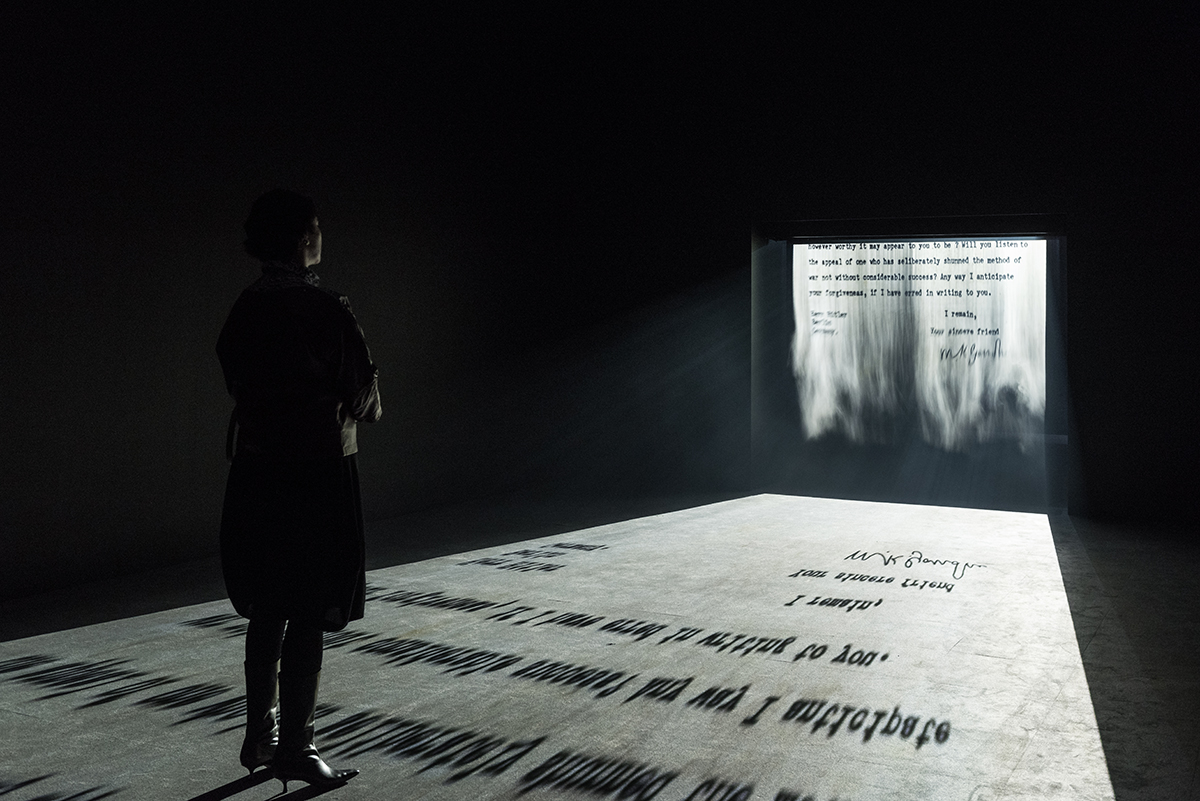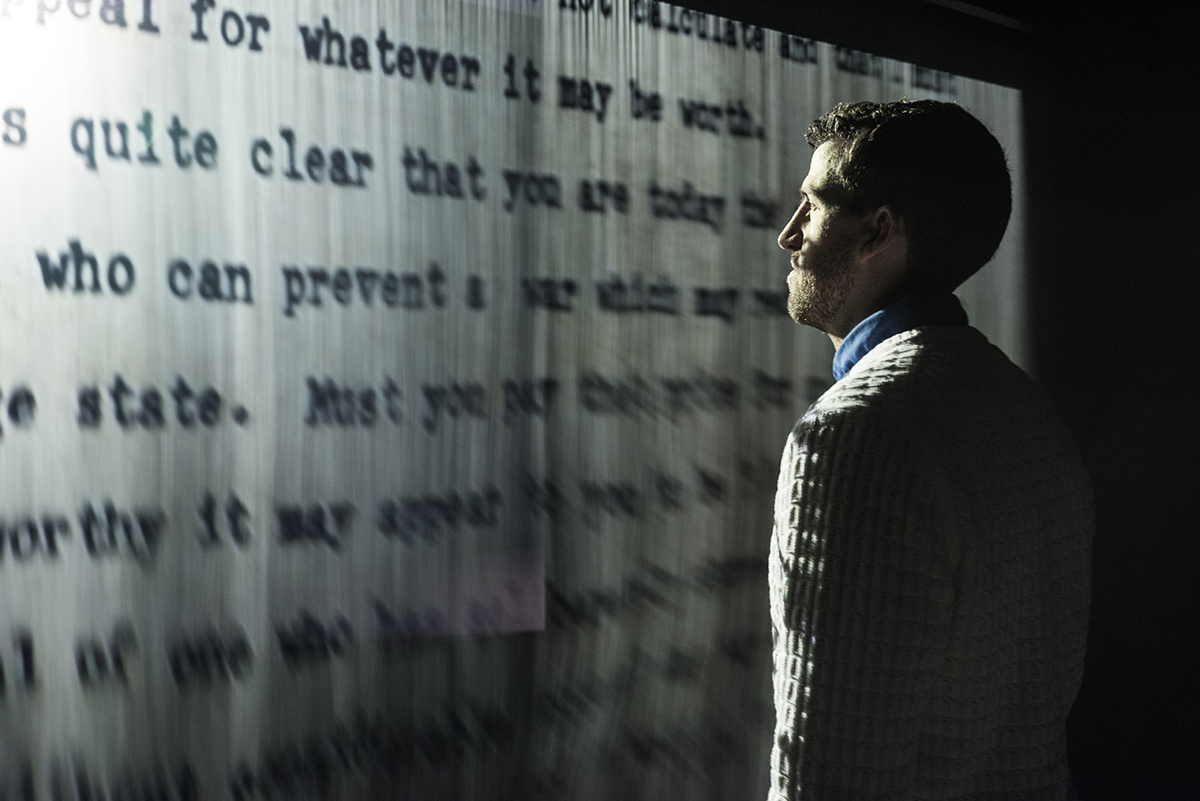 Covering Letter, Jitish Kallat, 2012
Atul Dodiya has created an emotional response to the hopelessness of violence. "As Mahatma Gandhi said, "An eye for an eye will make the whole world blind". The work, Broken Branches, was created in 2002, my first ever work with nine wooden cabinets. It consists of used prosthetic limbs, replicas of human bones, hand painted photographs, construction tools, and various found objects that reject vehemently the very notion of violence, intolerance and hate.
G R Iranna recreates the Dandi March or the Salt March undertaken by Gandhi years ago in his installation titled Naavu. One hundred padukas (wooden shoes) represent the different people who participated in this march. They could have been cobblers, painters, and technicians. But they all came together to fight for a cause inspired by Gandhi. "Naavu means Altogether in English and Hum in Hindi. It is an idea of Gandhi saying we must be together. On each of the 100 padukas, I have attached different objects. They are symbols of all the communities.I have attached a brush for an artist, scissors for a barber, ghungroo (bells worn by dancers on their feet) for a dancer and have even painted on some of them. They are placed in such a way that they appear to be travelling on one direction like the Dandi March. From a distance, they appear to be one, but once you get closer, you realise that each one has its own individual story," says GR Iranna.
Gandhi believed in equality and empowerment, and understood the power of inclusion. Mumbai-based Shakuntala Kulkarni shares his thought. She does not take complete credit for making her cane armours. She works closely with two people who come from different backgrounds: Dinesh Pardes, who always considers himself a labour because he thinks that the work defines him, and Tankeshwari Bari, who helps her in weaving. She has spent a great deal of time to empower them by making them feel that they all are a part of one team. She takes a leaf from Gandhiji, who believed in doing away with the caste system and treating all as one. Furthermore, her photographs, cane armour and objects seem to be protests against the violence, the rape of small girls and the brutality against women.
Delhi-based Ashim Purkayastha, among India's most skilled and eclectic contemporary artists, voices the dilemma of the underprivileged in his work. The idea for the work had stemmed from his personal experiences of the indifferent treatment of successive Indian governments towards northeast. He has created a rugged structure of collected stones used by migrants and homeless people to build shelters in the capital city in his installation titled Shelter.
The artist feels that the Indian governments, over the years, have idolised its icons but treated the migrant labour with total disdain. In his 2002 series, Gandhi Man without Specs, he urges us to rethink our icons. The artist's 2003 work, Farmers and Holy Water, are two sets of postage stamps. In the former, the benign face of the farmer becomes a death mask, and the crop affected by blight, while the latter has the image of water from a tube-well changing into rivers of saffron.
India's most famous artist MF Husain's work is also an integral part of the Indian pavilion. The painting, Zameen, provides a different dimension, celebrating beasts of burden, the farmer and bullock carts that represented the "real India" for the late artist. After viewing this piece, one is impelled to pause and think about the physical and spiritual realities quite differently.
Gandhi commissioned Nandalal Bose, India's foremost modernist, to make 400 posters for the Haripura Congress. His works are essentialist and illustrative. They represent India at the time of Gandhi. They are delicate in their strokes and reflect Bose's genius. There is plenty of rhythm in his works, most of which exude a raw, earthy value.
Rumanna Hussain was a feminist and activist, as well as a video, installation and performance artist. In Fragments, Hussain uses a common Indian medium like terracotta, which was used extensively during Gandhi's time, evoking the simplicity with which Gandhi lived. It reflects his hope to build a nation bound by the values that he upheld. However, Hussain's broken terracotta vessels reflected the sad state of politics around her, particularly the destruction of the Babri Mosque in Ayodhya in 1992. The politics of her time led her to question her personal identity as a woman and a Muslim echoing her vulnerability. Hussain responded dejectedlyto the political climate, projecting the isolation of a minority community. This violent, communal event deeply impacted her. She was one of the country's first performance artists and performed Living in the Margins at NCPA in1995.
Since its inception in 1895, the Venice Biennale has created an international platform for other countries. It has set the precedent for other biennales that have mushroomed all over the world exposing the viewer to art forms that are charged with issue of gender, inequality, environment, and politics. Venice Biennale 2019 is being curated by Ralph Rugoff.
The Venice Biennale is one of the most prestigious art gatherings in the world. It brings around an eclectic mix of artists, gallerists, museum directors curators and collectors to see what's new and happening. The works are firmly entrenched in the mind's eye that the viewers take back with them. Several magazines have listed India as one of the 10 best national pavilions.
Donate Now
Comments
*Comments will be moderated