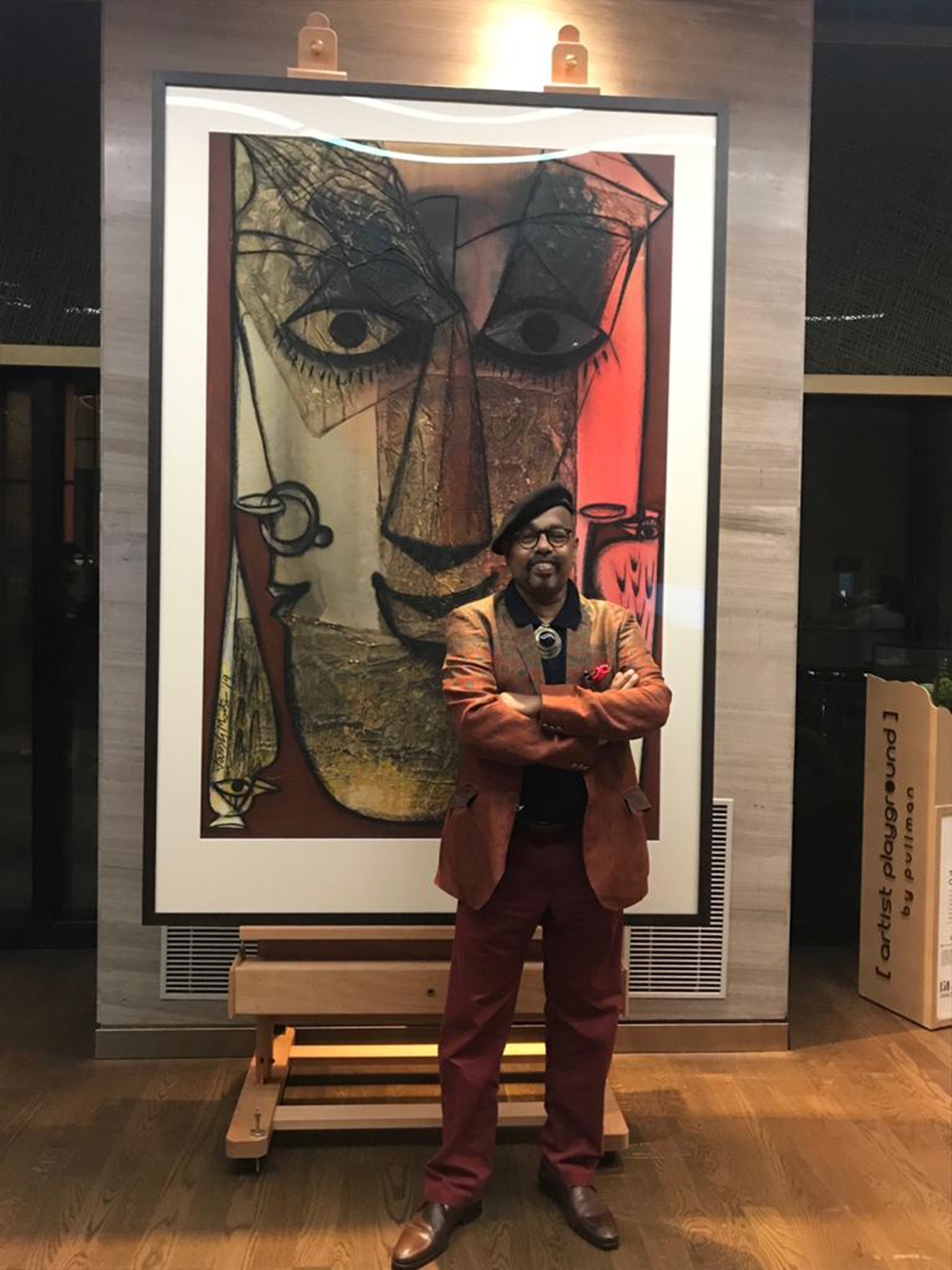 Paresh Maity at The Drawing Show organised by Novotel & Pullman New Delhi Aerocity, in association with Gallerie Nvya, recently. Photos: Shireen Quadri. (Below) works by Jaysree Burman, Ina Puri and Tripat Kalra, Seema Kohli with her work, and a painting by Paresh Maity
The artist on starting his works with nothing, being a colourist, and how art dominates him to explore different unknown horizons
Over 50 sketches and drawings from 25 artists were part of "The Drawing Show", an exhibition of drawings created by pen, ink or charcoal, which was held at Pullman and Novotel New Delhi Aerocity recently. Curated by art consultant and documentarian Ina Puri, the works were brought together by Gallerie Nvya. Among the works on display included those by Paresh Maity, Jayasri Burman, Seema Kohli, Sanjay Bhattacharya, and many others.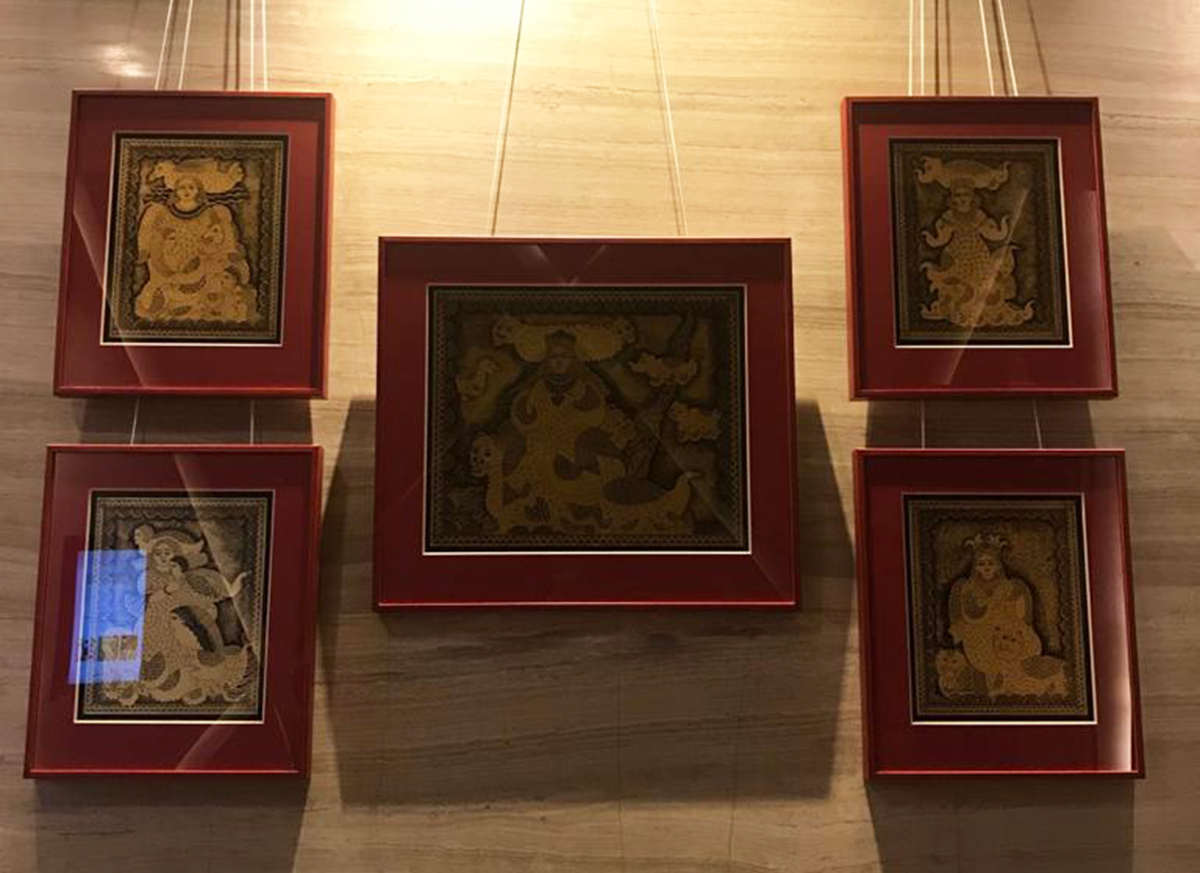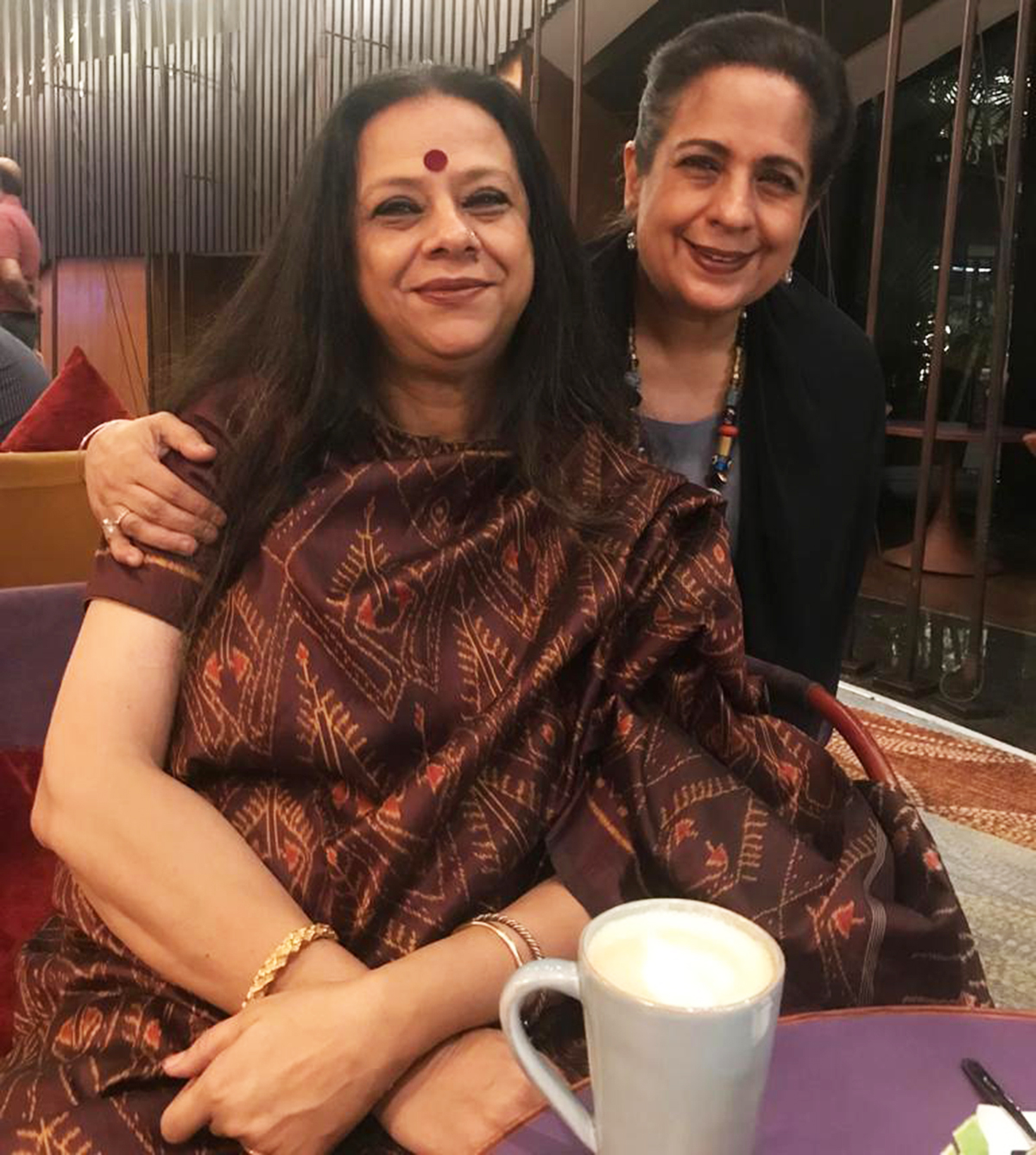 Tripat Kalra, who owns Gallerie Nvya, said drawing is the basic vocabulary of art. It remains relevant in the digital age when we're doing everything on computer or with various apps, she says. "I really wanted a show like this. Ina has conceptualised it in a way that we have works from contemporaries as well as the masters: Akbar Padamsee, Krishen Khanna, MF Husain, Vivan Sundaram and Paritosh Sen. I'm happy that these works are being shown with new media art. It's very important to reiterate the importance of drawing," says Kalra. Seema Kohli's work on display is a signature drawing. "It comes down like a scroll. You get to see the scale the artist is able to work on. Burman has made five works especially for this exhibition. They are like little jewels," says Kalra.
Maity, whose two fantastic large paintings were on display, was present at the opening of the show recently. "Both these works have many faces, but it is actually one face. I am trying to convey something here: You are one person, but there are many sides to you," says Maity.
Excerpts from an interview with Maity:

How difficult it is to achieve a certain texture for the charcoal work?
Charcoal and pencil are the master's medium. If you can achieve something with them, then you can do anything. What I have used is conté, similar to charcoal but a little harder. It's a combination of pastels. I have also worked with watercolour wash. Two paintings which I made using them show the contrast of beautiful light and shade. I have created the forms of the human — it's linear. Drawing has to have wonderful linear quality. The lines must differentiate from each and every space, form or thing. There are very fine lines that give contours and character to the works. Both these works have many faces, but it is actually one face. I am trying to convey something here: You are one person, but there are many sides to you.
Does it also symbolise the act of looking or gazing?
It is gazing. It is also visualising and emoting. Like we look at something very intently and then sometimes try to take out something from that — may be the essence of that object or the nature and the expression of the face. Face is the index of our mind; it has many dimensions and the site of feelings and expressions.

One also notices earthy colours…
I use all kinds of colours. I'm a colourist. I observe colours. I like to see sunsets and light of days. I'm a day person so I play with colour and I use a lot of vibrant colours. Sometimes, I use almost no colour, too. In these paintings, the colours are very earthy. Both these drawings are dominated by yellow ochre and other colours giving very rooted feeling.
Do you see them as part of some series as there is some connect somewhere?
I have been doing lot of these faces and I call it faces of life. Each and every face are frozen in certain expression and time. I have been doing such works in very different media. In these two paintings, I wanted to depict how a face can create many dimensions, sites and forms. You can see that there is one face, and yet there are many faces. Both the drawings have a lot of texture. I like the texture. I like how the texture plays in our life also. I used Fabriano paper and this texture was created with the rice paper and colour. I created this unique texture with conté and other colours.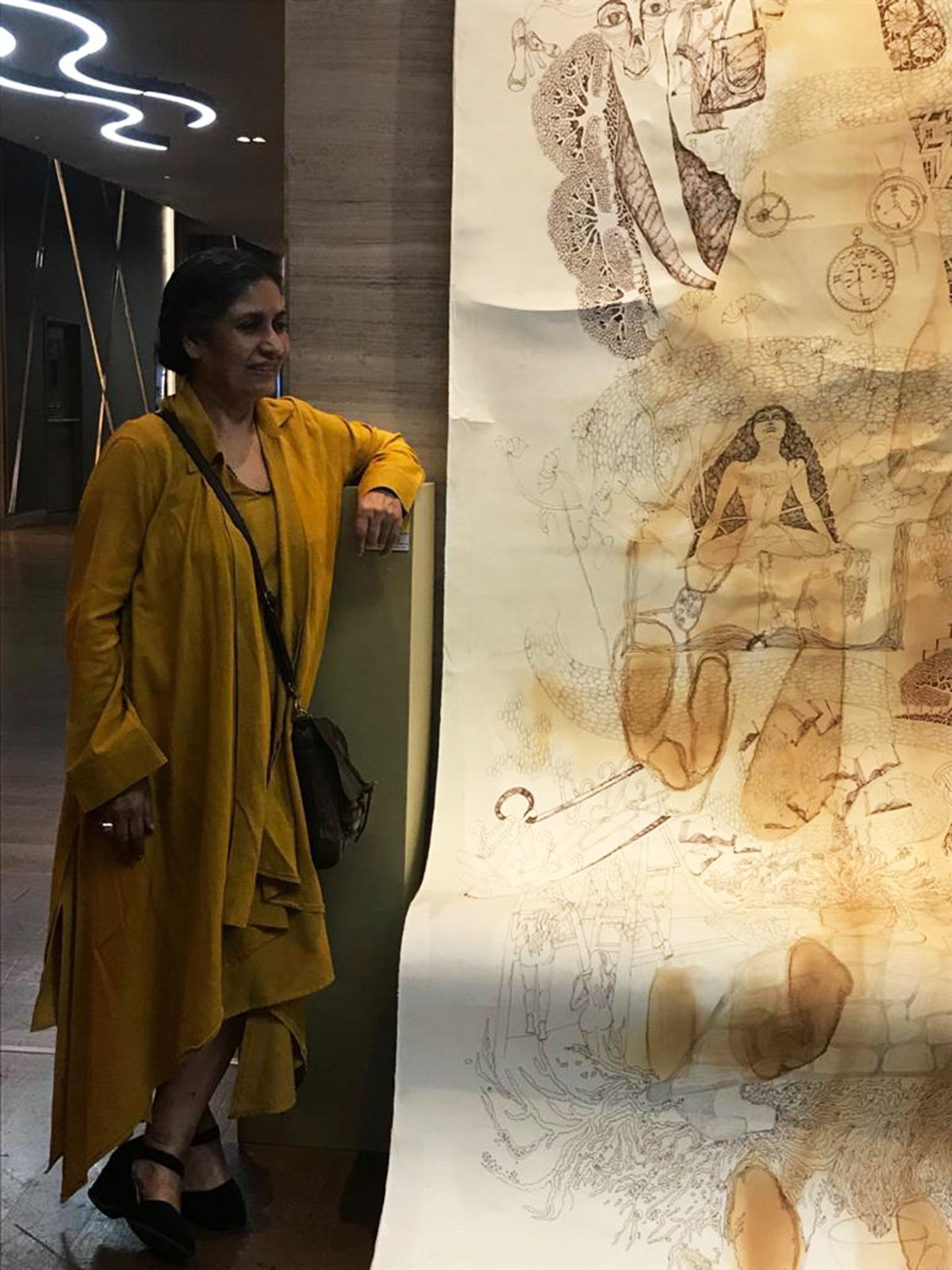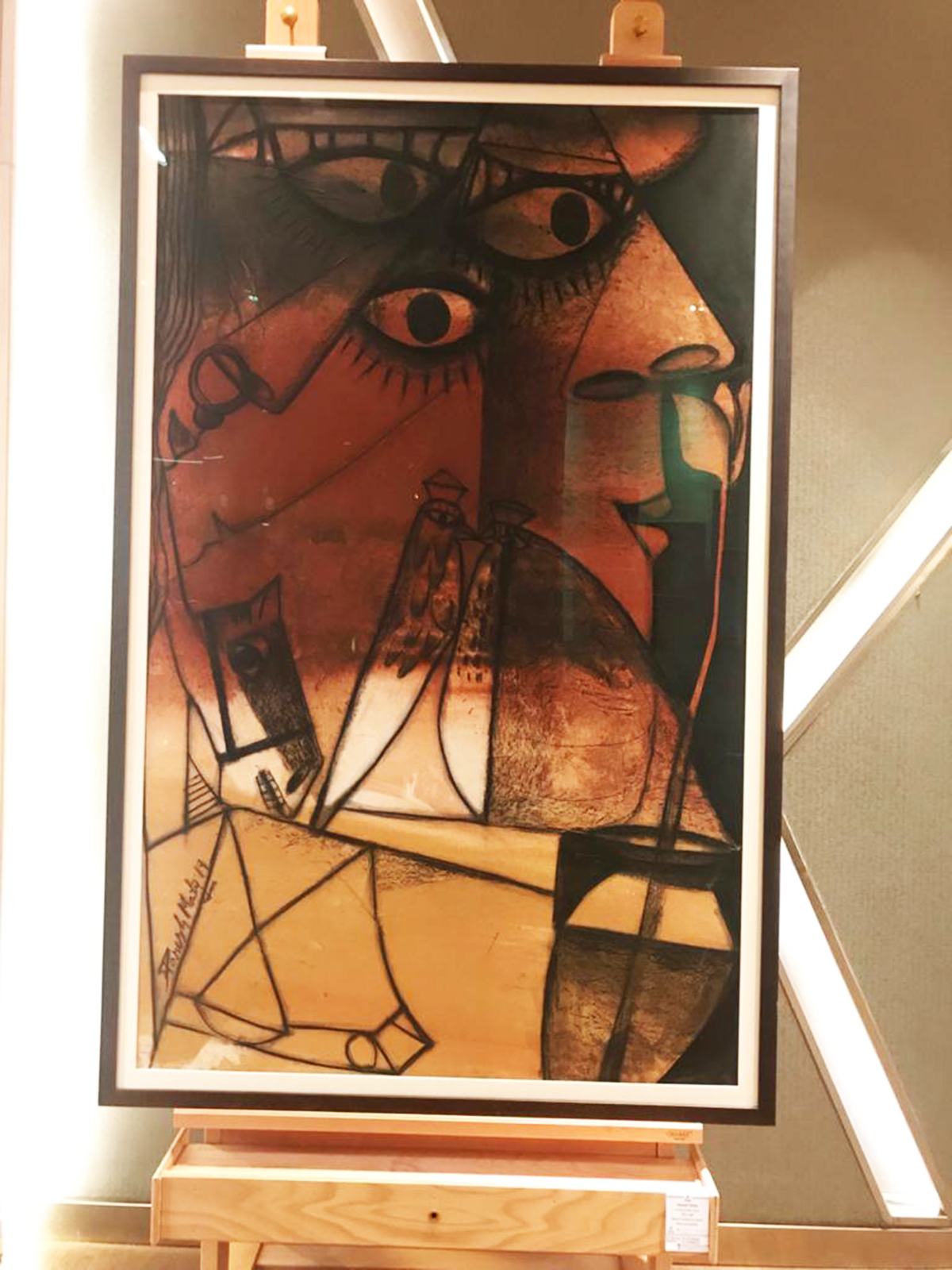 Tell us about your process of approaching a work. How do you choose medium and forms? How do you decide what work takes what shape?
It's a very spontaneous process. I start almost with nothing. The universe, in a way, is nirakar (shapeless). Everything is abstract. So, I play with the colours. I never draw fast. Slowly, the form emerges. It's like I don't know what is going to come out with whatever I am thinking. I never have the preconceived idea of what I'm going to do. Everything happens automatically, spontaneously. Art dominates me, I don't dominate art. It dominates me to explore different unknown horizons. If I know what I'm trying to do next then it will be a kind of mannerism. So, perhaps that's why every art is very different — since I never have pre-conceived ideas.
These are very dark times for artistes. Do you see them responding to the darkness of the times through their works?
Since the beginning of the civilization, dark times during wars helped create the best of art. Art comes from pain. But the artist never waits for any situation to work. They just paint or write. I try to take out the joy and happiness from every negative aspect or situation. The creation of art always lies within an artist and what he's creating. A lot of work springs from the love for the medium. Throughout history, artists have been witness to tragedies — war or famine — but they have always been creating. Van Gogh had a tough life, but he created several masterpieces.
Does your approach change when you're sketching or working with charcoal?
Sketch is like a diary: one is trying to capture every moment. Earlier, people used to sit down and write the diary everyday about what they had done. Sketch is like a short note about a moment in a few lines. It constitutes the very foundations of art.
Donate Now
Comments
*Comments will be moderated