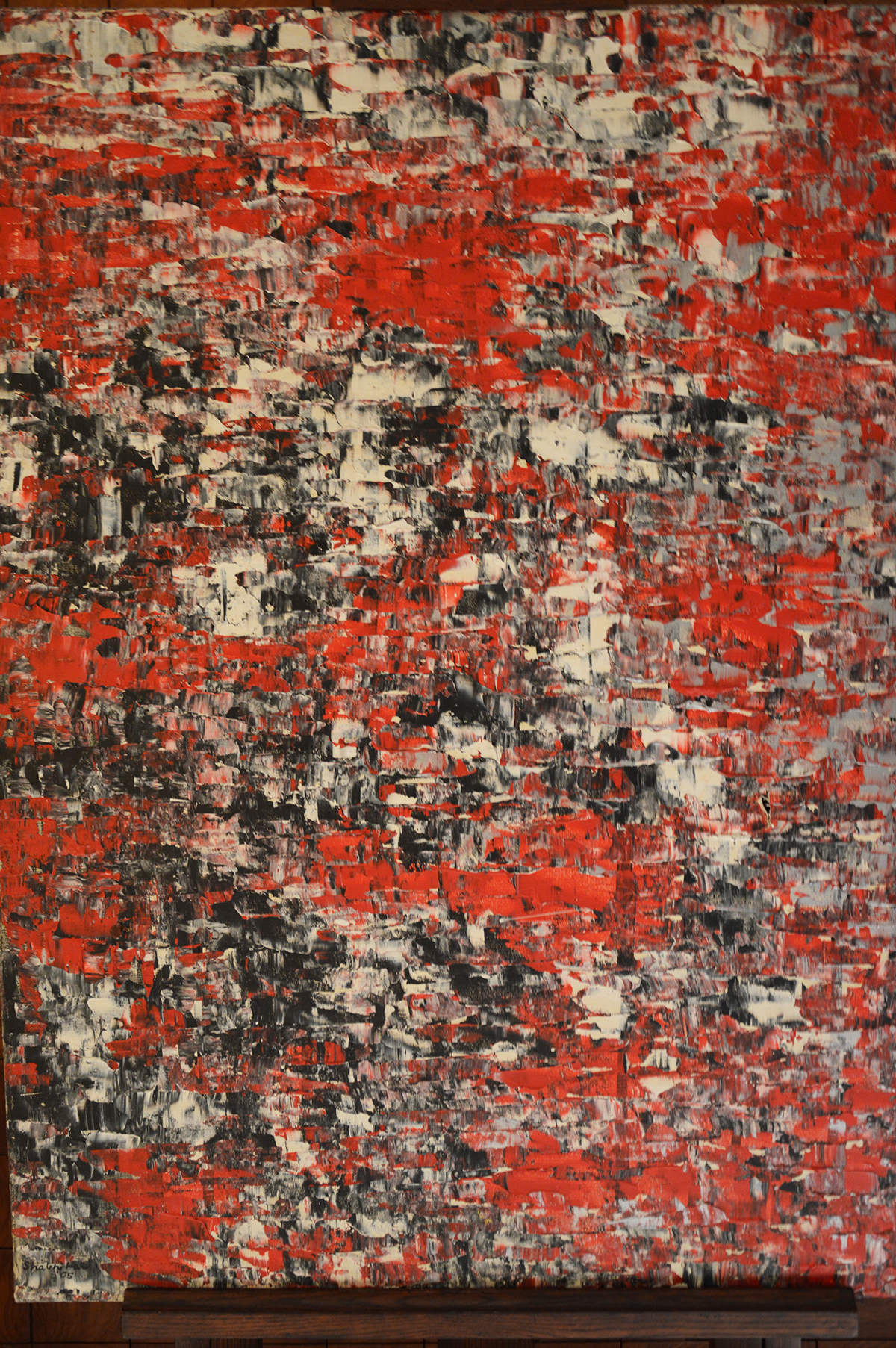 Acrylic on canvas with plate knife, 36"X48"
The lockdown has made it possible for me to return to painting, which I had stopped after 2007. In my paintings, mostly abstract and landscapes, I try to capture studies of light on canvas
The pandemic has undoubtedly impacted millions of lives and has completely changed the way we lived our daily lives. The past few weeks have given me time to reflect on my work and to devise ways to make the best of isolation and staying in. I have tried to stick to the schedule I used to follow before the quarantine. Apart from my work commitments, I have been practising meditation and Buddhist chanting, as well as taking Buddhism classes. While meditating, I have learnt to focus on my breath. I am a big believer in holistic healing and Ayurveda, and have been reading on the same. The time away from the daily grind has made it possible for me to revisit painting, which I had stopped after 2007. I have been painting using palette knives in acrylic and oil paintings. The paintings I make are mostly abstract and landscapes; I try to capture studies of light on canvas. Being able to paint has given me immense joy in providing a creative outlet for me to express myself.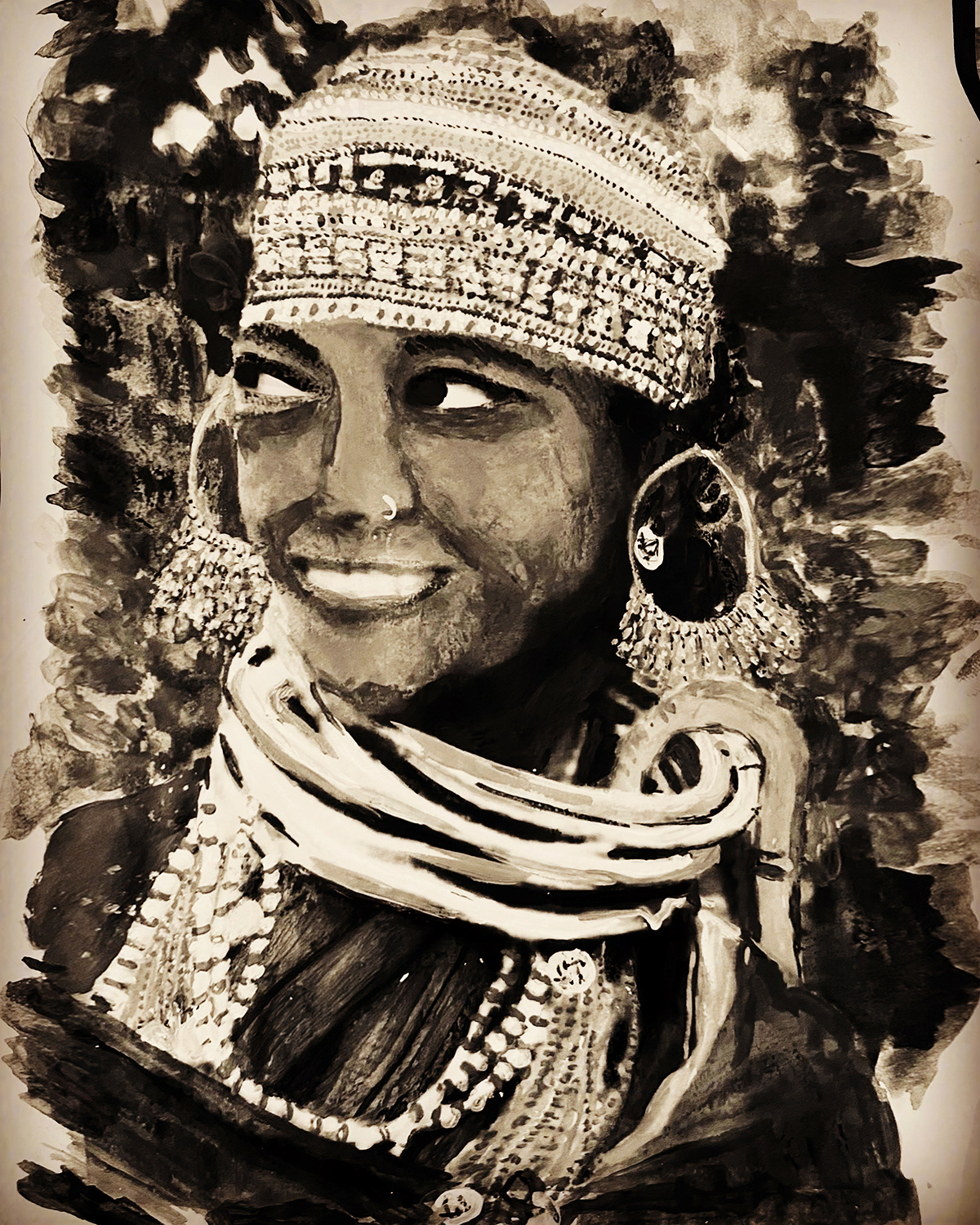 The Bonda Tribal woman in Traditional Dress of
Odisha, June 2020, acrylic on paper




Work at my foundation (Shalini Passi Art Foundation) and MASH magazine has continued despite the quarantine and we have transitioned to working completely online. This shift has made me and my team rethink the ways in which arts programming and content can engage diverse audiences during these times. Arts organisations all over the world have adapted to our current situation that prohibits human interaction and mass gathering by making their collections accessible online and presenting exhibits virtually. We decided to host an online exhibition on our website, in which we showcase works by artists that seek to reflect life in extraordinary times. We also started a podcast, with episodes that focus on Indian art history as well as contemporary art. Artists and leading names from the arts decided to lend their voices for the episodes. The objective behind starting the podcast was to provide an accessible resource for more diverse audiences, who may not be intimately familiar with the arts but wish to learn more. Adequate arts education allows one to appreciate the arts more, and leads to widespread appreciation, which has always been one of the objectives of my foundation. It gave me immense satisfaction to be able to use multiple ways to reach out to new audiences through innovative and engaging means. I have been very productive during this time, due to the lack of distraction of going out or being a part of social gatherings. However, the past two years have kept me quite active, with the establishment of the foundation.

The Bonda Tribal Woman in Traditional Dress of Odisha
, May 2020, acrylic on paper
The preceding year kept me on my toes and gave me multiple opportunities to travel. I travelled to Hong Kong for Art Basel, followed by a trip to Venice for the Biennale. Then I went to Israel, followed by a trip to Poland for a conference. I had a great experience in Venice, which was beautiful and special due to the presence of the India pavilion at the Biennale.

The unexpected turn that this year took made me reflect on the work that we planned before the full force of the pandemic altered our operations. We organised an exhibition in the sculpture garden of the India International Centre (IIC) that showcased artists whose works reflected on climate crisis. We also had a special project during the India Art Fair, called the MASH Sculptural Space, that focused on sculptural installations that were exhibited at the fair.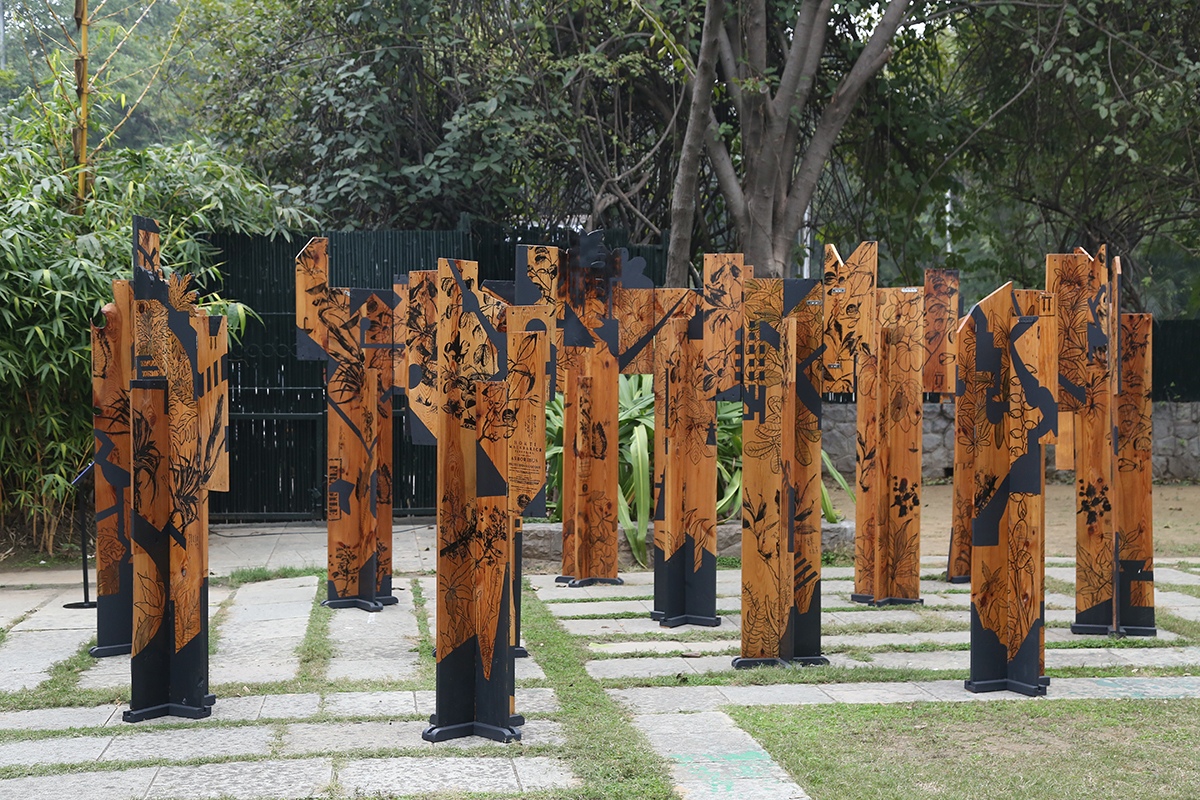 Arun Kumar HG, Timeline of Backwash
The unbridled creativity that this period brought on led me to write a series of articles for MASH titled Artworks I Would Like to be Quarantined With. In the series, I outline the works of art from the Renaissance to contemporary works from India and across the world that have had a profound effect on me over the years and which I would like to have with me during this time.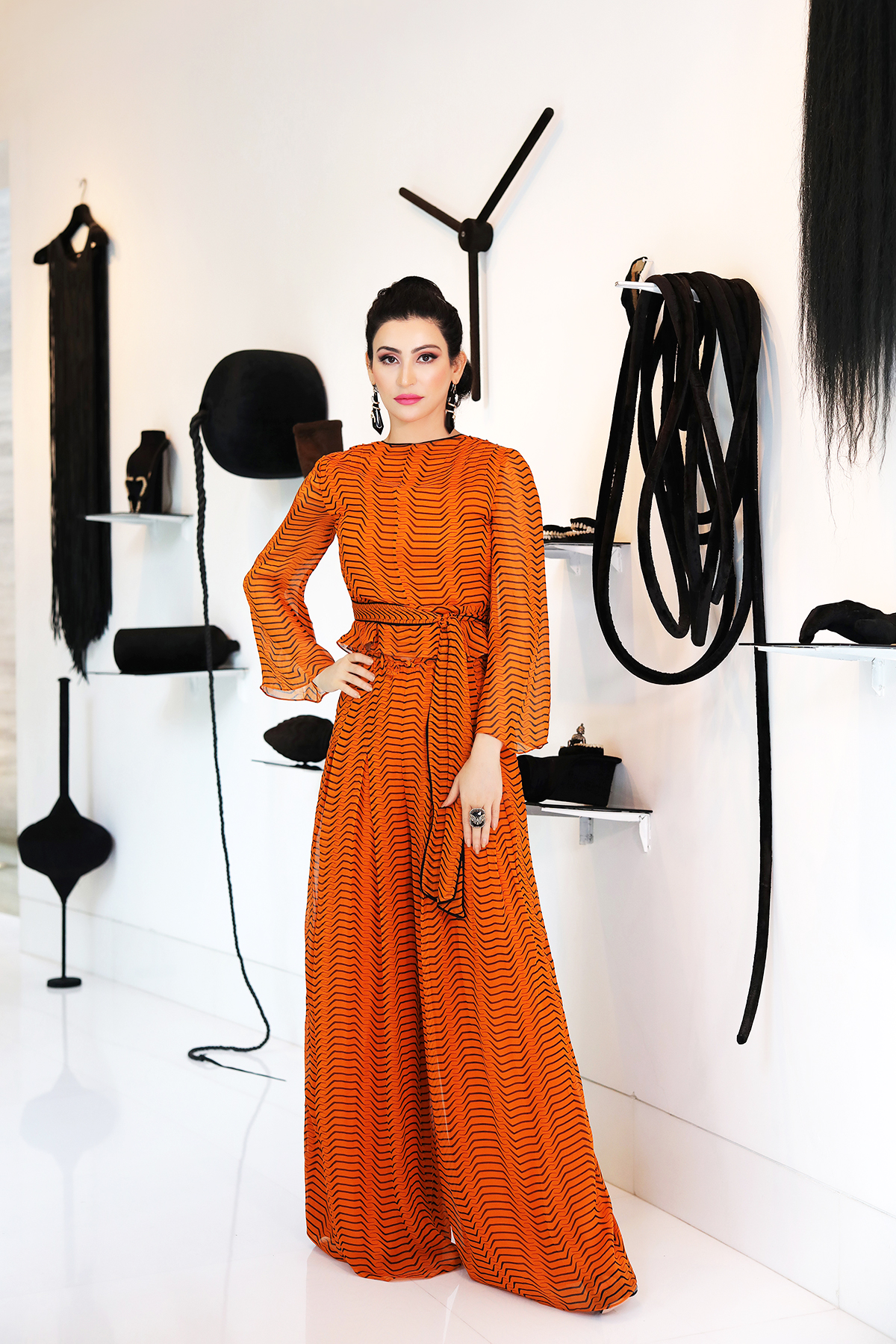 The time away from people has made it possible for us to explore and reach inside ourselves. I enjoy being on my own as it keeps my thoughts clean and uncluttered; sometimes one tends to pick up negative energies from people, and this lack of interaction with people has made our energies very pure and clean. This time away from negativity brings out a lot of creativity as well, pushing us to create and focus on things that are important to us.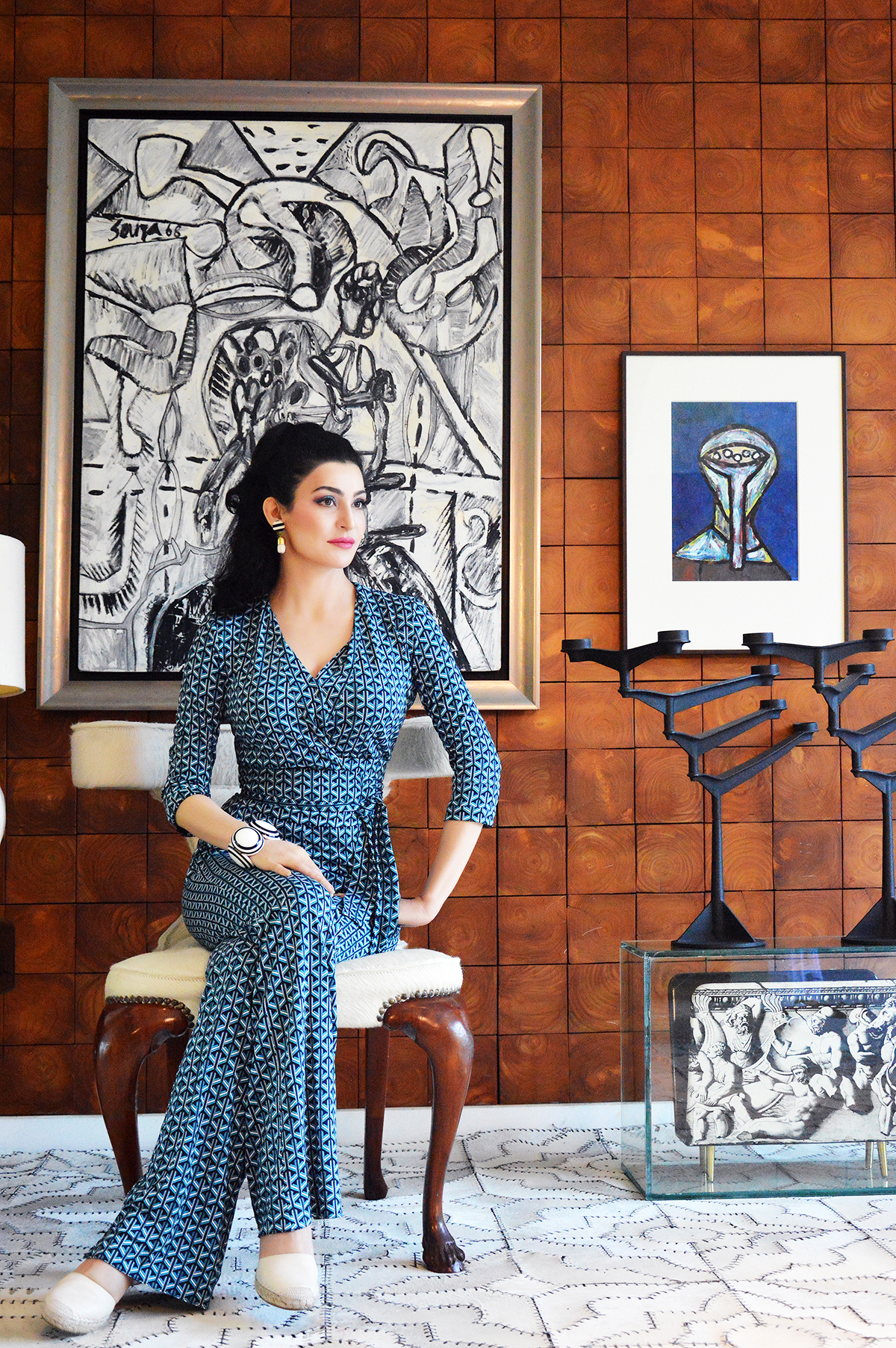 I am currently in Delhi with my family and quite happy to be able to quarantine myself with them. My son has returned from the US as well, and I'm glad to have him home. I have been in touch with my friends over the phone. The lockdown and shifting of work to online modes has made me more comfortable with technology because of which I have learnt a few more skills and have become more tech-savvy. I am very fortunate to be able to spend time and stay in touch with my loved ones during these trying times. As the world gears for a long-term fight against the pandemic and our habits adapt to incorporate these new ways of living, I am grateful for the work that I have accomplished during this time and I strive to consistently keep working on myself.

This piece is a part of our special issue on Art in the time of Pandemic, curated by critic, author and one of our contributing editors, Ina Puri
Donate Now
Comments
*Comments will be moderated