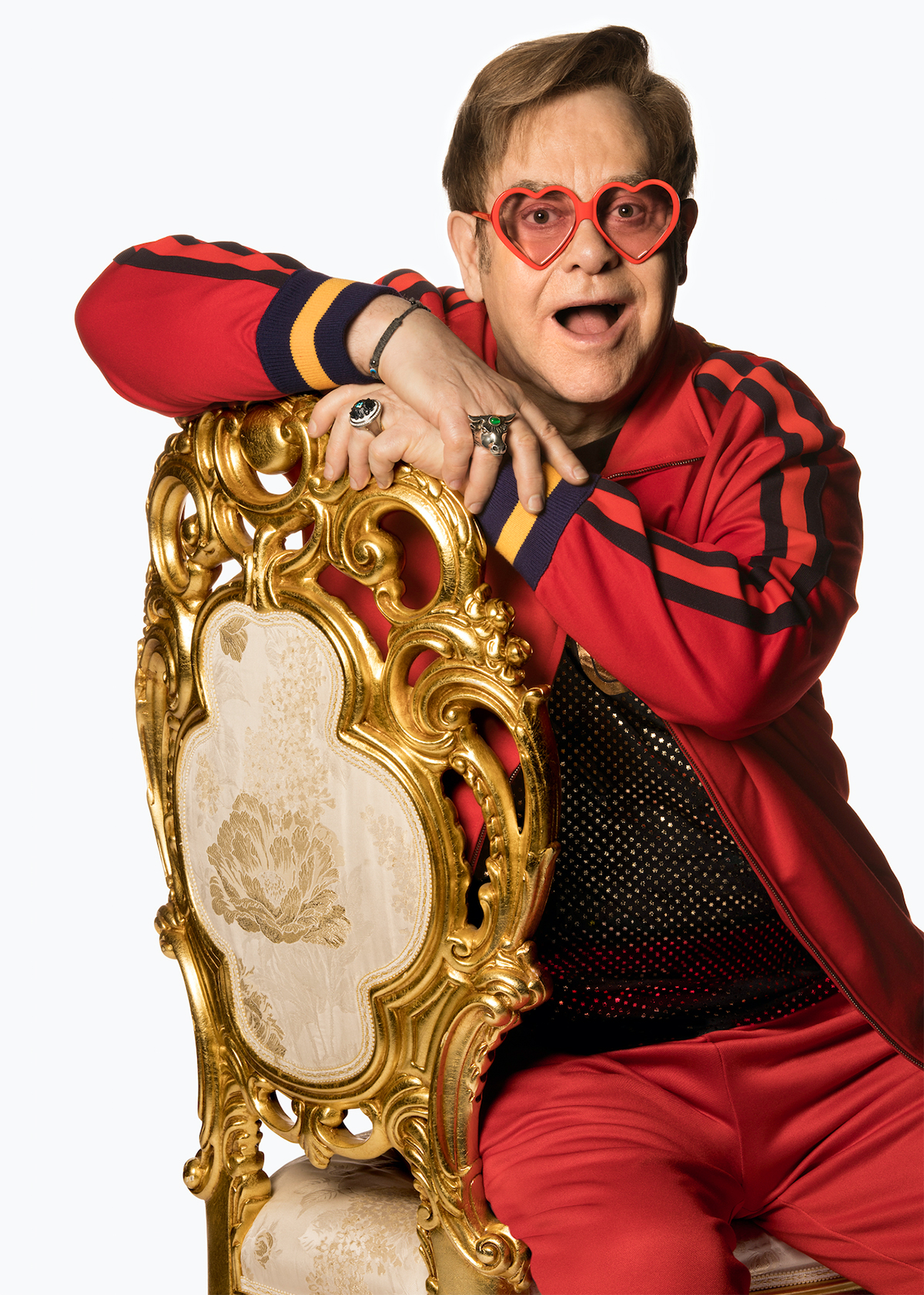 (From top) Elton John; Elton performing in 1974, photo by Sam Emerson (courtesy of Rocket Entertainment); cover of Me: Elton John; and John with With David Furnish, photo by Greg Gorman
At 72, one of the world's most iconic pop stars, having toured around the world for most of his life, finds happiness at home — with two sons
After having lived a rather eventful and extraordinary life, the only question Elton John finds worth asking himself is: what's next? At 72, one of the most iconic pop stars has been busy with the release of a movie (Rocketman) based on his life, an on-going epic farewell tour — Farewell Yellow Brick Road comprising more than 300 concerts worldwide — and a tell-all memoir, Me: Elton John (Pan Macmillan India). There is so much more that he wants to do. "I want to write more musicals and more film scores. I want to spend time working with the AIDS Foundation, especially in Africa. I want to send up for the LGBTQ community there, to try and talk to politicians in Uganda or Kenya or Nigeria and do something to change the way people are treated. I want to collaborate with more artists. I want to stage a huge exhibition covering my whole career…." John writes in the memoir. If you think that's all, you don't quite know John: There is so much more. He is also contemplating opening a permanent museum to enable people to get a glimpse into his huge art and photography collections. He wants to spend more time cutting albums, making them in a way he used to when he started his career — writing a lot of lyrics with his long-term collaborator Bernie Taupin and developing "a stockpile e of material".
Ever since his fourth studio album — Madman Across the Water (1971), which was pregnant with dark themes and bore strong influence of Leon Russell (the duo worked together in the 2010 album, The Union) — John has not gone into studio "with a big hoard of songs to choose from." He has just turned up and written at the spot — "like the musical version of the painter with black canvas." Today, he wants to go back to writing without recording what he is doing, the way he made Captain Fantastic and the Brown Dirt Cowboy (1975), his ninth studio album, memorizing what he came up with as he went along. He intends to play live at much smaller shows where he could "concentrate on playing different material". One of the things he also wants to do is bring his little-known songs from the shadow of chartbusters — like I'm Still Standing, from his 1983 album, Too Low for Zero, a track designed to be John's shout-out to the early 1980s that he was still relevant post-punk even as the New Romantics had started stepping in; Rocket Man, the hit single from his 1972 album Honky Château; and Your Song (1970), his first smash hit single — and give them a moment in the spotlight. The chartbusters, writes John, develop a life of their own and have overshadowed everything else he has done.
Fathers and Sons
There is another thing that tops John's agenda: To spend time being normal, or as normal as he can hope to be — removed from the idiosyncrasies and eccentricities that define much of his life. Now that he is not going to "schlep around the world" any more, he will keep himself occupied by spending more time with his husband, David Furnish (56), doing the school run for their sons, Zachary (8) and Elijah (6), taking them to Pizza Express, or round Daniel's, the department store in Windsor, Berkshire, where they live in a Queen Anne-influenced, antique-filled house in the countryside, which has been John's home since 1975. Fatherhood, for John, has been nothing short of a "miracle". It has transformed him, brought him to a delightful stage of his life. "I've learned that the simplest things in life, like having a minute with them, are worth more than any painting, any photograph, any house or hit record. Before we had the children, we just had our lives and we would spend money because we didn't have anything else to focus on. We have really toned things down because we have enough stuff. There is nothing else we need," he told Mirror last year.
As a father, John indulges his children, doing things with them he would once never have thought of doing. "How wonderful life is while you're in the world… John croons in Your Song. As a father, he ensures that the world for his children is wonderful. When he was growing up, John was kept devoid of such pleasures by his father, with whom the singer-songwriter shared a very uneasy relationship, a relationship that he has always found hard to describe. While John is a doting dad, his own father was anything but that — always distant, always uncommunicative, always disapproving of his son's choices.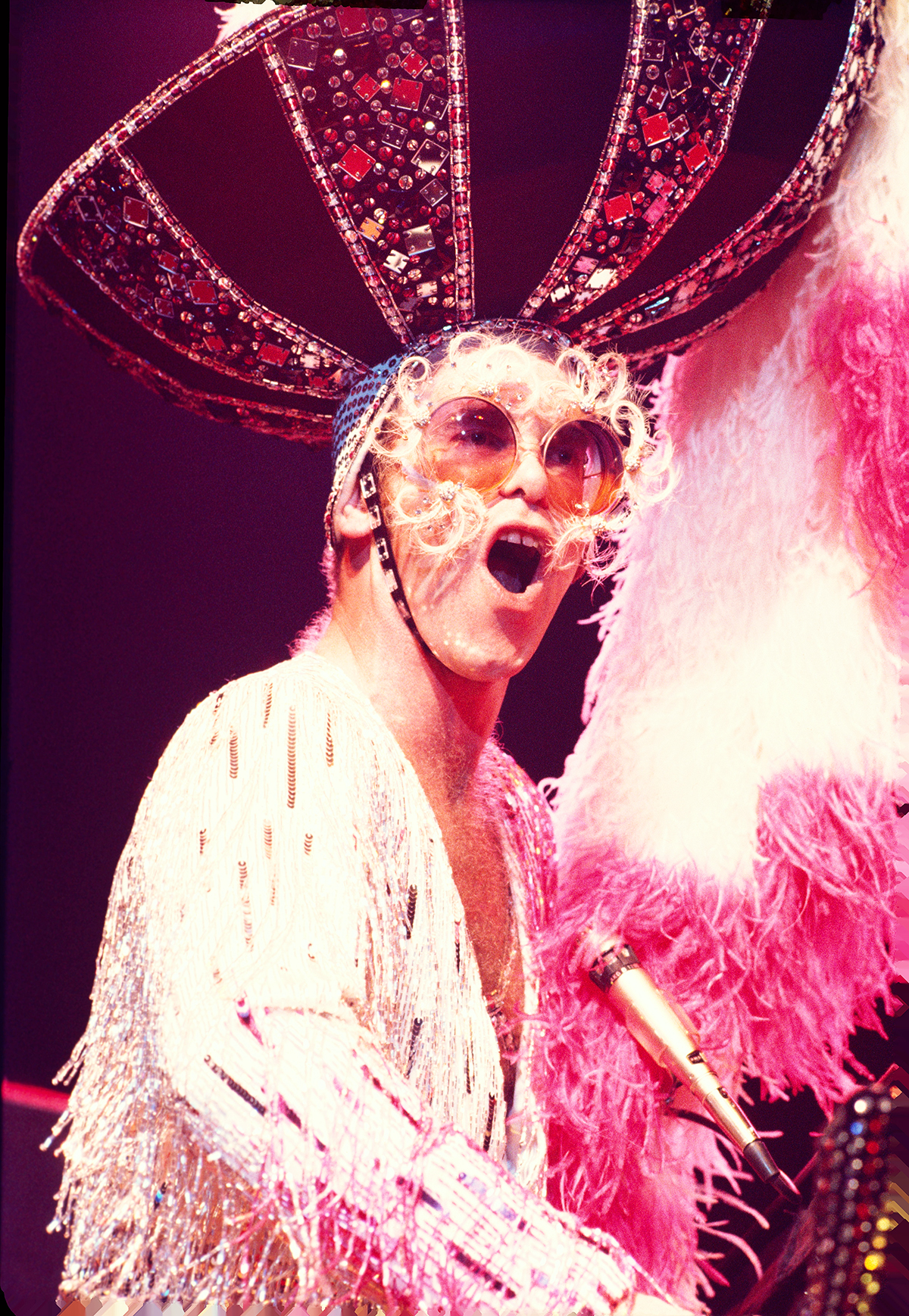 For most of his life, hidden beneath the spangled bodysuits and oversized blue-tinted eyeglasses, John remained a desperately shy man — conflicted about his success, his sexuality, and his cocaine obsession. After coming out as bisexual in a controversial Rolling Stone interview (1976) that nearly destroyed his career, and announcing his retirement from live performance in 1977 at the age of 30, he found his way back to the thing he cared about most — the music — after several visits to rehab. John's father blamed pop music and its "corrupting influence" for his son's "confusion". Reg spent the majority of his youth living in constant fear of receiving a scolding from his father for such unforgivable infractions as chewing his celery too loudly at the dinner table, or accidentally kicking a soccer ball into the rosebushes. "I was petrified of him. I dreaded it when he came home," he tells Doyle. "There was never an intimacy between the two of us. I didn't know how to communicate with him, and he didn't know how to communicate with me."
The Sound of Music
John was born on March 25, 1947, to Stanley and Sheila Dwight and spent most of his childhood at 55, Pinner Hill Road, in the sleepy northwest London suburb of Pinner, Middlesex. He was christened Reginald Kenneth and went on to be known as Reg Dwight, and later, just Reggie. When his father, a Royal Air Force officer, was redeployed to Basra, Iraq, his mother refused to accompany her husband. With his father away, young Reg was raised in a predominantly female household. His main companions were his mother, aunt, and grandmother, Nan. The early traces of music in the household that might have influenced the curly-haired toddler go back to the endless stream of popular melodies pouring forth from the family's Murphy-A46 wireless. "From morning till night, the music of Guy Mitchell, Frankie Laine, Kay Starr and Billy May filled the impressionable youngster's head with a timeless sonic language that he would spend the rest of his life refining," writes veteran rock journalist Tom Doyle in Captain Fantastic: Elton John's Stellar Trip Through the '70s (2017). One day, left to his own devices, the three-year-old climbed onto the piano bench of his grandmother's King Brothers upright and began picking out the piquant melody of Waldteufel's The Skater's Waltz by ear.
Reg's other early musical influence came in the rotund figure of Winifred Atwell, an affable Trinidad-born pianist with a string of hits including Coronation Rag and Let's Have Another Party. She routinely kept two pianos onstage — a concert grand upon which she performed theater songs and classical pieces, and a honky-tonk upright which she used to bash out a selection of rags. She was a huge influence on John. One of his other favourite back then was Liberace, another pianist whose self-titled TV show was wildly popular throughout the UK. "Reg would sit transfixed each week before the family's tiny black-and-white telly as the flamboyant pianist tickled the ivories of a sequin-encrusted, gold-leafed Blüthner Grand," writes Doyle. At the age of five, Reg began taking piano lessons from a local teacher, Mrs Jones. "She was lovely. I could read okay, but I was never that much interested actually in becoming a classical musician, because ever since I could remember I always wanted to do something in popular music," John tells Doyle. As a child, there are two things John turned to for safety — music and food. From the start, the pudgy eleven-year-old found himself an outcast. "As a kid, I was always on the fringe of everything. I wasn't part of the gang. Going to the cinema with mates, I was always the last one to be asked. I was Fat Reg to start with," he tells Doyle. In 1960, thirteen-year-old Reg formed his first group, along with bassist Geoff Dyson, a local boy he'd met at the capacious church hall around the corner from his home. "The teenagers named their group the Corvettes, after a vintage brand of British shaving soap," writes Doyle in Captain Fantastic. Two years later, they broke up and formed a soul band, Bluesology.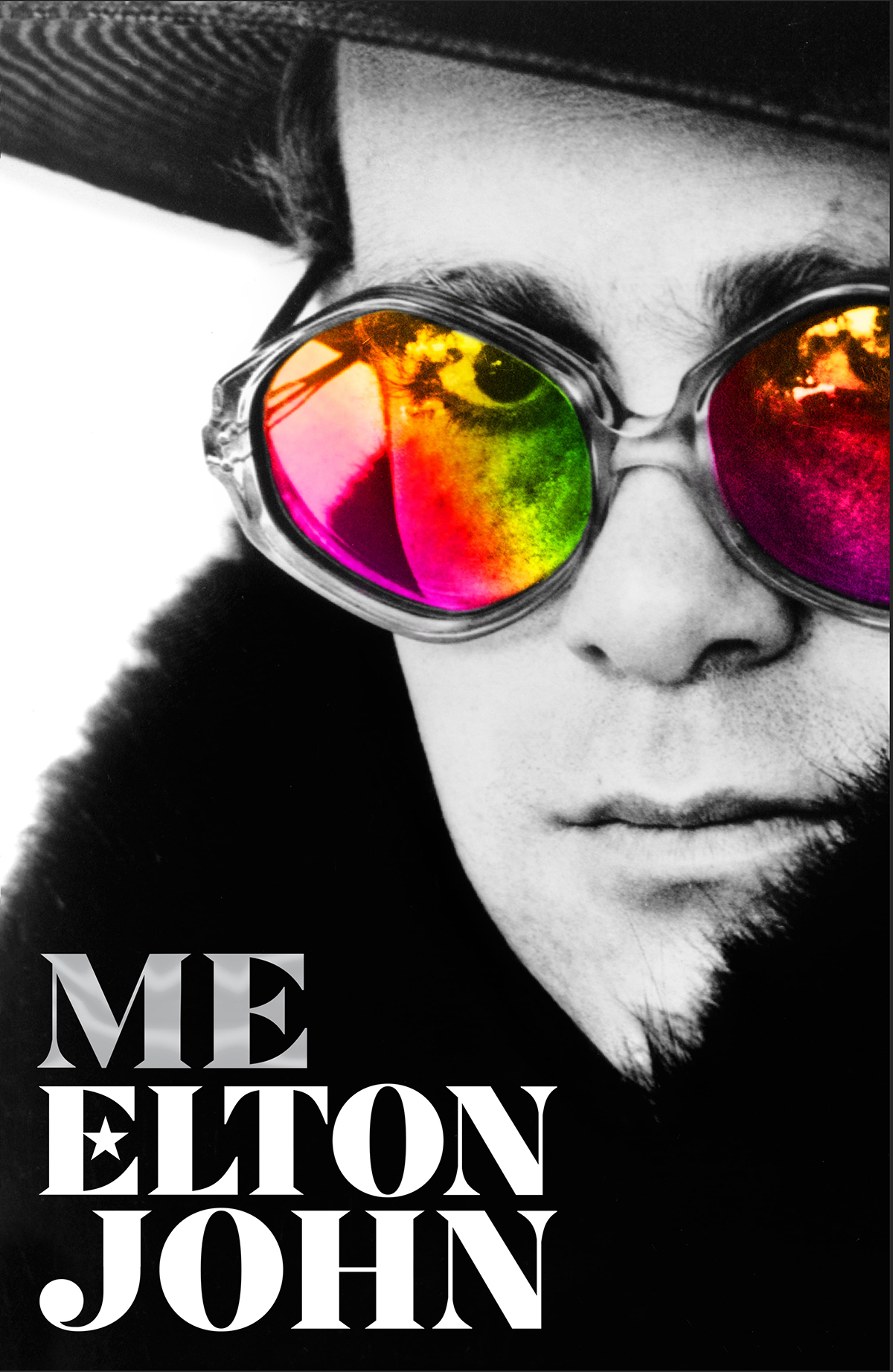 Music-en-scène
The shy piano prodigy achieved overnight fame with a rousing performance at the Troubadour in Los Angeles in August 1970. In his prologue to Me, John begins his story in medias res. It was the winter of 1967 and rock music was in a state of rapid flux. The Beatles were out with Magical Mystery Tour, which was nominated for the Grammy. Their non-album single, All You Need is Love, had gone on to be a huge hit. The Mothers of Invention were making a splash. The Who Sell Out, a concept album structured as a collection of unrelated songs interspersed with fake commercials and public service announcements, was getting critical acclaim. John Lennon was seeing Yoko Ono and his lyrics had started to espouse a pacifist message, and some of them were adopted as anthems by the anti-war groups. Bob Dylan would soon release John Wesley Harding, in which he would return to semi-acoustic instrumentation and folk-influenced songwriting after three albums of lyrically abstract, blues-indebted rock music. Reg was onstage playing organ at the Latino club in South Sheilds, performing Baldry's huge hit single, Let the Heartaches Begin, when it dawned on him that he had had enough of playing at blues cellars and supper clubs, and couldn't take it anymore. He had dreamed of becoming a musician as a child. He had to do something about fulfilling that dream. Soon, he left Bluesology. Reg Dwight transformed into Elton Hercules John — a name he adopted from his fellow Bluesology bandmates, Elton Dean and Long John Baldry.
John was introduced to Elvis Presley by his mom. And then everything changed. "You could literally feel this strange energy he was giving off, like it was contagious, like it was coming out of the radiogram speaker straight into your body," he writes in Me. Even as he was getting to discover new worlds of music, at domestic front, his parents' marriage was falling apart. There would be constant fights at home. His parents' story sounds romantic. The two had met when Stanley was 17 and had just joined up RAF. Sheila, who delivered milk for United Dairies on a horse and cart, was at a North Hallow hotel where a band was performing. Stanley, a keen amateur trumpet player, noticed her in the audience, started a conversation and love struck. "But the reality of Stanley and Sheila Dwight's marriage was not romantic at all. They just didn't get on. They were both stubborn and short-tempered, two delightful fortunes that it's been my huge fortune to inherit," writes John, self-deprecatingly. Eventually, they parted ways and John married a local painter, Fred Farebrother, whom John lovingly called Derf, Fred spelt backwards. His father, Stanley, married someone else.
If all John got was disappointment from his father, his mother was no better. She had a terrible temper. "When I think back to my childhood, I think of Mum's moods: awful, glowering, miserable silences that descended on the house without warning, during which you walked on eggshells and picked your words very carefully, in case you set her off and got thumped as a result. A sample of how bad it could get: When John was two, she had toilet-trained him by hitting him with a wire brush until he bled if he didn't use the pot.
The Lives of Others
In Me, John tells his own story, but it also provides fascinating insights into the zeitgeist, fleeting glimpses into the lives of those John intersected and many others he crossed his path with. They inlcude a roll-call of legends during the decade —including John Lennon, Bob Dylan, Ray Charles, Rod Steward, Liz Taylor, Groucho Marx, Katharine Hepburn, Princess Margaret, Elvis Presley, an acid-damaged Brian Wilson, Princess Diana, Freddy Mercury, Michael Jackson, George Michael, Stevie Wonder, Gianni Versace and many more. He writes in detail how he was a latecomer when it came to sex, how he lost his virginity at 23 and started his first gay relationship with John Reid, the Tamla Motown label manager for the UK, who was also John's manager until 1998. He also married German recording engineer Renate Blauel in 1984, which many claimed was a "cover for his homosexuality". After his divorce from Blauel in 1988, he told the magazine in 1992 that he was "quite comfortable about being gay". In 1993, John began a relationship with David Furnish, a former advertising executive and now filmmaker originally from Toronto. "Got up. Tidied the house. Watched football on TV. Wrote Candle in the Wind. Went to London. Bought Rolls-Royce. Ringo Starr came for dinner," that was among the many matter-of-facts entries in the diary of Elton John during the Seventies.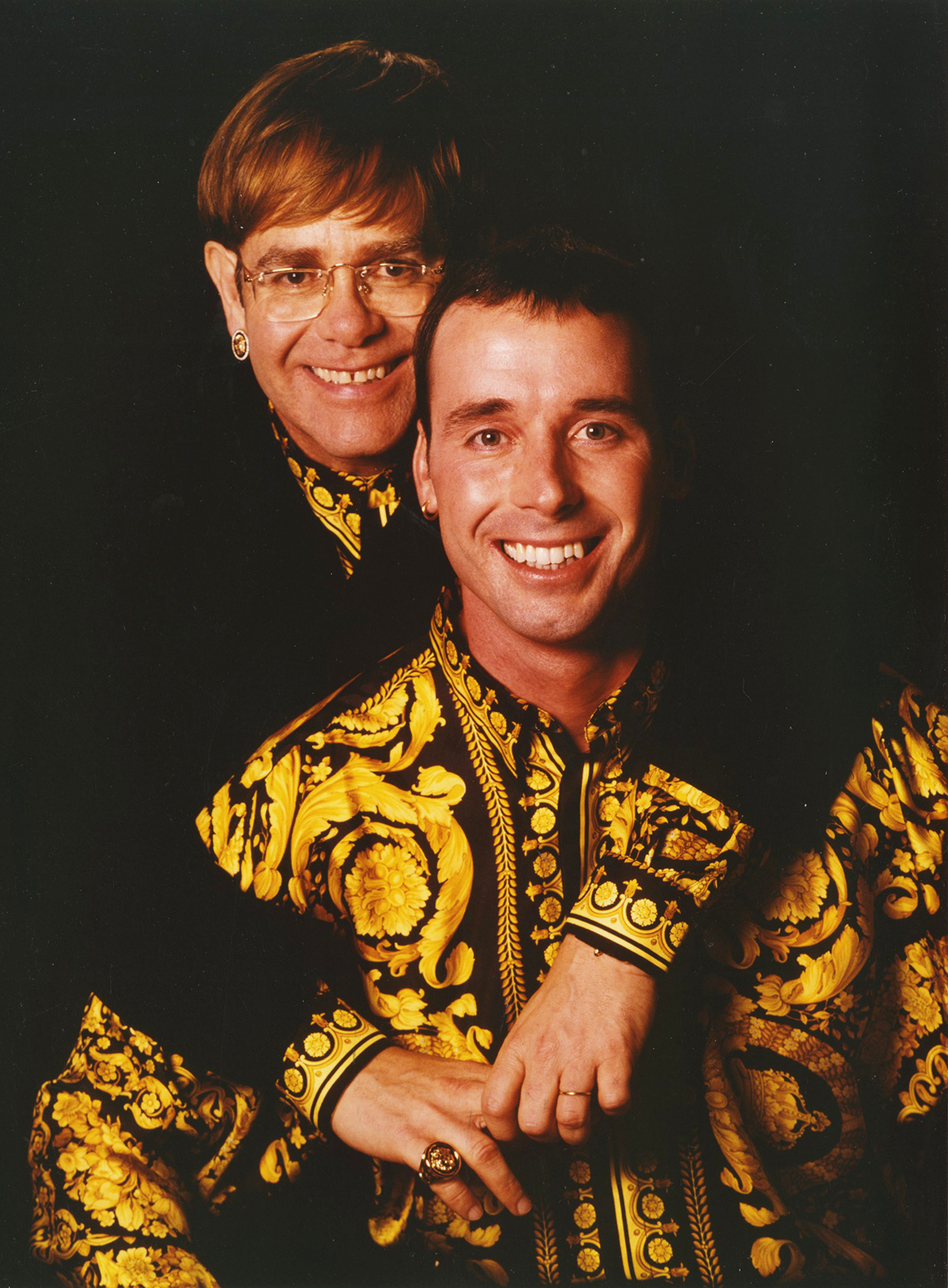 The Remains of the Day
John's life may be a catalogue of regrets and may have constituted countless visits to rehab even as he courted fame, but he would want to change none of it. Everything happened for a reason. His life, he writes, has been a series of happenstances, what ifs. What if he had not stumbled upon Bernie's lyrics after a failed audition for Liberty Records in 1967? What if he had not gone to the US when Dick James — who along with son Stephen, founded the DJM record label — asked him to do? What if Watford (the Football Club he became the chairman of in 1976), had beaten West Bromwich Albion a Saturday afternoon in the early nineties and lifted his spirits, so that he didn't feel the need to call a friend and beg him to bring some gay men to dinner (that's how he found his first love)? "Where would I be now? Who would I be now?" John asks himself.
Me: Elton John, told in beautiful prose, is a brutally candid and unabashedly honest account of the life and times of an icon, a legend, who lived life on his own terms, made some mistakes (got into drugs) along the way, had the guts to question his choices when things went wrong, set about righting the wrongs, whatever it took, found happiness outside the "bubble" of being a celebrity, decided to do his bit to make a difference in the lives of the AIDS patients around the world, kept looking for love till he found the right person, settled down to domesticity and became a parent to two boys. It's a book that has come out from the deepest recess of John's heart and is imbued with a lot of empathy, humanity, and hope. It chronicles John's journey to regain his connection with who he really is behind the flamboyant mask of rock and roll. And underlines the fact that, in his seventies, he's no longer what he used to be in the Seventies. While he may still possess the same extreme sense of flair, have the same penchant for outré or kitsch, he is not quite the same person.
At 72, another thing that John wants to keep is his connection to reality. If he'd wanted, he would perhaps never have stopped touring. But he had to after health issues cropped up, once bringing him quite close to death. Today, he wants to keep telling him the truth: He is not 22 anymore. For pretending he was 22 could do what drugs and alcohol and cancer had failed to achieve, and kill him. "I spent my whole life trying to run away from Reg Dwight, because Reg Dwight wasn't a happy budgie. But what running away from Reg Dwight taught me is that when I got too far from him, too removed from the normal person I once was, things went horribly wrong: I was more miserable than ever," he writes. He realises his life has been a gift. And his gift to the world? "My gift is my song."
Donate Now
Comments
*Comments will be moderated