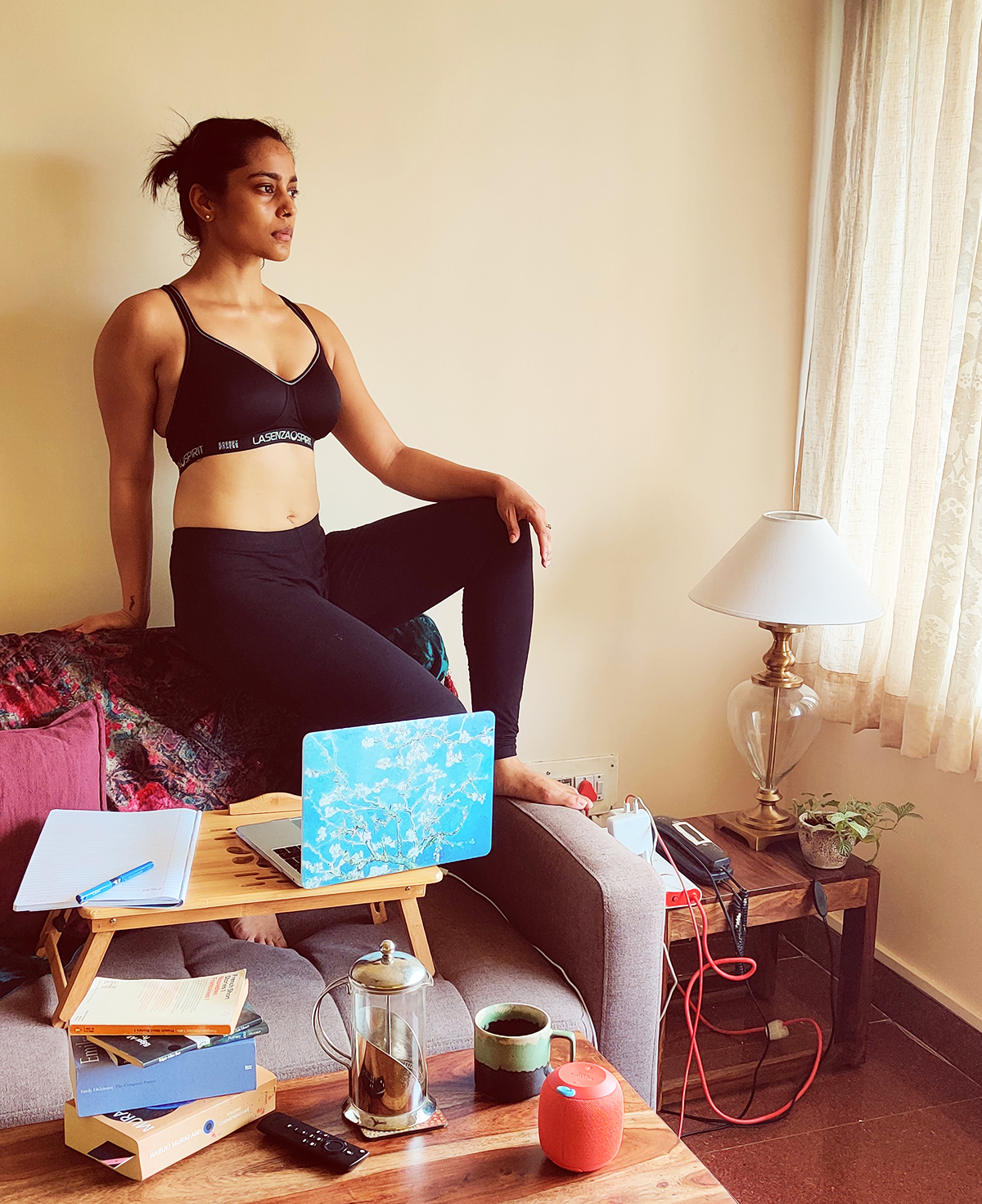 A Messy Map of Days: Actor Shahana Goswami.
With social distancing as the new normal, various questions about self, life, and the life around us have come to the forefront. How do people engage with spaces, with confinement, with tiring familiarity, a persistent routine what could be a visually compelling idea of the self?
The need to socially move away from others in the time of the pandemic has made me look within. Philosophical though it may sound — much has been said about introspection, from Rumi to Adi Shankara — the truth is that this phase has led to much thinking and analysing, learning and unlearning. I imagined that this would really be the case for most people who are a part of my social world. What are they thinking? How are they coping? How do they energise themselves and deal with the drudgery even as they are cushioned by their privilege?
For many years, my photographic practice has dealt with the central question of how I should or can represent others. So, whether it was the mill workers in Ahmedabad, the Indian Diaspora in England, or the transgender community in Delhi, questioning the idea of the body has been at the root of many of my projects. I am entrenched in, and bothered by, the idea of representation. The camera is an important tool that empowers me to talk about another community — outside of me. My work with the textile mill workers became my first photo book, Working in the Mill No More, with Jan Braman, Oxford University Press and Amsterdam University Press, 2003. I tried to document from 1986 to 2002 and narrate visual stories of migrant workers from across India who had lost their jobs in these mills. Most mills in Ahmedabad were either shut or on the verge of shutting down and thousands of workers were on the road without any social security or job prospects. That was the first time I realised that I need to make sure that they get represented in the true sense.
But then the question of my representing versus the idea of people getting me to represent them is a big one, too. It led me to the Diaspora project where I shot my subjects in frames they had chosen. This was with the Indian Diaspora in England who had migrated from India, Africa, Fiji and so on. The project was shown as an image text exhibition, "Figures, Facts, Feelings — A Direct Diasporic Dialogue" first at the British Council, New Delhi in 2000 and it became a catalogue as well, published by CMAC in 2000, which included important essays on the subject. In this very continuum of representation, my next two projects were with the transgender community from Yamuna Pushta in Delhi and street children from Mangolpuri, a resettlement colony in outskirts of Delhi. I invited my participants to frame, click and narrate their stories — in a sense I was handing over the tool and, therefore, empowering them.
Now, I am left wondering how people engage with spaces, with confinement, with tiring familiarity, a persistent routine what could be a visually compelling idea of the self. Does the idea of representation shift within this context? Does the repetitive dynamic and limited mobility push one to engage with spaces more intimately? In fact, the languor to think about oneself is such a rare occurrence in our otherwise occupied minds and the world. With social distancing as the new normal, suddenly various questions about self, life, and the life around us, etc., which one had always pushed away in the daily rigmarole of life,have come to the forefront.
Sitting at home, I also started wondering about my art/design practice after this lockdown and that got me talking with a few of my friends over several video calls. I decided to work on this project and this seemed like a good timing to ask this question about self. Objects which were gifted, which we inherited, which we collected and bought — all of them are around us. We look at them every day at home but had no time to see them, enjoy them, think about them. As part of this "questioning" or "reflecting", I conceived this project called "Self Portrait in the time of Social Distancing", where I invited many of my friends to participate. And now I am looking forward to sharing these powerful image stories with the world at large.
Here, I share a few of the images and the idea behind them:
A Messy Map of Days
Shahana Goswami, actor (image above): This messy little corner of my living room has become my little universe. I sit here all day — flitting between different books I'm reading simultaneously, watching all the shows and movies with a click of a remote, using this recently purchased little lap table to use my laptop,write in my diary,eat my meals on. The French press gets filled and then emptied, but still lies around, adding to the messy map of my day's activities strewn around. A little portable speaker that plays my different moods — music to help me through my workouts, a playlist to ease the mind while I read, songs I want to just sing along to one night. The twisting wires of the red and white adaptors and chargers keep the batteries from draining. And when the day turns to evening, the little pile of things remain as is, in the glow of the lamp with the only black wire. The little plant next to it is my only living companion, asking only for a little water everyday. And everyday,much as I believe I will finish my exercise, shower and be fresh, I somehow find myself in the same workout gear till late evening, still in that same little corner. But now the consistency of this mess, my unbathed self included in it, has begun to feel like home.

The Rooftop as Canvas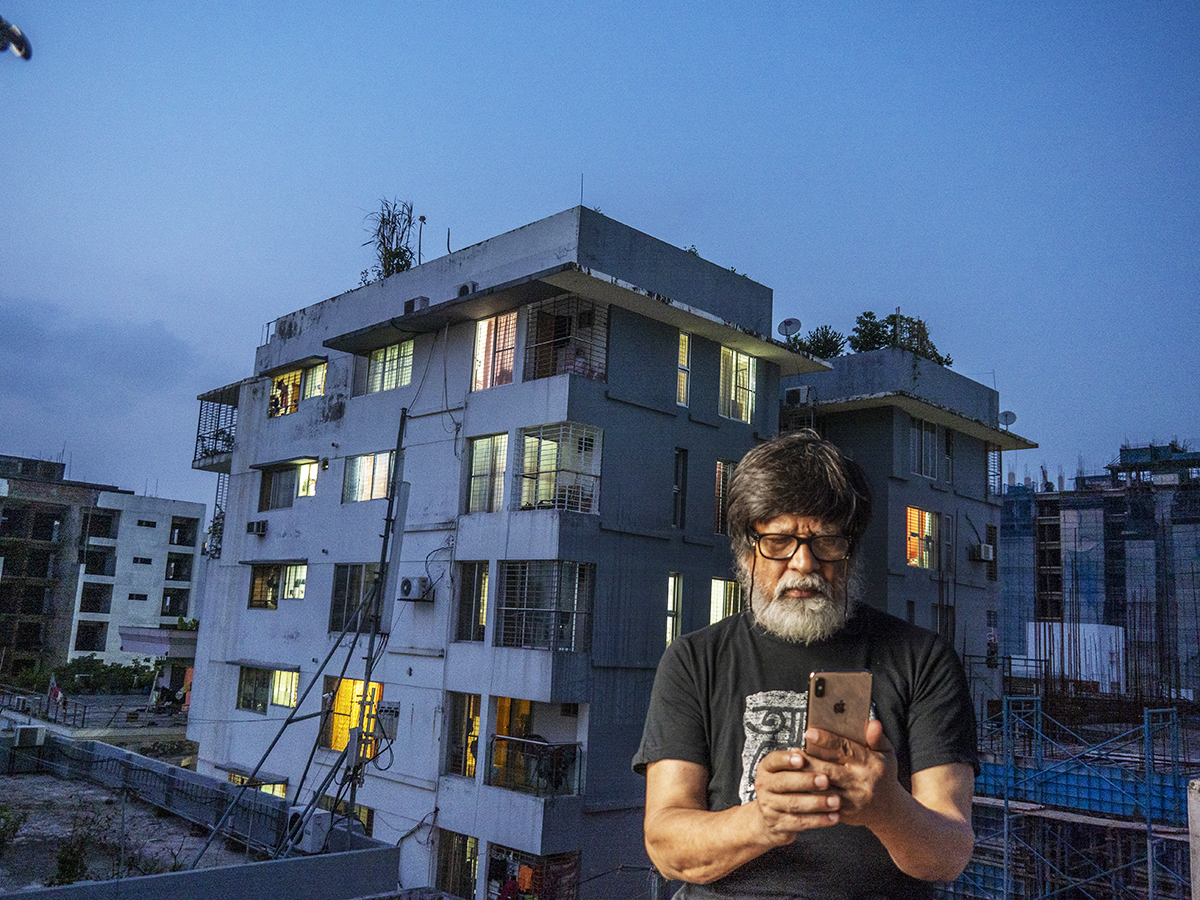 Shahidul Alam, photographer (Drik/Majority World): Ever since my arrest on August 5, 2018, my movements have been restricted. Firstly, because I was in jail, and upon coming out, because of security threats. No longer free to ride my bicycle and move freely, I've always had to be chaperoned. Corona has added a new dimension to that isolation, but I've used that time to do things I've never had the time to do before. Photograph the rain, the clouds and dewdrops on cactus flowers. At night, I photograph people crying out for rice in the streets. Our veranda and our rooftop are my studio, my world, my canvas. Self portrait on rooftop.
The Hangout Room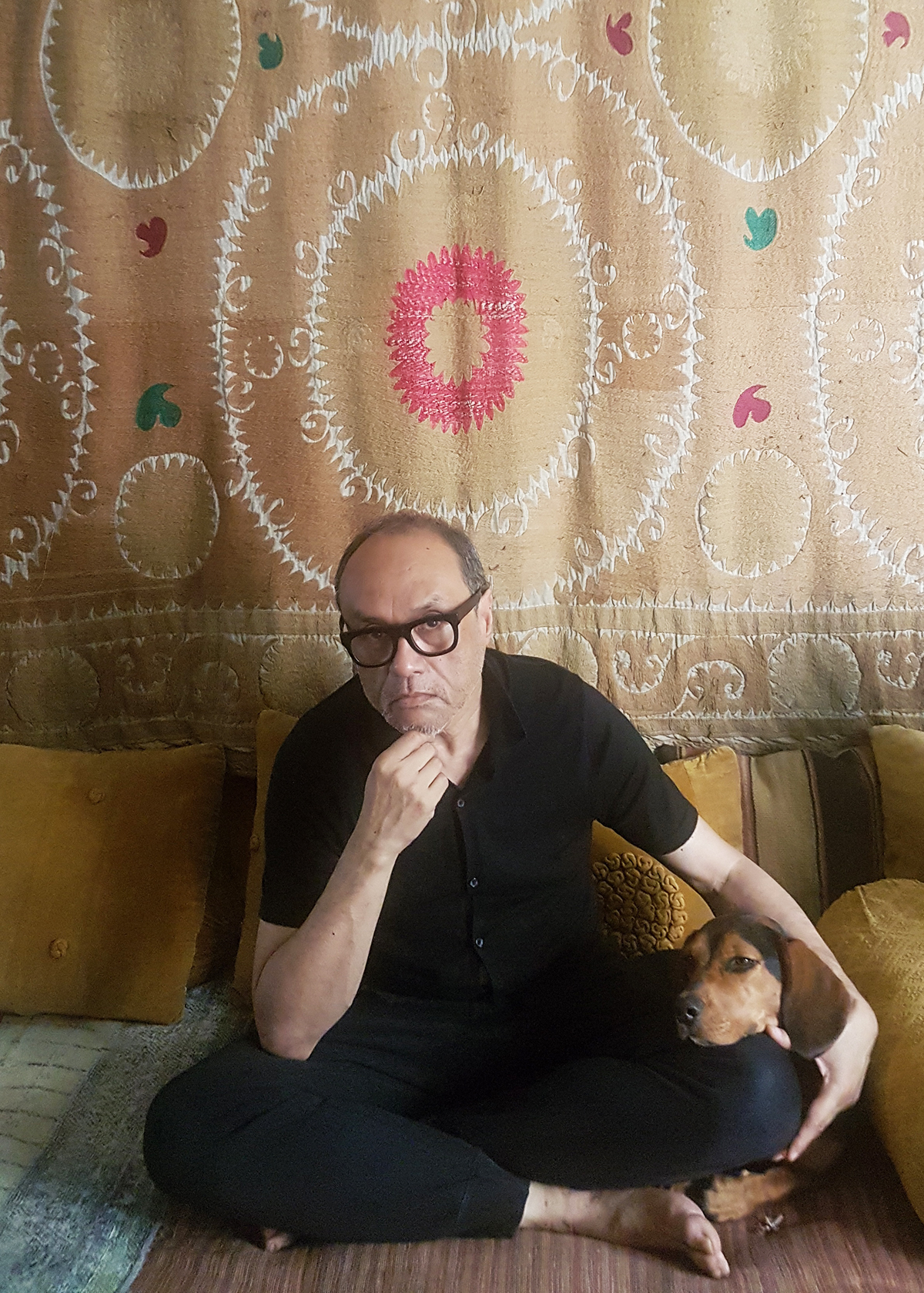 David Abraham, fashion Designer: This is the TV room. A happy space to hang out! Our three dogs enjoy hanging out here too. There's a lot of mattress space for them to stretch out. And the suzani hanging behind was found in Kutch. It had travelled all the way from Turkey to Bhuj.
Running in Circles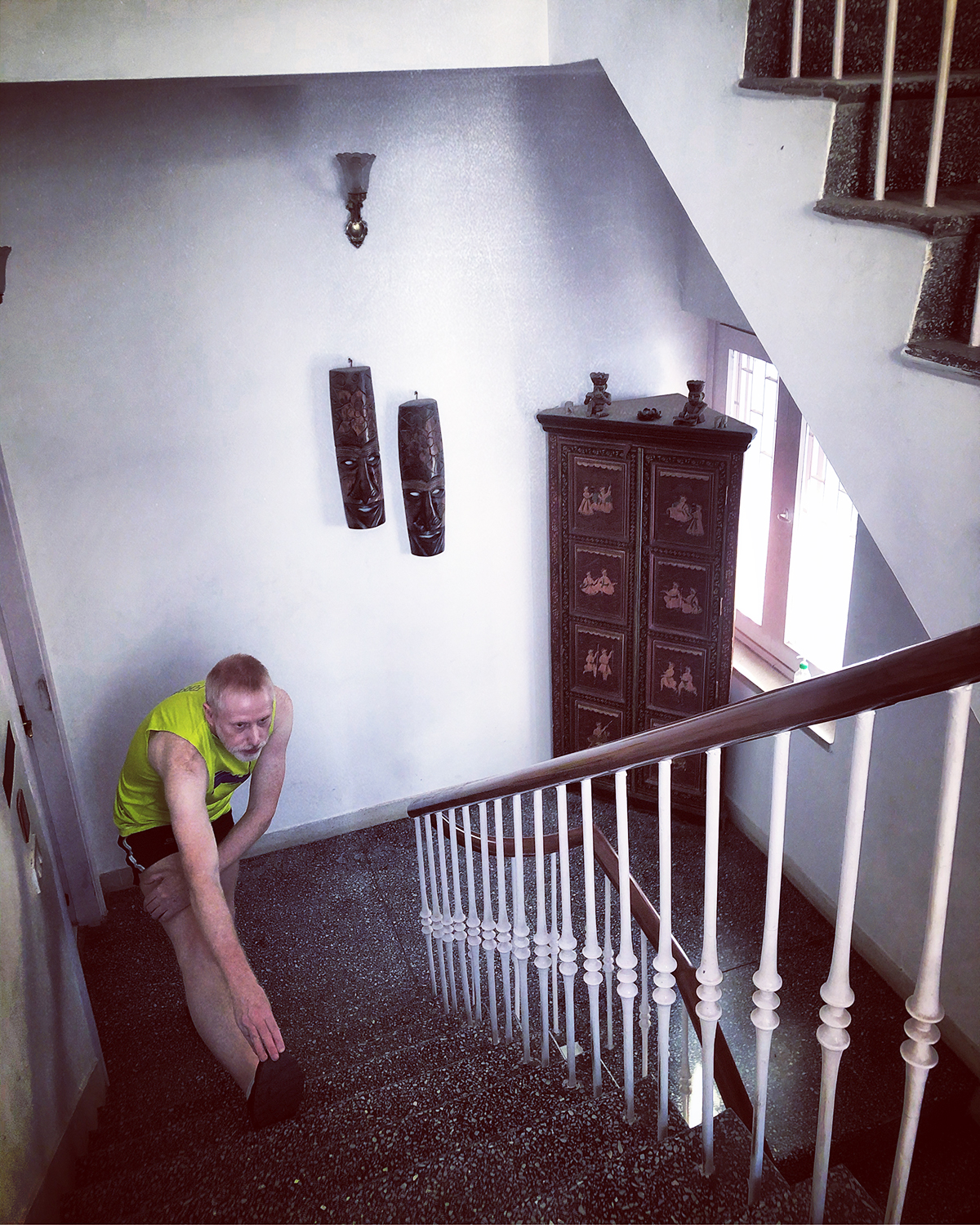 Jonathan Gil Harris, author/professor: Stretching in the stairwell after one of my pre-sunrise lockdown runs.Often I can do little more than run round and round the house — early on, I ran a half-marathon in our backyard — but these days, even running in circles feels like progress.
You Arrived to Change me From Artist to a Lover. Now You Are Art.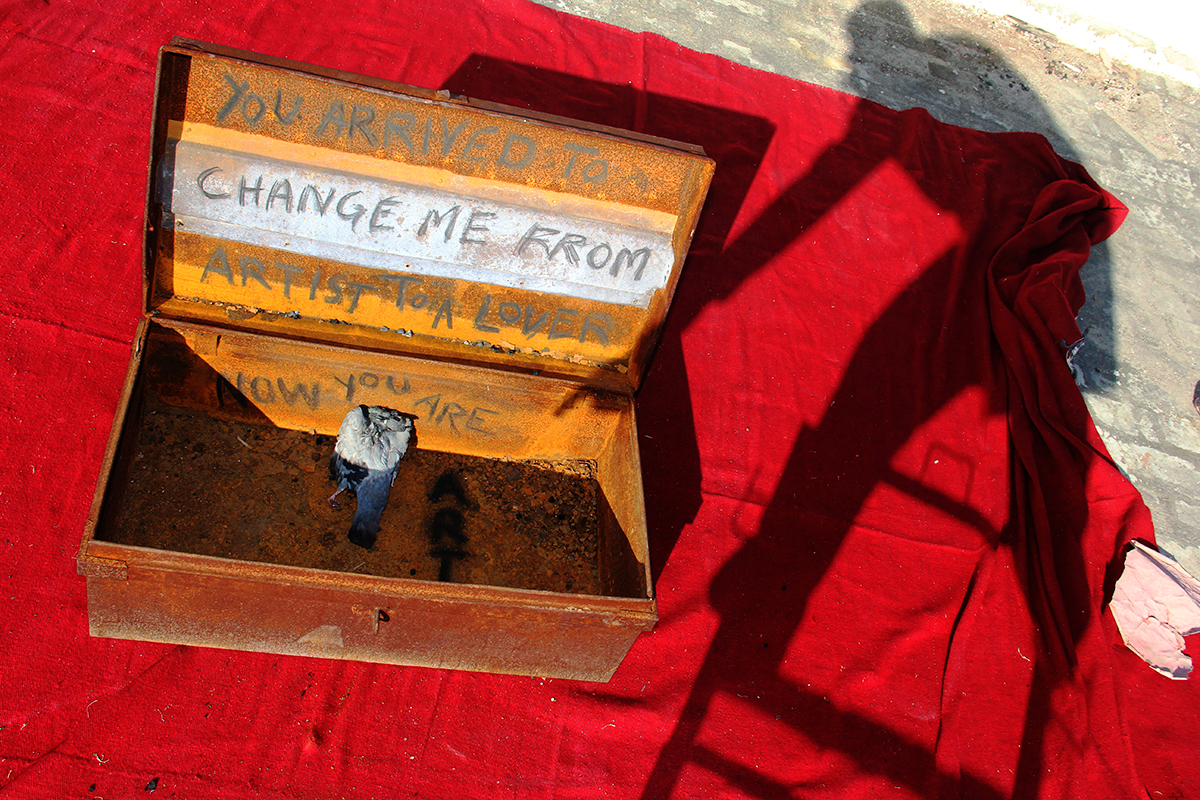 Inder Salim, artist: Art, a shadowy term near a dead bird in the rusty trunk. An elongated shadow of the artist/photographer somehow enters into a dialogue with the death. What is the location and position of the photographer in the frame? During this lockdown, can we reframe the image to discover the connections between artists and the subject? How much of both have mingled in the process? Strange times slowdown time within time, to analyse intensities, which resist…..
Drawers of Memory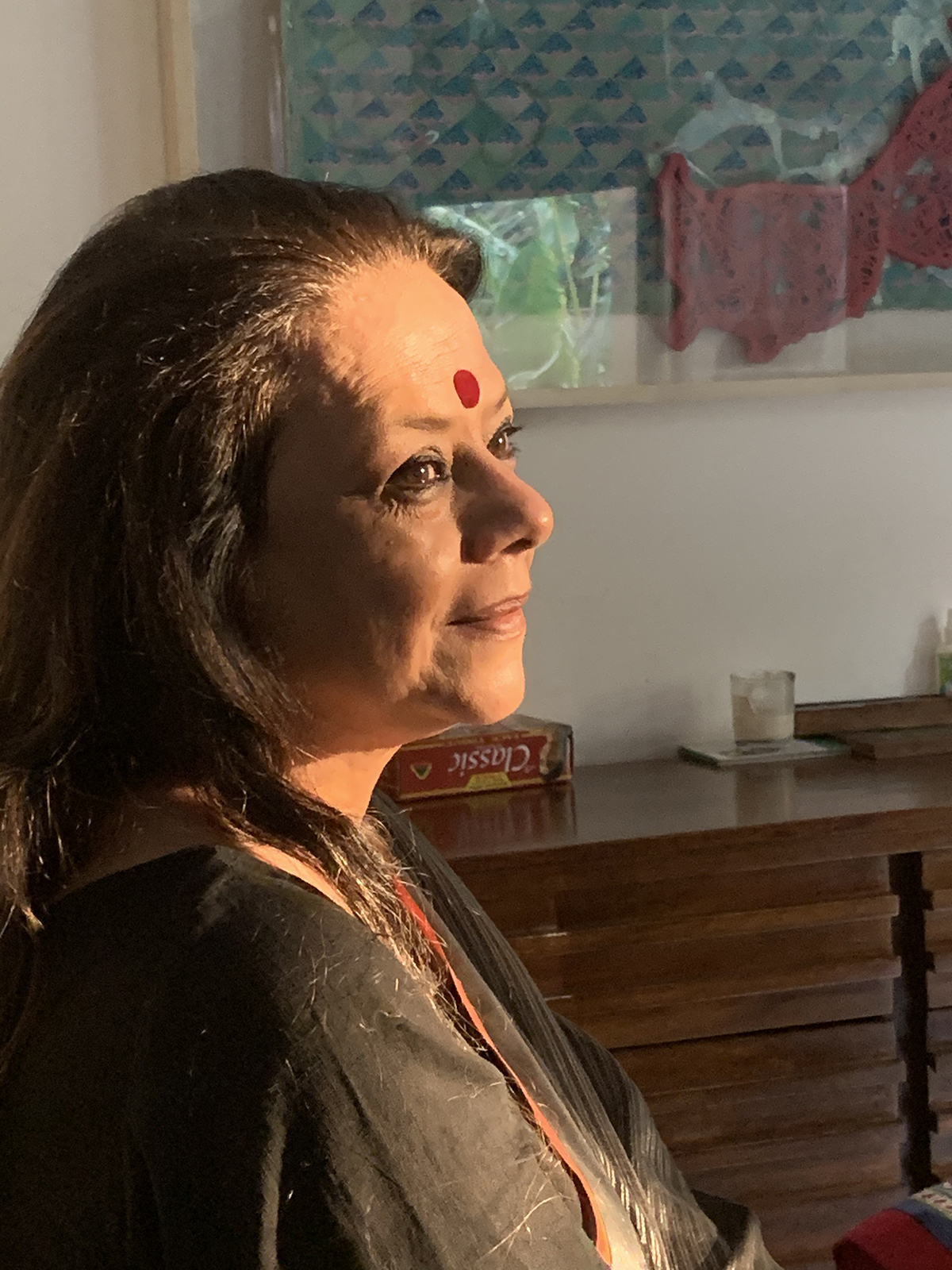 Ina Puri, art critic: Rediscovering oneself through this quiet time at home has been interesting. There is deep comfort in discovering memories locked away in drawers and almirahs you seldom looked into. I read Satyajit Ray's script, his letter written to a 16-year-old self and try to recollect how the screen test went when I was summoned to the Tollygunge Studio. There are Nemai Ghosh's portraits of Ray at work on my study walls. Out on the left is my favourite work by Zarina Hashmi, acquired from her last show at Gallery Espace in New Delhi. Letters from Ma trace my life from the time I was a little girl to the present day. And, then, there's Manjit.
Gateway to the Force of Life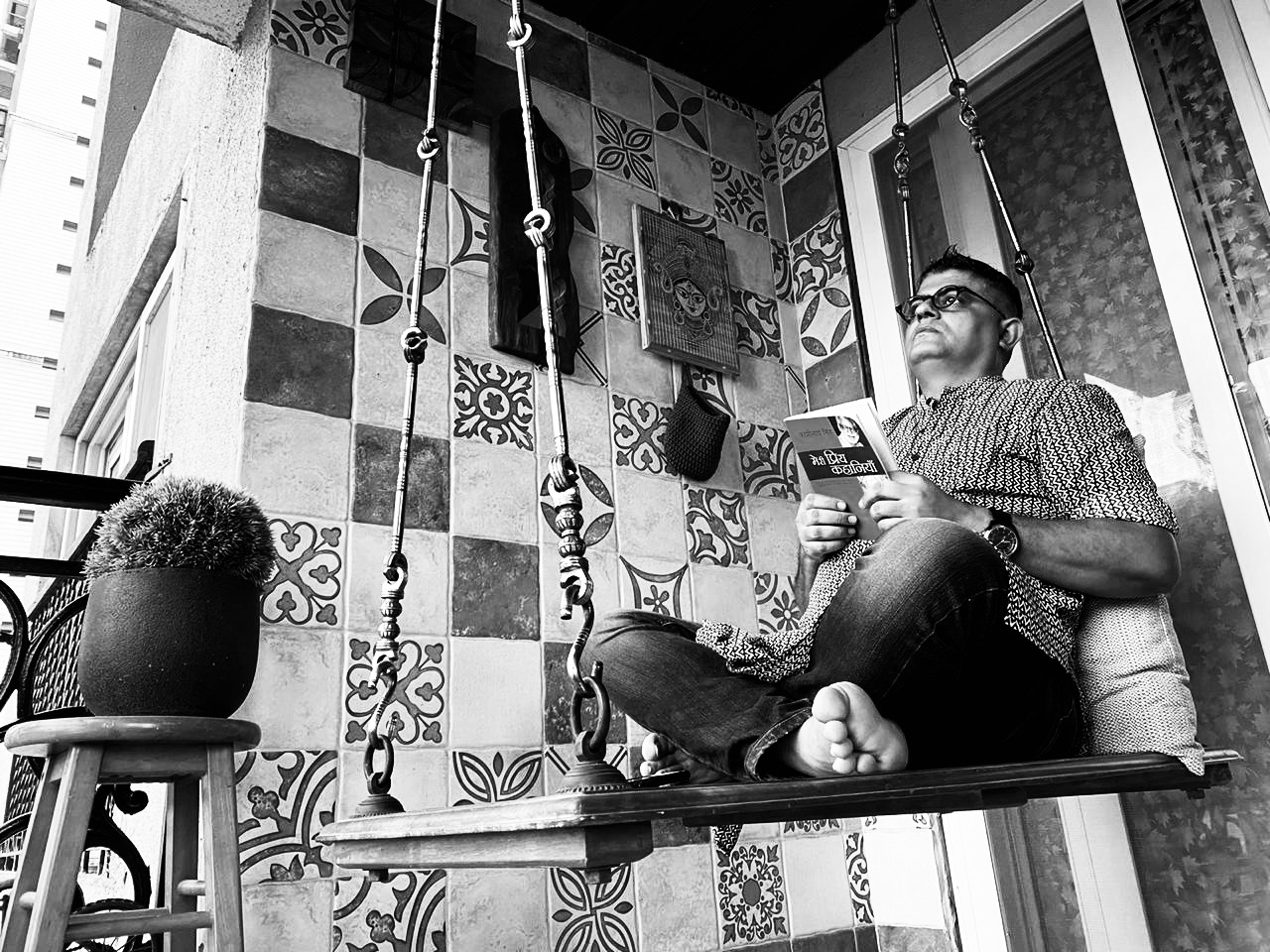 Gajraj Rao, actor: "Out beyond ideas of wrongdoing and rightdoing there is a field. I'll meet you there. When the soul lies down in that grass, the world is too full to talk about." They say Rumi is profound, but I never found any meaning in this quote. Where am I going to find a field in a city like Mumbai? And that, too,one just for my soul to sit down and catch a breath in? But thanks to this lockdown, I realised that all Mr. Soul needed was a small corner of its own. Just a tiny haven sheltered from impending deadlines and meetings.
Sometimes, a book finds its way to this balcony with me. I sit down calmly on this swing with a warm cup of chai. Swaying in the gentle evening breeze, the ever-wandering mind sets itself free unto the serenity of nature around. Like a toddler chasing a butterfly while a wrinkled guardian behind struggles to catch up! A few pages into the book, the words suddenly cease to exist. The cacophony within me and outside gradually fades into oblivion. The butterfly chasing toddler is now firmly seated in this theatre of the world, waiting for the next act that would amuse our Mr. Soul. Up next — nature's sounds and harmony! Slowly, and steadily, the viewer and the act become one and the same. Life passes by, and drops in for a quick chat with my rejuvenated soul. Wonder what that conversation would be like if words were used!
This was the story of my humble little corner, my gateway to the force of life and the mysteries of the universe. Must say, this Rumi chap did know a thing or two!
This piece is a part of our special issue on Art in the time of Pandemic, curated by critic, author and one of our contributing editors, Ina Puri
Donate Now
Comments
*Comments will be moderated
Nice Read.
K.S.SIVADAS
Jun 15, 2020 at 03:22