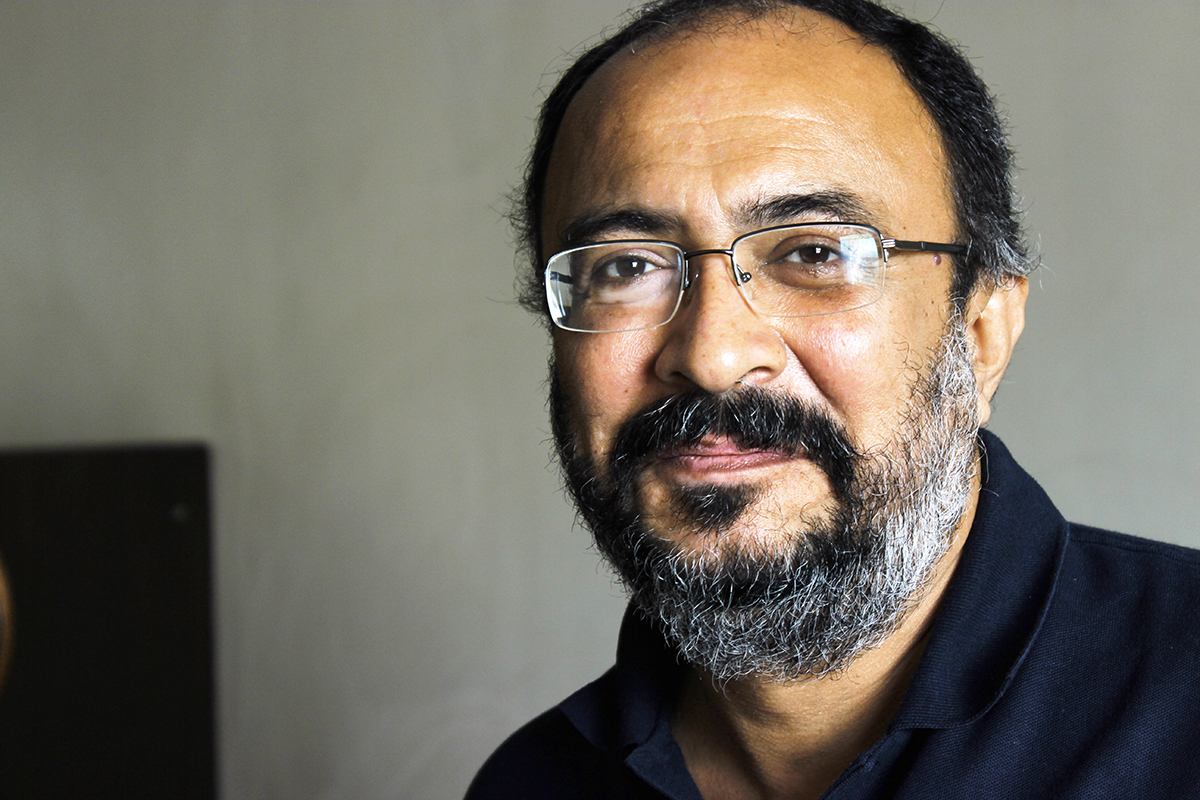 Anjum Rajabali. Photo: Cinestaan Digital
On the jury for Cinestaan India's Storytellers Script Contest, Anjum Rajabali is hunting for well-written scripts, based on original ideas
Anjum Rajabali, 59, is India's best-known screenwriter. Having spent over 20 years in the film industry, he is best known for films like Drohkaal, Ghulam, The Legend of Bhagat Singh, Raajneeti, Satyagraha and Aarakshan. He has also led various writers' rights initiatives in India and is most notably recognised for lobbying with other prominent writers and activists for amendments in the Copyright Act in favour of writers.

Rajabali is the head of Screenwriting at Whistling Woods as well as the Honorary Head of Screenplay Writing at the Film and Television Institute of India (FTII), a course that he founded in 2004. Rajabali also conducts coveted workshops, seminars and conferences on screenwriting that have helped writers in India and abroad. In mid-2014, he joined hands with Mumbai Mantra as convener for their new initiative, the Mumbai Mantra CineRise Screenwriting Programme — 100 Storytellers A Year — to nurture screenwriting talents in India.
As part of the Progressive Writers Group (PWG) India, Rajabali has been striving to see improvements in writers' rights in the Indian film industry. PWG has been steering the Film Writers Association (FWA) since 2008, with one consistent goal: Empower the writer. The FWA has lobbied, with writer and lyricist Javed Akhtar, for amending the Copyright Act in favour of writers and has also fought several cases against producers to get justice for their members.
Rajabali's latest engagement is "Cinestaan India's Storytellers Script Contest", a one-of-its-kind script writing competition. Rajabali is on the jury for the contest, along with actor Aamir Khan, director Raju Hirani and fellow screenwriter Juhi Chaturvedi. An initiative by Rohit Khattar's Cinestaan Digital Pvt. Ltd. (Cinestaan.com), it will award a prize of Rs 25 lakh to the best script. The total cash prizes for this contest will be Rs 50 lakh. Some of the best scripts shall be curated to be part of the Cinestaan Script Bank — a treasure trove that studios and production houses can delve into and then directly liaise with the writers, who often find it difficult to get their voice across.
The contest, which was launched on October 15, 2017, will remain open and accept entries till January 15, 2018. The scripts that have been submitted will be evaluated by the jury and the results will be announced next year. Cinestaan Digital is focused on building cinema-related products and services for networked audiences. One of its first offerings, cinestaan.com is an attempt to record and recount the rich past and vibrant present of Indian cinema and it is working to put together the most comprehensive database on Indian cinema (www.cinestaan.com).
In this interview with The Punch, Rajabali says that the plot and the character spring from each other. "They're inseparable from the genesis of the idea of the script, all the way till its final draft. It is the interplay of the characters with the circumstances that I throw their way that forms the story. Unpeeling characters as they struggle with plot problems is what makes the story interesting for me," he says. Excerpts from an interview:
The Punch: Tell us something about the Cinestaan India's Storytellers Script Contest. What kinds of scripts will you keep an eye out for?
Anjum Rajabali: The Contest has been designed to get all scriptwriters to give a script their best shot. We do believe that there is a lot of hidden writing talent in this country. Perhaps a huge contest like this, with such attractive cash awards, could unearth that. What we're looking for are interestingly written scripts, based on original ideas. There is no restriction on or preference for any particular genre or backdrop.
The Punch: You have been at the forefront of the struggle to give screenwriting its due. How crucial do you think is a good script or screenplay to any film?
Anjum Rajabali: A good script is imperative for any film, frankly. The primary reason why a film fails to connect with its audience is because the script wasn't conceived well, or crafted competently. To use William Goldman, the celebrated screenwriter's line: You can make a bad film from a good script. But you can never make a good film from a bad script!
The Punch: Who are some of the contemporary screenwriters you admire? What aspects of their crafts fascinate you the most?
Anjum Rajabali: I like much of the work that Jaideep Sahni has done, and I admire the work that Juhi Chaturvedi is doing. They pay very close attention to the milieu in which their story is set, and explore their characters in detail. There is a cultural specificity to their writing, which I find very attractive. And, they come up with very nice lines for their characters, in so many scenes.
Apart from these two, there are many new young ones too who are doing very interesting, fresh work. We could be looking at a future where we have a surfeit of well-written scripts!
The Punch: In what ways can the industry empower its screenwriters? What are some of the challenges and bottlenecks do you see along their way, especially those trying to make a mark?
Anjum Rajabali: Well, the film industry is beginning to acknowledge the centrality of good scripts. As a result, the filmmaking process is creating space for writers to do their work satisfactorily, unlike earlier times when scripts were being written while the film was under production.
However, writing fees remain at the low end for the average writer. While making their budgets, filmmakers should allocate large fractions for writing fees, keeping a buffer in case they need to hire re-writers. Then, credit allocation has to be contractually guaranteed, which is not in the contracts of several studios and production houses. Third, directors should understand that a script comes with a writer's vision, which should be considered and understood before deciding on the changes needed. Directors should remain with the directorial credit, and allow writers to write and take credit for that.
The Punch: Tell us about your influences in cinema and literature. Who are some of the filmmakers you have looked up to and others whom you would love to work with?
Anjum Rajabali: Mythology has been an abiding love in my life. And, I guess, it has had a lasting influence on me not just as a writer, but as a human being as well. In literature, as a child, I was hugely influenced by Charles Dickens' novels. Later, Shakespeare, Ibsen, John le Carre. Some of the Indian filmmakers whose work I have liked are Mehboob Khan, Bimal Roy, Ritwik Ghatak, the early work of Shyam Benegal, Govind Nihalani, Mani Ratnam and Rajkumar Santoshi. From the current directors, I'd like to write for Vishal Bhardwaj, Anurag Basu, Abhishek Chaubey, Navdeep Singh.
The Punch: As a screenwriter, what is your own approach to a story? What could be your recipe for a perfect script?
Anjum Rajabali: For me, the plot and the character sort of spring from each other. They're inseparable from the genesis of the idea of the script, all the way till its final draft. It is the interplay of the characters with the circumstances that I throw their way that forms the story. Unpeeling characters as they struggle with plot problems is what makes the story interesting for me.
There's no recipe, and can't be, for a perfect script, I'm afraid. Writing a good script, by itself, is a daunting task, full of back and forth movements. And, even after it's done and liked, the writer can only see flaws in it!
The Punch: How do you look at the Copyright Act now? Could you talk about the changes you would want to see in the act for it to nurture screen writers.
Anjum Rajabali: The Copyright Act was amended in 2012, and now it makes a lot of sense for screenwriters. Copyright is protected as soon as it is created. Rights in it are assigned specific to the contract. Moreover, the right to receive royalty is guaranteed and inalienable. It was a good amendment for everyone, so I don't think it should now be tinkered with, for a while.
The Punch: What will be your advice to a budding scriptwriter?
Anjum Rajabali: Start by acknowledging that writing a script is going to be a difficult journey. It is going to demand patience, frustration tolerance, and a lot of hard work that also involves much rewriting. So, be prepared for it, and do not give up when the going gets hard. Two, write from the heart. Write what you know (or can know) and believe in. Do not take up a plot which you are not interested in! No amount of money or an attractive alliance is going to improve your script. Only your interest will. And, third, pitch and defend your work with conviction. It's very easy to want to please the director or producer or star. If that is the only reason you're altering the script, you may be looking at bad work. Changes are good, but provided the writer is convinced that it'll improve the script.
The Punch: Do we have enough institutions in India to impart right training and help screenwriters grow? What role do you think institutions like FTII and NFDC could play?
Anjum Rajabali: No, unfortunately we haven't taken training in filmmaking seriously enough. And, within that, screenwriting has been the most neglected discipline. FTII and Whistling Woods International (WWI) have good courses that teach screenwriting, but we need more. FTII has begun a series of 20-day courses in screenwriting, which is a good beginning. WWI does large screenwriting masterclasses regularly. That's encouraging too. Now, Mr Ramesh Sippy is starting a film school in Mumbai University, and I believe that SRFTI too is considering a specialised course in screenwriting. We also do not have enough teachers of the subject, since screenwriting wasn't seen as a subject of study for a long time. But, I think good people are getting attracted to its teaching, even if on a part-time basis, and soon we should have a good number of learning opportunities for aspiring writers.
The Punch: What are some of the projects you are currently working on?
Anjum Rajabali: Well, there's Salute that I've written, which Mahesh Mathai is to direct. It is based on the life of Rakesh Sharma, India's only cosmonaut. Then, there are a couple of web series that I'm currently working on.
Donate Now
Comments
*Comments will be moderated