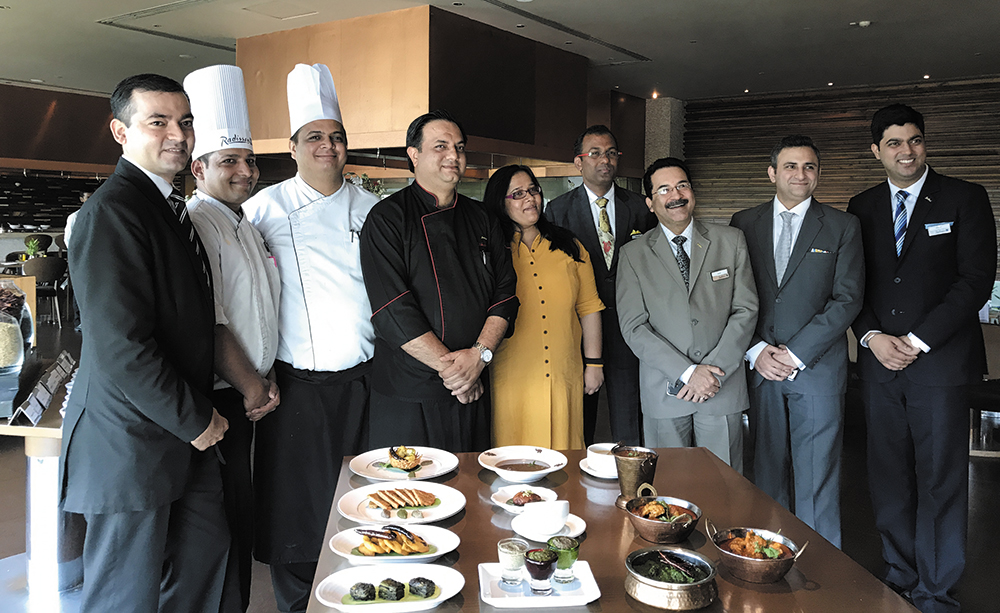 The team at Radisson Blu, Paschim Vihar, with Shepherd's Table curator Madhulika Dash; GM Arun Arora on her right and Executive Chef Vikas Pant. Photos: Radisson Blu
The Shepherd's Table, organised by Radisson Blu at Indyaki, was curated by Madhulika Dash. It was conceived as an ode to the Himalayan cuisine.
Most of us who are frequent travellers to the hills have a fair knowledge about the traditional cuisine or pahari khana, especially in the Garhwal and Kumaon regions of Uttarakhand. Food from these regions is earthy and unique in its own way. It is simple to cook and very appetising. Most of the agricultural produce in the mountains are organic which ensures good taste and health.
Some of the most common ingredients used in the Himalayan cuisine are: kulath ki daal, gahat ki daal, black soybean pulse, jakhiya seeds, jhangora, bhangjeera and mandwe ka atta.
Arun Arora, the General Manager of Radisson Blu, Paschim Vihar, in New Delhi recently organised a lavish pahari lunch called "The Shepherd's Table" at its authentic Indian restaurant, Indyaki. It was curated by food enthusiast and writer Madhulika Dash with the help of Executive Chef Vikas Pant and his team.
The table was beautifully laid out and each dish on the menu was meticulously presented. The welcome drinks, Buransh ka juice (made of rhododendron flowers) and Malte ka juice (citrus fruit) are made from local harvest in Uttarakhand and are recommended summer coolers. They provide welcome break from tetra packed juices and flavoured drinks.
Unconventionally, the first dish to arrive at the table was a sweet dish, Jhangore ke kheer and Chawal ke arse. It's a local festival delicacy made of rice flour and jaggery. A similar dessert, called Anarse, is very popular in Bihar; it tastes very similar except for the sesame seeds garnish.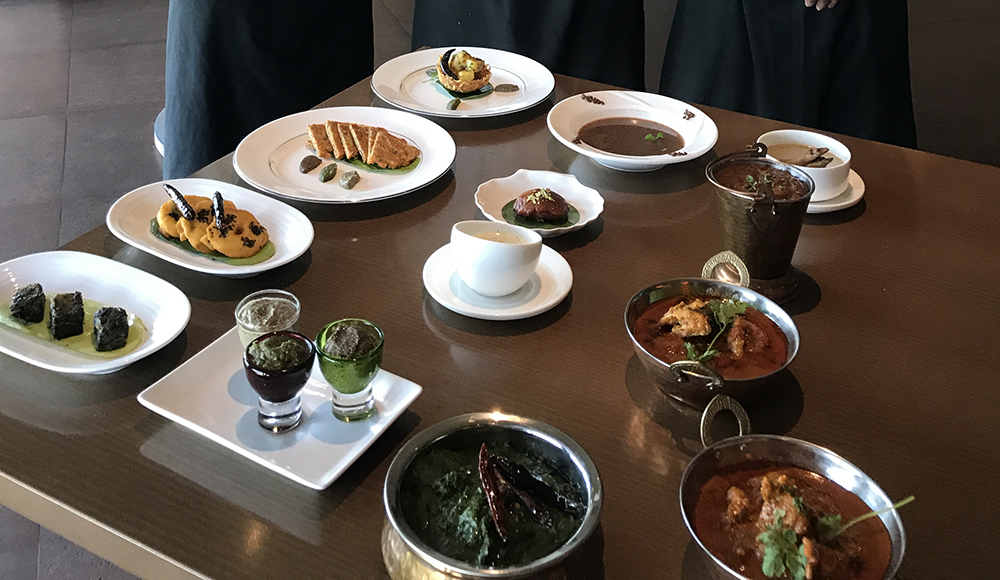 In Kumauni snacks, there were aloo ke guthke, urad dal ki pakori, patyud and dal ki patudi. These were followed by soups — gahat ki dal ka soup and kharode ka soup, rich clear soup of lamb trotters. These are delicacies from the mountains and best eaten during winters to keep oneself warm. Gahat is kulath pulses, locally grown in Uttarakhand.
Chutney and pickles are typical Indian condiments that we can't do without. The special chutneys from the mountains are til ki chutney, lehsoon ke patton ki chutney, bhangjeer ki chutney each have a unique taste.
"Himalayan food is simple, light and sophisticated. There is less use of ghee and oil and yet one can feel the creamy taste. The idea of The Shepherd's Table is to introduce people to pahari cuisine, its taste and health benefits so that one is aware and can look for authentic meal when travelling in the hills," says Madhulika Dash.
The first round of main course had kafuli, thick gravy preparation of fresh green vegetables, spinach and rye leaves. Bhadu ki daal is mixed dal cooked for hours in a vessel called bhadu. Tari wala Shikaar, hunted lamb meat, is cooked on low heat. Gahat ke paranthe go well with jhangora, a local cereal also known as falahari dish.
In desserts, there was Almora ki bal mithaai, a chocolate-like fudge, made with roasted khoya and coated with white sugar balls. Tehri ki singori is made with khoya and wrapped in maalu leaf. In taste, it is very close to kalakand.
The second round of main course had Bhatwaani, soybean pulses, Thetchwaani, crushed baby potatoes very popular in the Garhwal region, Maache Ka Jhol, Mandua ki roti, made of mandua flour, and Pahari Bhaat. Next time when you go to the hills, don't forget to try some of these.
Donate Now
Comments
*Comments will be moderated