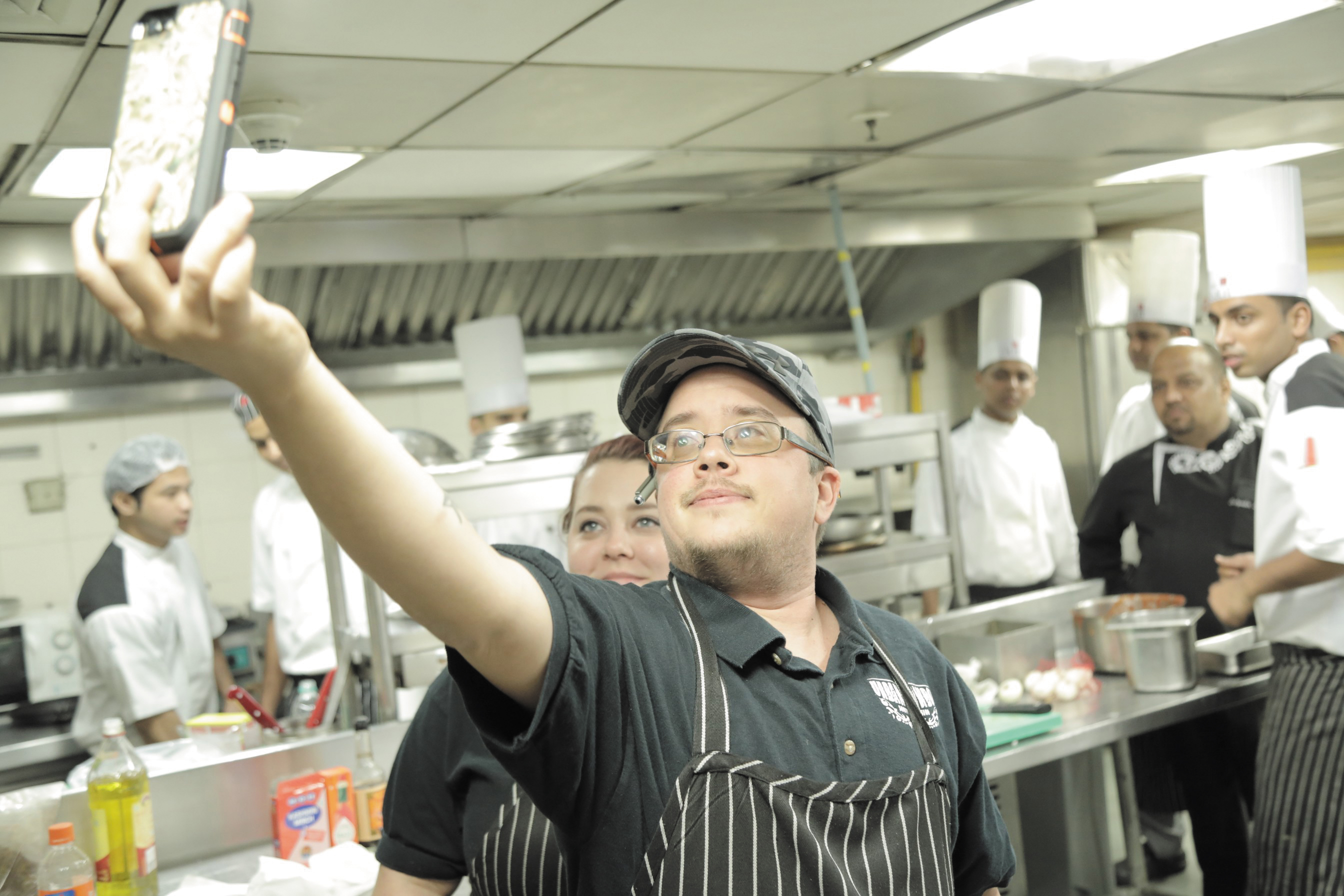 Chef Trapani, a globally celebrated authority in Tex-Mex Food, kicks off Lalit Suri Hospitality Group's Pure Love campaign to promote inclusivity and diversity
The Lalit Suri Hospitality Group began the New Year by taking forward its theme of inclusivity and diversity. Spreading the message of #purelove, the group brought in Chef Chris Tripani from Texas. Chef Chris Trapani is the first transgender chef to appear on the Food Network in the United States. Since his arrival on the scene over a decade ago, Chef Trapani has emerged as a role model for the rights of the LBGTQIA community.
Chef Trapani, a globally celebrated authority in Tex-Mex Food, went on a five-city tour, visiting New Delhi, Mumbai, Bangalore, Kolkata and Chandigarh. For his New Delhi visit, Chef Chris, along with The Lalit Food Truck Company chefs, conducted a skill development workshop for the members of transgender community. The aim of this workshop was to share anecdotes on how to set up and run a successful food truck and catering business, united by the passion for food.
Chef Chris Trapani said, "My move to Texas changed my life over a decade ago. Today, I am hoping to touch and inspire some lives in India. I want to thank Mr Suri for giving me this opportunity. I have heard a lot about the country and can't wait for the journey to begin."
Keshav Suri, Executive Director of The Lalit Suri Hospitality Group, said, "I've had food trucks for two years. We also do outdoor catering, but I haven't spoken much about it. Even though we opened the food trucks with a bang, we never really went crazy exposing it. Recently we've done up Plaza Terrace Garden. It used to be something completely different and now I want to have an opportunity where I bring a chef who is a food truck chef, an outdoor catering chef, who can mix and we can open this place with a bang as well and talk about it. That Chef just happens to be a transgender. I've hired a lot of people from the transgender community, but the grassroots still thinks that transgenders are either prostitutes or beggars and I think the more representation we have, they'll know that they can be chefs, they can be general managers, they can be CEOs, that they are as efficient and competent as anyone else. And the same for the LGBTQ. It's basic human right. We are actually very creative, smart, go-getting people. I'm hoping that there are more people who come up and speak out and do this and it's high time that anyone in the hospitality industry or any industry, smartly thinks that if you are building these loyal people, they are going to work with you for a very long time… Our biggest plan is pure love and to be yourself."
In an interview, Chef Chris Tripani talks about his journey down the gourmet lane.
Shireen Quadri:
Tell us about your personal and professional journey.
Chris Tripani:
I am from New York and lived there for 28 years. During childhood, I was confused and may be, angry. I moved to Austin 11 years ago, where I set up food truck, Urban Cowboy, and also transitioned. My wife has been my constant pillar of support. She also helped me a lot in my transition. People think of the South as a more conservative place. But cities like Austin are like Bengaluru. The headquarters of Facebook is there now; it also promotes inclusion and is very artsy, over all. I was the first transgender chef to appear on the Food Network in the United States, in 2015, when I participated in the Great Food Truck Race. My life changed after that.
Shireen Quadri:
How does it feel to be a role model for the LGBTQI community, especially in the hospitality sector.
Chris Tripani:
It feels great to be recognised as a role model, especially for a cause that you believe in and have been a part of the journey yourself. The food world is a safe haven for LGBTQ people. Food is a creative outlet, and LGBTQ people seek that. It's an ideal place to let loose your creativity. I would say, start a food truck. It's independent, and is good for trans people who are anyway seeking confidence. I always saw India as a place of peace, harmony and Kamasutra. I was surprised to see the community's fight here.
Shireen Quadri:
Tell us about the skill and development workshop you are holding at the LaLiT Hotels across India.
Chris Tripani:
It has been an incredible experience for me to be a part of this inclusivity campaign with The Lalit Suri Hospitality Group; I have tremendous respect for Mr Keshav Suri for driving it with such magnanimity in a country like India. I met many talented people here, some still young and fighting an inner battle, but dreamers nevertheless, and passionate. My only message to everyone is to believe in yourself and while you are going through an inner battle, do talk to your friends or support group. And, yes, eventually it does get better! I met a young boy who recently transitioned and has a gol gappa stall. Who knows he may become a popular restaurateur tomorrow. I hope this workshop gave them the much-needed confidence and they may continue in the journey of life with a renewed jest.
I did workshops with people from the transgender community, bloggers and media, and chefs also. It was a great learning experience for me also and has given my confidence a boost. I hope I come to India again and feel myself lucky to be a part of this campaign of inclusivity and diversity.
Shireen Quadri:
Tell us about your travels to the five cities in India.
Chris Tripani:
I actually travelled to six cities – Delhi, Bangalore, Kolkata, Mumbai, Chandigarh and Agra. The Lalit Suri Hospitality Group was kind enough to take me for a trip to see the Taj Mahal. I always had Indian friends and knew about its culture. But nothing prepared me for the real thing. The curries, the aroma, the traffic… India is magical. I am totally bowled by the hospitality and warmth of this country. The food here is different. The naan, rotis and butter chicken is amazing. I have been to the vibrant bazaars and historic monuments. I only wish to come back again soon.
Shireen Quadri:
What are your future plans?
Chris Tripani:
Professionally, I want to open a restaurant and more food trucks. Along the journey of life, I want to inspire people from the transgender community and I am always there for anybody who needs me to talk, or support in my own capacity. My trip to The Lalit in India has also given me a stronger sense of purpose to be the voice for the community.
Donate Now
Comments
*Comments will be moderated