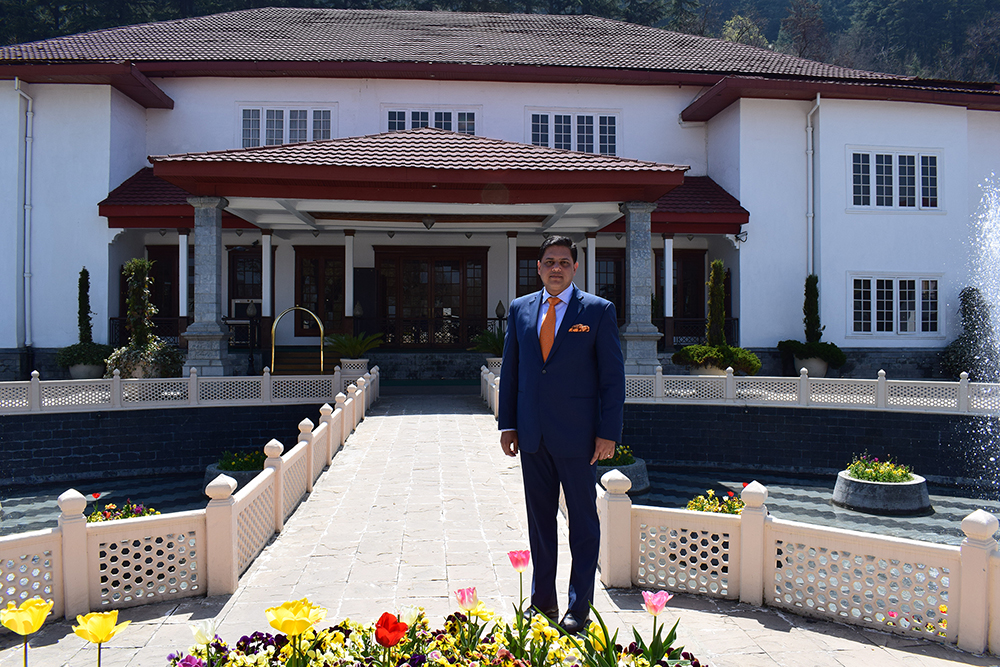 Vipin Singhal, resident manager, LaLiT Grand Palace Srinagar. Photo: Shireen Quadri
Vipin Singhal is the Resident Manager of The LaLiT Grand Palace, Srinagar. Having been in the industry for 19 long years, Singhal has earlier worked with Burj Al Arab and ITC Grand Maratha. Excerpts from an interview:

SHIREEN QUADRI: Since you took over as the Resident Manager of the LaLiT Grand Palace, what changes have you tried to incorporate?
VIPIN SINGHAL: As a Resident Manager, I'm responsible for each and everything. However, the stress is more on quality. I believe in listening to my team because they offer insights on how one can run the property better. I like knowledge-sharing with my team and equipping them with skills. I don't micromanage and I always have the
interest of the hotel in mind. There are many other aspects that I look into.
SHIREEN QUADRI: What does the day-to-day functioning entail?
VIPIN SINGHAL: I'm responsible for managing the hotel's executive team and overall hotel's target to deliver an excellent guest and member experience. I also manage profitability and guest satisfaction measures.
SHIREEN QUADRI: How would you compare this property with other five-star hotels? Who are your key competitors in the region?
VIPIN SINGHAL: Well, this is a tricky question because when businesses say this, they are often referring to the fact that they feel they have a product that does something or has features that perhaps other products don't have. And, based on this, we at the LaLiT strongly feel that no product compares to our unique functionality and facilities; therefore, we have no competition. But the phrase "we don't have any competitors" or the "the product sells itself" are treacherous phrases to be used and I will desist from using them. Even if our product or service is completely 100% unique in functionality and facilities, we are always still competing for budget with other hotels like... Vivanta by Taj and Khyber at Gulmarg.
Moreover, it may vary from customer to customer who chooses to spend on something completely different as they consider it more important to them at that moment. In the field of hospitality, we could be offering the most amazing, unique, innovative piece of technology in the world, but what we are competing against is the budget. The challenge is finding a way to ensure our potential customers consider what we are offering as high priority. Ultimately, knowing our own competition is the key to creating a great marketing and sales strategy and, believe me, they definitely exist!
SHIREEN QUADRI: How do you plan to ensure the safety of your guests and the strategy to cultivate the clientele?
VIPIN SINGHAL: We consider our brand is a home away from home. Everyone who walks through the doors of our property expects to have a feeling of comfort and well-being. Keeping our guests feeling safe and secure is extremely important. Being a Resident Manager, I'm not only responsible towards our guest, but also my subordinates who arrive at work.
In terms of guest safely, we are flexible enough to amend the date of the travellers without any surcharges to ensure the safety and satisfaction of our guests. Most of our clients are repeating each year and our guest feels like our place is a home away home for all.
SHIREEN QUADRI: How important is social media and other travel sites in building a hotel's reputation and increasing the number of visitors?
VIPIN SINGHAL: Based on our study, Facebook has become more popular for finding travel inspiration and reviews than traditional online review sites like TripAdvisor. While one might not think of Facebook as a review site, the content created by travellers serve as reviews whether they have a star rating or not. Not only does this study tease out which social networks are being trusted for review content, it also highlights user behaviour when it comes to leveraging reviews.
Travellers are increasingly looking to their peers on social media sites for travel inspiration and reviews. About 60% travellers plan a trip based on the reviews of others customers' experiences. The reputation and footfall of customer is really based on the positive feedback and reviews of the customers who had a good experience.
SHIREEN QUADRI: Please tell us about your journey in hospitality so far?
VIPIN SINGHAL: It's been 19 long years in the industry and it's not been easy at all. This started in 1996 when I graduated with B.Sc Maths (Hons) degree. A lot of my batchmates went for MBA and MCA. I have always been fascinated with the service industry, like airlines/hotels. I registered myself for the course against everybody wish and then the struggle started. When I completed the course, the entire country was under the threat of "SARS" and the industry was badly hit. It was really difficult to get a job with reputed brands. Then 9/11 happened and the hotels started downsizing. So, it's been a roller-costar and I had my share of tough time professionally. But with the support of my family I always stood tall. Getting though Burj Al Arab was the turning point of my career.
After a couple of years at Burj Al Arab where I experienced true luxury, I came back and joined ITC Grand Maratha. I learnt the best customer service at ITC which taught me that the guest always comes first.
I joined The LaLiT Hospitality Group in 2011. It is a group which has dynamic expansion plans. It has been instrumental in crafting my career and giving me the platform to perform. Here, they believed in me. The CMD and the executive directors taught me that the definition of excellence was "consistently meeting right standards" and the inseparable union of quality and ethics.
Donate Now
Comments
*Comments will be moderated