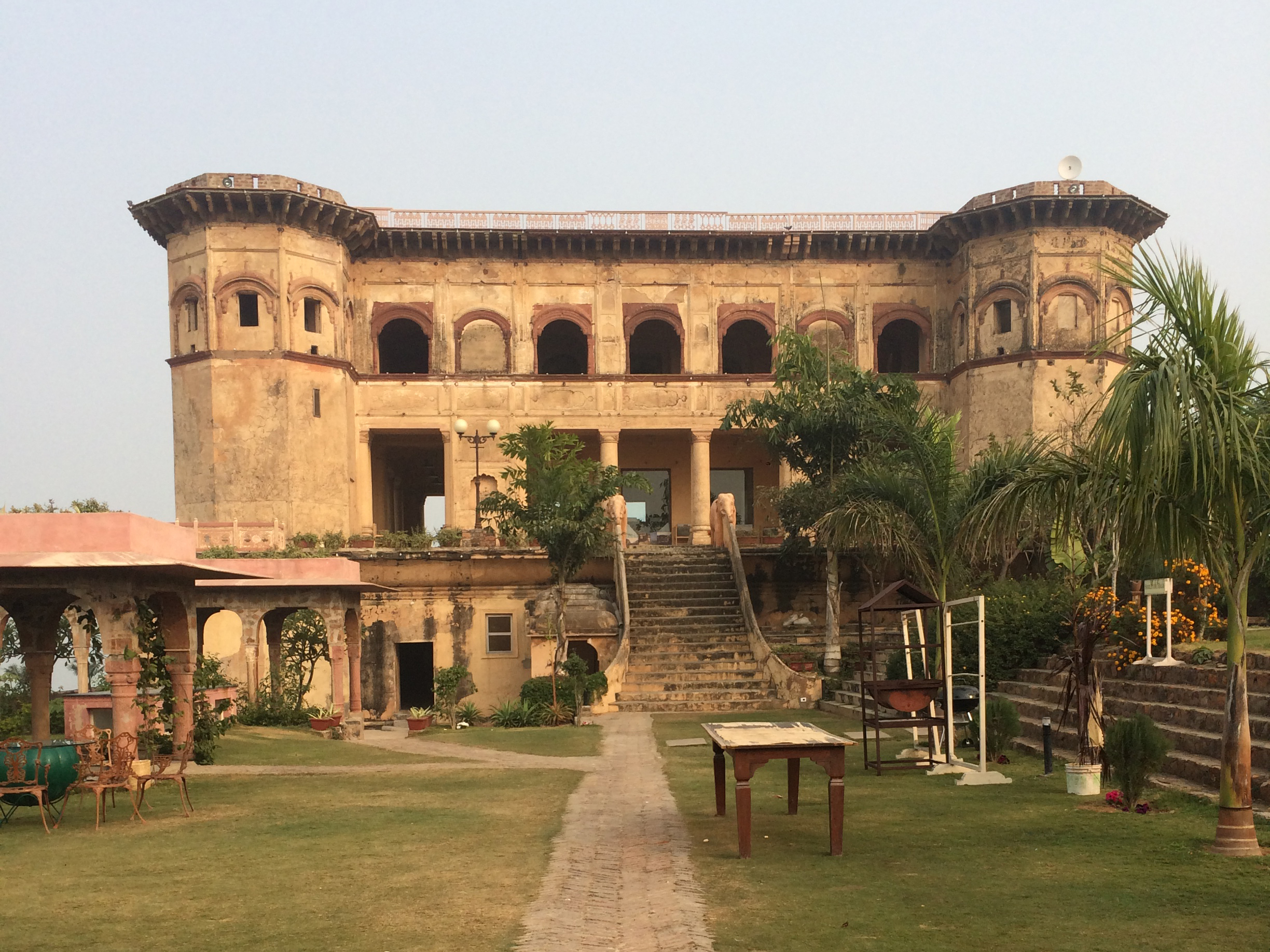 All photos: Shireen Quadri
The idea that one can stay in a fort seems like a privilege as most of us are used to visiting such fort-palaces during the daytime and return. It satiates many curiosities as to what transpires within these forts when they have no visitor after dusk. And how it feels to live in a palace, to sleep and wake up amidst walls that are centuries-old with arched pillars and antique doors and windows. Spending a weekend at Tijara Fort-Palace in Rajasthan makes it possible to partake of that privilege.
THE PRIMER
Neemrana Hotels is a very thoughtful and passionate initiative in the heritage hotel movement in India, pioneered by Aman Nath and Francis Wacziarg (he passed away in 2014). It all began while they were researching wall frescoes for a book and chanced upon the Neemrana fort on the Aravalli range in Rajasthan. They bought the fort and restored it as they had earlier restored a few havelis, but were not sure of its purpose.

They started inviting friends to stay over and were gradually flooded with similar requests. In 1991, the hotel readied 12 rooms and opened its gates to people.
The 19th-century rooms are designed in colonial style and the 15th-century rooms in Indo-Islamic way. They chose to add the tag of "non-hotels" to distinguish Neemrana hotels from the traditional five-star luxury properties.
Since the inception of their first hotel, they have acquired over 25 heritage properties and after restoration, converted them into heritage hotels. Neemrana Hotels were all constructed in the period from the 14th century to the 21st century and celebrate 700 years of heritage.
The business solution to sustain a massive project like Neemrana Hotels is to convert a part of the property and make it functional. The revenue earned thus is used to start another phase of restoration — this keeps the overhead cost and risk low while the business is still running.
They also make more than 10-12 rooms functional at a given time to make a project commercially viable and self-sustainable. And while restoring a property, they make sure that the heritage aesthetics are not lost.
Neemrana Hotels comes to the rescue of state governments, who own large number of forts and palaces, but do not have the funds or the wherewithal to maintain them.
There are also individual owners /royals who seek their help. While other hotels take at least about 7-8 years to break even, for Neemrana Hotels it's only a matter of about three years.
OVERVIEW
The 19th century Tijara Fort in Rajasthan's Alwar district was not a ruin, but a building that had been left unfinished in 1845 because of the premature death of Raja Balwant Singh, who started the construction of this fort-palace in 1835; the Neemrana Hotels founder pair undertook its completion. Rajasthan government has leased them the fort for 60 years. And, so far, it has taken them about 8 years to complete and make it operational. The construction in some part is still going on.
Entrance to Rani Mahal

Just 160 km away from Delhi, it takes about two-and-a-half-hour to reach. Tijara Fort-Palace, which is exclusively for resident guests, lies in close proximity to the well-known Sariska Tiger Reserve, making it an ideal weekend getaway. While it was lying abandoned, locals and adventurous biker groups used to visit Tijara fort for little get-togethers and picnics and left tell-tale signs of their presence, scribbling and engraving names of their loved ones. By restoring it, Neemrana Hotels has made sure that the fort doesn't succumb to its misery. It has helped the fort keep its cultural identity alive, generate local employment and facilitate a unique experience for its guests, therefore becoming accessible to more and more people over a period of time.
Through the congested bylanes of Tijara as one hits a narrow lane, there are teak trees and mustard plantations in full bloom — during winters — on either side of the lane that leads to the small hillock on which the fort is built. And all around the hillock at 360 degrees there are only large tracts of agricultural fields, adorned by furrows and a few scattered hills. The different shades of green look pretty as one sees it from the top of the fort. The fort feels like a beautiful island — magnificent and mystical.
Page
Donate Now
Comments
*Comments will be moderated