Rooh Delhi, a spinoff of Rooh San Francisco, has found home in a refurbished 150-year old heritage haveli overlooking Qutub Minar at Ambawatta One in Mehrauli. Photos: Rooh Delhi
After the success of its first outlet in San Francisco in the US, Rooh, a restaurant and cocktail bar, arrives in Delhi, with a blend of the traditional and modern Indian cuisine
When Rooh San Francisco (SF) burst on the US fine dining scene in 2017, it was hailed as a bellwether Indian-inspired restaurant and cocktail bar in the city dotted with some of the world's best cuisine and cocktails destinations. Rooh SF, located on 333 Brannan Street in the heart of San Francisco's burgeoning South of Market (SoMa) district, went on to add zest to the eclectic upscale restaurant experience with its progressive take on Indian cuisine, ingeniously fusing the wide range of its flavours with what has now become staples at modern restaurants.
Rooh SF was started by Executive Chef Sujan Sarkar, and Vikram and Anu Bhambri of Good Times Restaurant group, which currently runs multiple fine and casual dining restaurants across US and India, with the avowed goal of "changing perceptions, creating new food trends and bringing the best of true Modern India to the world" through their innovative menu and artisanal cocktails, using organic, sustainable produce and handcrafted ingredients.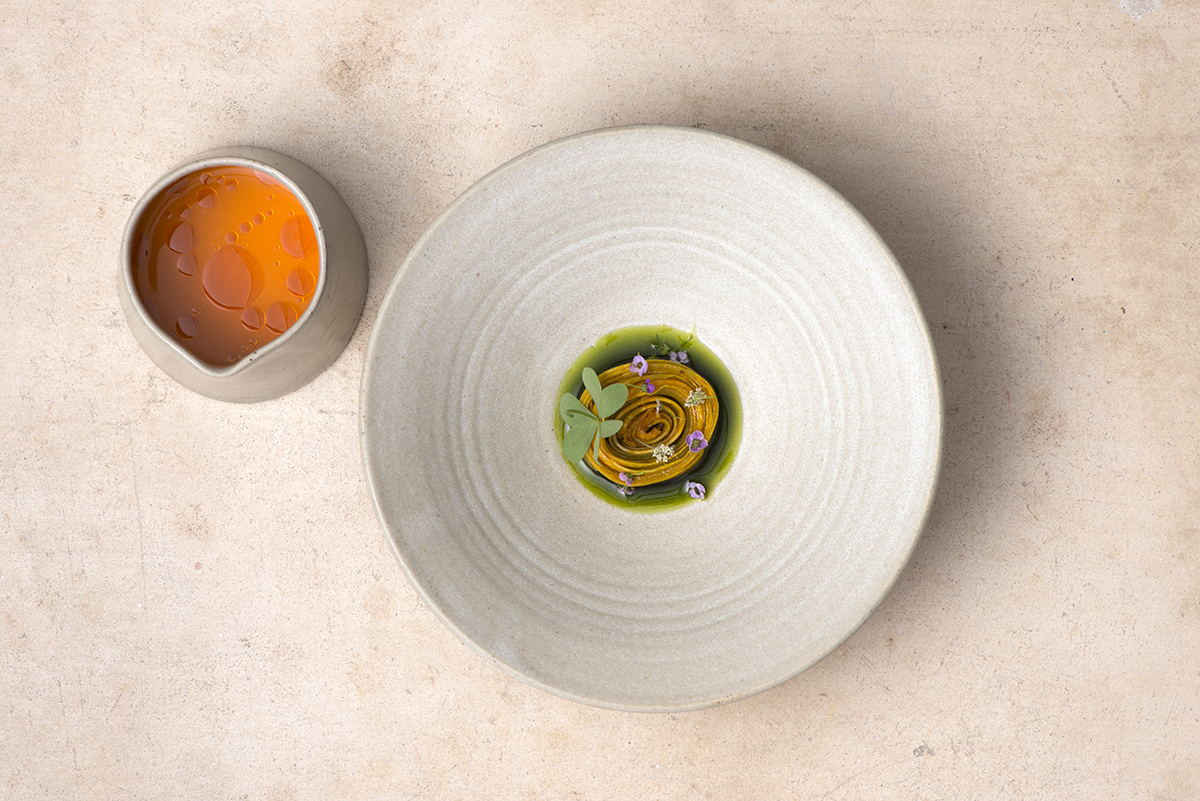 Compressed melon rose, melon and sea buckthorn rasam, coriander oil
After offering a dash of the "soul" (rooh in Urdu) of Indian cuisine couched in a modern avatar, Rooh arrived in India in April to cater to the "internationally honed palate" of the foodies in New Delhi, a city that has not only embraced international cuisine but celebrates it, having emerged as a top destination for restaurants offering authentic cuisines from around the globe — African, Burmese, French, Greek, German, Japanese, Italian, Korean, Mexican, Lebanese, Nepalese, Spanish, Thai, Tobetan, Vietnamese, and many others.
Rooh Delhi, a spinoff of Rooh SF, has found home at Ambawatta One, a refurbished 150-year old heritage haveli overlooking Qutub Minar at Mehrauli. Though the 13th century, 72.5-m high red sandstone tower can be seen from all the rooms of the restaurant, it has also a seating for four in a small turret which gives the best view of the minaret. The restaurant that can accommodate 70 pax for a sit-down has brightly lit chandeliers in the main hall. Its aesthetically pleasing décor has been done by Klove Studio. Its colour palette — pastels and copper tones — only seems to accentuate the underlying theme of the restaurant: a blend of the traditional and the modern.
Chef Sujan, 40, has spent most years of his career in London, serving at top-notch modern European and French restaurants, including as Head Chef at Automat in Mayfair. He came back to India towards the end of 2013 to open something similar in Delhi, but he could not find the place ideal for his vision. Meanwhile, he started Rooh SF.
Rooh Delhi is an "upgraded" version of Rooh SF: it has been conceived as a premium experiential restaurant. The chef has been doing ingredient-based cooking and while ingredients are easily available in in San Francisco, the restaurants there are more informal. The chef, along with the Anu and Vikram Bhambri, have been involved in every aspect of the dining destination — from cuisine and cocktail menu to chandeliers. According to Chef Sujan, Rooh is all about the essence, the experience and the excitement. "Not just food, but the cocktails here are also different — straightforward and no-frills, but fresh. The wine programme has a vibrant range at an affordable price. It has an easy-going, feel-good factor that tempts people to revisit," says the chef, who specialises in modern European, Mediterranean, American, modern and molecular gastronomy, innovative Indian cuisine, flavour engineering and chocolate.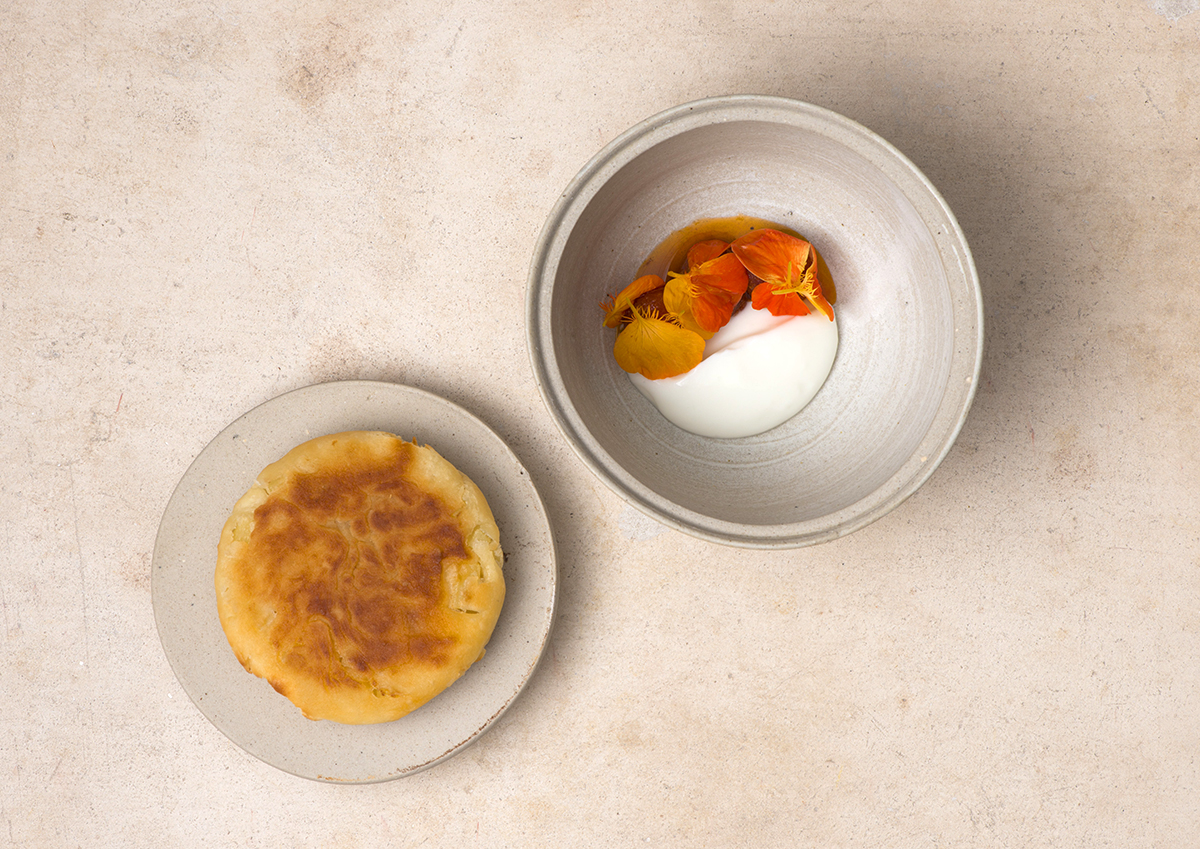 Fermented aloo paratha, Mehrauli goat curd, pickle
Rooh SF has smaller tasting menu — five-course — and à la carte. Its design is minimalistic and the offerings are different for lunch and dinner. With lunch being straightforward, the focus is on food and cocktail. However, at Rooh Delhi, which is currently open only for dinner, the tasting menu is extensive — eleven-course — and includes canapés. They plan to add à la carte and lunch later which will also extend the time of the restaurant which opens at 6.30 pm. Rooh SF is based on what they primarily get in the Bay area, but Rooh Delhi is about the "international Indian" — a combination of Indian produce with international ingredients. "My idea is to make the restaurant one of the best not just in India, but globally. The presentation here will be way ahead than Rooh SF, where it's more about fresh ingredients. Here, it's about going into the details to create something of international level," says Chef Sujan.
The signature dishes at Rooh Delhi include chilled rasam with sea buckthorn and melon, served with oysters; small donuts, squeezed with lamb bhuna; liquid anda bhurji, served with pav, and fermented aloo paratha with goat curd and some tomato pickle. It offers a unique chocolate dessert — besan barfi and chocolate, served with milk ice-cream. "We are going to serve a treat at the end of the meal: crispy tea in the form of a wafer; I'm creating a rusk which tastes like tea and is ten times lighter than rusk and has no flour. We are doing dishes like chickpea cake; Dhoka Dalna (signature vegan dish) from Bengal, with house-cured salmon and star fruit chutney," says the chef. The idea, he adds, is to cut down on flour as too much gluten is not good. "Our main course will be a bit traditional: lamb will be cooked in our style and served with little Indian breads. It's going to be a soul-satisfying meal: we will not be serving only small bites and keeping you hungry. In wine pairing, it could be wine, sake or beer in between. Our portions are going to be small and fresh," says the chef, adding that the menu will see fewer fat-carb-rich fares.
When Chef Sujan returned from London in 2013, he also served as head Chef of all the Olive outlets in India, and introduced all the local ingredients, fresh from the farm. He used to have people who would do research for him to find the right ingredients from different parts of India. Since his father is an agriculturist, the chef has very sound network in Bengaluru and Kolkata and that helped a great in sourcing ingredients from across the country.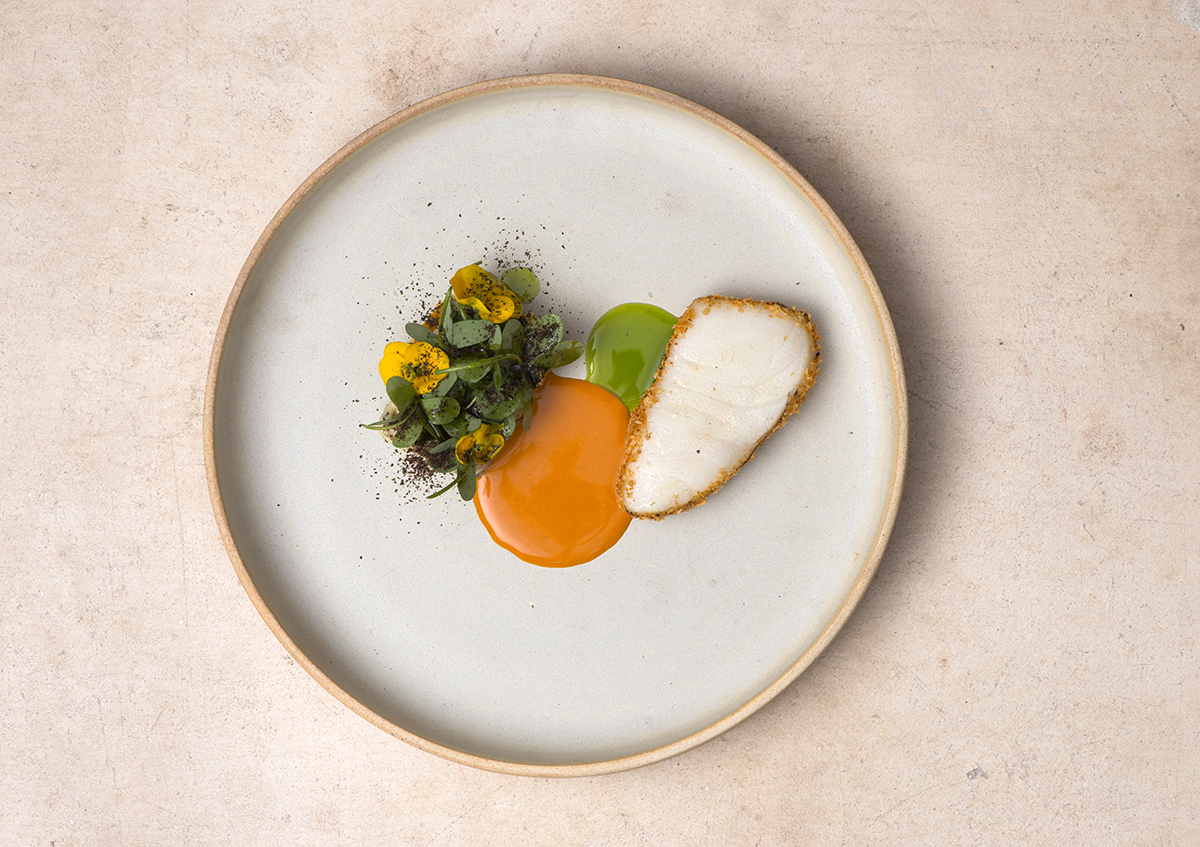 Sea bass, Aleppy curry, bone powder podi, kadambittu
Talking about organic food, Chef Sujan says, "The kind of restaurants that we run cannot survive on organics alone because it's three-four times more expensive. My food has to be affordable as well. I don't want to put a price of Rs 8,000 for my tasting menu; it has got to be affordable," he says, adding that he'd want people to come back once in three months instead of once in a year. "Organic is good, but consistency for me is very important. Restaurants run on consistency. Primarily, our focus is on Indian flavours and getting the best in the season. For instance, we are using Cape gooseberry and will get kachri, a wild variety of cucumber, and sea buckthorn from Leh-Ladakh.
While the tagline of Rooh SF is Progressive Indian, for Rooh Delhi, it is International Indian. Here, only the logo is the same; the branding, the colour palette, the way we are doing this is completely different. If you come to the bar, you can have some lite bites and cocktail wine. I want to engage people," says the chef.
As the space for fine dining expands in Delhi, Chef Sujan says it is good to have a competitive market, to have many good restaurants which upgrade the F&B industry. "Everyone is trying to put their best. On our part, we are honest with what we serve. There is freshness in design and the team. People who work for Rooh Delhi are the best in the food industry here: Samrat Banerjee, director of operations; Priyam Chatterjee, the head chef; and Magandeep Singh, the wine director. It is hard to find a team for a 70-seated restaurant. It entails a lot of commitment, teamwork, consistency and honesty," says the chef.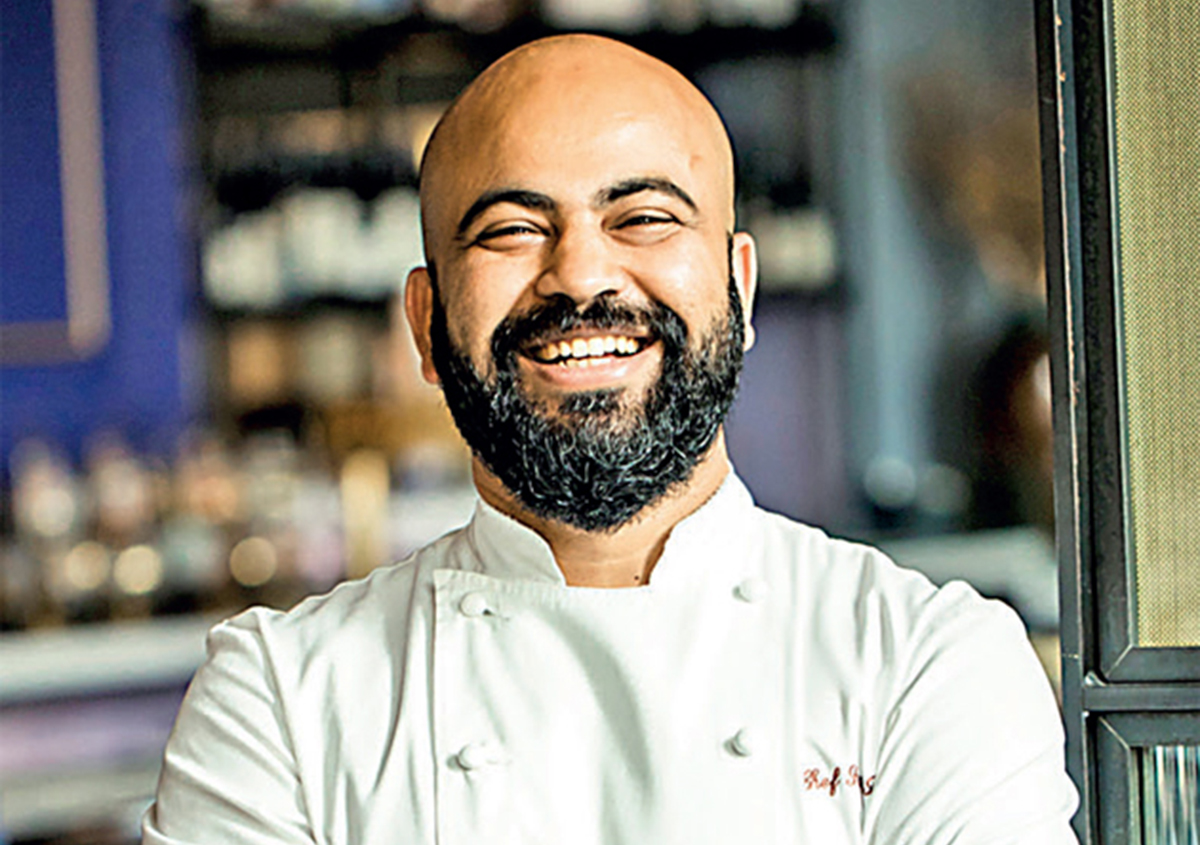 Executive Chef Sujan Sarkar
The chef says he has a big task cut out for himself as Rooh finds a firm footing in the city. "What we are doing here cannot be achieved in one day. It's not a restaurant which will open, make big noise and then die. It'll see a slow progression; people should have patience. We offer affordable and fresh fares. We'll take care of you from the moment you enter the place to the moment you leave, giving you a 360-degree kind of experience. On Fridays and Saturdays, there will be add-ons — music and more entertainment — within the restaurant experience." Rooh Delhi opens at 6.30 pm (only for dinner as of now), six days a week. It's shut on Mondays.
As you read this, two more outlets of Rooh will have opened its second outlet in Chicago, and will be gearing up to launch the third in the US.
Donate Now
Comments
*Comments will be moderated
Highly disappointed, left the restaurant after having juice...Menu is limited
Bharti Modi
Oct 10, 2019 at 04:42