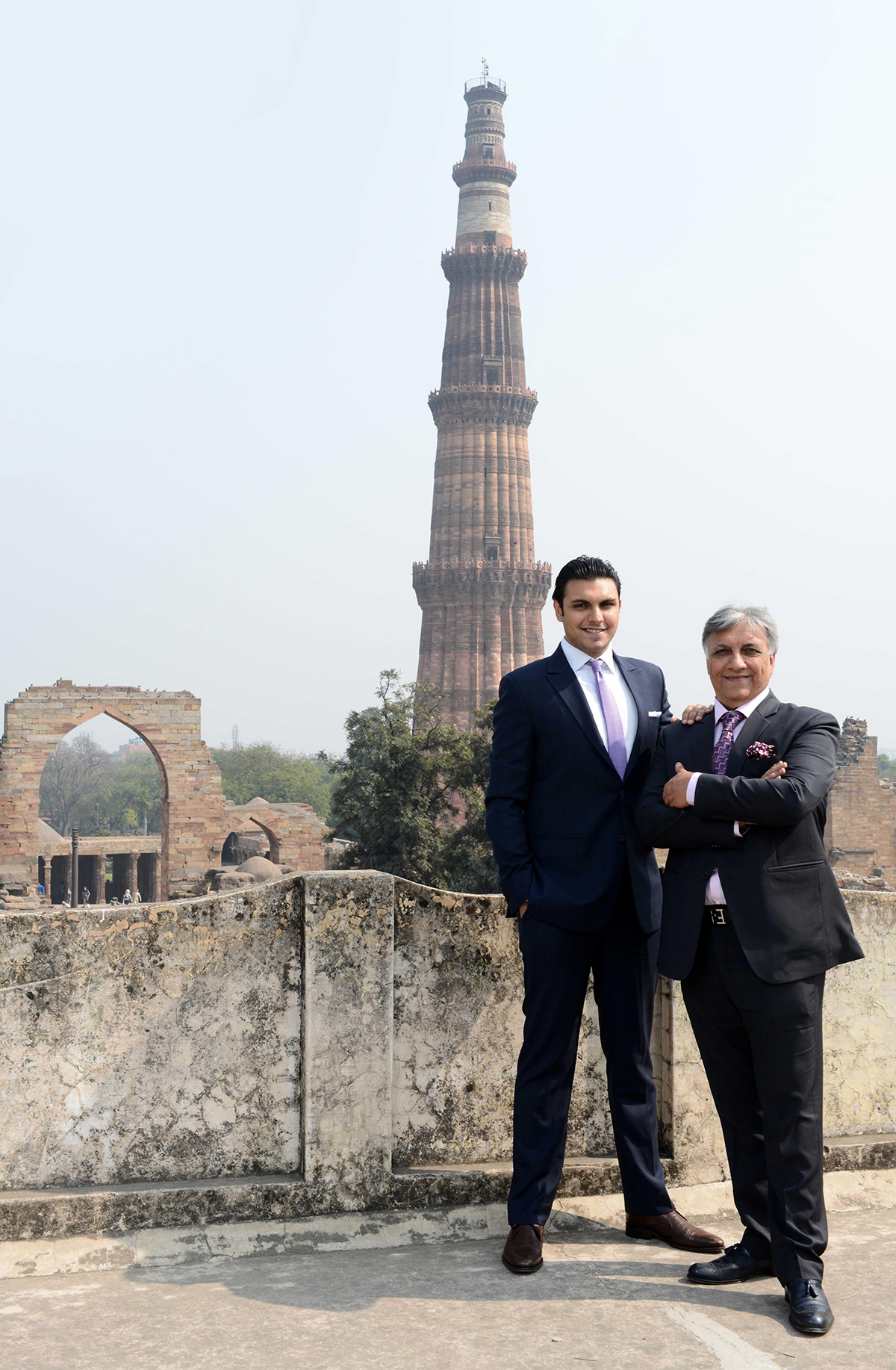 Sanjeev Batra and Samegh Batra, directors of Sunrydge Heritage which developed One Style Mile at Mehrauli. Photos courtesy of Sunrydge Heritage
Sanjeev Batra and Samegh Batra, who have developed Style Mile at Mehrauli, have made it a fusion of high street and heritage, giving the area a new chic identity
Sanjeev Batra, director of Sunrydge Heritage, has developed One Style Mile at Mehrauli which houses the Olive Bar & Kitchen, the Mediterranean restaurant, which opened in 2003, and is frequented by the swish set of Delhi. For this, he turned around the stables of an old haveli into a restaurant space, giving the cowlands of Mehrauli, dotted with medieval serais (inns) and tombs, a new chic identity, fashioning it into a fine dining and luxury retail hub. In March 2016, India's best-known couturier Sabyasachi Mukherjee opened a palatial 13,500-sqft flagship store on the same premises.

Sanjeev Batra, a Chartered Accountant (CA) by profession, is a passionate heritage real estate developer. He is now joined in his initiatives by his elder son, Samegh Batra, who did his schooling from St Columba's School and graduated from the University of Essex with a double major in Finance and Accounting.
In June 2015, The Kila by House of Sunrydge at Seven Style Mile, which also houses their restaurant Qla, the duo launched an elegant soirée of fashion and design, housing creations by a clutch of designers, including the likes of Manish Arora, Manish Malhotra, Anamika Khanna, Abraham and Thakore and Rajesh and Payal Pratap Singh.
In this interview, Sanjeev Batra and Samegh Batra talk about the transformation of Mehrauli and their new heritage hotel which is coming up at One Style Mile. An upmarket hotel with about 50 odd rooms, it's designed to be affordable yet exclusive. The hotel will take about three years to go operational. Excerpts from an interview:
The Punch: Let us start with the transformation of Style Mile at Mehrauli. With Qutub Minar towering over it, the area along Kalka Das Marg at Seth Sarai, known as Style Mile, has become known for its vibe that exudes old world charm. The fusion of heritage and high street has lent the area a new dimension. A nod to the European street culture, Style Mile has some of the city's best destinations — restaurants, salons, boutique shops and exclusive showrooms. How has this transformation been achieved?
Sanjeev Batra: I have been coming to this area since my college days and have been familiar with the surroundings since then. The first time I bought property here was by coincidence.
I bought the first property here in 1991, but since there were issues, the registration could only happen in 1994. As a chartered accountant, I needed to do things where I didn't have to invest much time. My children were very small around then. We decided to take up the One Style Mile property. When I delved into its history, I found that it was next to the Qutub Minar. At one point of time, it was owned by a person who's very close to the centre of power. We found that all these properties which were circling the Qutub Minar were serais built many years ago.
Whenever I travelled abroad, I used to see that in many foreign countries, they had nooks and corners, streets replete with history and everybody was taking care of them, everybody was invested in historic locations. It was a huge inspiration for me.
Mehruali as a village has been extensively inhabited for the last 1,100 years. Trade between India and Afghanistan was thriving. And when the caravan used to travel from Agra to Khandhar, people used to stop over to refuel at Mehrauli, Qutub Minar being a beacon. The caravans used to have hundreds of people — cooks, guards, dancing girls, families —all used to travel together. Traders would reach Mehrauli to rest and refuel, it used to be a stopover location for them. Mehruali was bustling then. But it was also far from the city. There were jungles from here till AIIMS. The properties here were used at that point of time to house those travellers so that they could be safe at night from thugs.
All the villages around Mehrauli are called serais — Lado Sarai, Ber Sarai, Katwaria Sarai, Ladda Sarai — all serais catered to the same clientele, but the ones at Style Mile seemed to be the rich man's serai because there were high walls and guards. When we were digging into its history, we also found about the area's commercial use, but discovered that over a period of time, due to the formation and expansion of New Delhi and people concentrating there, these serais had fallen into disuse.
When I bought this property, there were tenants living here. We paid them and had them rehabilitated in the villages of Mehrauli. The owners never bothered us. When I started buying, people from this whole street started coming to me because they felt that I could buy from them. There were problems in each property with regard to their history or ownership etc, but we sorted those issues one by one.
We bought a couple of more properties here. The next issue was what to do with them. So, I went back to the authorities. They were very welcoming. Heritage was seen as very fascinating then. They supported us. The Archaeological Survey of India (ASI) came to our rescue if there was some repair to be done; they used to tell us how to do it with local materials, etc. We also realised that the good footfall in the area was largely due to Qutub Minar. So, we started working with the ASI to maintain the area around the Qutub. Even now, on every Thursday, one of my staff members goes and tears up all posters on the walls.
This area was commercially dead; owners were happy to sell and move out. And because these properties were commercial in nature, we started working with the government to make sure that it was designated in the records. The ASI and the Delhi Development Authority (DDA) helped us with the legalities.
Then, I bought the property where now Olive Bar & Kitchen is located. I rebuilt and renovated it. It is a huge property with a cowshed, which became the glasshouse, but the rest of it remained where it was in the olden times. There were gusalkhanas (bathrooms) on the periphery of the property and a nice courtyard. We kept the toilets outside, which is where they are now, and before I put money into the main property, I thought why not test to see if there were people robust enough to bear the strain of government regulations. We made sure that we took all licences. I went into it very deeply and Olive came onto the scene. When A D Singh, managing director, Olive Bar & Kitchen, came in, he set the place up. We did everything together, but the running operations were not my expertise.
When I was buying these properties, I had decided that I would make it a commercial space. I had a restaurant on my mind. There were no restaurants with courtyards then. People weren't using terraces. The last and only restaurant with a courtyard that I remember as a child was Moti Mahal in Daryaganj where they would also have qawwali sessions. We had no such option elsewhere; people wanted air condition all the time.
We thought a lot about the aesthetics of the place. We thought that there should be a lot of glass so that people could see each other — both inside and outside. Around then, in November 2003, women would not smoke much in public. So, we put up a settee in the toilets so that women could smoke there. We also noticed that women would walk around the place while the men would keep sitting and drinking. This is something that we wanted to change. So, we put a lot of pebbles so that women couldn't walk in their heels. The minute they sit here, they would relax. Even today, we sell more liquor at the table than in a bar.
The chairs at Olive are a replication of my nani's chair. As kids, as soon as she would leave it, we'd occupy it and it was very comfortable. I had two of those. I pulled them out and got many chairs made of the same design.
When AD came in, the place was still unfinished and it was not what he was looking for. Plus, it was far away from the centre of Delhi. So, the only way to change his mind was to do it up. We went ahead and finished furnishing it. We called him again and the second time when he came in, he was supposed to spend a little time with us, but he spent a lot of time on that particular day: It was September 1, his birthday. And he loved the place. His architect came in too and his eye for nuances also transformed the property. I was very happy that someone wanted to take the property and I would not have to operate it. That's how Olive came into being and AD really worked at it. His wife, Sabina, a talented interior designer, is responsible for a lot of nuances in the property and the rest is history.
Initially, I had also thought of having some shops here. The reason was that in case the restaurant runs into losses, the shop rentals would cover it up. But over and over again, when we thought about it, we thought that it was the right thing to do. The women who came so far should have some other things to do as well.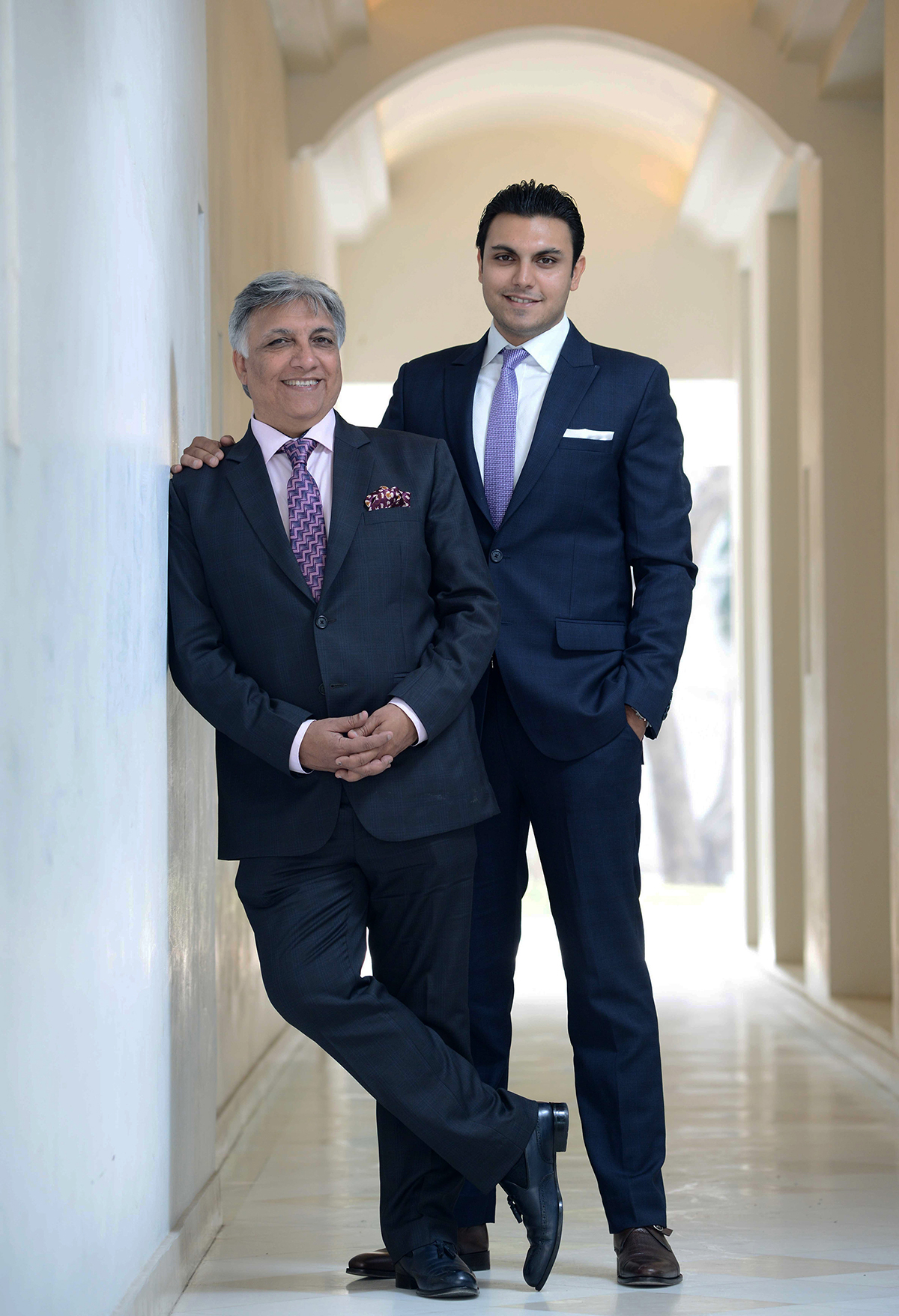 Sanjeev Batra and Samegh Batra
The Punch: There was a phase at some point in 2006 when the Municipal Corporation of Delhi (MCD) sealed the Olive Bar & Kitchen on the instruction of the Supreme Court-constituted Monitoring Committee. Fashion boutiques Kimaya and Ayamik and a spa located in the same complex were also sealed. MCD officials had argued that the restaurant, like several other commercial properties in Mehrauli village, was illegal as village land was meant only for residential purpose. These shops returned three years later in 2009 after the Parliament passed the NCT Delhi Laws (Special Provisions) Act 2009, which allowed commercial activities in urban villages until the end of 2009. Tell us about that phase.
Sanjeev Batra: The sealing came as a bolt from the blue. We were already commercial and we had full permissions in place. Everything was done, but the Monitoring Committee refused to listen. So, we went to the Supreme Court. We would wait for three months and the hearing would finish in 10 minutes. They would give us another date and then another date. So, ultimately the government came out with a notification where the property was released. But I did not pull out my case from the court until it was cleared. There is a body called The Heritage Conservation Committee, which is the highest heritage panel in Delhi. We had already filed our papers with them. We were sealed to get repairs done. As this was a listed property, we went to them prior to this. They cleared us since we were a pre-1962 property, a serai. They knew we were commercial and asked us to continue. So, we had our permissions in place but it just took time.
We lost that much time and at that point of time, we lost opportunities too; there were brands that were coming to India and we were signing up with them and they were happy to be housed in a heritage property, but by that time DLF Emporio came in. Today, in Emporio, we have a destination which is world class. Personally, I like it very much but we lost opportunities there.
Then, we re-thought about it and re-planned it in a way that we don't compete with them because those brands needed more footfall. We decided that we would go for high-end, upmarket designers from Delhi and from all over. Again, we thought of a women-centric market.
Most of the students who go abroad tend to settle down there, but I wanted my children to come back. My wife and I didn't want to be left alone. That thought was scary. So, I decided to create some business for my children to come back to. And, therefore, I got into this. Luckily, when Olive opened, my children were very young, but they witnessed the razzmatazz and made up their minds about what they wanted to do; I didn't have to push them at all. My elder son, Samegh Batra, wanted to do business. He studied business in the US and the UK and came back to take care of the business. My younger son, Suvrat Batra, has studied hospitality.
Today, there are two or three properties that we are working on. We are not going to operate them ourselves. We feel that they need professionals till we learn the finer nuances of hospitality. Today, everything that we are doing is hospitality-related. I'm very comfortable with the land under my feet.
The Punch: At this point, let us ask Samegh how he geared up himself to take over the business. What was the process like and how did you go about preparing yourself for the role?
Samegh Batra: There is a lot to learn from working with my father. For the first two-and-a-half years, when I was working here, I was literally shadowing him and understanding the thought process and the ethos behind which he wanted to develop the space. Thereafter, one started finding chinks in the armour and sought to see where the opportunities lay — in optimising efficiencies or bringing in people that you would look as fit. So, there was a process of rationalisation when I started working with him, finding the right people to fit in and expand the business. He always believed that bigger was better in terms of brands and there were set brands which had outposts in Delhi and were doing exceptionally well. He said they were tried and tested and had proven success. We looked at it in terms of who we saw as changing retail world-wide as well as in India. We decided to go in for smaller stores or bringing in people who weren't or nearly considered the top but on the way to the top. Now, that gave us the advantage of bringing in upcoming brands; they were more willing to experiment with marketing techniques and coming to a new area. They were more open to feedback and growing with us, piggy-backing on each other. I think that's one of the changes that was brought in through a collaborative thought process with us and the previous set of people who were working in that area.
Sanjeev Batra: I was already working on Qla, a contemporary and atmospheric restaurant with pan-European cuisine, when Samegh came in. He took over Qla and set it up himself. I have known designer Sabyasachi Mukherji for a long time and we had been thinking of bringing him in. He was keen to come into our spaces too. Later, he met Samegh and over two casual meetings, he agreed to come on board and opened his designer studio at One Style Mile.
We have a very efficient team. They have worked with me before. Now, Samegh works with them, in perfect coordination. Samegh has brilliantly conceived the plan for our upcoming heritage hotel and has advanced the project by years. He re-looked at the plan holistically and has kept pace with the future. He took over this project very passionately. Today, he does most of the travel. He took his teams to the hotels of the future around the world.
Today, a lot of what we have started, reflect Samegh's plans which are absolutely streamlined in the best way. He knows the parameters. He knows exactly which way to go, what we cannot do, what we can do. He says that he'll remain within the parameters, but will forge ahead in a different way. And that's what he's doing.
The Punch: A lot of this transformation of the area has also been attitudinal. Today, the place which used to have stables has a new chic identity, frequented by the swish set. Has the perception of the place changed over the years? How has this transition been facilitated?
Sanjeev Batra: When I started looking at heritage on a wider scale, I felt that to make it a destination, I could not do it alone. So, at first, I involved everyone around. In one of his movies, Kaalia, Amitabh Bachchan says, "Hum jahan khade ho jaate hain, line wahi se shuru hoti hai." So, that's how the street got its name: One Style Mile. Since we were One, we started re-numbering the street as One, Two, Three… up to Eleven. We re-numbered everyone. So, that was the first thing that we did. The post office wouldn't deliver our letters. So, initially we made about 1,000 letters with the address as One Style Mile and we gave it to a big lot of our friends residing outside Delhi and they would post a letter a day. So, when the letters would come to the post office, they would start delivering it. Over a period of time, everybody got used to it. And the postal address became permanent.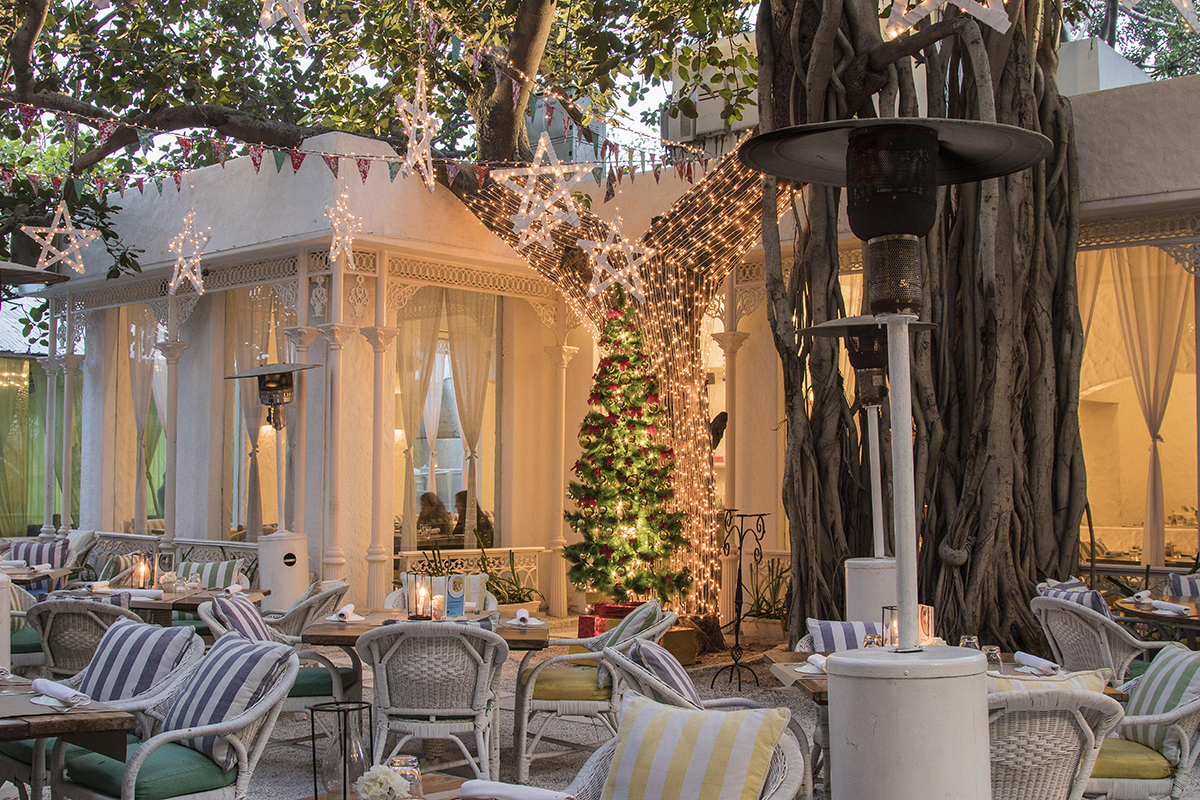 One Style Mile which houses Olive Bar & Kitchen
The Punch: Tell us something about the new heritage hotel that you are planning. Do people in India look at heritage property differently now since they are travelling around the world more and more?
Sanjeev Batra: People have become more aware and understand that heritage can have multiple uses. If we do not restore and strengthen the existing property, it will crumble and die. I need to do productive reuse. We can't have a night club running with blaring music. I can't do that.
People come here in droves. Where else do you get a property which has a courtyard and a nice banyan tree? To develop this place, we went about it holistically. In the beginning, we stopped using pesticides. As a result, the earthworms, snails and later the birds came back. Because of the pesticides in the gardens, the snails and earthworms used to die. We have Qutub Minar on the one side and the jungle behind us. There are parts of Lal Kot, built by 8th-century Tomar Rajput ruler Anang Pal I. At that time, it was either called Durg or Garh Rai Pithora. (Durg and Garh are Sanskrit words meaning fort and/or citadel). It was from this fort that Prithviraj Chauhan and the Slave Dynasty, founded by Quṭb al-Din Aibak, ruled over Delhi from 12th to 13th century.
After I bought properties here, other real estate owners also came in. There are individual owners too. I was very conscious that I shouldn't take a competing brand, but the existing brands were ready to see a competing brand. Thus, Manish Malhotra and other big brands from Mumbai came in. Initially, people found it strange that I was happy that a competing brand was here, but I was happy to see that the place was becoming a destination. I can't do everything.
Samegh Batra: If collectively you're pushing, then it becomes a bit of a movement. That's basically the intent behind the redevelopment of the area. One should ask oneself: You have great heritage within the heart of the city and it's lying disregarded. You want people to relook at it in a different light. And that's what was happening when more and more people started coming in. Individually, I can push only so much to bring people in. The minute there are more people working together, the pool is growing. As long as the size of the pie is growing, everybody mutually benefits.
The Punch: Samegh, tell us about your approach to making Qla the kind of place it is. What were some of your thoughts and concerns that underline this project?

Samegh Batra: Qla has been there for about three and a half years. There are about 13 designers there. Originally, Qla was acquired by us in 2006 and there was a certain plan in place, the way we wanted to develop the asset. Because of certain issues, it did not fructify. So, overtime, when we were looking at the place, international luxury had moved into DLF Emporio. We had big established designers who were willing to take the space, but were not willing to offer the same rentals that we were looking for. So, the question was how to differentiate an existing product from already saturated markets? We looked at up-and-coming people and that's how the thought process evolved. But the up-and- coming people do not have the wherewithals or finances to pay for the large spaces. So, we thought of breaking up the large spaces. Secondly, if we were gearing up to bring more people to this street, we thought why not apply the same mindset and bring more people into the same property? So, again, we broke up the area into smaller areas. That's how Qla came about, through the process of self-rationalisation. We thought together and came up with a wishlist of people who fit in well and who complemented yet contradicted each other and differentiated amongst each other. The curation for Qla came about over a period of time. Today, Qla houses one fine dine restaurant. It has about 13 designer brands, mostly in the ready-to-wear segment. There are all kinds of stuff for impulse-driven buying. Even at One Style Mile, the brands are within the same segment, but slightly differentiated.
In Qla, we have used pure white cement and it looks beautiful. We don't allow false ceilings to come into our properties so that it doesn't lower the old architecture being carried forth. There are turrets. Qla is built over an old, existing frame. The arches that were there earlier have been restored to fix cracking or unstable structure. The structure remains as it was many years ago; it has just been restored and beautified. We have made adaptations with modern amenities. There are sprinkler systems, fire exits. At our properties, safety is sacrosanct.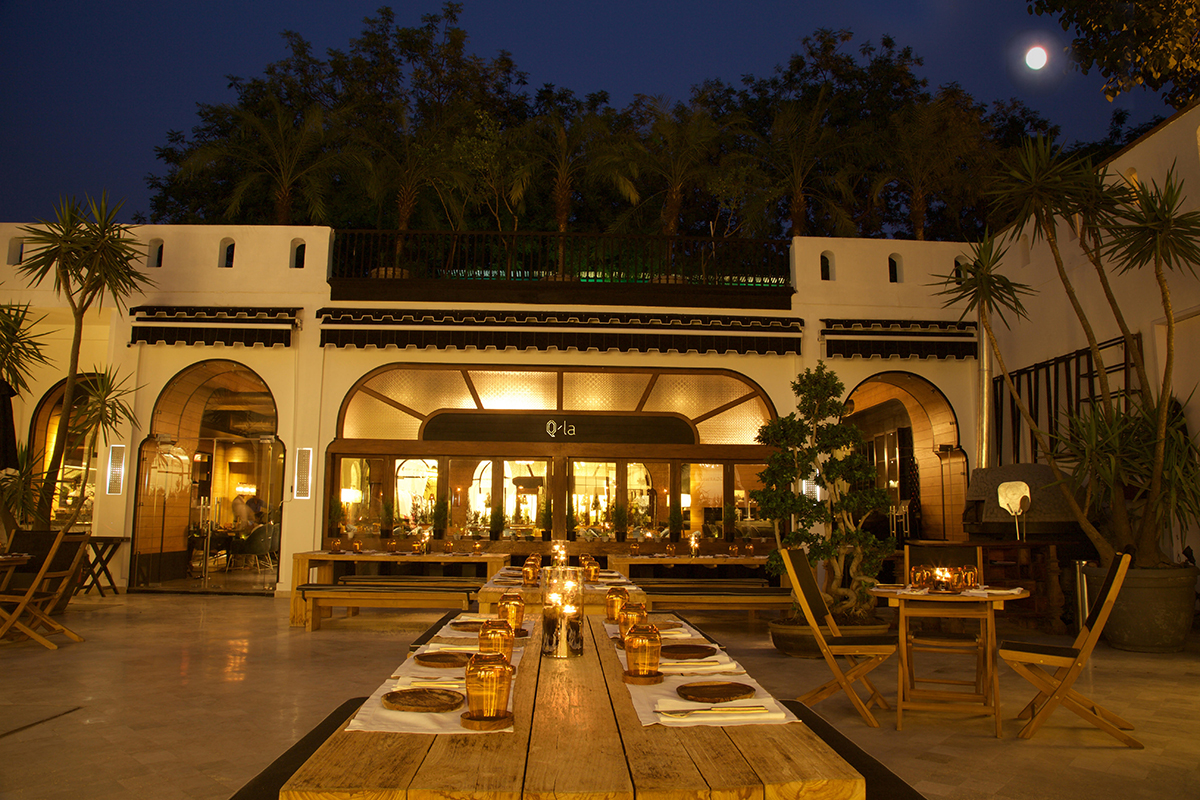 Qla at Seven Style Mile
The Punch: Tell us more about the new heritage hotel. By when does it go operational?
Sanjeev Batra: It's upmarket with about 50 rooms. It'll offer more facilities but we're trying to aim at a point where it is affordable yet it's exclusive. When we had thought about it, people didn't think that smaller hotels will be profitable but the villas that The Oberoi has set up have shown that they are. We have the advantage of Qutub Minar being next to us. At the new heritage hotel, all the rooms will be overlooking the Qutub Minar. We're still working on it. It will take us about three more years.
Samegh Batra: We are planning to let a hotel management company run it. We will build the asset and they will manage the asset. It's how hotels around the world are operated. The underlying assets are owned by someone but managed by someone else. What we liked about this company is to bring its boutique mindset and not the size. The boutique mindset is that everything is centered on the customer. So, it caters to the specific preferences of the customers. And that's how the asset is being developed.
Today, it is all about experience. A hotel can very well be self-contained and your entire experience of the entire city can be sought of the hotel itself and that's what the villas have been able to do exceptionally well. It's an inner city resort essentially.
The Punch: Recently, in 2013, the restoration of the 16th century Humayun's Tomb was completed by the Aga Khan Trust for Culture. For a heritage property to survive and sustain itself, how crucial is the help from relevant bodies like the ASI?
Sanjeev Batra: Their support is very crucial. What has happened with Aga Khan Trust and the Indian National Trust for Art and Cultural Heritage (INTACH) is that they got a bit of a free hand and they used their own money and were not looking for public funds. With that, they were able to prove that a monument which was not very well visited can suddenly transform into a beautiful place to visit.
After the restoration, the number of people coming in to see Humayun's Tomb has more than quadrupled. They have cleaned Hazrat Nizamuddin as well. So, the local people came and chipped in and Sunder Nursery is now another place for foreign dignitaries to go to, not just the Rashtrapati Bhavan.
In our case, not just the Qutub Minar, but the area around it also needs to be cleaned. At our property, the earlier plaster used to have calcium. They were red sandstones. Since it was not available, we went back to the ASI and it connected us to the traditional craftsmen who could manufacture the same thing and they sent in their own workmen to do it for us. The traditional jaali work, which we have at Qla, was also sourced from such
people.
We realised that there were many people in India who came to see birds than they came to see tigers. Samegh got some carpenters working and over six months, we have over 600 birdhouses which are lined up on the periphery of our property. The birds come and go. Now, we also see sparrows here. We are also planting fruit trees. May be in another five years, we'll have a full-fledged orchard.
The Punch: What are your future plans? Do you plan to diversify?
Samegh Batra: The idea is to take heritage forward whether it is in the form of heritage hotel or a boutique establishment with a restaurant or boutiques with upcoming designers. I think that it'll be dictated by what sort of asset we are looking at. But the plan is to further heritage in overall context, taking forward what we started here. We have other properties. And we are going one by one. So, we will finish one thing and then move on to the next.
The idea is to identify assets that match our mindset and then develop the product around the underlying asset rather than the other way round because each property evolves over time, the patinas that come in, the aging that comes in, it's a living being. So, the idea is to develop the concept around the underlying asset.
Ours is a heritage and lifestyle brand. The products that we offer are all lifestyle products, be it hotels, retail or Food & Beverages. We have a space that is open-air. It has changed the mindset that the brands have to transform themselves rather than the other way round. One has to adapt to the surrounding — that has its own set of challenges.
Donate Now
Comments
*Comments will be moderated