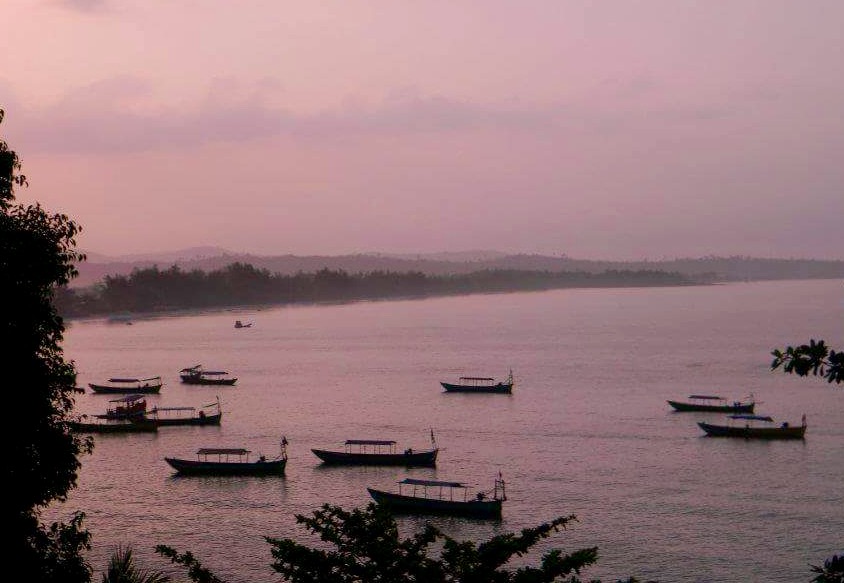 I
The Metaphysical Enigma
The thought had occurred to him when he was seventeen; he was on a vacation with his family in the mountains of North Bengal. The day was full of sunshine, but he was on a reflective mood; he had gazed upon the sad eyes of an old snow leopard in Darjeeling Zoo, taken a solitary stroll around the Observatory Hill and had lost himself in the view of the mountain ranges and the rhododendrons. The thought had occurred to him in the evening, and had stayed within his consciousness like a forgotten poem scribbled on the margins of a book that was never opened again.
Seventeen years later, he had a dream that consisted of the following elements: a ship with sails, wild waters of a stormy sea, a beautiful woman inside a stone cottage, a wooden table, four candles and a gold bangle. The emotions of the dream were of adventure and love. He was on a foreign land, when he had the dream. He had woken up early in the morning; the young Spanish woman — he had met at a club the previous night — was still sleeping beside him.
The dream was so vivid that the images kept playing in his mind, as he got up from the bed and went to the balcony that faced the sea. It was just after dawn, the sky and the waters were changing their colour from dull misty lavender to patches of white and blue. He could see the boats near the pier which take travellers for a day trip to Koh Ruisse; Koh meaning an island.
He had arrived at the coastal city of Sihanoukville — located at the tip of an elevated peninsula — from Siem Reap two days ago. Well informed by his guide book, he had checked into an eco-hotel by the sea; the rooms were wooden eco-cottages on a slope of a leafy hill. The sandy beaches were to the north that attracted the bathers. Out here — the Serendipity Beach — was like a forest by the sea. It had no sandy beach. The water crashed upon dark rocks, and the peace of the morning had softened the sound of the waves.
The eco-cottage numbered 13 had to be reached by climbing thirty-one steps. The Spanish woman had slipped last night on one of the concrete steps — touched by a light drizzle; but he was able to grab her arm and save her from a fall. They had met for the first time at The Purple Midget Club, two hours back. She had light brown hair, large eyes, sharp features and pronounced collar bones. Both were solo travellers and only knew of their first names and their nationalities. They had spoken of Cambodia, Spain and India; and also of their home cities — Calcutta and Seville. After four drinks and a dance, the Spanish woman had asked, "My room or yours?"
He had described the eco-cottage within green foliage on a hill facing the Gulf of Thailand. "It also has a breezy balcony with a hammock."
She had exclaimed 'wow fantástico!', smiled and said, "Let's go. I am sick of this electronic music; let's hear the music of the sea."
The sound of the sea is one of most primal sounds on earth. Long before any living creature had gazed upon it and heard its music, the sea has been playing its symphony — conducted by the moon. The roar has the sense of depth, vastness and oblivion; the waves have the qualities of time passing — of emergence and of disappearance — but also, of an eternal return.
They sat on moonlit rocks in silence; the crashing waves sprinkled drops of salty water on them. Then they kissed like solitary souls starved of love — again and again; the thirst for heartfelt love was stronger in them, than mere pleasures of the body.
Then they had gone up to the cottage, made love twice and showered together; she had apologised for being 'too loud', and both of them had laughed.
At noon, they went down to the restaurant by the sea that also served as the reception space — with thatched roof and cane furniture — on a wooden platform on stilts.
It was the time for brunch, but they ordered for a late breakfast of baguettes, cheese, eggs and a salad of diced tomato and cucumber, washed down with fresh coconut water with mint leaves and ice, and then, a special blend of Balinese coffee that is mixed copiously with chocolate powder.
During the chat, the Spanish woman said that she had a very strange dream, just before she woke up. "I must tell you about this. This is the first time ever that a person I just met — few hours ago — appeared in my dream."
"I was inside a room; it seemed to be from a medieval time. There was a mirror on the wall and I was looking at it — the face was of some other woman with Middle Eastern features, but I knew it was me. Then I was setting up the table for a meal as I was expecting someone to come — a lover or a husband. I lighted up four candles, then someone arrived, and it was you."
At that very moment, he remembered the thought he had in his adolescence. He had an idea of a story: two strangers meet at a foreign land and sleep together. When both of them wake up, the woman tells the man of a dream where he had appeared. The man realises he also had the same dream, but doesn't tell the woman. They go their separate ways.
"What did I do in your dream?"
"You were dressed as a sailor, a sea-farer, not a pirate or something. But you looked exactly like you do. You presented me with a gold bangle. I felt very happy. We kissed and then we sat at the candle-lit table and ate. That's all. But it felt very beautiful, very pleasant."
He realised he also had the same dream, but from a different perspective. It was a wondrous coincidence; something he would have never believed, if it didn't happen to him.
He thought for a moment, but decided not to tell her of his dream; she might think of him as a liar. He was also enthralled by the other wonder: a story idea he had thought of in his adolescence, had come true in reality, as an event of his own life!
A strange mix of feelings occurred within him — awe, wonder, love and also a faint sadness. This was not the first time that he had encountered a fellow traveller and taken her to his room. He has been travelling solo for a few weeks — twice every year — over seven years now; he had a history of lovers, on the road.
But this time, something else was at work, something more wondrous — a metaphysical enigma — that he himself couldn't understand. Nothing happens without a cause. What was the cause? How could such an experience happen? How can the experience be explained?
They had walked to the hotel of the Spanish woman; she was leaving for Phnom Penh that very evening. Her flight back home via Bangkok — after travelling in South India, Thailand and Cambodia — was scheduled to
take off the very next evening.
He still had a week in Cambodia before he has to return. It was around twilight, when they went their own ways, amidst a strong sea breeze, and parted forever.
Page
Donate Now
Comments
*Comments will be moderated
I am hooked, just loved it :)
Jayati
Jan 9, 2017 at 00:38