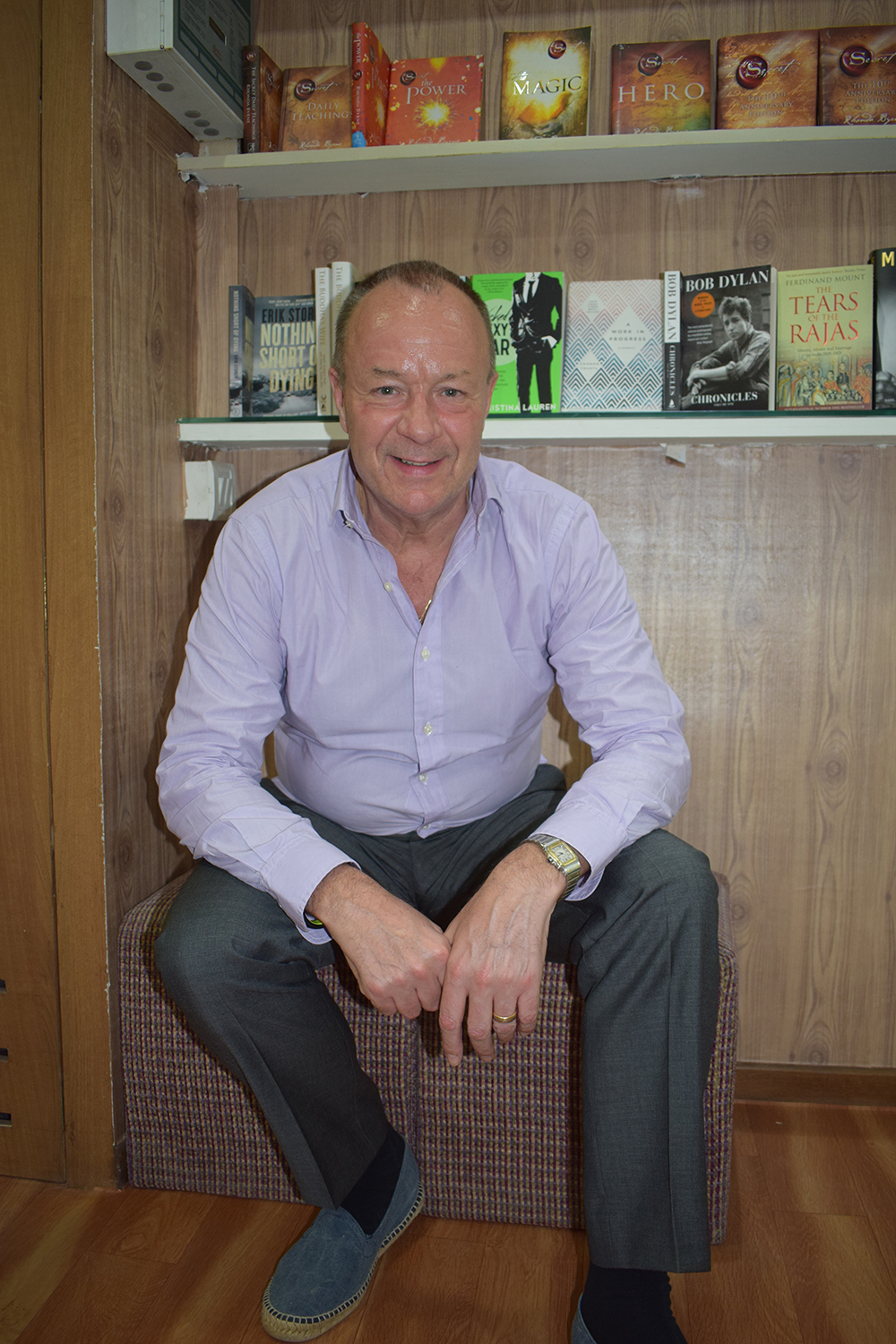 Ian Chapman. Photo: Shireen Quadri
Ian Chapman, Chief Executive and Publisher of Simon & Schuster UK, says publishing is largely about building up a team of passionate people and cultivating relationships.
Ian Chapman, Chief Executive and Publisher of Simon & Schuster UK, was in India recently for the release of Prayaag Akbar's debut novel, Leila, which marks Simon & Schuster India's local publishing programme, five years after it started its India operations. Chapman is also responsible for Simon & Schuster India and Simon & Schuster Australia operations.
In the UK, Chapman is responsible for publishing, editorial, marketing and sales functions of Simon & Schuster, publishing a full range of adult, children's and audio titles in both printed and digital formats.
Prior to joining Simon & Schuster, Chapman, a graduate of Durham University, was Managing Director of Macmillan General Books, with overall publishing responsibility for the Macmillan, Picador, Pan and Sidgwick & Jackson imprints. He has also held editorial and publishing positions at Pan Macmillan, Hodder & Stoughton, and in the United States at William Morrow, Berkley, and Doubleday. Chapman was a member of the Publishers Association Council for eight years. He has also served as an acting member of the Trade Publishers Council.
Chapman says a publishing house should have points of excellence in sales, marketing, publicity, production and finance. "The spotlight should be the author," he says. He says for him as a publisher, it has largely been about building up a good team. "At the end of the day, what you need to do is get the right people so you can attract the right authors," he says. "We keep looking for new voices. It's a rolling thing to try to look for new talents and nurture them," he says.
Having been brought up in a publishing family (his father was with William Collins, which later became HarperCollins), Chapman says publishing, in some sense, has remained the same: "It is about storytelling, about books that you believe in, about things that you really want to share with someone," says Chapman, who likes thrillers and literary fiction (Ian McEwan, Graham Swift, etc).
Excerpts from an interview with The Punch.
THE PUNCH:
Tell us about your journey in publishing. How have things changed in the industry over the years?
IAN CHAPMAN:
I was brought up in a publishing family. Back then, my father was involved with William Collins, which later became HarperCollins. Since I was brought up in the family of books and authors, I was always surrounded by words and stories and by those who create them. While my sister chose not to go into books, I was in love with them. And, after university, I got a job at Hodder & Stoughton, at its paperback imprint, Coronet Books. I became an editorial director there. It was a very good training ground to learn the commercial mass market. We published a Wilbur Smith or a Jeffrey Archer. If Bookwise took 20,000 copies, we kind of knew by multiplying it by four that that's what would sell — Bookwise will take 20, the rest of the market will take 60. So, it was very much easier to sell books because there were many more conduits through which to do it. For five years, I was there and then I went to take over Pan and Picador where I worked for 12 years. I was the publishing director there and I took over from Sonny Mehta. By the time I left Pan Macmillan, I was the Managing Director and Macmillan and Pan had merged. Pan had been richly owned by three companies — Collins, Heinemann and Macmillan. For a number of reasons, it became just one initiative.
When I joined Pan, it was just paperbacks, but the volumes were incredible. We used to publish Jackie Collins in those days and we used to give a golden Pan to anybody who sold a million copies. So, we had Jackie Collins, Wilbur Smith, Douglas Adams and they all sold million copies and they had golden Pans up on their mantelpiece, but now it's no longer possible. And, of course, the switch happened when the Net Book Agreement collapsed. (The Net Book Agreement, NBA, was a British fixed book price agreement between publishers and booksellers which set the prices at which books were to be sold to the public. It operated from 1900 until the 1990s when it was abandoned by some large bookshop chains and was then ruled illegal). So, the shift went from commercial mass market to hard covers and trade paperbacks. As that developed, publishing houses developed too and the hardcover and paperback houses became one. So, you'd no longer go and buy paperback right from a competitor because the competitor would always want a paperback right and not sell it elsewhere. So, the way in which the publishing house came together and the way in which it looked at its properties changed dramatically.
In 2000, I joined Simon & Schuster as its Chief Executive in London. And that in itself was interesting. For me, the way a publishing house should work is that it should have points of excellence in the publishing circle — excellence in sales, marketing, publicity, production and finance. These circles need to be joined up. At the centre of it all where the spotlight should be is the author. People in publishing should be passionate about books. That's the way good publishing works and that's not changed. I have been at S&S for 17 years. I recently celebrated my 17th year at S&S in the UK. It has been about increasing credibility. It has been about building up a good team. At the end of the day, what you need to do is get the right people in the publishing house so you can attract the right authors. And then build it from there. So, firstly, the business is about people.
Secondly, it's all about communication in the book trade and the effort to build relationships and partnerships. When my father was involved in publishing, it was much more old-fashioned, autocratic and hierarchical. There were probably more confrontations between retailers.
At Simon & Schuster, I am responsible for operations in the UK, India and Australia. I like my companies to feel. I want people to enjoy. I want it to be like a close-knit family. I want people to get up in the morning and think what they are going to do today. I want that they are not afraid to make mistakes. Actually, they should have the right to make mistake as long as they acknowledge it and learn from those mistakes. That's what I want my companies to be like. I think of publishing in terms of a triangle: At the head is a publisher and at the base is your sales department and your marketing and publicity department, these days the noise department. Marketing and publicity used to be separate, but now the line has blurred. For me, that triangle is critical. In the UK, for example, I got wonderful people who are the heads of those divisions which are part of the triangle. Once that was sorted, we focused on discipline and creativity. We had to make sure people we had the drive, the desire, the hunger and the fire in the belly. Nothing is ever enough.
I remember when I was at Pan Macmillan, a senior said to me, "Look at these numbers. I want more of these." I told him that numbers were made up of books written by people who go to office and if you publish and focus on those books and those offices, the numbers will come. I've always believed that. However, it's easier said than done. So, creativity is linked with attraction. Once we manage to attract people and when they love the books we publish, it makes my heart go pitter-patter.
THE PUNCH:
Tell us about some of interesting authors and titles and how about your strategy to promote them.
IAN CHAPMAN:
In the UK, there are authors like Santa Montefiore and Philippa Gregory who are major authors for us. Though we pay good money, we also have relationships with these authors that I regard as a partnership, together with the sales and marketing and publicity departments. One has to create as much pre-publication noise and pre-orders as possible so that when you hit the publication day, you are able to help the sales department sell more copies. In that sense, pre-publication awareness or the focus on trying to make an event of each release has changed dramatically. Social media has become indispensable in reaching out to the readers and making noise. We do very little of traditional print advertisements. We used to advertise in The Bookseller frequently. Now, we do it very rarely. We do a lot of social media and digital advertising and outdoor campaigning.
Last year, among the books that did really well were those by Bruce Springsteen (Born to Run) and Graham Swift (Mothering Sunday) and lots of other books. I have been thinking about focus of late.
Page
Donate Now
Comments
*Comments will be moderated