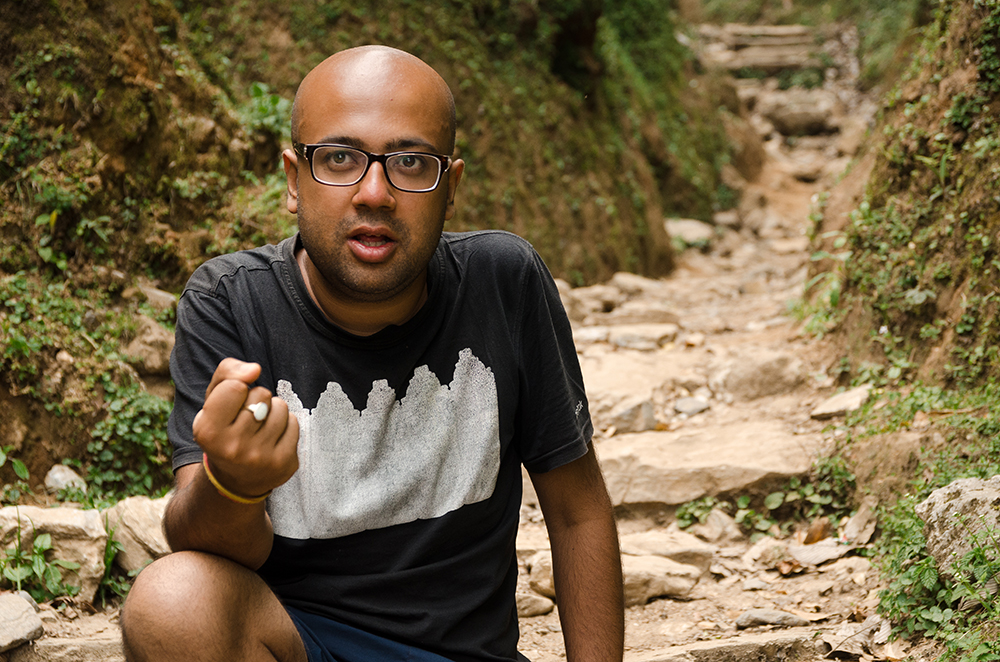 Prajwal Parajuly. Photo courtesy of the author
Prajwal Parajuly's material speaks of new and unexpected paths waiting to be travelled
Prajwal Parajuly can no longer walk the streets of Gangtok, Sikkim, without being recognised. The writer's rock-star status back home in the little state bordered by China, Nepal, and Bhutan has given him an ego, he says, "the size of France."

He's sought after not only in the foothills of the Himalayas, but international airports and book fairs in places as far-flung as Kenya, Morocco, and Gibraltar. He signs thousands of copies of his books for literary festivals and is asked for interviews non-stop.
He travelled almost constantly for two years, after being crowned "the next big thing in South Asian fiction" by the BBC in 2013, but is now relatively settled in Calcutta with a love interest he identifies as Sohini Basu, baker and owner of Mrs. Magpie Cafe.
The Gurkha's Daughter, a short-story collection shortlisted for the Dylan Thomas Prize in the UK and a semi-finalist for the Story Prize in the U.S., and Land Where I Flee, a novel, have each spent time on India's bestseller lists, and as part of Oprah's book club in South Africa. Parajuly returned to the Dylan Thomas Prize this year — as one of the five judges who will find a worthy recipient of the 30,000-pound Dylan Thomas Prize, the richest prize in the world for young writers.
No one pounces on him for an autograph in Kirksville, Mo (Missouri), where he recently did a stint as the Clayton B. Ofstad endowed distinguished writer-in-residence at Truman State University, his alma mater. If anything, the restaurant's host is suspicious of the bald man in jeans and a French blue button-down, wearing heavy black-framed glasses, who sounds British but looks more like a laughing Buddha statue.
He says, "I haven't been able to figure out American readership the way I've figured out British readership. No, it's very strange. I go to all these litfests in America and expect a ton of brown people in the audience. Doesn't happen. Older white women are who I mostly see." He's at a loss to explain this phenomenon aside from chalking it up to the popularity of book clubs in that demographic.
"Am I happy with the way the books have done here? No. They've sold okay, but I wasn't a bestseller here. That was disappointing."
We're at a Mexican place he wanted to hit for lunch — by his accounts, the only worthwhile eatery in town. Though he earned his bachelor's here, he was a little sketchy on how to actually find the place.
He hasn't had a valid driver's license since 2006, so I drive. The streets of Kirksville are nondescript: broad, cracked four-lanes that butt up against grass or gravel but rarely a sidewalk; expansive parking lots in between fading shops and worn-out restaurants, like our destination, La Pachanga, which is flanked by a gas station and a white raised-ranch style house, pervasive in the area.
La Pachanga's bench-backs are high, made of heavy, dark glossy wood. The walls are littered with images of wagon wheels, cactus, and barbed wire. Getting a word in is a challenge over the lunch crowd, the loud Mexican pop-music, and a Kansas City Royals game flashing from every television.
Over chips and salsa, we talk about his books, ambition, or the lack thereof, and dumb luck in the form of a volcano.
While Parajuly's books sold well abroad and were part of a two-book, 13-country deal when he was 26 years old — he was the youngest author to sign such a contract with Quercus, a house that has published Stieg Larsson, Jim Shepard, and Joyce Carol Oates — sales were modest in the U.S.
However, as one of only two Nepalese-origin authors published in the U.S. — the other is Samrat Upadhyaya — he's breaking new ground. And in the countries where he has done very well, it's fair to say that no Nepali-speaking author has ever captured as many imaginations as Parajuly has. He is still the only Nepalese-origin author to be published in the UK.
"My books did very well in the UK," Parajuly says as he examines the menu and rests his hand on a copy of The Gurkha's Daughter. "They came a lot later to America. … People in the UK have a lot of affection for the Gurkha. The fajitas here are very nice."
Gurkhas are Nepalese fighters who recently marked 200 years serving with the British Armed Forces — they were first recruited to ensure that they would not fight for Nepal, with whom England's East India Company was then at war. They have fought in all major world conflicts and are known for their strength, resilience, and ability to adapt to their environment.
Parajuly notes, "As a person who went to school in this town, I am aware how no one in America knows what the Gurkha is. We contemplated changing the title." Ultimately — and this, he says, may have been to the detriment of U.S. sales — the title of his short story collection remained unchanged.
But, he says, he didn't want to undermine Americans' worldliness by dumbing it down. That, and writing about a region and culture underrepresented in English literature might deserve a title that sounds foreign to the American ear.
Page
Donate Now
Comments
*Comments will be moderated