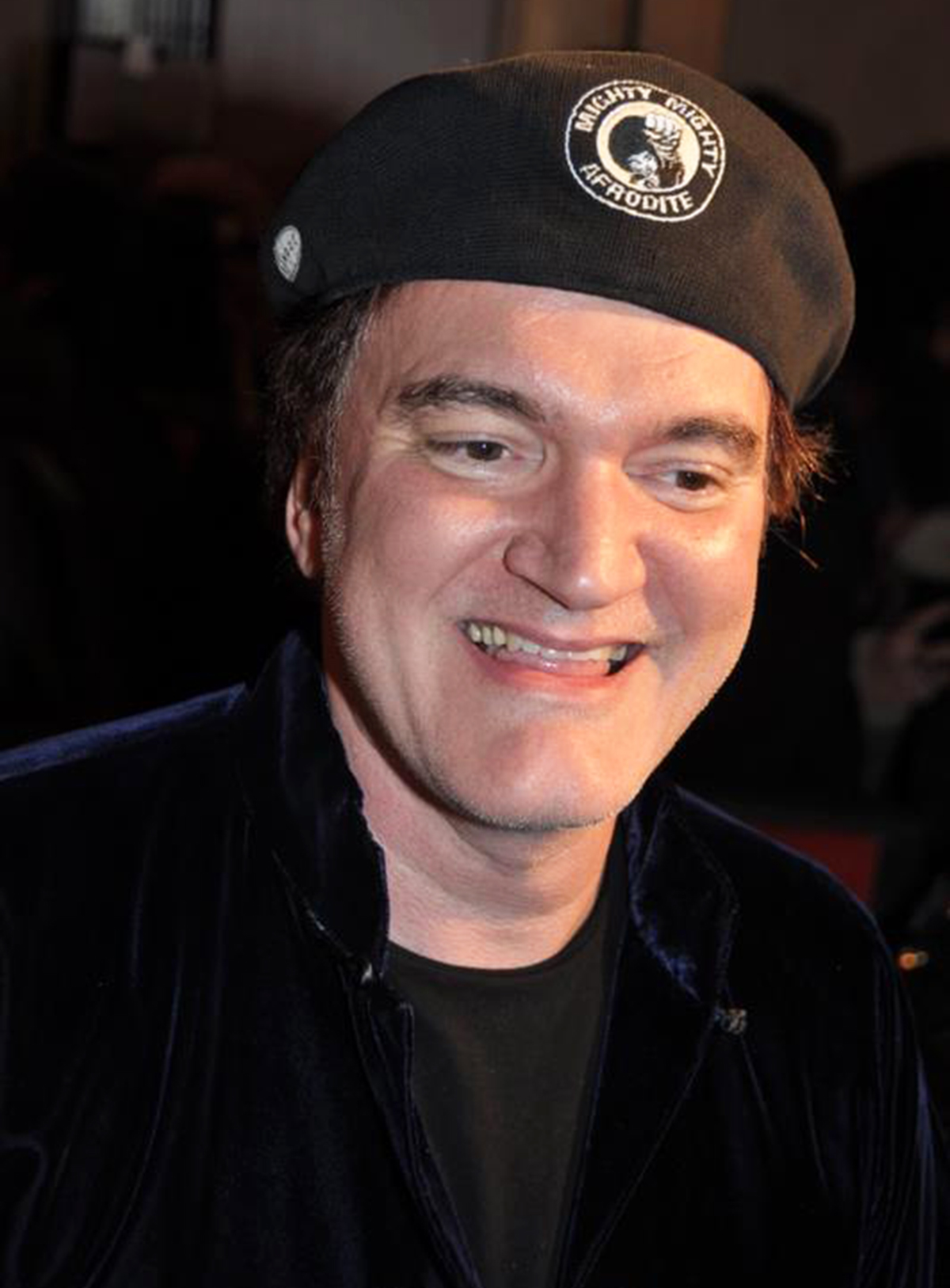 Filmmaker Quentin Tarantino. Photo: Wikipedia Commons
From Reservoir Dogs to Once Upon a Time… in Hollywood, Tarantino blazes a trail with his celebration of cinema, his subversion of history, and his recurring compulsion for homage and pastiche
Saints have no moderation, and, to paraphrase Anne Sexton, nor do some filmmakers, just exuberance. Quentin Tarantino, as a filmmaker, is all about exuberance: he inhabits it, revels in it, and makes a great show of it. Celluloid is a fertile ground where he lets his imagination run wild, breaking the mould and altering the mindscapes in the process. What makes Tarantino's craft distinct is how he approaches the medium. To learn filmmaking, he didn't go to film schools, but went to films instead. His filmography, which he is extremely conscious of and has choreographed carefully over the decades, is an exuberant, pluralistic mix of memory, nostalgia, history and happenstance; his frames have a conversation with the past, often revisiting the sights, sounds and fury of the lives and times that have faded from the public memory. Tarantino reveres his medium: he doesn't make movies merely for the sake of making movies.

Destiny, and circumstances, shape us, but often we shape our destiny and create the right circumstances for ourselves. Tarantino likes to explore the alternative possibilities of life: what if the destiny of his weird and wonderful characters itself were different, and circumstances had taken another, happier turn; what if life had offered them another choice. If his characters are faced with the inevitable doom, what if they could somehow find a way to escape that imminent doom. In many ways, the triumph of his characters — against odds, oppression, annihilation or evil — is the triumph of Tarantino as a filmmaker, both triumphs larger-than-life.
The release of a new film by Tarantino has come to acquire the aura of a global event — megatastic, wondrous, thrilling — and coincides with unparalleled frenzy among his incredibly large fandom. For cinephiles around the world, the event is no less than a celebration of some sort, the time to look into the eyes of life's tragicomedy, its gritty and grime realities, and cinema, which mirror them. Tarantino's latest, Once Upon a Time... in Hollywood, takes one of the ifs of Hollywood history and turns it on its head: What would have happened if Sharon Tate, the American actress and model who was just beginning to come into her own then, had never died during the mass murders unleashed at her rented luxury home at 10050 Cielo Drive in Benedict Canyon, north of Beverly Hills, in California, by the members of the Manson Family on August 8-9, 1969. The Manson Family, a quasi-commune and a cult operating in California in the late Sixties, led by the high-on-hallucinogens Charles Manson, committed a series of nine murders at four places in July and August 1969. The killing spree at Cielo Drive was one of the four: Those who were killed included five adults and the unborn baby of Kate and her husband Roman Polanski, her director and co-star in The Fearless Vampire Killers (1967). The duo had tied the knot over a year ago, on January 20, before the tragedy struck.
***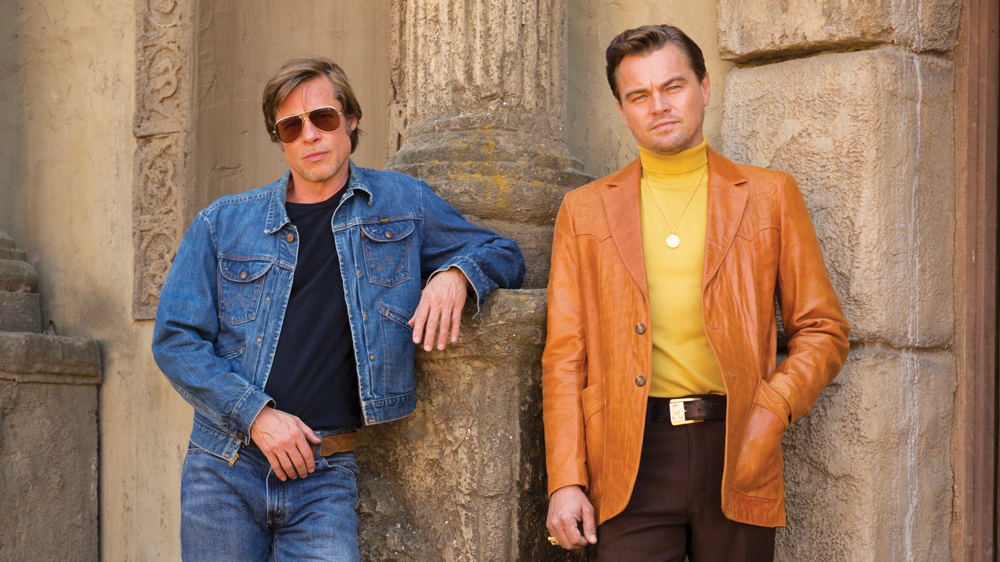 A still from Once Upon a Time... in Hollywood
The tragedy that unfolded at the Cielo Drive is fodder for the filmmaker; in Once Upon a Time... in Hollywood, he exploits it to the hilt, and reimagines it: he gives the event a spin in his trademark way, and takes the course of events in the August of 1969 in another, alternative direction. By telling the story of a fading Hollywood star, Rick Dalton (played with elan by Leonardo DiCaprio), his stuntman Cliff Booth (Brad Pitt), Tate (played by Margot Robbie), and deranged minds (the cohorts of Charles Manson, played by Damon Herriman), Tarantino seems to argue that in films, and fiction, there is a promise of some kind of redemption, a lingering hope that things can be set right for those who find themselves in the vortex of tumultuous times, or at the receiving end of tyranny. Just as he does in his previous films, he takes us to the spirit of the period the film is set in — dropping a cinematic reference here, resorting to a popular culture signifier there — and makes luck play in the favour of those who lost their lives. Tarantino, who is known to have an avid interest in history and rewrites it his films, does with Tate what he did with the Nazis and Hitler in Inglourious Basterds (2009) and with slave owners in Django Unchained (2013). However, the director, long accused of "glorifying" unabashed violence on screen, chooses to go soft this time. Once Upon a Time... has the same vim and vigour that pervades his films, but it is, many would argue, less bloody, less bizarre.

Tarantino, in the grand scheme of things, is first and foremost a storyteller, someone who often tells stories that never happened. Interestingly, he had once even tried his hand at writing novels, inspired by Larry McMurtry's All My Friends are Going to be Strangers (1972), about an almost-successful author, Danny Deck, who finds himself hurtled unexpectedly into the hearts of a fickle girlfriend, a lusty neighbour, and a friend, Emma Horton, after he flees Houston. Having finished writing two chapters and then spending about six months re-writing it to make it perfect, Tarantino is believed to have abandoned the novel. He loves the freedom that comes with and the liberties he knows he can take even when he is telling a true story. "Novelists have always had complete freedom to pretty much tell their story any way they saw fit. And that's what I'm trying to do. I like it when somebody tells me a story, and I actually really feel that that's becoming like a lost art in American cinema," he once said in an interview. A polarising figure both loved and loathed in equal measure by fans and critics, Tarantino may have been criticised for "glorifying" violence in his films, but his avowed intent has always been clear. He does this to give the viewers a dose of the thrill associated with the experience of watching cinema, which is, at the end of the day, largely about suspension of disbelief. "Violence is one of the most fun things to watch," the filmmaker once said and has repeated his stance on violence, and what he aims to achieve through this, ad nauseam: Violence, in his films, is only a means to an end, not the end itself.
In film after film, despite the blood and gore, Tarantino, the storyteller, has been telling us fairytales all along, argues Scott Huver of CNN. "Tarantino has, despite all of the blood, grime and grittiness, been spinning a very specific kind of storytelling, extremely bloody tales, but ones where the good guys win, even when they sometimes die, in keeping with the Grimm tradition," wrote Huver in a review. Quoting Tarantino, he writes: "His films take place in one of two shared continuities: the 'Realer Than Real' universe, mostly rooted in our reality, where his characters can mingle with both actual historical figures and those from other Tarantino films (Reservoir Dogs, True Romance, Pulp Fiction, Death Proof, Inglourious Basterds, Django Unchained, The Hateful Eight and, now, Once Upon a Time...); and the 'Movie Movie' universe, which exist in a heightened reality that include overt supernatural elements (Natural Born Killers, From Dusk Till Dawn, and the Kill Bill films). Jackie Brown, derived from an Elmore Leonard novel, exists in its own unique reality," he writes, adding that the last shares its reality with, Steven Soderbergh's Out of Sight (1998), another Leonard adaptation.
***
In January 1992, the Sundance Film Festival, held at Park City in Utah, was abuzz with conversations around a debut film by a 28-year-old actor-writer-director — California-reared and self-proclaimed "film geek" having worked behind the counter at Manhattan Beach's Video Archives for five years. The heist film, Reservoir Dogs, which had its world premiere at the festival, had been rejected by major Hollywood Studios. They believed the movie and Tarantino were one-hit wonders on the art house circuit. There were many things that seemed to go against the film. Besides being a violent and twisted tale, it featured no woman major character, leading to accusations of misogyny. It had aggressive dialogue about Black people and had some blatant macho touches. The antagonist in the film, Mr Blonde (played by Michael Madsen), a sadistic psychopath, slices off the ear of unfortunate police officer in the film. The scene had critics fuming at the depiction of excessive, unflinching savagery.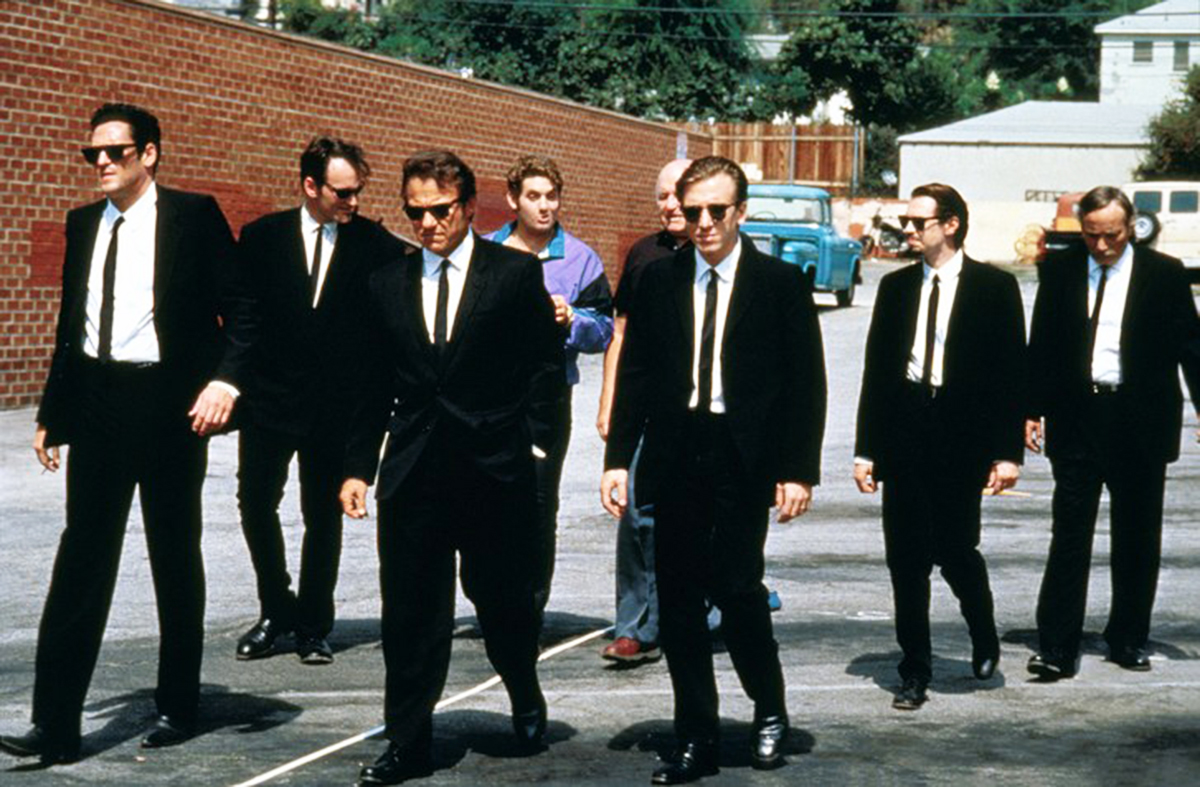 A still from Reservoir Dogs
During the first 93-minutes of the screening at Sundance, about six-seven odd people walked out during the ear-slicing scene. At the post-screening conference, where he was joined by Reservoir Dogs actors Harvey Keitel, Michael Madsen, Steve Buscemi, and Tim Roth, Tarantino was asked by a reporter: "Would you show Reservoir Dogs to your own eight-year-old?" Tarantino shrugged and replied: "If she reacts harshly and it gives her nightmares, so what? Part of being a kid is having nightmares." Asked if the film might incite someone to commit violence, he blurted out: "I'm not going to be handcuffed by what some crazy fuck might do who sees my movie. The minute you put handcuffs on artists because of stuff like that, it's not an art form any more." Later, defending Dogs, he said: "These guys are not like the guys in Goodfellas (Martin Scorsese, 1990). They are not the wise guys or gangsters. They're like Dustin Hoffman in Straight Time (based on No Beast So Fierce, 1973, by Edward Bunker and directed by Ulu Grosbard in 1978); they do jobs. And a big thing in that line of work is professionalism, which is a way to bullshit themselves into thinking this is an actual job and profession, not just hooliganism."
Reservoir Dogs expectedly didn't win any prizes for its political correctness. But the resounding word-of-mouth publicity and, later, big business made it a huge success. It had been financed by Live Entertainment, which was primarily into video operation; Lawrence Bender was the producer. In order to get a release in the US, the movie needed to find a US cinema distributor. Along came Miramax Company and its two founders, Bob and Harvey Weinstein, which financed a lot of low-budget movies at that time. They snapped the US theatrical rights for $200,000. In America, the movie went on to gross $4 million. Live Entertainment, which had retained the video and foreign distribution rights, made an estimated $50 million from the movie.
While making Reservoir Dogs, Tarantino had absorbed hundreds of films — from grindhouse to arthouse. Among filmmakers, Jean-Luc Godard, especially Bande a Part (Band of Outsiders, 1964), has been one of the biggest single cinematic influences on him. The film is about three misfits. While they are pursuing ladylove Odile (Anna Karina), cinephile slackers Franz (Sami Frey) and Arthur (Claude Brasseur) spend their days mimicking the antiheroes of Hollywood noirs and Westerns. They have a way with upending conventions — through choreographed dances in cafés or frolicsome romps through the Louvre. Having a romantic view of the outlaws, they soon embark on their own heist. However, their lack of experience catapults them to a blaze of glory, which is precisely what they would have wanted anyway. At some point in the film, Franz asks Odile: "Isn't it strange how people never form a whole?" Odile replies with a question: "In what way?" Franz says: "They never come together. They remain separate. Each goes his own way, distrustful and tragic. Even when they're together, in big buildings, or in the street." Jean-Pierre Melville was another French La Nouvelle Vague (New Wave) cineaste who inspired him. Tarantino also turned to American literature for inspiration. Among the many authors who he drew on include J.D. Salinger, Elmore Leonard, Charles Willeford and Jim Thompson. Besides, pop TV (The Partridge Family, 1970, and Baywatch, 1989) has been a huge influence that shows in his films.
***
Once Upon a Time…, Sony's bet on Tarantino, had its world premiere at the Cannes Film Festival on May 2 and was released theatrically in the United States on July 26. It exceeded box office expectations with its $41 million domestic debut. "It signals that audiences are still interested in original content with a compelling hook," writes Rebecca Rubin in Variety.
While Tarantino tends to refract his stories through his various pop-cultural obsessions, whether kung fu movies or Leonard novels, but the fact that Once Upon a Time is set in the actual Hollywood Hills and revolves around the actual moviemaking process, makes it an extremely "melancholy hangout film, an elegy for a bygone era that reflects on how all art eventually loses its edge," writes David Sims of The Atlantic.
From Reservoir Dogs to Once Upon a Time…, in his celebration of cinema, his subversion of history, his compulsion for homage and pastiche, Tarantino is like a crazy diamond who is leaving a trail of light behind, film after film. His big goal, it seems, is to discover the secrets of the intersections, and interactions, between life and cinema. The geography of his mind is fluid and constantly evolving, taking several forms as it navigates the currents of crime and revenge across eras. Tarantino has, for long, been seen as "a film geek, a fanboy, a fanatic cinephile with an encyclopedic command of archaic styles and genres," A O Scott writes in The New York Times. "After Once Upon a Time…, he deserves a loftier, possibly more contentious label. It's the expression of a sensibility that is profoundly and passionately conservative," adds Scott.
Once Upon a Time is Tarantino's ninth and supposedly penultimate film. If Tarantino, 56, doesn't, after all, make his 11th film, his body of work will forever stand in the hallowed history of Hollywood as 10 commandments for anyone enchanted by cinema, offering lessons in the art and craft of making films rooted in a gamut of gritty realities and popular culture, films that rapturously blur the line between fact and fiction.
In our violent times, rife with the realities straight out of dystopia, Tarantino's films invite us to take a closer look at ourselves and see what we do, and keep doing, to each other as members of a community, race, or as citizens. In his films, he reverses the tormentor-victor relationship and gives power to the unempowered, offering them an opportunity to set things right, albeit only on the silver screen. Tarantino's proclivity to be seen to be on the side of the oppressed, the alienated, and the wronged makes him something of a seer, a saint, who is governed by his faith in the kind of films he has made so far — uninhibitedly and unapologetically.
This article, written in June, was updated on August 2
Donate Now
Comments
*Comments will be moderated