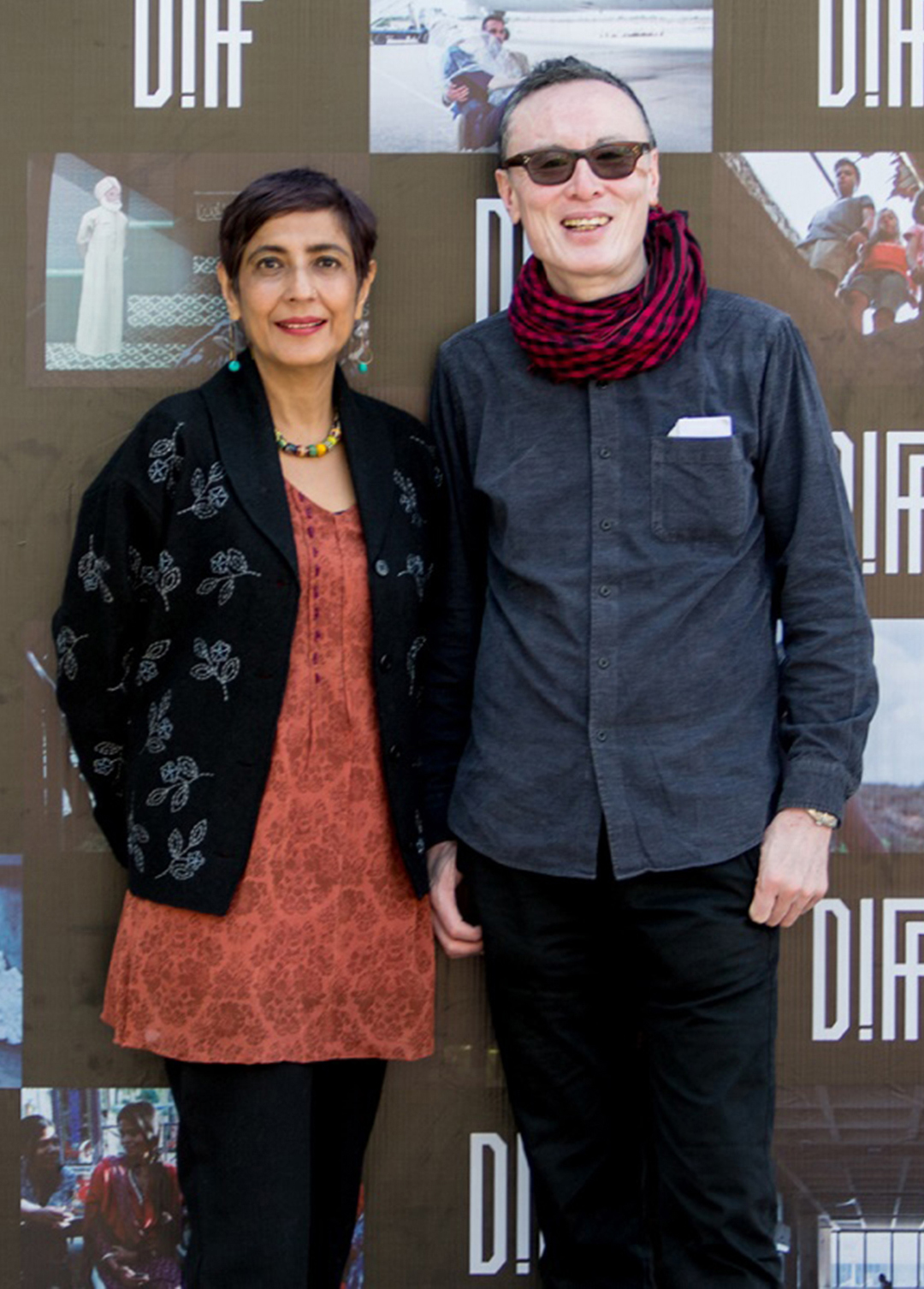 Ritu Sarin and Tenzing Sonam, veteran filmmakers and the director duo of Dharamshala International Film Festival. Photo courtesy: DIFF
Ritu Sarin and Tenzing Sonam, veteran filmmakers and the director duo of Dharamshala International Film Festival (DIFF), have been working for the promotion of contemporary cinema, art and independent media practices in the Himalayan regions of India for many years. The first edition of DIFF was held in 2012 and since then, it has become one of India's leading independent film festivals. Each year, it features many India premieres, hosts directors from around the world and has become a "go-to" event in any cinephile's calendar. In this interview, conducted on the sidelines of the festival, they discuss their love for independent cinema. Excerpts from the interview:
What led you to make the Himalayas your home? Can you describe your love for Dharamshala?
Ritu Sarin: Tenzing and I have always loved mountains and we always wanted to live in the mountains. Dharamshala is important for me because my father's family was from Dharamshala and it is a centre of Tibetan world. Tenzing is a Tibetan and most of our work is on Tibetan lives. A unique mix of Indians, Tibetans and expats live here. Once you live with nature for long, it is hard to live without.
How do you look back at the journey of the festival in the last five years?
Ritu Sarin: It is like giving birth to a child every year and the birth is hard every year. It has been a wonderful journey and it has created a wonderful space for independent cinema. It is also an event which our community looks forward to and before the actual festival begins, we do a lot of events in schools and colleges. I feel it has an impact on the people around us. There is a lot to be done. Though down the line it has become easy, it is still a struggle every year. It is always a work-in-progress and not a destination in a way. It is more than nurturing.
Tenzing Sonam: The idea of doing something communally for the local people and for the independent filmmakers at large is something which keeps us motivated. We did not think of it becoming so large that it would have filmmakers from across the world in the way it has been come up now. Independent filmmakers from across the country think that it is their own festival and that is a win for us.
Shed some light on your selection procedure of the films that are screened each year…
Ritu Sarin: We look out for films all over the year and we sort them in the span of six months, off and on obviously. Directors, film programmers and many professionals keep recommending us films. It is a very long process and depends on what stays in your mind and that is the criteria of a strong film. We have a team which sorts films and the final call is by the two of us.
Do you have disagreements? How do you balance the personal and the professional relationships?
Ritu Sarin: There are always many disagreements as it is a creative process and there is no absolute right. When we are watching films, it is a professional relationship. It is decided when both of us agree and towards the end when it gets really busy, we both watch separately and discuss whenever we are together. It is also more of a professional relationship because we co-direct films, produce, and write. Probably we spend more time in a professional relationship than a personal one.
What was the unique thing about this year's festival?
Tenzing Sonam: Each year, we try to expand our community outreach programme because the idea behind the festival was to bring independent films to this area and to slowly nurture a film culture in this part of the region. We had more programmes in schools, more participation from local people and we bring a lot of children from school and had a separate section for them. This is the second year we are doing it at a school and I think that it is a testimony itself for the kind of approach we have towards cinema.
There are a lot of debutants this year on the list…
Tenzing Sonam: We do not think of a film to be a debut film. The only thing we consider is its merit. We are creating a space for new filmmakers by showing selected short films in a special section. We do not have a category for any debutants or women or other such tags but the only criterion is of a good film.
Which were the films you were excited by this year?
Tenzing Sonam: That is a tough question. It is really hard to choose one. We are really excited about Village Rockstar, which is solely made by Rima Das and it is the product of her perseverance and belief. It is a fresh and unique film and that is its USP.
Ritu Sarin: You do not have to answer it. (Laughs) I think it was Turup which was not made by any one filmmaker but by a collective. It was made by local people presenting local stories and got excellent response.
What motivates you to go on every year?
Ritu Sarin: Our love for cinema started a long before when we used to watch films in movie theatres and I was part of Delhi University's film club. Films have a power to communicate with people and now when we have a lot of independent cinema coming up, it needs space for its exhibition and discussion. There is a shortage of spaces. For us to be able to show it is a part of the process. As filmmakers, we try to build an ecosystem where youngsters can watch films, make films, and encourage filmmaking with that process. The distribution is still an issue though we now have a big space over the internet doing distribution in a communal way which is very important and that is what we are striving to do.
Can you recall some unforgettable experiences from earlier editions?
Ritu Sarin: Some years ago, when we screened Fandry, which deals with cast, which is everywhere but never seen in cinema .We had a lot of young college students in the audience and they told us they have never seen a story like that. They asked to meet the filmmaker and the universality was amazing. That is one of the stories, but it often happens. It happened with Pushpa Rawat's first film, Nirnay, also which was based on a young bride's story of getting married which everyone in the audience was able to connect with.
The festival offers a fellowship programme for the people of Himalayas…
Tenzing Sonam: It is the fourth year of the programme and we offer five fellowships to filmmakers from the Himalayan region. This year, for the first time, we had two Himachali filmmakers. However, it is not something which has instant results. The filmmaking process takes a lot of time and there are few people who are born brilliant, but there is always a scope of training people and that is the effort we are trying to make. Like rock-cutting, it takes time to take a shape. We are not hoping for immediate results, but it will happen with time which we have to measure in a long run.
Based on your own experiences, what makes a film a great film?
Tenzing Sonam: What draws me to the films are the passion and the integrity of the filmmakers. Where there is a voice that is unique and also those films which are universal. Touching the deep conditions of the human being makes a film a great one.
Ritu Sarin: It is not the depiction, but what lies beyond that touches your heart. Sometimes, when a film ends, the people want to hug the filmmaker. That is cinema's value: it reaches sensibilities. Cinema is something that it can do and not what it is.
Did you enjoy watching popular cinema as a child?
Tenzing Sonam: I grew up in Darjeeling and Hindi movies were very popular. My favourites are films like Aradhana, Deewar and many films from the seventies. Just going to a cinema hall was an occasion in itself and it literally started my attraction towards filmmaking and film appreciation.
Ritu Sarin: I really have not watched a lot of popular cinema and my family never took me to a popular film. The first film that I watched was a Bergman film. I was only exposed to alternate form of cinema.
You are also making your own films these days…
Ritu Sarin: We shot our film in April-May this year in Ladakh and Delhi and we are ready to go into post-production. Hopefully, it will be ready in early 2018. It is called A Sweet Requiem. It is about a young Tibetan who lives in Delhi and it flashes back to her past in Tibet. It is the story of betrayal but also a story of reconciliation.
Tenzing Sonam: It is based on my experiences so far and it took me more than five years to write it. It has two timelines and blend the past with the present.
What advise will you give the new filmmakers?
Ritu Sarin: Just find your own voice and tell the story which only you can tell.
Tenzing Sonam: You have to have a great amount of perseverance as your journey will be full of disappointments. Only passion, integrity and commitment will take you forward on this journey.
Donate Now
Comments
*Comments will be moderated