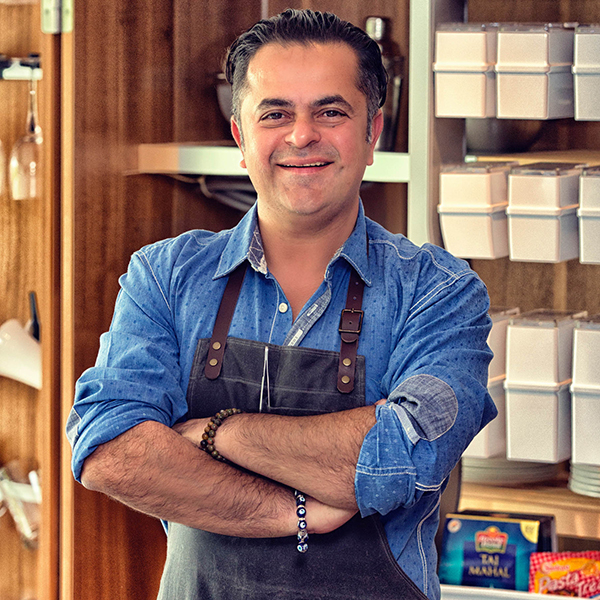 Chef Vicky Ratnani (top and below). Photos courtesy of the chef
Chef Vicky Ratnani is redefining fine dining and setting trends by rustling up innovative dishes
Chef Vicky Ratnani, 49, is a man of multitudes. He both contains them and is contained by them. One of India's best-known chefs, he brings to you the taste of food from around the world and is redefining fine dining, setting trends by rustling up innovative dishes that reflect his cutting-edge preparation as well as the influences of global cuisine on his style of cooking Italian fares.

As a chef, a TV host, a food connoisseur, founder of restaurants, one of the minds behind a healthy food startup and now the developer of a web series, The Gastronaut, which explores global trends in food, Chef Ratnani's journey as a food enthusiast and as a chef is replete with many milestones.
We meet on a cold evening in New Delhi at The Runway Project at Saket in New Delhi. Based in Mumbai, Chef Ratnani was flown in to curate the restaurant's winter menu. Despite being a celebrity chef, he exudes warmth, has not put on airs, is at once congenial and candid, and makes you comfortable as soon as you start talking to him.
"I think my life is like a jigsaw puzzle, put together as one big picture. There is a reason for all the different puzzles, which reflect the different phases of my life, to be there. It's only when you put them together that you get the whole picture. Those different pieces include travel, learning about productivity, management, regional cuisine, community cooking, home-style cooking and more," says the chef.
In his case, the jigsaw puzzle of his life contains too many pieces, and when you put them together, the picture that emerges is of a man who had a dream and who started chasing it early on, with conviction, and perfected his craft as he went along pursuing his dream, with each of his subsequent accomplishment greater than the last.
A collector of culinary traditions from around the world, Chef Ratnani has delved into the eating habits of people across cultures. Today, he has fingers on the pulse of the gourmets and knows what should be on their menu, whether they are relishing Italian fares or healthy, vegetarian items.
Currently, Chef Ratnani consults as a Culinary Director with Gourmet Investments Pvt Ltd (GIPL), a subsidiary of Bharti Airtel and the representative of Pizza Express. He conceptualises and curates restaurant menus and food concepts for Pizza Express, The Runway Project, The Market Project, The Poona Project, Ministry of Crab and Nihonbashi. Recently, he revamped The Bandra Project, a communal style, casual-yet-chic, all-day eatery serving global cuisine at Pali Hill in Mumbai, which was the first in the series of theme-based restaurants launched by the group in 2017.
Setting Sail
Chef Ratnani's foray into the fascinating world of food industry started pretty early. As a child, he'd often wander into the kitchen of his house at a leafy suburb in Mumbai. "I always loved food. I always loved everybody else's tiffin. I learnt very early that I wanted to take this as a profession. In my family, my mom, my sisters, my aunts are all great cooks. We were always surrounded by good food. When I look back, I realise that these must have been the reasons behind my love for good food," says the chef.
Having recognised his passion for food early on, he graduated from Dadar Catering College (Institute of Hotel Management, Mumbai). And then it was time to go out into the world and set sail to pursue his dream.
He embarked on a long journey on ocean liners and cruise ships, working in their kitchens, travelling around foreign shores for 14 long years. Each year, he would get two months off and come back home for three weeks. He'd spend the other five weeks working in family-run kitchens in Genoa and Venice, learning family-style Italian cooking.
"The reason I left was that I was more inclined towards Western food, but in those days, either it was Indian food or Chinese food or very basic continental food available around. Now, the whole F&B space is very different," says the chef, who wanted to travel the world to learn the cuisines of the world. "I worked with 37 different nationalities. I started from the bottom and reached right up to the top," he says.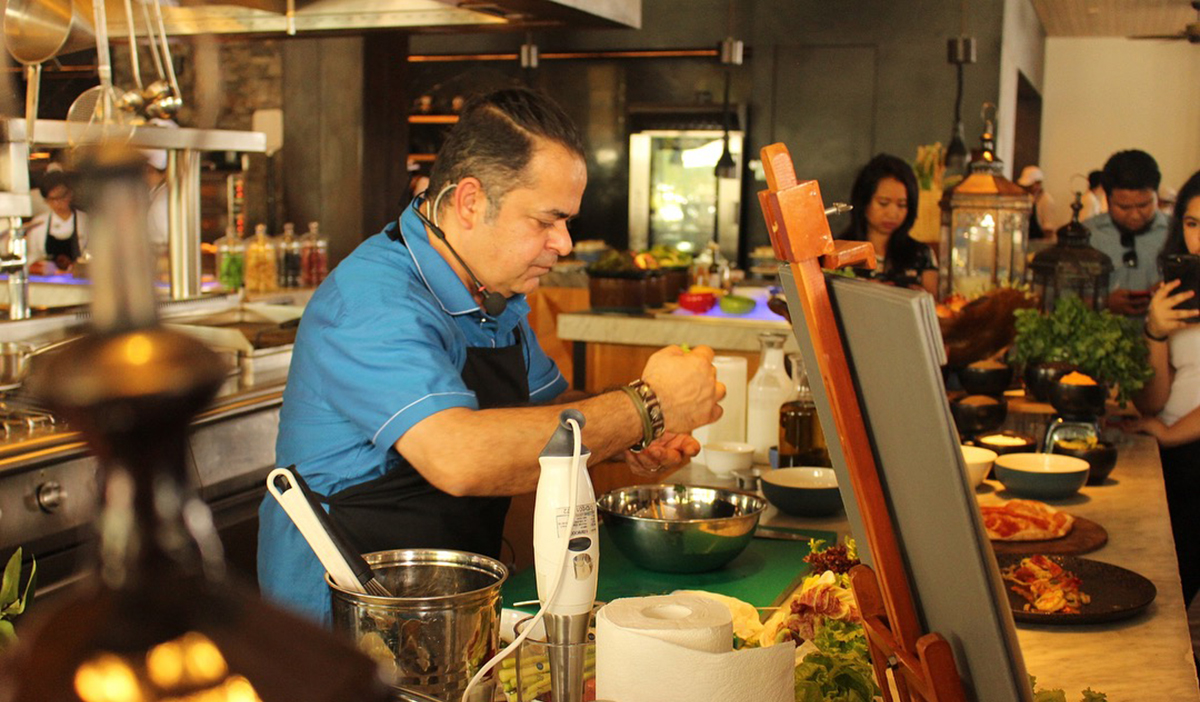 When he started setting sail, it was as if he was sailing for Ithaca, wishing for the road (the sea) to be long, full of adventures, full of knowledge, till he found his own kingdom of cuisines. His sail began with Queen Elizabeth 2 (QE2), a floating hotel and now retired ocean liner built for the Cunard Line, operated by Cunard as both a transatlantic liner and a cruise ship from 1969 to 2008, which has been functioning as a floating hotel in Dubai since 2018. Onboard, he engaged with various global culinary traditions. As he prepared for this voyage, Chef Ratnani also got a chance to train over 180 chefs the White Star Chef's Training School on board QE2, in Manila and St. Nazaire. Six world cruises later, Chef Ratnani was an enriched man, having observed and absorbed the variegated markets of the world along the way, with his eyes focused on European cuisine and the various ways it kept changing its contours from one country to another.
Later, the chef was also a part of the opening team for Queen Mary 2 (QM2), a transatlantic ocean liner, the largest ever built, which is the only passenger ship operating as an ocean liner today. Aboard QM2, he opened up Britannia Restaurant & Kitchen, the largest restaurant at sea during its inaugural opening in 2004. Later, he became Executive Sous Chef of QM2. Subsequently, he became Executive Chef for Queen Victoria, a Vista-class cruise ship operated by the Cunard Line.
During his foreign stint, Chef Ratnani had the privilege to be the personal chef to Nelson Mandela on his journey from Durban to Cape Town as the latter was promoting his charitable venture. Today, when he looks back at his journey, he feels proud. "I was the first Indian executive chef in the history of the Cunard Line. I circumnavigated the world, cruising across the world seven times. I have been to over 45-50 countries. It gave me a lot of exposure. The chefs I worked with came from different countries: Austria, France, Germany, UK and others. So, classically, I'm a European-trained chef. Travelling abroad, going to different places, I learnt a lot about people, how they cook at home. I also learnt about how people think in different countries," says the chef.
The Return of the Native
After moving back to Mumbai about 10 years ago, Chef Ratnani took over Aurus, which was docked by the sea in Juhu and frequented by the city's well-heeled, working as a consulting chef, in 2008. Here, he introduced the concept of molecular gastronomy, a sub-discipline of food science that seeks to investigate the physical and chemical transformations of ingredients that occur in cooking, using techniques like sous-vide, cooking food in vacuum-sealed bags, and creating vegetarian caviar and foams.

In 2013, the chef started Nido, which means nest or home in Italian, an all-day bistro. The menu here was a confluence of seasonal produce, old favourites, classic dishes, and modern progressive food. Produce and technique-driven, Nido experimented with new combinations and a few different methods, like marinating our fruit in vacuum-sealed bags and brining meat overnight. Here, Chef Ratnani also used microgreens and edible flowers, which was relatively new in India then.
In 2015, he was voted Chef of the Year in India at the Indian Restaurant Awards. TV shows like Vickypedia, A Taste Down Under, Vicky Goes Desi, Vicky Goes Foreign, Gourmet Central, Vicky Goes Veg, Pressure Cooker, Sanjeev Kapoor ke Kitchen Khiladi, and Health Mange More have further bolstered his popularity. His book on global vegetarian food, with elements from India, Vicky Goes Veg,was published in 2013.
Today, he is also one of the partners of a healthy food start-up called Hello Green, which has three back-end kitchens catering to south and north Mumbai and serves healthy, organic, calorie-counted meals, as meal subscriptions or even à la carte at www.hellogreen.in. His web series, Vicky The Gastronaut, has been streaming on his Facebook page. He has filmed in Peru and Australia for the series, and was scheduled to film the third part at Chiang Mai in Thailand in February.
On Italian Cuisine
Italy, says the chef, is a very fashionable country. "There is a difference between being fashionable and being stylish. You're being fashionable if you're following trends. But being stylish is being yourself. Italy, more than being fashionable, is a very stylish place; it has soul, it is very elegant and chic and not snobbish," he says.
Italian food in Italy, he says, is very different from the Italian food in the UK or America or India. He describes his method as "a progressive take" on Italian food, which has both style and soul. "My inspiration comes from restaurants in New York, Milan, London, and India where we'd like to have a little bit of spice in our food. So, it's a mix. The idea is to serve in small plates so that people can taste more food in community-style interactive set up. When, instead of ordering one plate, people order two or three plates and share, it becomes a point of conversation," he says.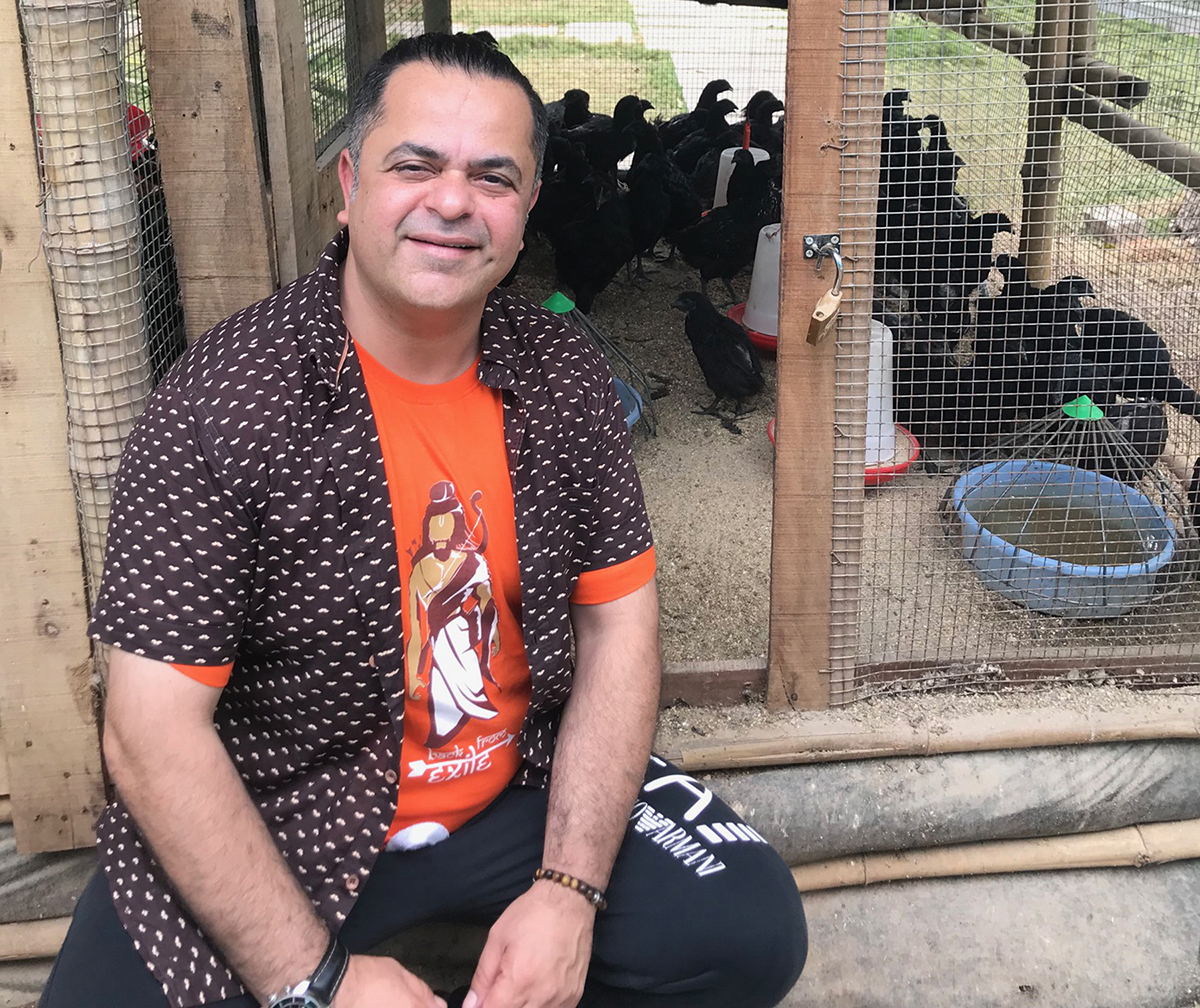 According to the chef, Italian cuisine lends itself to its locality. "Therefore, it's very easy for Italian food to become hyperlocal. At the Runway Project, for example, a lot of Italian food is recreated using vegetables — eggplant, bell peppers, mushrooms, etc. If I had to do this in Gujarat, we'd still go ahead and do it with a lot of vegetables. Here, there is lamb on the menu and not pork. In north India, people eat more lamb and chicken. So, we have adapted the whole cuisine to where the restaurant is based," says the chef, adding that while the basics of Italian cuisine remains the same, a chef based in a particular place adapts it to suit the local palate.

For The Runway Project, Chef Ratnani says, he has been inspired by the dishes at restaurants in Milan and Argentina. For example, polenta, thick and delicate mush of cornmeal, is inspired by Milan in north of Italy. The Arrabiata pasta is inspired by the south of Italy, but has a uniquely Indian taste. Roast chicken, inspired by Sunday Roast in the UK, has been reincarnated as The Runway Roast. "The dishes and pastas we serve at The Runway Project, you'll not find in any restaurant; it's like home-cooked bhaji, made at home with different spices and ingredients, which you'll not find on any restaurant menu. In Italy, pasta is a staple diet. Among the stuff they put in pasta include many things which are at home or ingredients which are fresh in the market," he says.
On Regional Cuisine
The chef feels that in India, there is a wide gamut of cuisines, leaving a foodie with enough choices. "Each marketplace has all kinds of international and regional cuisines. Besides international food, what is really big in our country is that the regional food is coming out of the closet. Earlier, we only knew Punjabi food, idli dosa or north Indian food. Now, we've got Bihari food, Bengali food, food from the Northeast and other states. In Karnataka, we have food from Madurai and Chettinad, etc," says the chef, adding that with regional cooking becoming part of the mainstream food, India is exploding and the food and beverage landscape has expanded.

On Culinary Tourism
With F&B emerging as a strong sector and more and more Indians willing to experiment with different cuisines, the chef says that food helps promote tourism. "Besides its rich history and attractions like monuments and temples, food is an important draw. Luckily, there is more awareness about food from all over now and people have become more aware about food. Today, there are food walks being organised across cities which augurs well for the growing potential of the industry," the chef says.
For Chef Ratnani, everything revolves around food. When he's travelling, it is invariably food that remains at the back of his mind. As he makes a trip to Delhi, holding court on food at The Runway Project, he has his food plan already sorted, visits to places to eat chalked out. He shares how his chef friend at Andaz, where he is staying, made fish for him that came from Kerala, wrapped in banana leaf and salad. Later, after the interview, he plans to go to a biryani shop 100 metres from Karim's in Old Delhi. "I'm going to eat some mawa ki jalebi," he says.
"My entire travel, whether long or short, will always have some kind of food story or some reference to food. If I'm travelling to a place I haven't been to, I pre-book reservations at restaurants. I'm lucky that I have friends all over the world. We the chefs are a very close-knit community. I wish chefs in India would collaborate a little more so that everyone would be benefited," says the chef.
Favourite World Cuisines
The chef says that Japanese cuisine is really big and becoming increasingly popular. "Earlier, sushi was only at selected places. Today, a lot of restaurants serve sushi. Japanese chefs are becoming more open- minded and adapting themselves to different parts of the world. A lot of Michelin-star restaurants are Japanese. Spanish food has always been very big; so has been Peruvian food," says the chef, adding that Peru has the highest number of restaurants compared to its size; among the top 15 restaurants in the world, 3-4 are from Peru, like Central, Maido and Astrid and Gaston. Indian food is becoming big internationally as well, he says.
Japanese, Spanish and Peruvian cuisines, says the chef, are ingredient-based where the product has to be of top quality. "There are no substitutes. Japanese food is very purist, very zen, very minimalistic. They don't play much with flavours. It's about the purity of the ingredient which the Japanese tried to bring out rather than masking it with seasoning and sauces," says the chef.
On Food Trends
Food trends, says the chef, are about how people are living their lives now because "at the end of the day you are what you eat". Chef Ratnani says that people now support eco culture, sustainability, reducing waste, using up everything from root to stem. "People are eating according to the season, consuming good products. Today, the trend is towards responsible eating," he says.
Favourite Restaurants
The chef likes Attica in Melbourne (Australia); Bennelong Restaurant and Bar in Sydney; Uncle Boons, Momofuku, Fatty's Café and Pok Pok in New York and Restaurant André and Berndes in Singapore. In Delhi, he likes Indian Accent, Karim's, Dum Pukht (ITC Maurya) and Gung The Palace, the Korean restaurant. In Kolkata, his favourite restaurant is Kewpie's; in Chennai, Avartana at the ITC Grand Chola; in Mumbai, Masque. "The owner of Masque, chef Prateek, is doing a great job. He is a dear friend and I love what he's doing," says the chef, adding that he loves Amritsar as a food city and Indore for its street food. He says that of late he has been travelling in India a lot more and is rediscovering the country through its food.
The restaurant business in India, he says, is booming. "The population is increasing and people are moving around a lot more. As a culture and as a race, we are very demanding people. We always want to see more things on the menu. We are a very inquisitive society and that is good for us. We are also very picky eaters and know our food well," says the chef.
On TV Shows
After his return to Bombay, when Chef Ratnani was working as a chef at his first restaurant, Auris, somebody spotted him and asked him to come for an audition for a TV show. "I auditioned and started working on my first dessert show, 'Do It Sweet', which featured Maria Goretti as a co-anchor and was telecast on NDTV Good Times," he says.
Later, the chef did another show, Gourmet Central, which showcased a lot of new ingredients. "The viewers' feedback then was that these ingredients were not available here, but now everybody was using these exotic ingredients," says the chef, adding that as a result of the show, these ingredients became easily available as a lot of big stores like Nature's Bazaar and other supermarkets started retailing them. They also thanked the chef for creating a demand and supply chain for these ingredients.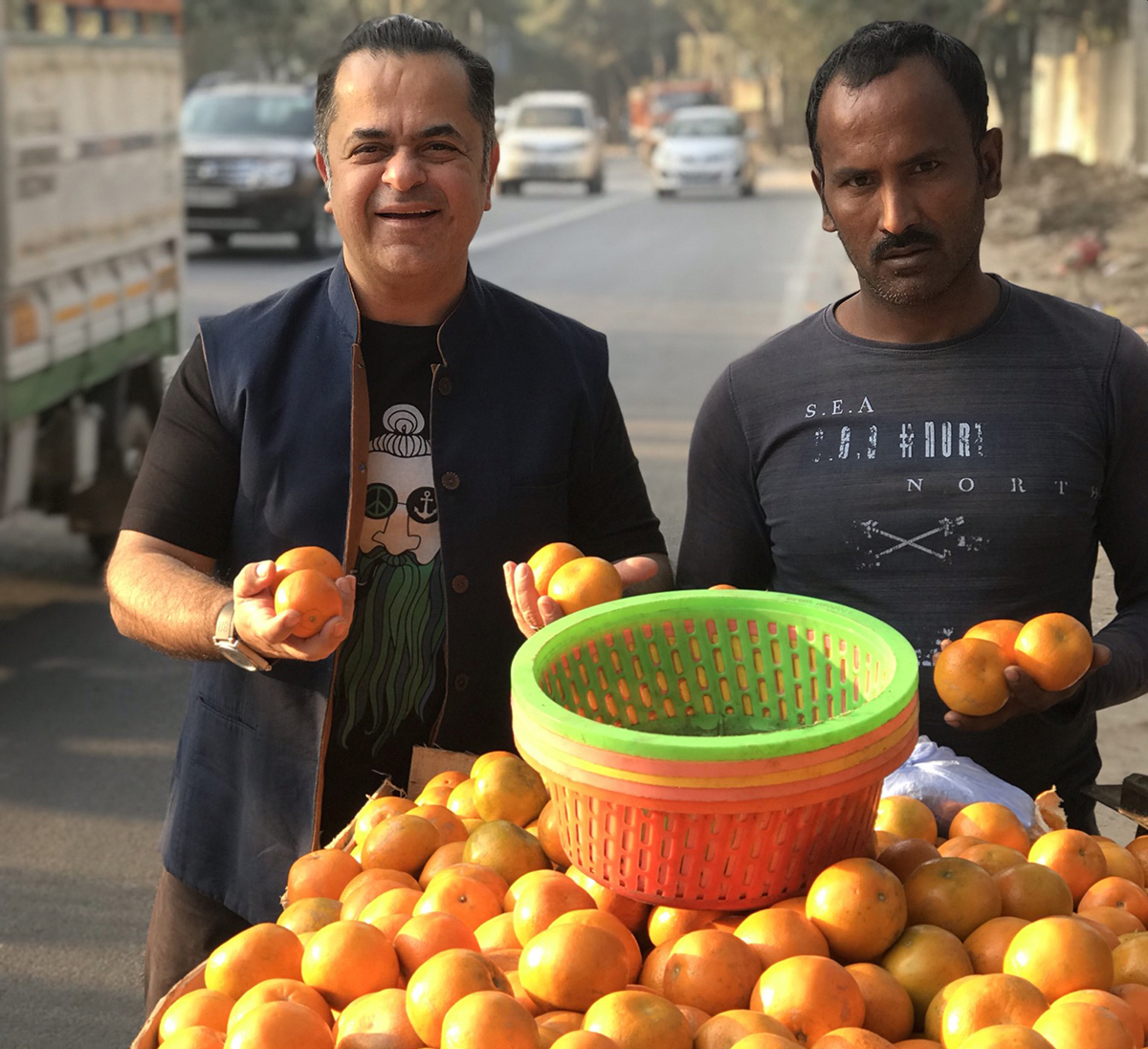 When the show became popular, the chef was approached again by NDTV Good Times for a vegetarian cooking show which gave an insight into good international food that could be made in Indian homes. "I created a vegetarian show for which I turned vegetarian. I gave up eating meat for three months to write the recipes," says the chef, who also wrote a book of vegetarian recipes, Vicky Goes Veg, which got a cookbook award at the Gourmand Awards. After that, he did another show, Vicky Goes Foreign, which was shot in Canada. In his yet another show, Vicky Goes Desi, he added a dash of contemporary twist to Indian food. His show Taste Down Under (Living Foodz) featured recipes from Australia. Today, the chef has his own show, Vicky the Gastronaut, which is currently being streamed on his Facebook page and YouTube.
On Hello Green
For Chef Ratnani, Hello Green is a lovechild. He says his two partners — Sanjay Ghai and Rishi Khiani — are very much into health and fitness. "For the last five years, I've taken to healthy eating. My cooking style has also changed a lot," he says. Now, the chef is using a lot of local produce obtained from local farmers. "I'm going to turn 50 in July. I think health is the trend of the future; it's how people are living. People go to gyms. They eat healthy. They have Keto meals, beautiful salads created by me," he says.
Hello Green, he says, creates power-packed meals cooked on the grill. He says it has a complex carbohydrate and a sauce that is actually raw. "We don't use any white sugar, brown sugar or maida, so it's clean eating. Some ingredients are organic but not all. We have to work towards it," he says, adding that Hello Green is not a restaurant, but only for home delivery. "We have got two base kitchens now — one in Worli and the other in Andheri. The cost of organic produce from A-Z is very expensive, so we source our vegetables from farms which we know. It might not be organic but it's non-pesticide treated and there is a traceability of every ingredient," he says. On the menu are about 15-16 salads and healthy wraps made of bajra, rajma, jowar and a little bit of atta. "We also deliver soups and tasty smoothies," says the chef.
Having added so many feathers to his cap, Chef Ratnani is now planning to create a cooking studio. "I want to start mentoring students in colleges and young chefs. Meanwhile, in May, I'll go to California to look at restaurants in San Francisco," says the chef.
After travelling around the world and picking up culinary inspirations from everywhere, Chef Ratnani has found his firm footing in India and established himself as a chef par excellence, but foreign shores continue to beckon him. And every time, he yields. To strive. To seek. To excel. Because, as Tennyson wrote, it's never too late to seek a newer world. Or a newer cuisine, as chef Ratnani would say.
Donate Now
Comments
*Comments will be moderated
His hard work and experience taught a lot.
Sukanya sharma
Apr 21, 2020 at 13:13