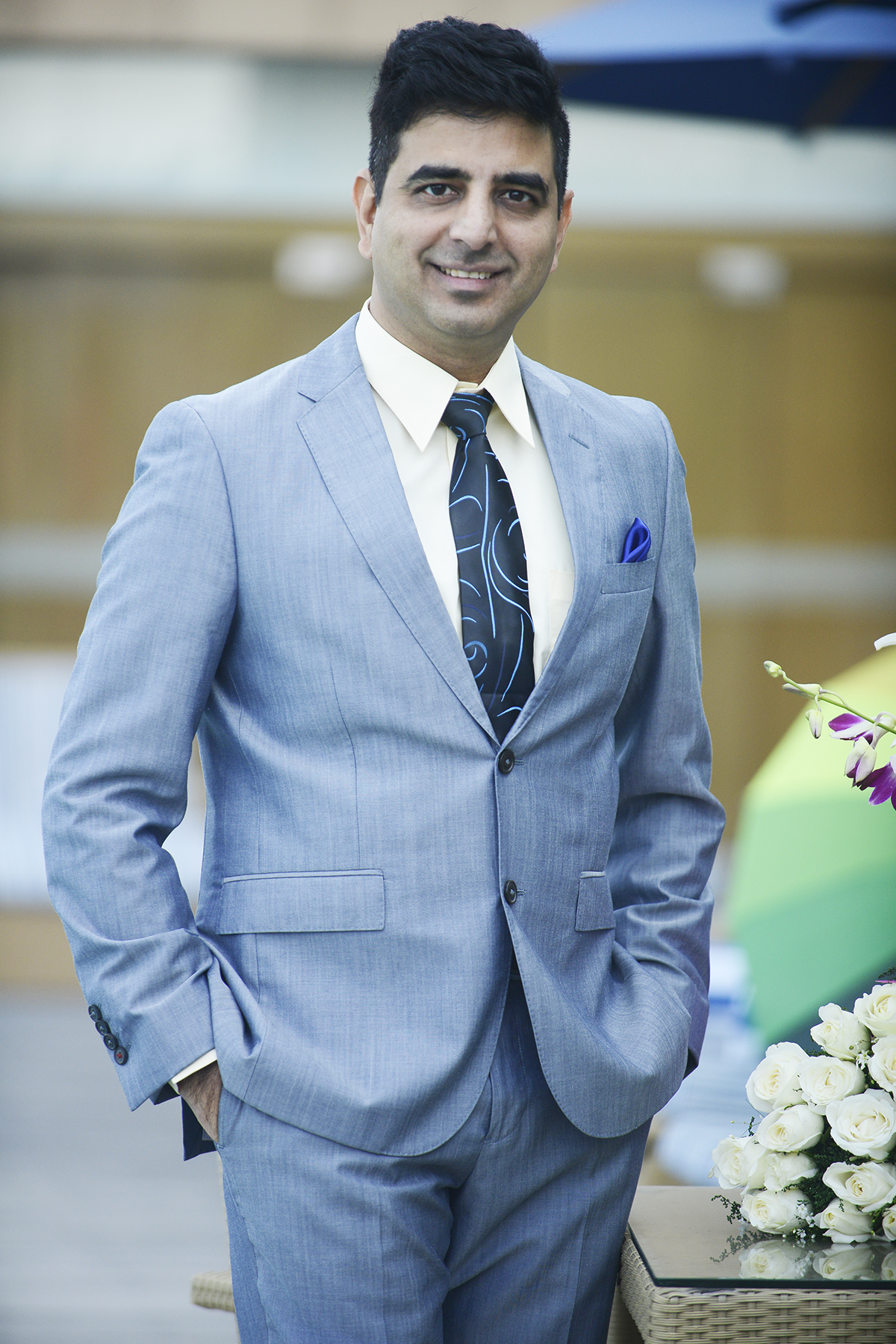 Paritosh Ladhani. Photos courtesy: Radisson Blu, Agra
Radisson Blu, Agra, is all set to be a part of the group's luxury collection hotels, one among the 14 around the world and the only one in India. Paritosh Ladhani, its Executive Director, is a man on the mission, gearing up to leapfrog into the league of distinguished hoteliers
Steeped in luxury, Radisson Blu Agra, a five-star deluxe property, boasts its proximity to the monument of love, the Taj Mahal. Its rooftop restaurant and bar, Infini, which lies adjacent to infinity pool, faces the Taj Mahal, making sunrises and sunsets here spectacular. Incidentally, Radisson Blu is the only hotel in Agra to have an infinity pool facing the monument.
The hotel took a new stride recently when it launched its new luxury wing — initially conceived as The Luxe Collection. The wing, designed with an eye on transforming the city into a two-day wedding and tourist destination, blends the city's traditional aesthetics with elements of opulence and the avant garde.
Oozing with elegance and class, the new luxury wing, interestingly named XYZ, is so well-equipped that it can transport guests to the Mughal era. At Radisson Blu, the delight is in the details. Its exquisitely designed luxury rooms are tastefully decorated and elegantly furnished. Each floor has a historic story to tell through its wall paintings. Each unit has a distinctive personality of its own.
Among other highlights of the property are a splendid rooftop party space for the guests to unwind and a majestic banquet hall titled, "Mansion" that is equipped to host the most extensive weddings and versatile events with over 27,000 sq feet-banquet space to accommodate over 1,500 guests. It has also been designed to appeal to large conferences and events.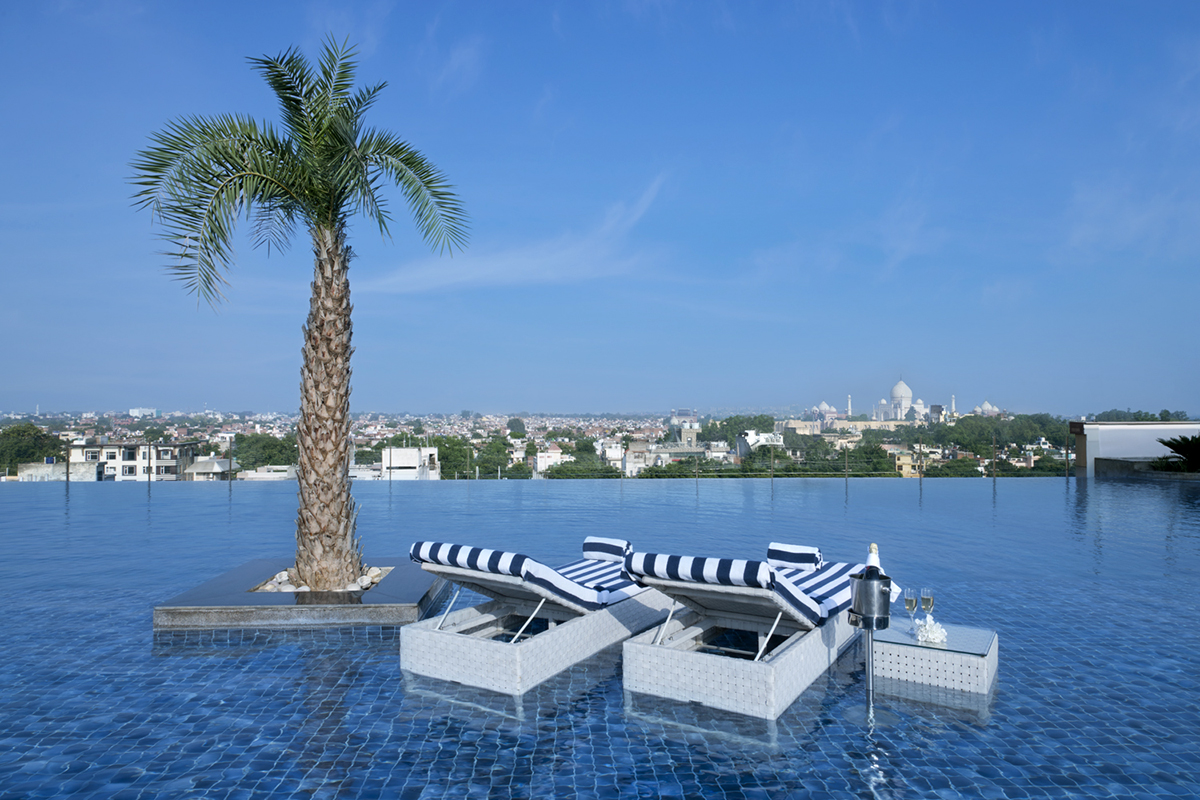 Radisson Blu Agra's infinity pool faces the Taj Mahal, making sunrises and sunsets here spectacular.
The new luxury wing, a great destination for discerning travelers, is tailor-made for couples looking to host a fairytale wedding and an unforgettable honeymoon against the backdrop of Taj Mahal, which draws tourists from around the world to the city.

Paritosh Ladhani, Executive Director, Radisson Blu, Agra, is the man responsible for introducing a "new sense of luxury" to the city. Talking about the aesthetics of the new luxury wing, which was launched in October 2017, Ladhani says that when he started work on the wing, he was not confident whether Radisson group will come up with a luxury brand. And that's why he named the wing XYZ. However, Carlson Rezidor Hotel Group, which owns Radisson, announced in March 2018 that it will make 14 upper upscale hotels around the world as part of Radisson collection. Out of these 14 hotels, six have been named as part of Radisson collection while eight others have been given time for renovation. Radisson Blu Agra has been given time until another couple of months.
A Radisson collection hotel takes luxury to another level. Upper upscale like J W Marriott, Park Hyatt and Grand Hyatt, it offers guests an experience to remember. Ladhani has chalked out the plan to refurbish the hotel in such a way that the hotel redefines luxury. "We're going to renovate the lobby, the old rooms, and then it will be deemed fit for Radisson collection hotel. This will be Radisson's only luxury collection hotel in India. We have been more receptive to the group's ideas. There are very few cities in this country where an upper upscale brand will work apart from metros. Agra and Jaipur are probably among them," he says.
The upper upscale luxury will come at a price though. In Agra, The Oberoi Amarvilas has the highest average room rate (ARR). ITC Mughal operates at about $130-150 ARR. Radisson Blu, which currently operates at $100-120 ARR, will upgrade it to about $150-200 ARR. "We plan to overtake ITC Mughal in terms of ARR this season," says Ladhani.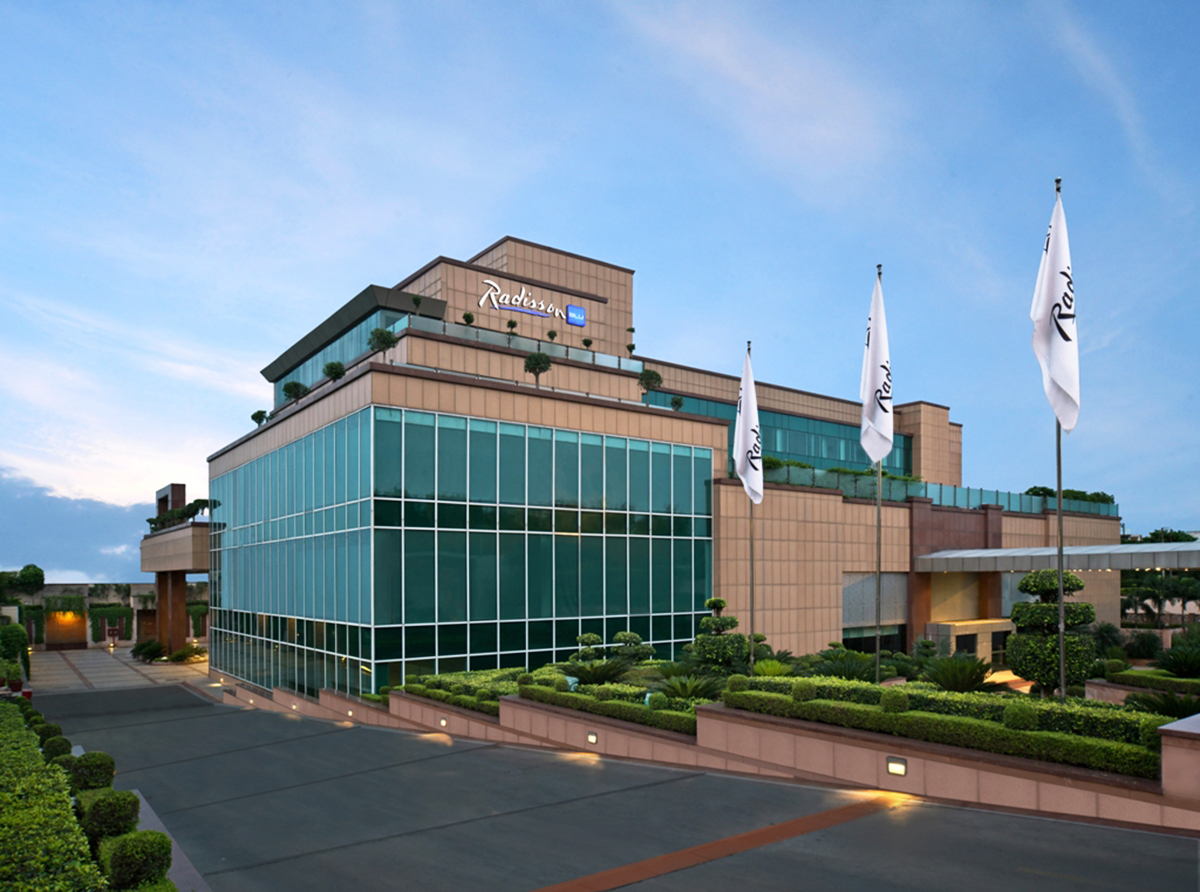 The hotel took a new stride recently when it launched its new luxury wing — initially conceived as The Luxe Collection. The wing blends the city's traditional aesthetics with elements of opulence and the avant garde.

At Radisson Blu, the quest to become a luxury collection hotel has meant that the hotel has been on an expansion trail, from conceptualising a one-of-its-kind coffee shop, Palato, perhaps the largest in the country, to increasing the number of rooms to accommodate more guests during peak season when hotels across the city run at full capacity.

"Besides Palato and Infinity pool, we have the largest hall in north India for Banqueting and Meetings, Incentives, Conferences, and Events (MICE). We were a 140-room hotel last year and now we are 240-room hotel. That's about 80% increase in the number of rooms. However, our weekend occupancy is still the same, which is about 85-90%. It is amazing," says Ladhani.
He adds that the poolside Infini restaurant is doing about two times more volume than any other five-star restaurant in the city. "Infini generates Rs 35-40 lakh on an average every month. For a standalone five-star restaurant, it's double for a city like Agra as we don't get many non-resident guests here. A five-star restaurant in Delhi does business of about Rs 1.5-2 crore in a month," says Ladhani.
It has been a long journey for Radisson Blu in Agra ever since it emerged on the cityscape in 2011. Ladhani says the hotel had burst on the scene with contemporary design. "There were great hotels in the city, but not a single international chain. We are the first international chain. We were very new and novel in our approach. For example, we introduced a live band in our coffee shop," he adds.
Ladhani says regular innovations are part of the strategy to attract people from the city to the hotel, besides tourists. These innovations across segments, including lodging and accommodation, food and beverages, combined with Radisson's incredible hospitality and service, seem to be making all the difference. "Till 2013, our market penetration index (MPI) was the highest in the city. We were doing an average occupancy of about 80-85% with ARR of about $80-100. In fact, during the peak season then, we operated at $140-160, which was the highest," says Ladhani.
Since 2015, Radisson Blu has not touched those occupancy figures. "In 2015, we had influx of properties like Marriott and Hilton. In four-star hotels, we had Ramada and Crystal Sarovar that took away the budget client from us. So, while our occupancy didn't drop, we had to drop our rates to make sure our occupancies were intact. The year 2015 was tough and 2016-17 was very tough, but by October 2017 work on our new wing had started. So, we again got back to our MPI of more than 1.25, which is big in hotel industry," says Ladhani.

It has been only seven years since the hotel started operations, but in order to keep pace with the changing aesthetics and to enter the league of luxury collection hotel, it is all set to demolish its lobby and reconstruct it in about six months. "No hotelier does it. But from business point of view, it makes sense to invest that money and make sure that you are on the top of your business," says Ladhani. The hotel's Indian restaurant, Daawat-e-Nawab, which serves the choicest of North India and Mughlai cuisines, was refurbished when the hotel turned 6. "As a hotelier, we have to introduce new things. For instance, we converted our bar — Liquid Lounge — into a sports bar. We got two huge screens, pool table and board game. This has become the hub for people who would like to watch sports. This is the only such place in the city. For a hotel, what works are F&B outlets. Rooms are more or less similar everywhere. The quality of your F&B and the novelty of your outlet are very crucial. In these segments, we've been front-runners in the city," says Ladhani.

The hotel has been very particular about F&B, which is currently handled by Ladhani's wife, Alka Ladhani, who pays close attention to the finer details and ensures that guests go back with satiated tastebuds. She also ensures that she travels all the way from Noida to have a meal or two with the family at the hotel to monitor the quality of the food. The hotel introduced Charlie tea, which is only available at the iconic Claridges in Delhi, at the tea-lounge in 2013. And food promotions have been an integral part of the hotel's activity.
After the hotel is renovated, Ladhani says, it will wear a great look and have a different vibe to it. "Many luxury hotels in the city have renovated their luxury rooms, but their basic rooms, which constitute 1/3rd or more of their inventory, remain poor and that is going to be an advantage for us. So, eventually it was going to be an issue if we increased our ARR by positioning ourselves better than ITC Collection, but in the medium run, in a year or two, people will realise the difference," says Ladhani.
At Radisson Blu, the delight is in the details. Its exquisitely designed luxury rooms are tastefully decorated and elegantly furnished.
The hotel has been a huge favourite with those planning weddings in Agra. "Mansion is the first choice in the city to do wedding events. People love that space and they get upset if it's not available. They block it 6-7 months prior to the dates. We command 20% more price for Mansion. Slowly but steadily, it's working for us," says Ladhani. He says that Agra could have been at third position among top five wedding destinations. However, it's at number 5 now, after Jaipur, Goa, Jodhpur and Udaipur. "There's no airport. We get the Delhi crowd as it's 3-hours drive. Jaipur is also 3-4 hours drive from Delhi, but we miss out on the rest parts of India. We miss out on big MICE and big social functions otherwise it's a great destination for weddings," says Ladhani. Radisson Blu Agra is fast becoming the venue for destination weddings where people come from other cities. "Our budget starts from Rs 25 lakh and goes up to Rs 75 lakh. As it becomes a part of the luxury collection, we'll be offering them outside catering at Taj Khema, a nice tilla outside the Taj Mahal. Owned by the government, it is one of the most beautiful locations to see the Taj," he says.

Since its inception, Radisson Blu Agra has prided itself on its design and interiors. "When we conceptualised this, we were lucky to have had Mr M L Bhattacharya, the project head for Carlson India. He had a vision that the hotel lobby had to be at least 30 feet. He made sure that the lobby right from the porch was 30 feet. Except Hyatt, most of the lobbies in Delhi's five-star hotels are 15 feet. When we are renovating the lobby, we are renovating the tea lounge, etc and still the look and feel will be different because we have the height to play around with. Corridors are huge too. This helps us in the long run, making the hotel easy to renovate," says Ladhani.
According to Ladhani, it is important to strike a right balance between being an upscale hotel and a wedding destination hotel. "Taj Mahal Palace in Mumbai is both an iconic property and a great wedding destination. Taj Falaknuma Palace in Hyderabad again is a wedding-oriented property. We are choosy about weddings and our rates are top rates in the city. So, we get the crème de la crème crowd for weddings as well," says Ladhani.

Part of the hotel's innovations has been to tie up with the online travel agents who are ruling the roost, including Expedia, MakeMyTrip, EaseMyTrip, Booking.com. "We realised that everyone is important in our trade. If they promote Agra, ours is the first property that they will promote. Today, we are perceived as a brand that is always going an extra mile to be ahead of others," says Ladhani.
At Radisson Blu Agra, space is used to the hilt. In one corner, there is a palmist, who can tell those who believe in palmistry what lies in store for them. In another corner, there is a kathputli wala (puppeteer), animating the scene, enticing the guests. At the Infinty pool, there is a DJ who will make you get into the groove with his riffs and beats. There are musicians at Daawat-e-Nawab who will enthrall you with jaltarang (Indian melodic percussion). "All this adds character to the hotel," says Ladhani.
The Infinity pool, which makes the hotel greatly sought-after, was his father's idea, says Ladhani. "He wanted to do it in the very beginning in 2011, but there were some technical problems. However, it was always there on our mind. We have been travelers. We saw Marina Bay Sands in Singapore and the iconic Infinity pool of Leela Palace at Chanakyapuri in Delhi, which boast the only terrace pool in the city. There are people who have made pool on the rooftop, but surprisingly they have not made Infinity pool. That is how they have missed the bus. If the pool is on the rooftop, it has to be Infinity. We have the technology. We have the safety features. If Marina Bay Sands can make a pool on the 70th floor, why can't we make it on the 6th floor," says Ladhani.
The iconic photograph of the Infinity pool at Radisson Blu Agra is there on the landing page of every website. The Infinity pool facing the Taj draws a lot of people. "Our online contribution has increased and we're the best in the city. We directly interact with the customers online, so there are no mediators. On Saturdays, we have an average occupancy of 90-92%. Here, the ratio between international and domestic tourists is 60/40%," he says.

Ladhani comes from a business family that happens to be the biggest bottler for Coca-Cola India. His family has been the No.1 bottling group for the company for 18 odd years. Coming from a non-hospitality background, says Ladhani, helped him a great deal. "As a hotelier, I would be stuck in a certain image of how a hotel should be or should run. We did some crazy things when we started this hotel. We sent SMSes and WhatsApp messages. We made this hotel a commodity like a restaurant, but people liked it," says Ladhani, who feels that one should always have an outside perspective, whichever business one enters, to do things differently. "Even in my trade of bottling Coca Cola, I welcome people who are not from my trade. They come up with ideas and some of them have such ideas that may not strike me as I have been doing this business for at least 18 years. So, I'll always think in a certain way. People said this will not work, but it worked for me," says Ladhani, who likes to sing and play lawn tennis.
With nearly 300 hotels in operation in 69 countries and territories, Radisson Blu is a name to reckon with in the hospitality industry. Its luxury collection hotels, including Radisson Blu, Agra, look set to draw travellers from around the world to the hotel, introducing them to its "vibrant, contemporary and engaging" hospitality. And Ladhani, a man on the mission, is already gearing up to leapfrog into another league, with his hotel all set to be part of the distinguished luxury collection.
Donate Now
Comments
*Comments will be moderated