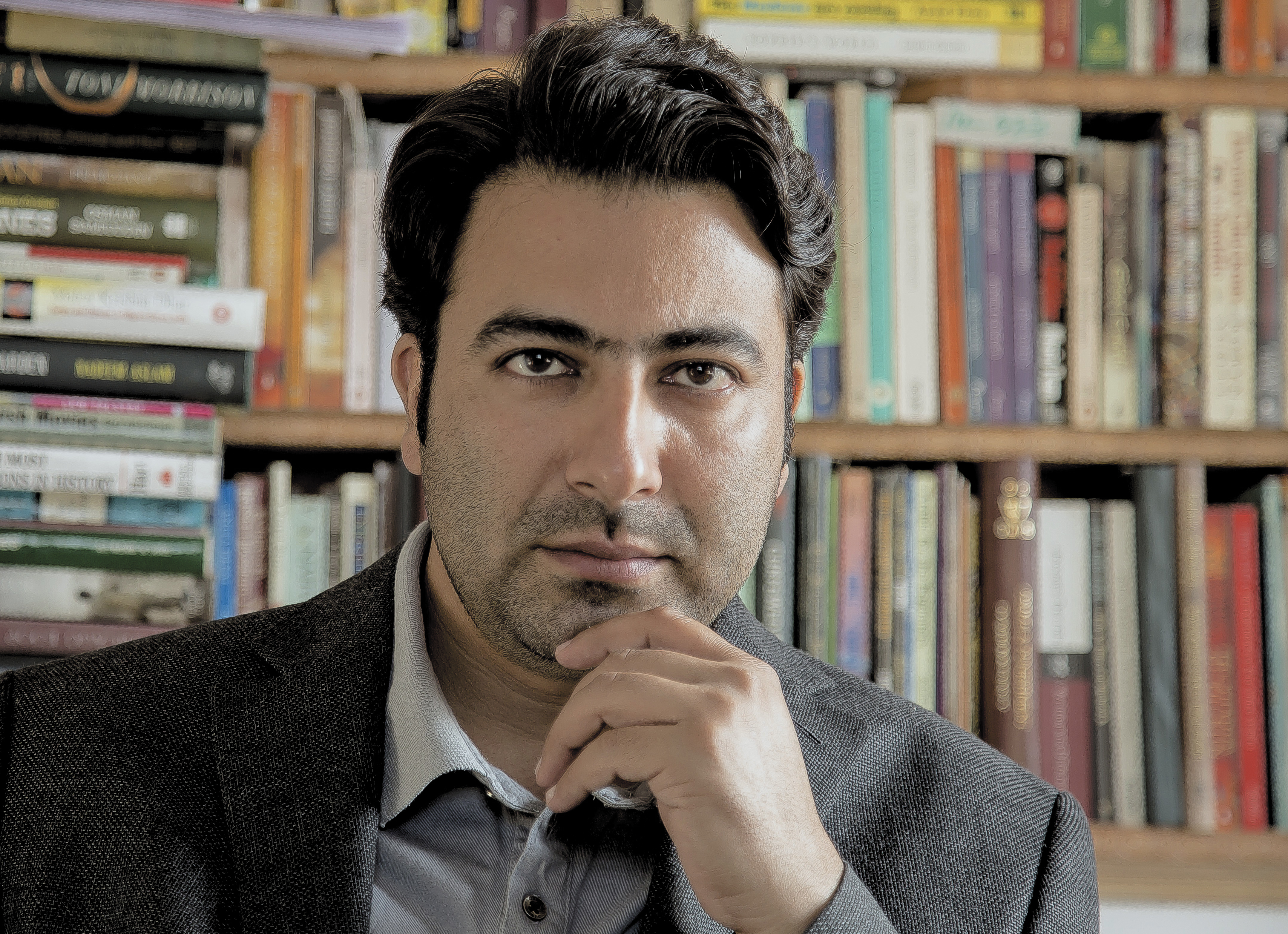 Shahnaz Bashir. Photos courtesy: Sammeer Wani
The realities in Kashmir exist beyond newspaper headlines. Shahnaz Bashir, the author of a novel and a collection of short stories, writes about these grim realities. The way Bashir structures his stories not only keeps readers engrossed, but also makes it imperative for them to ponder over the underlying ideas. Bashir is a self-taught writer and his writing springs from the well of knowledge, imagination and observation. His priority is clear: He wants to be known as a serious writer.
His debut novel, The Half Mother (Hachette India, 2014), won accolades for depicting the suffering of a mother whose son disappears in army custody and the meanings of loneliness and uncertainty it triggers. The critically acclaimed novel highlights the continuous psychological and physical trauma that the families of those who disappear in custodies go through and the political structures that work behind their sufferings.
Bashir is a writer who doesn't believe in the insanity of following one's passion. When he is not busy writing, he spends time with his family, friends and students or indulges in household chores. He also likes to travel and sing. But when he is writing, he writes with the "seriousness and nervousness of a murderer".
Educated in Kashmir, Bashir is a professor of media at the Central University of Kashmir, where he teaches narrative journalism and conflict reporting.
Bashir's latest book Scattered Souls (Fourth Estate, 2016), a collection of interlinked stories, has recently been published. In a review of the book in The Hindu, Janhavi Acharekar, author of Wanderers, All (a novel) and Window Seat: Rush-hour Stories From the City (a collection of short stories), wrote that Bashir's writing bore shades of the great short story writer Sadat Hasan Manto. In its January issue, Kashmir Life, a popular local weekly, called him as a "difference-maker among 12.5 million population of the state of Jammu and Kashmir". Bashir is also the winner of the Muse India Young Writer Award. He is currently working on his third book.
Excerpts from an interview:
UBEER NAQUSHBANDI: Congratulations for your second book, Scattered Souls. This comes within two years of the publication of your first novel, The Half Mother. That's being quite prolific. How do you approach writing? What does it mean to you?
SHAHNAZ BASHIR: Thank you. Well, I'm not a fervid writer. I prefer writing to affect my relationship with the life at large. To write well, I always need to look elsewhere for sometime, go away from writing and do something else. I'm mostly a flâneur. I idle consciously, procrastinate, and, in the meantime, turn my story ideas upside down in my mind and then back down-up, take interest in changing diapers of my kids or do any household chore randomly.
Busying oneself so deep in passion is not unnatural, but it's just a thin line of luck that sets apart a passionate writer from an insanely passionate writer. Yet, when I'm writing, I become so serious that I cannot tolerate any disturbance. When I write, I write with the seriousness and nervousness of a murderer. I don't see anything except the world of my story.
UBEER NAQUSHBANDI: From someone who started from scratch, you have come a long way. Tell us about your struggles as a writer?
SHAHNAZ BASHIR: I'm no different from any other struggler around. The only thing associated with my struggle that made me what I am today is that I had been very keenly focussed on becoming what I have become. I wanted to do both — teach and write, and that is precisely what I am doing.
I grew up in this small suburb of Srinagar called Natipora. My parents had everything: a couple of small farms, happiness and innocence. Unlike people who are born in protective, privileged, affluent families — born of parents educated enough to be oblivious and prim about the realities of the ground — my kind of familial and social backgrounds were different. My background provided me a chance to look elsewhere too. It allowed me to be intimately grounded in the ordinary.
I grew into an earthy boy, with a sharp sense of textures, tastes and scents. I have not learnt as much at my school as at the local baker's, the barber's and the butcher's shops. These were the real places of knowledge and learning. Listening to the conversations of adults at these places would transport me from one world to another, from one reality to another, one experience to another.
My father was a small government employee. He struggled to provide us, me and my younger brother, as good education as possible. But parallel to his efforts, I started supporting myself much earlier in life when I was a teenager. I'd make paper carry-bags from old newsprint and sell them to a local chemist. I'd even make kites in autumns with my cousins and display them on the facade of our house, magnetise the neighbourhood kids, sell the kites and earn enviable profit. And later in life, when I was in college, I started teaching at various schools and private tuition centres in Srinagar. The first school I taught at was in the foothills of picturesque Braine in Nishat, Srinagar, fifteen kilometres from Natipora. I'd change two buses and walk three kilometres — from the last bus-stop on the main road, through vast swathes of paddy fields — to the roofless school. My monthly salary was Rs 1,200. That was a decade ago in 2001. Afterwards, during my university years, I did private tuition, teaching kids of opulent families in their lavish drawing rooms in the evenings.
My parents wanted me to become a doctor. I also misbelieved myself in that regard. I attempted the medical entrance examination twice and brought disappointment both times. Because in those days, when it was a fashion to become a doctor, I was interested in reading Shakespeare's sonnets than spend time in solving the indecipherable numerical problems in physics. I had started writing during my college days only. But the university years brought a hiatus. I took a diversion to learning and knowing history, philosophy and politics. That helped me accentuate my understanding about things and enabled me to shape my worldview. Eventually, I worked in local newspapers without salary for months together. Then, I was selected for teaching at a university in Hyderabad. I was very reluctant to go so far from my parents, but they insisted I go. After spending a few years in Hyderabad, I was invited to establish the journalism department at my current university. Through all my college years, I kept writing. Finally, I began getting published and I'm here now. The struggle never ends.
UBEER NAQUSHBANDI: When did you decide to make writing your way of life?
SHAHNAZ BASHIR: The day one of my teachers, who used to give me private tuitions, announced his appreciation for my responding to the textbook questions in my own words —which was against the established tradition of rote-learning — something inside me said that I could write myself. I don't remember exactly when, but it was sometime in my seventh or eighth standard. And afterwards it only kept burgeoning.
UBEER NAQUSHBANDI: What prompts you to write?
SHAHNAZ BASHIR: My instinct. It's the only expression I can give to my consciousness. And then, it's anger and helplessness that really prompt me to write, rather compel me. I don't know any real happiness. I have not travelled much. I was never encouraged to write or read or taught to write. None of the educational institutions in Kashmir have I found inspiring. My inspiration is the life around me here in this small, strife-torn place called Kashmir.
UBEER NAQUSHBANDI: How would you define your writing style as?
SHAHNAZ BASHIR: Deterministic. The stories would determine the way they can be best told. Elfriede Jelinek once said that language should be tortured to tell the truth. And Slovenian philosopher Slavoj Žižek explained it by adding to what Jelinek said: It should be twisted, denaturalised, extended, condensed, cut, and reunited, made to work against itself.
Primarily, I'm fond of experimenting with diverse formats. I so admire Borgesian style sometimes; fictious reviews of imagined books would make a short story for him. Then the way people like Studs Terkel, Peter Carey, Svetlana Alexievich bring about characterial realism into their works by giving raw voices, fraught with ungrammatical and leitmotif mannerisms, speeches and narrations, to their characters.
I also like to punctuate the narration with real elements like a letter, an ad, a song, a poem, a list, a symbol and so on. I don't like tight climax-plots, but loose-ended plots to my stories with a multi-plot embedded throughout. I like a matter-of-fact, poetic, stream-of-consciousness, compact narration generally and above all. My stories would stand alone as well as converge, with certain elements, into each other. I am fond of nouns and verbs mostly, in verbing of nouns and adjectives as tiny metaphors. I don't approve of fiction which is written only to explore the possibilities of language and not ideas. I don't like too much of aesthetic that fails to torture the language and holds it back from telling the latent truth.
Page
Donate Now
Comments
*Comments will be moderated
Inspiring interview. I'm intrigued to read Scattered Souls. Though I understand that it's important to read in order to write, I beg to differ when you say that 'worst writers don't read at all'. I am a bad reader. I barely read, but I am a writer. I know that. I am going to prove it to the world. There is no rule to anything. I believe more than reading, a writer has to observe life around him. You become a writer by learning through life, reading people and life around you.
Renuka
Jan 22, 2017 at 13:06