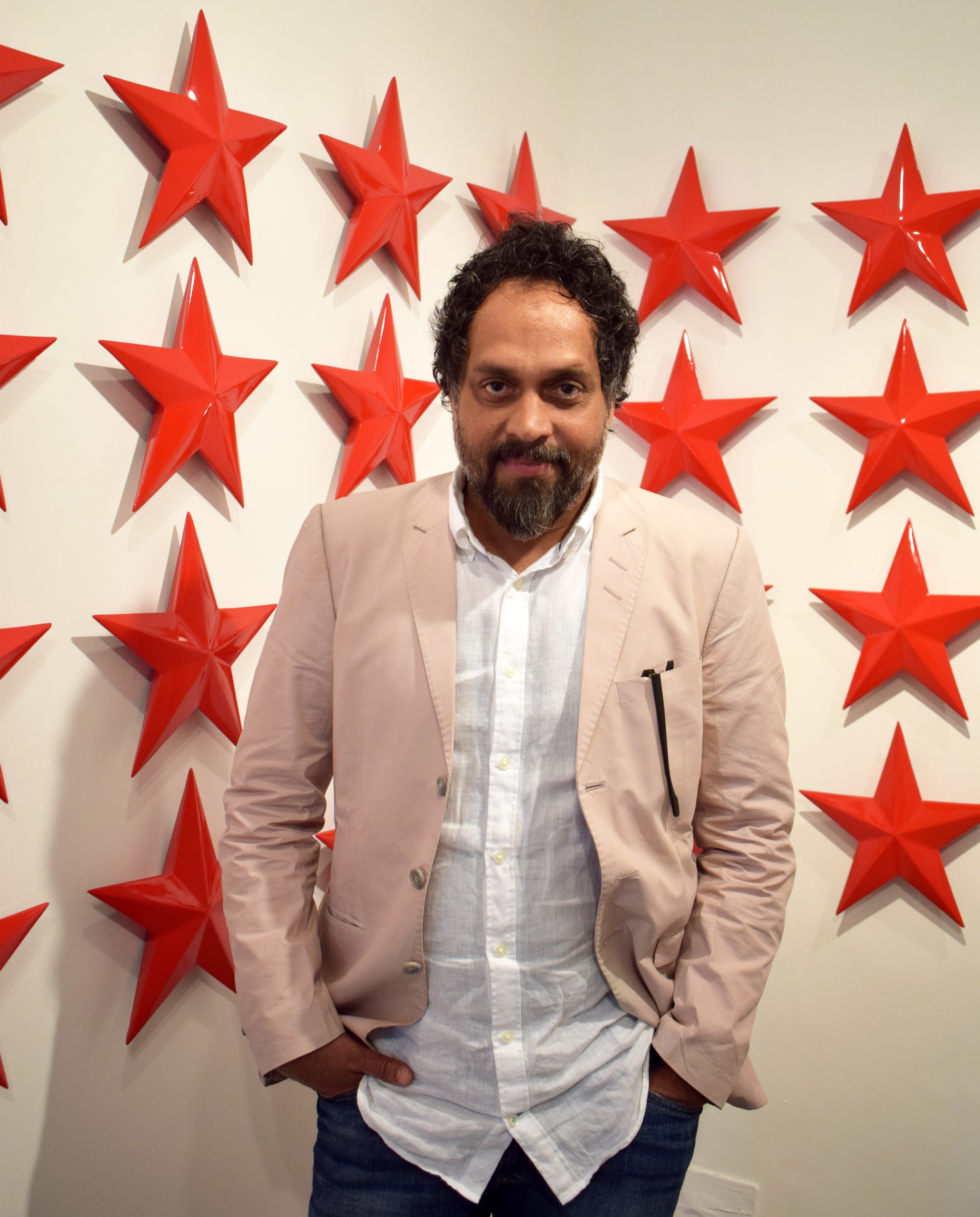 Riyas Komu at Vadhera Art Gallery in New Delhi. Photo: Shireen Quadri
Riyas Komu's latest solo show, 'Holy Shiver', captures the artist's response to a state in deliberate conflict with its founding principles. Komu says he approaches his show aesthetically, conceptually and structurally
Mumbai-based artist Riyas Komu's latest solo show, "Holy Shiver", was showcased at Vadhera Art Gallery in New Delhi from February 2 to March 3, 2018. It's a show that captures the artist's response to a state in deliberate conflict with its founding principles.
The title "Holy Shiver" is a reference to the conceptual strand discussed by Austrian zoologist and ethologist Konrad Lorenz in his seminal book, On Aggression. Komu draws on the philosophy of "militant enthusiasm" to produce a series of oil portraits, woodcuts, videos, installations, and archival prints that discuss the concept in light of the issues currently plaguing the country.
At the show, the present is juxtaposed with the past. Komu places the figure of Gandhi by placing his portraits in dialogue with that of Ambedkar, thereby framing and establishing an interaction between two apparently disparate ideologies in the scope of a single frame. "Holy Shiver" examines and critiques the state machinery's prevailing inclination to substitute faith in the country's Constitution and democratic framework with fear and loathing.
Komu represented the Iranian Pavilion at the Venice Biennale in 2015 and was a participant in the 52nd Venice Biennale, curated by Robert Storr in 2007. Some of his solo exhibitions include 'On International Workers' Day, Gandhi from Kochi' at Kashi Art Gallery, 2015, Kochi; Subrato To César, Gallery Maskara, Mumbai, 2010; The Third Day, Lalit Kala Academy, Rabindra Bhavan, New Delhi, 2004, amongst others.
Komu also co-curated the first ever International football film festival in India at Goa International Film Festival and Trivandrum International Film festivals in 2012. He is the co-founder of the Kochi Muziris Biennale in India and he is now the Director of Programmes for the Kochi Biennale Foundation which develops projects focusing on Art Education in India. In this capacity, he has also initiated the Children's Biennale, Students Biennale and Artists Cinema and a few other projects. He is the curator of the Young Subcontinent project, which brings together young artists from across the subcontinent, at the Serendipity Arts Festival in Goa, and the Founder of URU art harbour, a cultural hub, in Kochi, which has been envisioned as a vibrant and interactive hub for visual arts, literature, music and philosophy.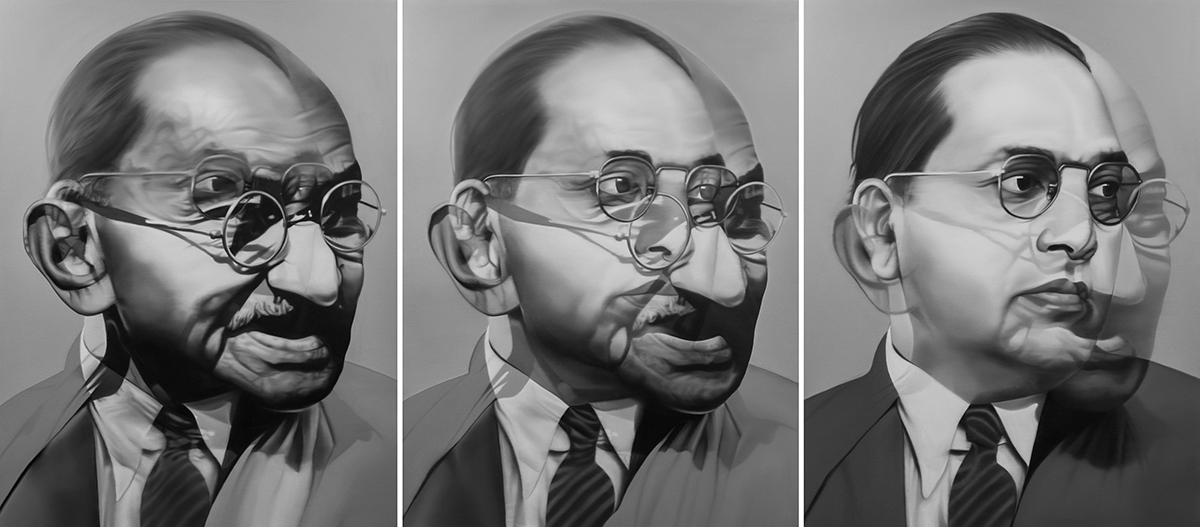 Komu was born in 1971 in Kerala, and moved to Mumbai in 1992 to study literature. Dropping out during his final year, Komu eventually obtained his Bachelor's and Master's degrees in Fine Art from the Sir J. J. School of Art in 1997 and 1999 respectively. Since his graduation, Komu has been constantly asserting and pushing himself with a strong body of work.

In this interview, Komu talks about the thematic texture of the show. "The artist community is responsible to find the ways — creating an archive of what they see around is so important for an artist. He's an image-maker, he's a storyteller," says Komu.
Komu says that we need to make art much more public. "Art should be accessible to public, something which Kochi is very famous for. The effort of interpreting or making languages available to people has to be a collective effort. As an artist, I believe that there is an amazing power which lies in imagination, in creative energy. One should never allow that to be suppressed and production should happen. I believe that art-making has got great power and the capacity to instigate thinking and that thinking becomes a provocative tool. So, art-making should be part of the exercise that we cultivate in our social space," he says.
Excerpts from the interview:
The Punch: In your new solo show, Holy Shiver, one observes echoes of the troubled times we live in, especially the political climate. Here, we see an artist who is attuned to the voices and visions of the world around him and finds ways to respond to contemporary realities. Tell us about the landscape of the works for this show and the process to create them. As an artist, how do you look at the trajectory of your creative evolution?

Riyas Komu: The year I decided to take on art as a career, it was a very conscious decision that I should be able to find a language to reflect on my relationship with the political times we are living in. So, that has been a concern from the initial years when I started studying art. I came to Mumbai to do textile designing and gradually turned into painting, sculptures, installations and photography. I used to do a lot of photographic works. Always, the concern was: how to have a conversation about what's happening around? In the last nine years, I have taken a complete turn from my regular art practice into working towards building one of the major projects in the Indian contemporary art. I'm very happy that I have been a part of the making of Kochi Biennale Foundation, then the biennale and other complimentary projects with that. But I've always found strong reasons behind whatever I am entering into.
In the last nine years, even though I was not producing art, I was able to engage with an idea which celebrates the diversity of this nation and we located a project which has got tremendous history, which talks about different cultures, different shared learnings and understandings. At the same time, the project focuses on celebrating the diversity of the location — more than 30 communities living together in four km sq ft. These are all the personal investments which one wanted to put back into my larger understanding. It's not just about art-making. It is also about creating a site for dissent, discourse. At the same time, in an Indian context where you don't have institutions, museums and other cultural spaces, I was also very much engaged in creating a space where art production is taken seriously. One of the biggest contributions of our organisation has also been producing art. We commission and produce works of internationally renowned artists by the funding we generate from various sources.
The idea of living in today's space is not just about responding as an artist through your own work, but it should also reflect in creating institutions for other artists, especially the youngsters. My thinking revolves not just around what I can make as an artist, but also around the kind of stories we should tell, the kind of stories that should be discussed in a political space like this. For the last three years, I have been focusing a lot of my energy on the subcontinent because I engage with projects that discuss what happens with our neighbours and the concerns of the youth. However, I don't want to limit my concerns just around every issue that we are facing today.
For this show, I was keen not to lose an artist in me. When I went into curation or in administrations or into issues of fund-raising, negotiations or working with politicians or artists, I always had that feeling that the artist in me should not be lost. The show traverses history, delves into the lives of many individuals. This show has a context that I celebrate quite a lot. I started working on this project as a continuation of things which I have been doing for the last two years. But there is no orchestration in the process of this exhibition. Some things have been intuitive, some things came through a lot of readings, observations, concerns, angst, fear and strange understanding about where we are heading. The entire show is very easy for an individual to understand if he is a little bit conscious about what is happening around. Whenever I work, I approach my exhibition aesthetically, conceptually, structurally. It's an archive of the time I live in. That approach is very strong. There are certain imageries which you never were interested in touching upon. Many images in this exhibition have a sense of a cliché but in today's context, it acquires a completely different meaning. It is important for us to readdress these issues. For example, Indian Constitution has become a huge topic of debate and discourse in today's political and cultural space and that resonates in this exhibition quite strongly. When I observe social concerns, I feel what Ambedkar stood for the reason he is re-emerging as a great voice. I am interested in seeing a cycle which is positive. I believe in the power of social action, the power of people and the public and political action. India, being a democratic country, is so difficult to manipulate because people have strong understanding about our diversity. We believe in that. I'm doing this show with a lot of hope, a lot of concerns and a lot of angst. Today, this is the archive. I'm hoping that tomorrow's archive is completely different. That is how I plan my work. I have the flexibility with materials. I'm able to manage that because of my experience with different kinds of artists. That is what is reflecting in this show.
The Punch: The works at Holy Shiver are conversations with history. At the same time, they are also a conversation with the present. They also mark a transition of the inner journey of the creative self of the artist that compels him to respond to things that is happening around him.
Riyas Komu: I'm a big admirer of arts. That's the core of everything. I want to see more art. That was my search for this particular show. What I saw in the Indian Constitution is that it's not just an approach to a very systemic life, but also a celebration of the diversity and universalism. The original Constitution of India, adopted on 26 January 1950, was not a printed document. It was handcrafted by the artists of Shantiniketan under the guidance of Acharya Nandalal Bose, with the calligraphy texts done by Prem Behari Narain Raizada in Delhi. It sits in one of the cases in the Parliament. I've also been trying to see the power of art. The idea of designing the Constitution was also an idea of celebrating India's diversity. If you go through the drawings of different kinds of civilisational shifts, it's very well drawn. I'm also trying to see the idea of plurality which it represents, to bring it into a discourse which our generation should understand. When I look at the lion capital (an adaptation of the Lion Capital of Ashoka at Sarnath), which has been adopted as our national emblem, I see that it represents universal diversity, which our Constitution also reflects. If you go to Sarnath, at the museum where Buddha gave his first sermon, and look at that sculpture, you will find that it's one of the most important artworks history produced. In this show, I also relook at the beauty of the Indian national emblem. Why are we not talking about the art in it? It has been a part of the Indian tradition. Art-making is a part of our legacy. It's not just about creating narratives for our myth. So, there is that emphasis in the show. I am trying to push you to look at it anew. It's the same when it comes to the dancing girl from Harappa/Mohenjodaro, the bronze statue. Most of the time, it's not about self. It's about what kind of terminologies or observations one should make to readdress certain issues. If we look into the history of art-making, it has been very strong politically. Artists, throughout history, have been strong in their power to resonate what has been happening around them. May be I'm trying to respond to politics in similar fashion.
The Punch: How important was bringing these symbols of the nation and the society — from the preamble of the Constitution to our national heroes like Gandhi and Ambedkar — and weaving it all in a broader framework? How do you see these images fitting into the overall narrative of this show? Do you see past shaping our present? Could you also talk about your creative process?
Riyas Komu: Art has the power to instigate compassion in a social space. One should believe in art-making, believe in the power it has to engage in certain kind of discourses. But, at the same time, I also say that it's also about history and our icons. It is our right to find new ways of interpreting. We have always been told that there's conflict in the discourses between Gandhi and Ambedkar. At the same time, in today's political space, there are realignments of both the ideologies, which are the need of the time. But you need to represent that through artwork. The artist community is responsible to find the ways — creating an archive of what you see around is so important for an artist. He's an image-maker, he's a storyteller, he's somebody who is able to illustrate certain aspects of different kinds of things that you see around. Historically, it has come through poetry, cinema, music, literature and art. It'll keep coming out.
But the problem with visual arts is that it's almost like a step child. We don't give that kind of importance to visual arts. We don't have institutions. It is not the mainstream discourse at all. That is also one of the challenges which you face. We need to work around to make art much more public. Art should be accessible to public, something which Kochi is very famous for. Because it became people's biennale. The effort of interpreting or making languages available to people has to be a collective effort. It has to come from media, from social places, from a system. Our government should preserve culture. We should invest in it. These are all important for the time we are going through. As an artist, I believe that there is an amazing power which lies in imagination, in creative energy. One should never allow that to be suppressed and production should happen. I believe that art-making has got great power and the capacity to instigate thinking and that thinking becomes a provocative tool. So, art-making should be part of the exercise that we cultivate in our social space. That's why I'm interested in making art. That's an interesting process I'm engaged with.
The Punch: The thematic texture of your work is something that you choose with much deliberation. Often what is crucial is the way you make a statement rather than the statement itself. Of course, it all has got to do with what you want to say because every work is, in a way, also a conversation with the audience, an attempt to convey something. And you choose your vocabulary, your idiom. How conscious are you of the political overtones of your work?
Riyas Komu: Personally speaking, it has been my interest. At the same time, I also believe that the human history is a very interesting subject to work on. Its evolution, political undertones, philosophy, stories and cultures around it are never-ending topics to work on if you are a skilled artist, if you have the capacity to illustrate and create. For me, this time is one of the best times to make art because the subject is in abundance. You see artists making amazing projects, echoing political statements. India as a nation has too much to promise to the world we are living in today. The values which we stand for are great. Today, there is resurgence of the idea of India, the idea of this nation. In that sense, I'm more interested in seeing art that echoes this transition. I'm sure more work will come out as India is becoming a very interesting subject to look at. We are located in an interesting region. We have great myths, great stories, great people, great literature. Sometimes, I feel that we fail in telling our stories. It's time that we should start telling our stories, make new objects, new narratives. I see this world holding out promise for a lot of stories to tell.
The Punch: Kochi Biennale has completely changed the landscape of the city and the way people engage with arts. Similarly, Serendipity Arts Festival in Goa strives to promote arts across disciplines. Today, there is greater emphasis on the interconnectedness of arts. How do you see this intermingling of different forms coming together? Do they create a certain kind of synergy in the arena of arts?

Riyas Komu: There are a lot of interesting projects coming up in India today. There are a lot of residency programmes coming up. There are more engagements with artists and a lot of thrusts on discourses, whether in Kochi, Goa, Delhi or other regions. The multi-disciplinary approach at many festivals is actually our character. That's how we are. We are, as individuals, invested in diverse forms of art. We don't recognise why it exists. It exists because we like it. We practise it. It has its followers. So, the human condition is like that. We are very multi-disciplinary. We are also multi-taskers.
The problem is when we think that this is only art and this is not art — that categorization, at least slowly, is merging the boundaries. A very interesting aspect in understanding certain times is through different mediums. For example, Raul Zurita is a Chilian poet and one of the most important persons of our time. He's somebody who stands for social rights, who laments for social concerns. When his work, The Sea of Pain, was exhibited in Kochi, it was quite an experience for people. It was architecturally designed, well-executed, well-presented and experiential artwork. It was possible to get him because one has created an infrastructure available for that poet to respond about the Syrian crisis and that of Alan Kurdi.
Human beings are very creative beings, but the problem is we suppress it. That is also the undertone of Holy Shiver because there is a lot of suppression. If you look at communities who are living in different parts of India, you realise that many things don't come out of those places or systems or societies or clans because they are so much underprivileged. They don't have facilities, they don't have capacities, they don't have financial supporters. They have to look at immediate requirements. By the time, their immediate requirements are met, half of their lives are gone. If you study the social strata, you see that there is a huge set of privileged who get everything and a major part of the society cannot even think about walking in a Raul Zurita's installation. They can't. So, it's all about facilitating a certain space for free speech or creativity or finding ways of communication and we need to have those spaces. It is important that we have better avenues.
How does one make art accessible to people? At festivals, you want to eat good food, drink liquor, go to music concerts and attend parties. Certain festivals are designed in ways that it becomes a huge networking or experiencing or tasting sessions. But in times like these we must think that there's a huge percentage of people who have no access to it. We should worry that something which is available is not accessible for many. We should argue with the state to have policies for such things and invest in culture, have a cultural economy policy, generate economy around it, let people think through cultural discourses, make art, make craft. I think these festivals generate that interest. For example, a festival like Serendipity, which invests in art and craft and other things, is actually generating a community around it. There are possibilities which slowly grow which you can see in the design of fairs and craft festivals. You improve on a regular basis, but the problem is that you'll improve but only one strata of society keeps improving. Things are not inclusive and that is a big concern.
The Punch: Coming back to the show, tell us about the way you have used Constitution — its obliteration, its distortion.

Riyas Komu: Constitution is not just important to the show, it is important to us. The resonance in the show is that it's important that we protect our ideals. We stand by the Constitution and what it stands for. People have contributed tremendous amount of energy in building this nation. We were one of the poorest countries by the time the British left. We have put in a great deal of effort in bringing it back into a certain level of dignity. There is a constructive approach that one needs to respect. Don't just say that everything is wrong. We keep hearing that everything is wrong. So, it becomes political propaganda. A citizen, who believes in history, understands the freedom movement. He/she understands the dignified leaderships which we had. Things have been wrong, but we have all been party to this. But somebody should point out and tell us that we have been party to it. But there is a fear to tell them that also resonates. That's why I actually stand by the Constitution.
The Punch: Should the artist be at all be preoccupied with how the audience responds to or perceives his/her works?
Riyas Komu: The problem with perception is that it's the most dangerous thing in relation with Indian contemporary art. We all think that only Raja Ravi Varma is an artist. Many others think that only MF Husain is an artist. The rest of them are not artists. We have to change that perception. When the perception is changed, when you have avenues, when people see it, when people record things, then people understand what art is unless and until you see it you don't know. The people who talk about religion may not have touched the religious text. Things are being manipulated with a certain mindset that the crowd can be easily mobilized. That kind of approach, as long as that exists because of ignorance, can be used as a tool to manifest your supremacy over society. That will always be dangerous. That is something we have to counter. So, for me to make somebody understand art, who only believes that Raja Ravi Varma was an artist, is the toughest job to do.
The Punch: Tell us about the next edition of Kochi Biennale.
Riyas Komu: Anita Dube is the curator for the next edition. She is from Lucknow and has been practising in Delhi. She has been part of many important art movements, including the radical movement in Kerala. She has also been instrumental in building institutions like Khoj and other bodies. Kochi is going to have a very interesting story this year. We will not just see a woman's perspective, but also perspectives from different margins. Kochi also has student biennale, which is a major project, which I'm heading. The students' biennale this year includes SAARC countries. We also have something called Art By Children (ABC) to promote art among children. Kochi is an ongoing story. We continuously thank people because it's a people's movement. It's one of the biggest people's art movements because everybody participates, donates and tries to sustain it. They include countries, institutions, artists, local people, the local government, everybody. This is something we all need to sustain because it involves us all.
Donate Now
Comments
*Comments will be moderated