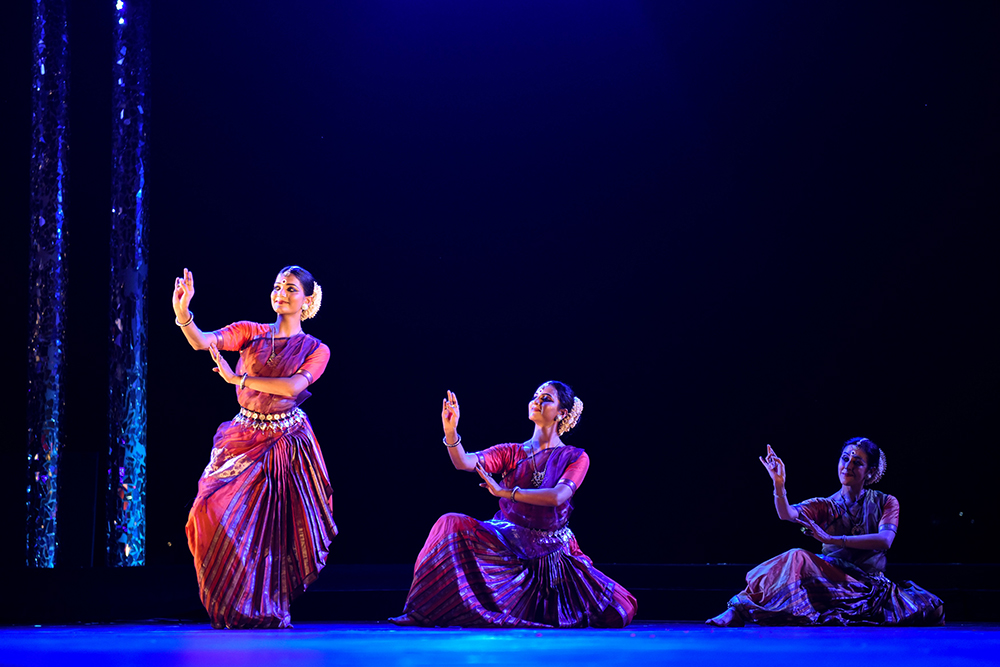 A moment from Drishti, an innovative dance workshop by eminent classical dancers. All photos: Suman Tarafdar
As India grows more confident in her own skin, it comes as no surprise that many arts and crafts, long discarded aside as not "cool" enough, are getting a fresh lease of life. Festivals concentrating on largely indigenous forms of culture have been mushrooming, though often with good intent and not-so-great execution.
Well, the first edition of the Serendipity Arts Festival (SAF) — held in Goa between December 16-23, 2016 — has set some enviable benchmarks. Sure, when the list of what was planned came out, it impressed with its stellar cast, which included names such as Dinesh Khanna and Prashant Panjiar, Wendell Rodricks, Shubha Mudgal, Ranjit Barot, Riyas Komu and many more. Big names, however, have not always translated to a memorable experience for audiences.
Fortunately, SAF not only impressed in planning, but also execution. And credit for that first can go to those with the vision and the execution. For lead patron Sunil Kant Munjal, "the Serendipity Arts Festival is a unique social responsibility project, which will promote education, spread awareness, empower artists, and reassert value in the arts". He is eager to see the revival of some traditional arts that are disappearing, such as the circus. "We are training performers in the village in Kerala where most of them come from," he says as an example of the kind of initiative the festival will be involved with.
For festival director Preeta Singh, the eight-day-long festival is a cultural experiment that hopes to, over time, affect the way Indians interact with art on a daily basis by addressing issues such as arts education, patronage culture, interdisciplinary discourse, and accessibility of the arts.
A map (top) locating the venues, which were all along the Panaji promenade, and within walking distance (mostly!). An eclectic mix of visitors streamed into Adil Shah Palace (above) to admire a matching collection of works across mediums.

And indeed, right from the first moment I set eyes on the festival, it proved to be a sensory delight. For one, located by the Panaji promenade in eight venues in rather close proximity itself was a winner. I had fully intentioned to steal little strolls by the sea whenever, well, the art promised to underwhelm. Amazingly, that never happened, and my only walk on the beach came late night one day.
What prevented the walks by the sea? For one, there were 53 projects, and even the most intrepid faced challenges in attending but a few. Most were engrossing enough to draw even the casual bystander in, and each took time. A case in point was the renovated Adil Shah Palace (cleaning took about a year, confided an organiser), which for me was the absolute highlight. Home to the visual arts, its various halls, rooms and corridors were awash in innovative arts.
Dinesh Khanna and Prashant Panjiar had curated the photo exhibits. In "Our Eyes, Our Stories," six young "photo practitioners" from South Asia have documented the region's complex societies, a revealing, if uncomfortable, mirror turned on ourselves. Another highlight was "The Eyes Have It", where nine writers described in their own words what a separate set of photographers had shot. It was like reading stories via visuals.
Page
Donate Now
Comments
*Comments will be moderated