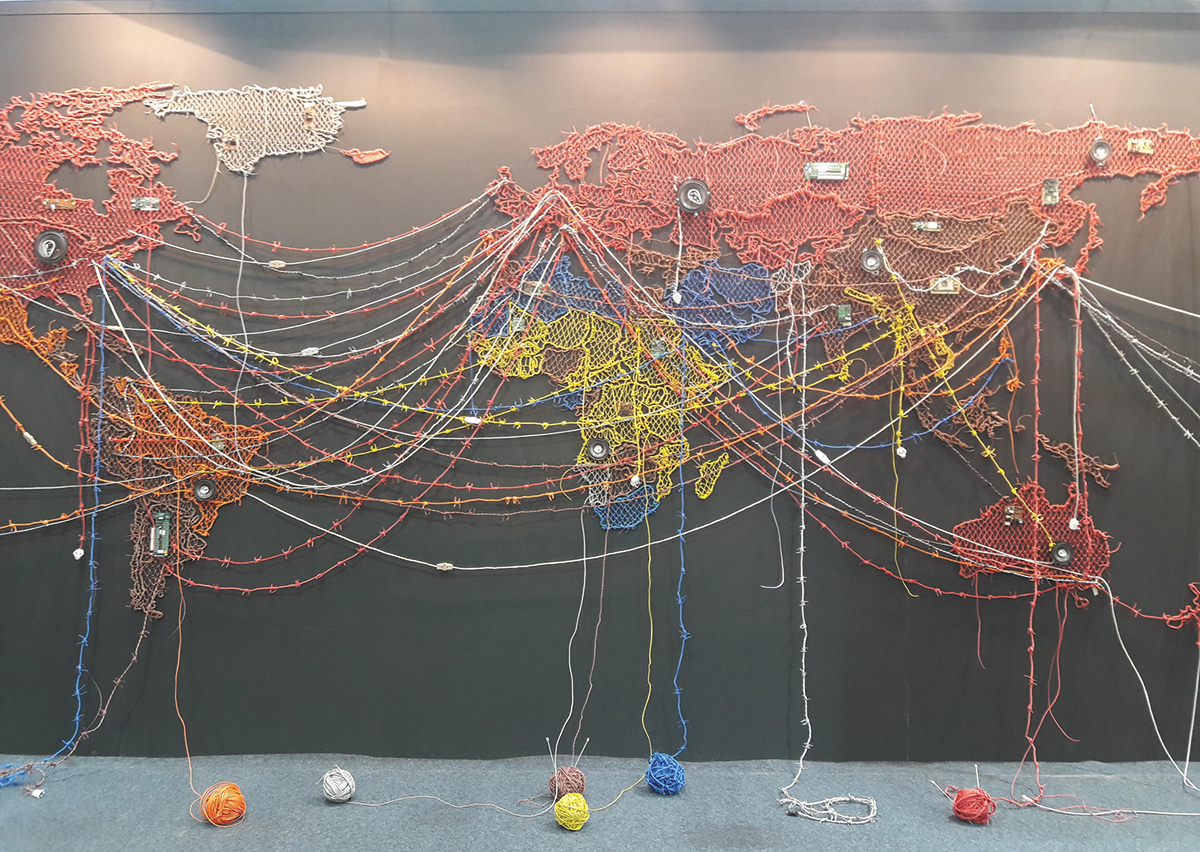 Woven Chronicle by Reena Saini Kallat, whose extensive works, often highlighting human crisis points, I have long admired. Here, a work tracing routes taken by migrants, indentured labour and refugees, woven in electric wires. Photos: Suman Tarafdar
After the heady first decade of the current century, the Indian art market has tended to struggle. While there have been high points, especially in new valuation records in international art auctions, the overall prices, or indeed energy, have been rather insipid. A new report by London-based analyst ArtTactic says that the auction prices of Indian modern art rose by just 0.5% in 2016 while sales fell by 25%. And then came the November 8 declaration, which has impacted disposable sales more than anything else. The art mart had reason to be nervous.
In this backdrop, the latest edition of the just concluded India Art Fair (IAF) was expected to inject some energy and confidence in the Indian art mart. Especially as it last received a much-needed boost in the form of stake sale to the world's leading art fair organiser, Switzerland's MCH Group, second ownership change. Founder Neha Kirpal now has 10%, while MCH owns 60.3%, with Angus Montgomery holding the rest.
Not only does the MCH Group own Art Basel, it also operates the art fairs in Miami and Hong Kong. With the India Art Fair, it is embarking on a new regional art fair journey, it had said at the time of the acquisition late last summer, though clarifying that there would be little visible change in the 2017 edition.
That turned out to be true. The look and feel, and the venue of the fair remained the same. Of the 72 participating galleries, 18 were international, some coming for the first time, such as Lukas Feichtner Galerie (Vienna). Regulars such as Grey Noise (UAE), Kalfayan Galleries (Athens) or Grosvenor Gallery (UK) were there as well.
Indeed, the fair had a stated aim of concentrating more on South Asia. India Art Fair is focused on bringing the best of the South Asian art to national and international audiences, said Kirpal. "Fast growing cities such as Chennai, Kolkata, Bengaluru, Ahmedabad and Hyderabad currently account for 29% of India's Modern and Contemporary galleries. These could provide new hubs for the South Asian art market," according to the ArtTactic report.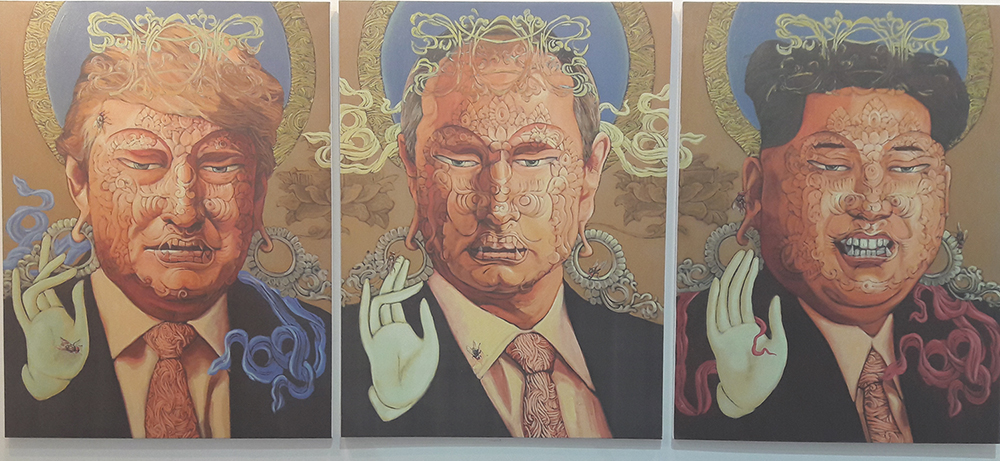 Portraits of the three leaders in the traditional Nepali Paubha painting style by Sunil Sidgel, titled 'Peace Owners'. Satirical work if there ever was one.

South Asian art got a new platform, called Platform(!), comprising Blueprint 12 (India), Britto Arts Trust (Bangladesh), Nepal Art Council (Nepal) and Theertha International Artists Collective (Sri Lanka). And they did have interesting art on show, from creative interpretations to political commentary.
IAF also unveiled a new curated space, Vernacular in Flux, curated by Dr Annapurna Garimella, which presented a rich showcase of vernacular art with a focus on Gond, Madhubani and Mysore painting. While works by known names such as Bhajju Shyam and Baua Devi were there, what caught the attention was Durga bai Vyam's "Accordion books", which showcased folk art in new narrative styles.
One of the sessions too saw South Asian art come into focus, with Pooja Sood, director, Khoj International Artists Association, Delhi, Alessio Antonelli, director, Gasworks, London and Boon-Hui Tan, director, Asia Society Museum, Singapore, discussing "Perspectives from Networks of South Asian Art".
The conversation space, especially the structured sessions, continued to be a high point. Among the star speakers were Richard Armstrong (director, Solomon R Guggenheim Museum and Foundation, New York) and Sheena Wagstaff (Leonard A Lauder Chairman of Modern and Contemporary Art, The Metropolitan Museum of Art, New York), who discussed the future of museums in an entertaining hour.
Page
Donate Now
Comments
*Comments will be moderated