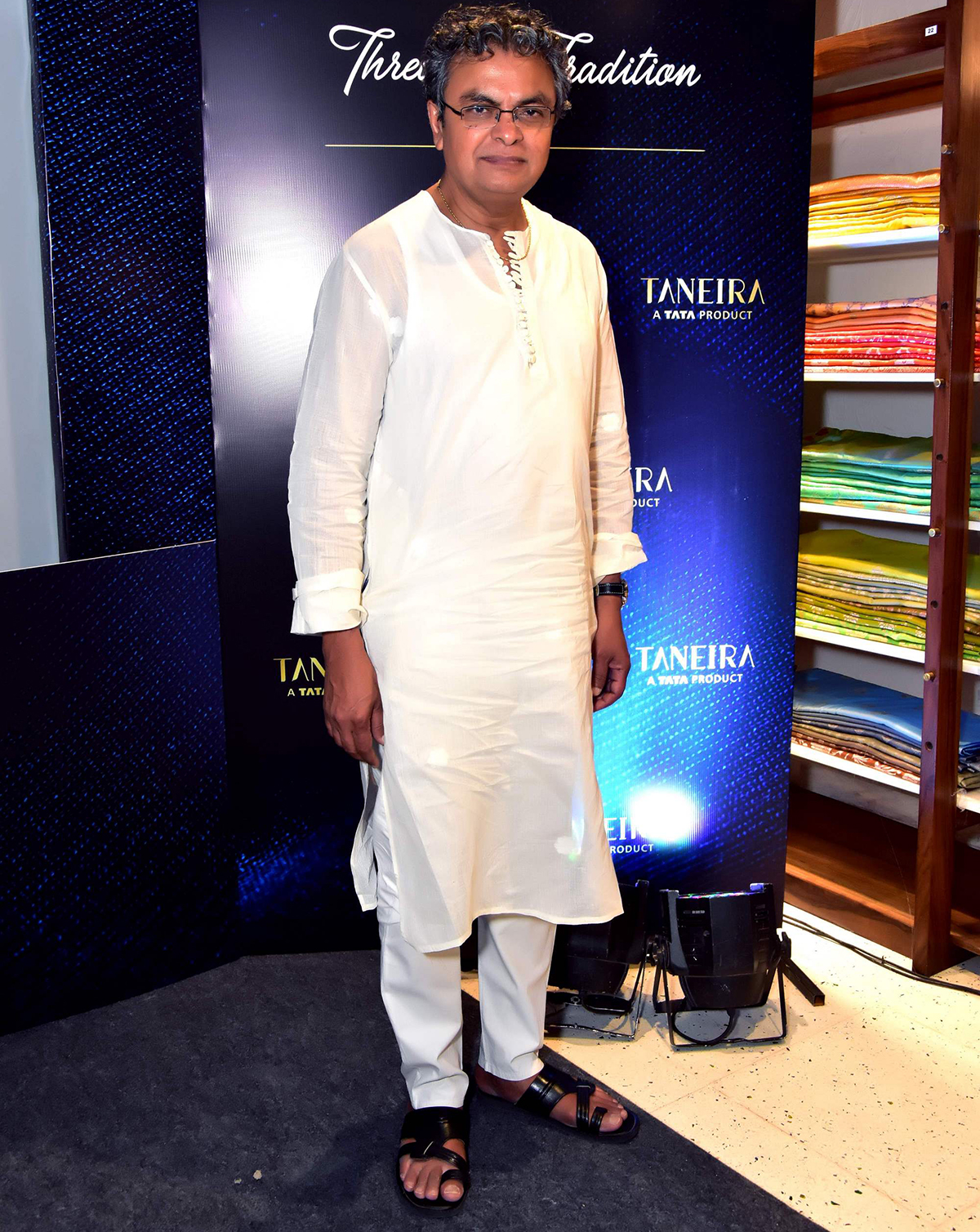 Saiful Islam. Photos: Taneira
Bangladeshi textile revivalist Saiful Islam on the story of muslin, cotton fabric known for lightness
Taneira, a handwoven saree brand from the house of Tata's Titan Company Limited, recently hosted Bangladeshi textile revivalist of the original Dhaka jamdani, Saiful Islam, at the fifth edition of the "Threads of Tradition", which was held in New Delhi. The event, moderated by writer, biographer, art curator and collector Ina Puri, saw Islam hold forth on the story of muslin and its revival. A documentary, Legend of the Loom, produced by Islam, was also screened. An exhibition of up to 400 exclusive muslin saris was also held at the show that also saw the unveiling of a book, Muslin: Our Story by Islam, on the cotton fabric known for its incredible lightness.

Islam, the CEO of Drik, a media company based in Dhaka, has researched and worked on muslin since 2014. He is currently MD of Drik-Bengal Muslin and Majority World. "True development means delivering benefits while preserving the past," he says, while talking about the state of heritage. Excerpts from an interview:
Shireen Quadri: Tell us about some of the distinctive features of Dhaka's jamdani muslin.
Saiful Islam: We do not mention Dhaka Jamdani since the belief is that Jamdani is originally from Dhaka, thus it requires no additional descriptor. It is a form of muslin, one of the five types. It is originally of hand-spun yarn made from special cotton. Its most distinctive feature is the geometric style motifs which are woven into the cloth through the addition of a supplementary weft. These motifs are believed to have originated from Persia and undergone a fusion with Bengal's symbolism, creating a unique pattern. Forbes Watson, in his work titled Textile Manufactures and Costumes of the people of India holds that the figured muslins, because of their complicated designs, were always considered the most expensive productions of Bengal's looms.
Shireen Quadri: It boasts of numerous delicate patterns of yarns which are woven in layer by layer. What kind of craftsmanship is required to enable an artisan to do this?
Saiful Islam: Normally, the weft threads are woven into the warp. In Jamdani a supplementary weft, consisting of an extra thread, is used, where the artistic motifs are produced by a non-structural weft, in addition to the standard weft that holds the warp threads together. The standard weft creates a fine, sheer fabric while the supplementary weft, often using a thicker thread, adds the intricate patterns into the cloth. The result is a complex mix of different patterns that appear to float on a shimmering surface. The pattern is not sketched or outlined on the fabric, but is drawn on a graph paper and placed underneath the warp. Often designs are held in memory of the master weaver and passed down through generations. The master weaver may often use a unique mix of motifs to create the final version of the Jamdani he is weaving.
Shireen Quadri: Though muslin originated in Dhaka, how do you find its current state? Is it a self-sufficient sector? Are the craftsmen able to eke out a living? What are the challenges?
Saiful Islam: The original muslin has long disappeared from the sub-continent. However, many imitations of muslin were being produced from the 18th century onwards. Some of them exist to this day, where silk and other synthetics have also been introduced. The best versions are of 100% cotton yarn, handwoven and are at least 200 count and above. Very few weavers are capable of making this, especially with added motifs. Drik (Bengal Muslin) has revived hand-weaving with motifs, up to 400 count, using past designs.
Shireen Quadri: Through a book, Muslin: Our Story, and a film, Legend of the Loom, you capture the muslin's journey and the faces behind its revival. Tell us about the attempts in Dhaka to restore muslin's erstwhile glory.
Saiful Islam: We had started the journey with the intention to educate ourselves about this fine fabric. Our ambition expanded to tell the authentic story, one that was free from the colonial interpretations which have been written till now. That was augmented with the desire to revive the techniques which were used, to claim our heritage and restore the skill within our current generation of weavers who were sinking into oblivion. Thus, we published the book, made the film, cultivated species by matching DNA with ancient samples and wove cloth closest to the erstwhile muslin.
Shireen Quadri: What have been the takeaways of your own research into muslin? What do you think the state needs to do to make it a fabric more commonly favoured by the world?
Saiful Islam: The state had funded our initial project, along with Aarong, the largest handicraft organisation in Bangladesh. However, funding is the easy part. The government requires to identify and support weaving, especially of muslin/jamdani as unique heritage, give weavers training, manufacturing and marketing facilities. The spinners and weavers should be recognised as our "true heroes", as artisans. They should be freed from the financial constraints through loans/grants. The middle man system of getting goods to market should be reduced. There should be an international campaign to introduce muslin to contemporary designers and fashion houses.
Shireen Quadri: Could you name some other figures like you who are working to revive the fabric?
Saiful Islam: Though direct activity is limited, there are others in India and Bangladesh who have helped me considerably in the research of this fabric. Ruby Pal Choudhri, Jasleen Dhamija, Darshan Shah, Mayank Kaul, Rahul Jain in India and Aarong, Ruby Ghaznavi, Hameeda Hossain, Crafts Council of Bangladesh....etc. come to mind.
Shireen Quadri: What were the objectives and vision behind Drik?
Saiful Islam: 'Drik', the Sanskrit word for 'vision', was started in 1989, driven by a need to change the identity of Bangladesh as an icon of poverty and also to challenge the western hegemony in photography. The organisation has grown in stature, revolutionised the art of photography in Bangladesh and carved a niche for itself in the photography world as a world recognised photo agency. Through it all, Drik has steadfastly been with the people — teaching, informing, influencing and changing their lives, through its work. Inherent in Drik's work is its ability to use the power of the visual medium to educate, inform and draw powerful emotional responses to influence public opinion.
Shireen Quadri: What creative chemistry do you share with your brother-in-law, Shahidul Alam?
Saiful Islam: I have known him for over 40 years, admired his creativity and commitment to his work and the changes he has enabled in the fields of photography and social activism. I share his ambition to represent our heritage in our words, to tell our story as authentically as possible. I rebel against being looked down as "Bangladesh a basket case" or being a "least developed part of the world". While economic and political challenges remain an integral part of our country's landscape, often we need to find our own solutions not accept hand outs, stand up for ourselves and be proud to do so. By unearthing stories like muslin, I believe we are playing a role, however small, in delivering this vision.
Shireen Quadri: How do you see the state of heritage in general in Bangladesh?
Saiful Islam: The condition is poor and though there are statements of redress from government institutions, the situation is alarming. In our rush towards material development (as in many other countries), we are depleting our natural and historical heritage, ignoring the unique skills that our farmers, artisans and writers had in the past. We are overwriting a rich cultural landscape with a shallow, borrowed Western version. True development would mean delivering benefits while preserving the past.
Donate Now
Comments
*Comments will be moderated