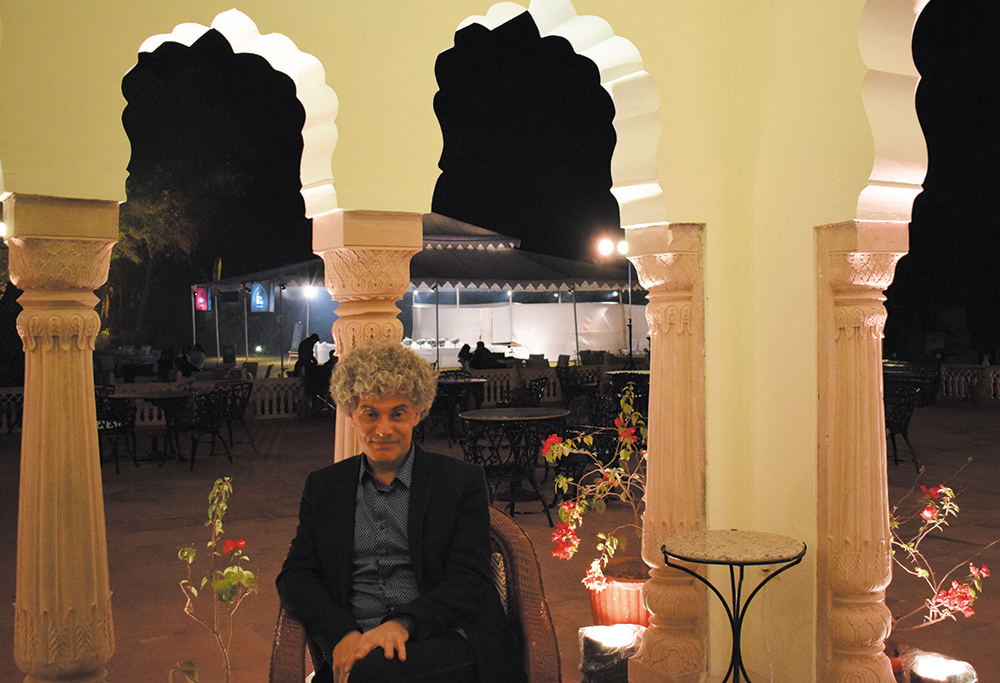 Belgian saxophonist and composer Fabrizio Cassol at the Ranthambore Festival. Photo: Shireen Quadri
Fabrizio Cassol, a Belgian saxophonist, has been the composer and saxophonist of the band Aka Moon for 20 years. He has worked with choreographers such as Alain Platel, Anne Teresa De Keersmaeker, the Samoan Lemi Ponifasio, the Congolese Faustin Linyekula. In opera, he worked with Philippe Boesman-Luc Bondy, in theatre with Tg Stan. His close collaboration with KVS, the Flemish Royal Theatre, led by Jan Goossens, was followed by an artistic residence in the opera De Munt La Monnaie (Brussels), led by Bernard Foccroulle. Since 2012, he has been artist-in-residence at the Fondation de l'Abbaye Royaumont near Paris to continue studying world cultures, his latest creation being AlefBa with musicians from Egypt, Syria, Lebanon, Iraq and Turkey.


His particular interest in non-European music started after a trip to the Aka pygmies in Central Africa in 1992 and expanded to Asia (especially India) and Africa where he worked with the diva from Mali Oumou Sangare, the Griot Baba Sissoko and the Black Machine, the Indian master of percussion U. K. Sivaraman and the Senegalese Doudou N'Diaye Rose. As for the improvised music scene, he worked with Marc Turner, Robin Eubanks, David Gilmore, Magic Malik, Marc Ducret and Joe Lovano. Together with DJ Grazzhoppa, he created the first big band with 14 DJs and participated in the concept of the aulochrome, a new polyphonic and chromatic woodwind instrument built by François Louis. He passes on his extensive knowledge of music from oral and written traditions, of chamber music or symphonic work in workshops and master classes all over the world.
Cassol performed at the Ranthambore Festival in January. He shares with The Punch his insights into music and his creative process.
Excerpts from an interview:
THE PUNCH: Tell us something about your musical projects.
FABRIZIO CASSOL: I have many different projects at the same time where I play saxophone with my band, Aka Moon. We are coming up with a box of 25 CDs of our work. Lots of musicians from all over the world have collaborated for this project. There are some projects where I'm a composer and I don't play specifically myself. I have been working a lot with African musicians of late. I also transform and re-manipulate western traditions of music — Bach, Mozart, etc. Now, for my next project, I reconsider Mozart's Requiem completely with different musicians from different influences. The western way has too limited vision about the passage between life and death. I take Requiem and put other influences. It's a long process. We'll start in January 2018 in Berlin and tour for that entire year. There will be a total of 16 musicians. This is very important for me because we play in all greatest cities in Europe and outside of Europe. I wish we could come with such a project to India. There are many other projects at the same time. Last year, I had eight projects at the same time. At some of them, I play. At others, I don't. But I do follow the tour. One has to also invent and create another way to do it.
THE PUNCH: Tell us about your creative process?
FABRIZIO CASSOL: For 25 years, I have been performing in India as well as all over the world. Twenty-five years ago, I decided to go to concerts where music happened. I came very often to India to listen to music here. I often went to Africa to see how they created music there and I tried to combine and connect music from all over. In the last 10 years, so many things have changed. You can hear music from all over the world now with YouTube. I travel and connect with musicians. At festivals, the meeting of musicians of different cultures traditions and styles is great. It's also great to see how people respond to music. I will continue doing concerts. In every country, political situation create wars. Music creates bridges between people.
Donate Now
Comments
*Comments will be moderated